Milan and Tottenham have not crossed paths in official matches for almost 12 years. Their last meeting at the San Siro ended in scandal. Tried Gennaro Gattuso, who flew off the coils and several times rushed to the assistant head coach of Tottenham.
Let's remember how it was.
How Gattuso grappled with the Tottenham coach: they spoke in Scottish, the details of the conversation are not disclosed
February 15, 2011. Milan take on Tottenham in the first leg of the 1/8 finals of the Champions League.
Just to give you an idea of ​​how long ago that was. Milan coached by Max Allegri, they have 29-year-old Zlatan, nimble Robinho and still promising Alexandre Pato. Although Milan will fly out of the Champions League, they will become the champions of Italy, and Ibra, Pato and Robinho will tear the league apart, scoring 14 goals each. Pavlyuchenko (he did not play against Milan), young Bale, Modric and Corluka are cut for Tottenham. And they are driven by Harry Redknapp.
The game in the first half is sluggish and uneventful, except for the injury of Milan goalkeeper Abyatti and a forced substitution. There are still no goals in the second half, but the temperature is heating up a little bit. And Mathieu Flamini bullies him with an insane tackle: he flies with two legs into Chorluka, injures him and gets only a yellow card for it. Then the audience reacts violently to every whistle. And then the nerves passed from Gattuso.
Gennaro got into a verbal altercation with Tottenham manager Joe Jordan.
Redknapp tried to separate the men, but they continue to talk in raised tones. Gattuso recalled that they had a dialogue in Scottish (Gennaro played for the Rangers, and Jordan himself from Scotland). Neither the Milan captain nor the Tottenham coach revealed the details of the verbal skirmish. Given the Scotch, perhaps this conversation remained between them.
As a result, Reno put his hands in motion. He grabbed Jordan by the neck and pushed him away.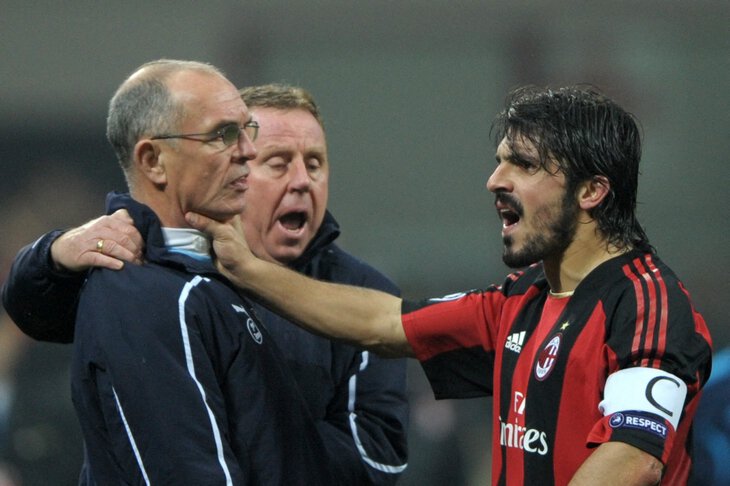 In a good way, Gattuso should have been removed, but the judge again forgave Milan.
Redknapp recalled that after the match, Reno came to him, seemingly in peace: "I thought he was going to apologize to Joe. We shook hands. I thought he was fine and realized the mistake. But suddenly I saw how he hit Joe. Joe is the quietest person in the world, but very tough. You wouldn't want to argue with him."
After the match, Gattuso took off his T-shirt and, like Tarzan, wandered off to deal with Jordan. The verbal altercation ended with Reno lightly butting the Tottenham manager. Teammates tried to calm the violent Italian, and he kept rushing towards Joe. But it was no longer possible to get to him because of the wall of players and coaches.
By the way, not only Jordan suffered in that match. Reno also lashed out at the winner Peter Crouch.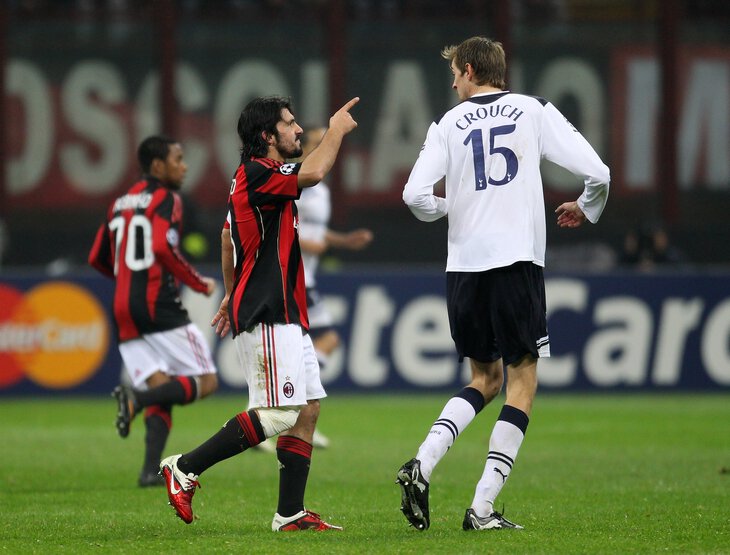 Agent Gattuso dispersed the version about the "Italian bastard". Gennaro admitted he lost control
After the match, the story acquired new details. Gattuso was threatened with a serious ban, and he immediately admitted his guilt: "I was nervous and lost control. There is no excuse for what I have done. I take responsibility for this. I was wrong, but what's done is done."
Then he added a little to the original version: "When I approached Jordan at the end of the game, he took off his glasses, as if he was ready for a fight. He repeatedly yelled the f-word to me."
Gattuso, his agent and AC Milan CEO Adriano Galliani said that Jordan had provoked the footballer severely. "Of course, you shouldn't react like that, but let's not call it a shame," Galliani said.
Gattuso's agent shifted the blame to Jordan. "It seems clear to me that my client was heavily provoked. Jordan constantly insulted him, and then threw a really low phrase: "Fucking Italian bastard." I consider this the most disgusting and unjustified insult for a man like Reno, who is proud of his Italian roots, "said Claudio Pasqualin.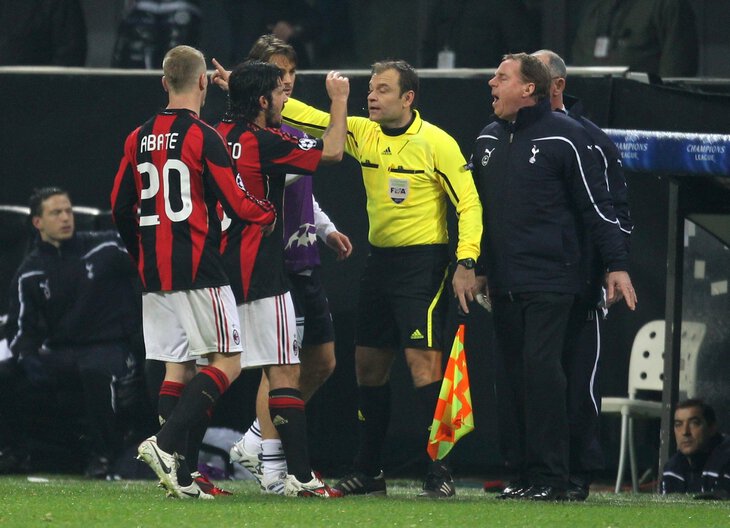 Redknapp denounced this version harshly: "A classic case of someone playing the racist card in an attempt to hide the truth. Joe is not a racist and never has been. He would never have said that. Jordan has the deepest respect for Italy and its people. The Italians are his best friends, he speaks their language, he is a big fan of their way of life."
It's true about Italy. Joe played for AC Milan from 1981-1983.
Jordan also denied the version of the agent: "Funny. Pathetic answers. The agent's words are a figment of his imagination. If he wanted to justify his client, he could have come up with something better."
In 2018, 7 years later, Joe again remembered the incident. "Gattuso definitely lost his temper. And I accidentally refused there. Don't know if Gennaro knew me or not. I don't think it played any role. He lost his temper during the match. Lost in my zone If you are a captain, you have to be disciplined, "said the former Tottenham coach.