Like you need them.
🥃 Song. Say what you like about Space Jam, but the belief that we can all take off with Jordan inspired for decades, turning into a soundtrack not for a movie, but for an entire career.
🥃 The item "Love for the game" written in the contract . Modern basketball players still need to be persuaded to take to the floor, and Jordan immediately negotiated a clause from Chicago according to which he can play basketball in any circumstances during his off hours.
🥃 Eternally burning passion and unwillingness to show even the semblance of psychological fatigue from basketball .
Steve Smith: I said in an interview early on in my career that I felt confident against Jordan. The game started, Jordan immediately scored and says: "38". What is 38?! Then he scores again – he says: "36". It turned out that he let me know how many more points he plans to score in that match.
🥃 Reluctance to miss even non-essential matches of the regular season and concern for every fan who tuned in to see Jordan play .
Rod Thorne: "Michael had a great body. In addition, he knew how to play through injuries, play through pain. I remember we were supposed to have two double matches – on Friday with Dallas, on Saturday with New York. Both houses. We won the first one, but Jordan got injured, sprained his ankle very badly. Fitness coach Mark Pfeil then said he would need 10 days to two weeks to recover. I got on a plane and went to look at the players. I call before the match to check how things are going there – Mark says to me: "Well, he went out on the floor to throw. I don't think he's going to play, he just wanted to go out and shoot." As a result, Michael not only played, but spent more than 40 minutes and won that match. He could do that. Many can play through the pain, but they're not as good anymore. But he, he could play with injuries like no other. Even at the end of his career in Washington, he played through pain. Just played. He had that attitude.
I once heard him say, "You never know if a person will come to see you again. Perhaps they will never come again, which means that you need to show your best." For two and a half hours he forgot everything and gave the best he could. Here the matter is in innate rigidity, in innate desire to win, in his inherent passion. I think it's also important to understand that from the very beginning he had incredible self-confidence. He didn't walk around and brag, but he knew that he was better than the rest, he felt it from the very beginning. Now when a player gives out two great games out of four, it's phenomenal. There is constant pressure on the players to be the best in every match. Many do not cope with this pressure, many want to get rid of it. Michael accepted it."
🥃 Shaved head . One of the most important symbols of Jordan's multifaceted influence on popular culture – thanks to him, baldness has ceased to be something shameful.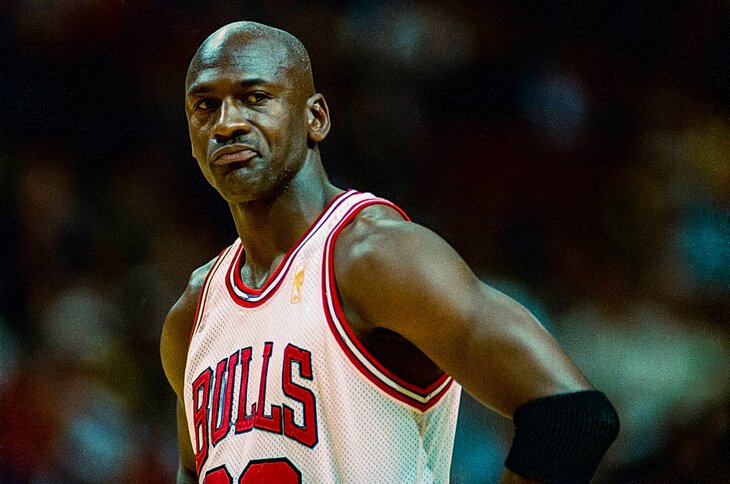 🥃 The indefatigable ability to create enemies in your head to keep your motivation at the maximum level .
In March 1993, the Bulls beat Washington, but LaBradford Smith fired 37 points against Jordan and made it clear to everyone that he was very pleased with his success. In the locker room after, Jackson took up his favorite psychological games: "Michael, I didn't quite understand where your protection went." Everyone quieted down.
Chicago's next game was again with the Bullets. And MJ showed up at the pre-match warm-up before everyone else, which he has never done before – he was going to score 37 in the first half, but he only had enough for 35 (and only 47 in the match). And when he was replaced, Jordan continued to jump on the sideline and cheer on his Darrell Walker: "Don't let him score a ***, DWok!".
This episode – without mentioning Jackson's intervention – was originally narrated by Jordan himself to emphasize the character of the avenger. Many years later, it turned out that Smith did not tell him "Nice game, Mike" at all – and all this was just a fiction to turn himself on even more.
🥃 Speech for the Hall of Fame , in which Jordan did not limit himself to banal thanks, but went through everyone who had ever annoyed him (albeit in his imagination).
Jordan overlaid not only Jerry Krause, Isaiah Thomas and Brion Russell. Leroy Smith, the guy who allegedly got Jordan expelled from the school team, got it too. The most delicious, of course, was that Jordan was not expelled from the school team – he was simply not taken there, since he was still too young and had to play for the junior team.
🥃 The need to trash strangers.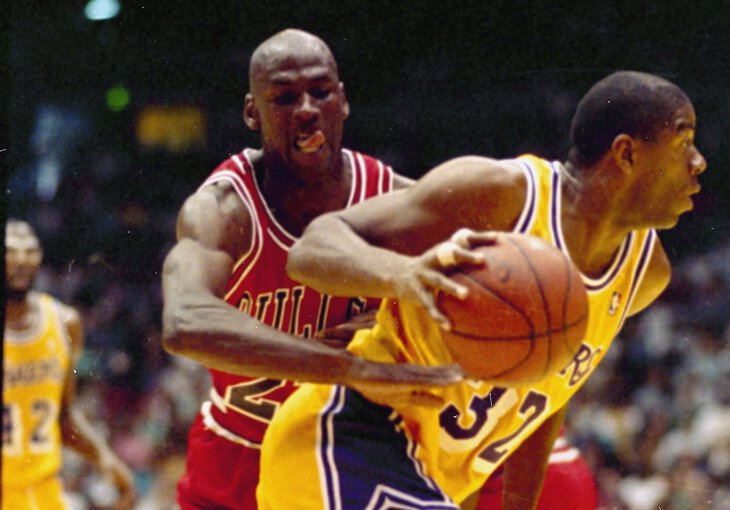 Magic Johnson: There was one game – we hosted the Bulls in the Forum. He calls me to the center circle. "MJ". I say, "Look, we shouldn't be talking right now. I'm going to beat you now." And he says, "Friend, just listen to me. Tell Byron, please, that I'll give him a fifty-kopeck piece today." And so he came out, scored 50, and I did not know what to do. There's nothing you can do about it. And there was no malice on his part. It looked like this: "We are friends. I'm just letting you know what's going to happen so you won't be surprised later."