Dad would be proud.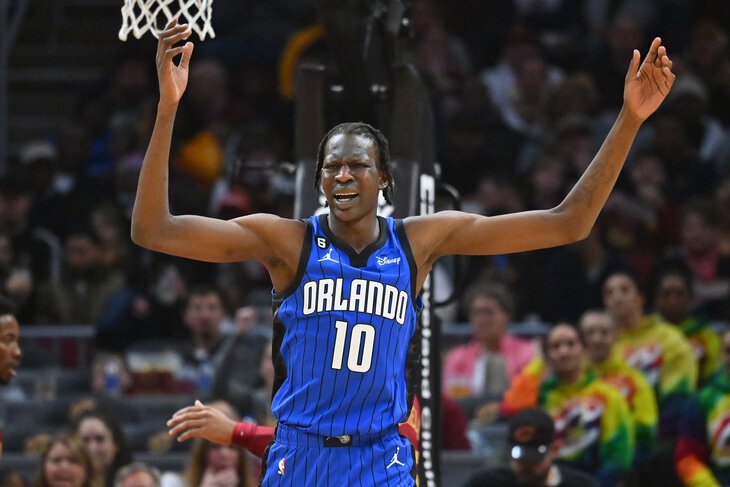 The saying that it is difficult to understand or repeat the path of a person without trying on his shoes may sound abstract to someone, but not to Bol Bol. Even the Magic center, with his height of 2.18 meters, arm span of 2.34 meters and 47-meter feet, will not be easy to leave a mark in history similar to that left by his father Manut Bol.
The Sudanese-American, who was named to the second team of the best defensive players (in 1986) and became the leader of the NBA in blocked shots twice (in 1986 and 1989), was not just a center height of 2.31 meters. He became one of the harbingers of the fact that people with such anthropometry are able to play in the NBA at all, and not be something like an exotic on the court. In this sense, Bol Bol's tattoo on his right ankle, depicting him with his father, is both a tribute to family ties and a willingness, if not to repeat his path, then pave his own. Perhaps more glorious, and certainly no less heavy.
Bol Bol attracted attention back in the Nuggets, but never got a chance. Even the head coach acknowledged this.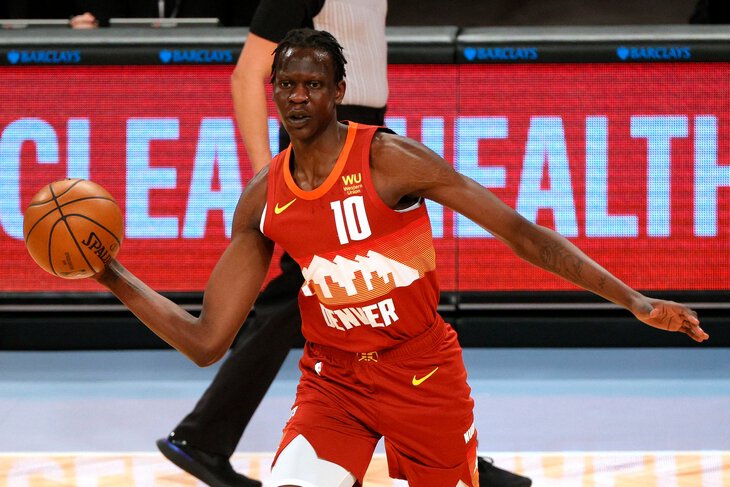 In his three years with the Nuggets, picking center with the 44th pick in the 2019 draft, Bol Bol has become something of a mythical figure. He was compared with the characters of Marvel cartoons and comics, identified with all sorts of natural anomalies, called the next degree of evolution, but at the same time they were not allowed to confirm all these loud epithets with actions.
"The first three years under me (Malone took over in 2015) were a time of development for us. Young players were given the opportunity to learn. Most importantly, on their mistakes. But Bol Bol didn't have that chance.
The moment he showed up, all of our energy was focused on getting home court advantage in the playoffs.He had to show more stability so that we could seriously count on him and give more playing time. But it's hard if you just came into the league", Nuggets head coach Mike Malone admitted in an interview with the Denver Post in 2021.
In 53 games for the Nuggets, Bol Bol only averaged 6.2 minutes per game and still managed to intrigue with highlights.
But this was by no means Bol's main consolation.
"I followed Nikola Jokic very closely. We often had joint morning workouts. I tried to learn some elements of his game, and this experience still benefits me. I watched him dribble, work out throws, floaters. Everything he did seemed so outlandish and atypical. But he managed to turn it to his advantage. In this I wanted to be like him. And I think to some extent I succeeded. With my height, I have good dribbling, I am able to pass, attack from a distance. We are two different players, but we have a similar skill set."
But Bol's originality did not always play into his hands. His unique physique often gave him unpleasant surprises. When the Nuggets traded him to Detroit last January, a physical showed the center had a left leg injury. The Pistons did not go into details and canceled the deal.
After Ball underwent surgery, Denver used the player in a three-way trade with Boston and San Antonio. Bol did not play a single game for the Celtics, and a month later, the Celts exiled him and PJ Dozier to Orlando in exchange for a protected second-round pick in the 2023 draft.
As it seemed then, without much loss for themselves.
In Orlando, Bol's career was transformed: playing at the level of the league's elite centers and chasing Dirk Nowitzki's record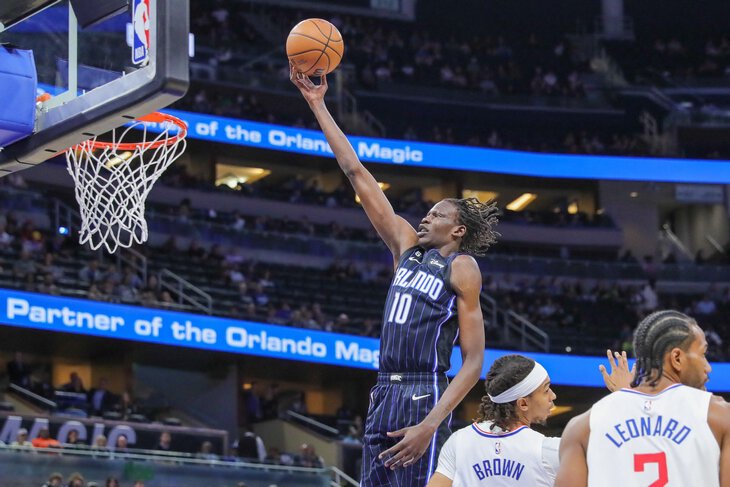 After moving to Orlando, Bol found himself in a wonderland and immediately began to do magic himself. Now he is one of the most effective players in the league.Bol is the only player in the NBA who is 2.18m or taller to have such a varied but equally accurate shot (59% from the field, 64% from two-pointers, 39% from behind the arc, 78% from the free throw). If he slightly improves his performance, then according to the results of the regular season, he will be able to join Dirk Nowitzki, who today is the only player with a height of 2.13 and above who managed to enter the pool of players with seasonal sales of 50% from the field, 40% from behind the arc and 90% from free throws.
There is no doubt that Bol is capable of doing this. So far, the Magic center is the only player this season to average 10 or more points (his stats are 12.1 points) and at least 1.5 blocks per 26.5 minutes per game.
Naturally, Bol Bol does not forget about the family specification:this season, he has made 56 blocked shots – this is the fourth highest indicator of the season. The top 3, which includes Brooke Lopez (80), Nick Claxton (68) and Walker Kessler (60), is just a short distance away.. In terms of the ratio of the average number of blocked shots per game and the percentage of conversions in the "true shooting" rating (demonstrates the percentage of a player's effectiveness, taking into account the accuracy of hits from behind the arc and from the free throw line), Bol Bol outperforms centers with much louder names.
Bol Bol (1.7 blocks per game, 65.5% true shooting)
Joel Embiid (1.6 blocks, 63.8% true shooting)
Jarrett Allen (1.3 blocks, 65.3% true shooting)
Deandre Ayton (0.8 blocks, 65% true shooting)
At the moment, Bol Bol is slightly behind Miles Turner (2.1 blocks, 65.6% "true shooting"), perhaps the most coveted center in today's NBA. But if they have been talking about the fifth issue of Indiana for a long time, then Bol Bol was discussed only now.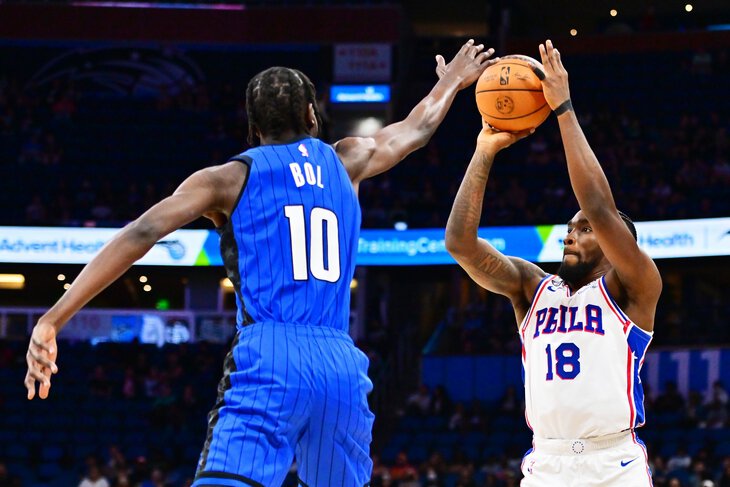 This became possible only thanks to the transition to Orlando. After all, the need to give results does not weigh on the Magic, and the head coach of the team, Jamal Moseley, openly says that the coaching staff has yet to reveal all the qualities of Bol Bol.
"We are still figuring out what he is capable of. At the beginning of the year, when we looked at him, we saw in him the fourth or fifth number, and as the season progressed, we became convinced that he was able to dribble in fast breaks, control the pace and speed of attacks, and make quick decisions. I'm sure he will continue to surprise us in the future.So far, it is like a bottomless treasure chest in which we discover something new every time. ".
Bol says he's not used to being a starter, although numbers suggest otherwise
Bol is good at the same time both in the attack after the rebound and directly in the field.
Bol's 47 offensive rebounds this season have converted into points 79.8% of the time. This result is the top 20 in the league.
At the same time, the center freely attacks from the game. According to Synergy statistics, Bol averages 1.59 points per possession. It's better than Zion Williamson, Evan Mobley and Bol's former mentor Nikola Jokic.
Center "Magic" does not shun the game one on one. He is one of 15 basketball players who have played at least 25 isolations.
His passages from ring to ring are a separate object of admiration, they are most often seen in various compilations and highlights. This season, Bol Bol has 14 passes from one half of the court to the other, and hardly any of them looked more spectacular than the "one" from the match against Atlanta.
After five starting matches of the season as a substitute, Bol, Bol thoroughly registered in the starting five and never left it.
But Bol himself does not look at this as an achievement, rather, as another incentive for self-improvement.
"I'm not quite used to long stretches yet.I need to work on stability in the game. When people put a little pressure on me, I sometimes get lost. This shouldn't be. I need to learn how to stay in attack mode no matter what. You must always remember this."
Even with obvious progress, Bol will be the first to say that he is far from being considered a mature player. This, in turn, is even more intriguing and gives food for thought about what he can turn into over time. One thing is certain, Bol is no longer the subject of theories and myths that he was in the Nuggets. Matches in the "Orlando" showed how real his talent is.