Have you heard of Erik Olats?
"You are too short. Too weak. It's easy to knock you down on the field, you have to be more powerful." All this Antoine Griezmann heard thirty times – at each viewing in a more or less large French club.
Against the background of broad-shouldered guys with African roots, who were on average 10 centimeters taller and 5-6 kg heavier, Antoine looked too fragile. He was denied in Saint-Etienne, and in Lyon, and in Auxerre.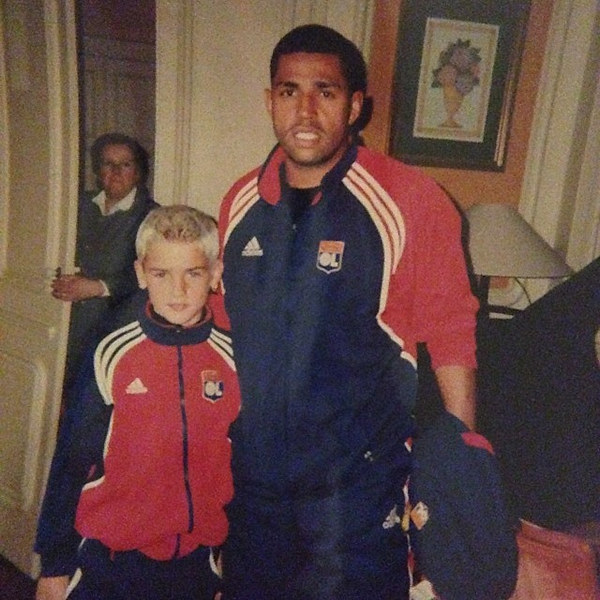 Everything changed at the age of 13, when Montpellier captured Griezmann for a children's tournament in Paris. The rest of the guys who were taken for viewing were dressed in the classic Montpellier uniform, and Antoine did not have enough T-shirts. I had to get my own. It was some kind of ridiculous dark T-shirt with Jamaica written in bright yellow on the chest.
Griezmann sat on the bench for almost the entire match and popped up as a substitute for only a miserable 10 minutes. But even that was enough to impress scout Erik Olats, who traveled around Europe and Africa in search of reinforcements for the main team of Real Sociedad. At the training base of PSG, where the tournament was held, he ended up quite by accident: he landed in Charles de Gaulle after a business trip in Argentina, and his friends invited him to chat.
Between times, Olats glanced at the field, and the small, but very technical Griezmann seemed to him incredibly talented. "He played technically, smoothly, easily – much better than the rest, although he lagged behind his partners in physical terms. It kind of blinded me. I realized that if you help him improve in physics, he can become a very interesting player, "recalled the scout.
Olats scrawled his number on a piece of paper and put it in Griezmann's hand, asking him to call back when he got home. Parents, who had just returned from a vacation in Tunisia, were not happy: it was not clear what to do with the school, where to live, how serious it all was.
Olats dropped everything else and spent four days with his parents. Only after that Griezmann was released to Spain.
Griezmann lived for 6 years in the house of a scout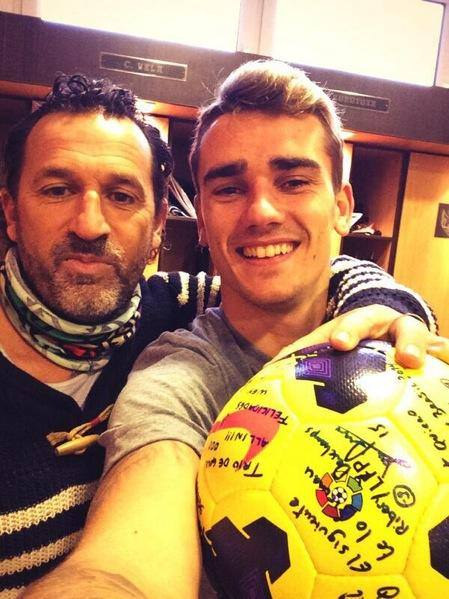 Griezmann was only 13, but his transition was accompanied by such organizational difficulties, as if he were a real star. The first – he did not know Spanish, the second – the parents demanded that the guy finish his studies in a French school, the third – there were no places left in the boarding school. It was easier to refuse, but the scout Olats still found a solution and pushed through the transition: he settled Griezmann in his house in Bayonne, a city in southwestern France, from where it is easy to get to San Sebastian. In the morning, Antoine walked to school, in the afternoon he got on the bus, crossed the border and trained in an hour. Then back to the scout's house.
"Antoine was very difficult at first. He wanted to go home and needed help. At first I took him to my place for three weeks, just to support in a difficult time. But we got along and in the end he stayed with me for six years," Olats said. "I became for him both a father, and a mother, and a grandfather, and a grandmother."
"In Spain, first of all, they are guided by technology, and not by physics. I was pleasantly surprised," said Griezmann. – In training, we learned to hold the ball, for this you need to move a lot, play one or two touches, and I always really liked it. In France, first of all, they thought about strength exercises.
Griezmann spoke Spanish three months after moving to Real Sociedad and now admits that it is his main language. "I have been in Spain for ten years, and speaking French is no longer so comfortable for me. I even speak Spanish to my dog."
Several times a year, Griezmann came home for 2-3 days. On the way back, his father always provoked him: "Well, maybe we'll turn around and stay?" Antoine refused through force and was sad. According to the memoirs of the scout, upon returning from the holidays, Griezmann always cried. "It became much easier immediately after the debut at Real Madrid," Olats said.
Despite the fact that Olats, in fact, raised Griezmann, he is not very attracted to the agency business. He still works at Real Sociedad and only advises Antoine.
"We write off WhatsApp two or three times a day, sometimes we record audio to each other. We talk like close friends. He trusts me very much," Olats said. – Antoine consults with me about a career, this applies to both the game itself and options for the future. I'm just voicing opinions, he's listening."
In late August, Griezmann announced that he would no longer work with football agents. Now he will execute all transactions himself: "I will only listen to my father and my mentor Eric Olats."
The Coach Who Raised Luis Suarez
Griezmann made his Real Sociedad debut in 2009, largely by accident. One of the main players was injured, and the Uruguayan coach Martin Lasarte asked to bring a young left-hander to him. Managers first chose Bingen Erdozija, but he also got injured – and only then called Griezmann.
At the pre-season training camp, Antoine broke out with five goals and soon did not get out of the starting lineup. Coach Lasarte, who once pulled Luis Suarez to the base of the Uruguayan Nacional, then flashed a smile: "The feeling with which I released Griezmann for the first time was similar to what I experienced when Suarez made his debut. I had no doubt that it would be useful."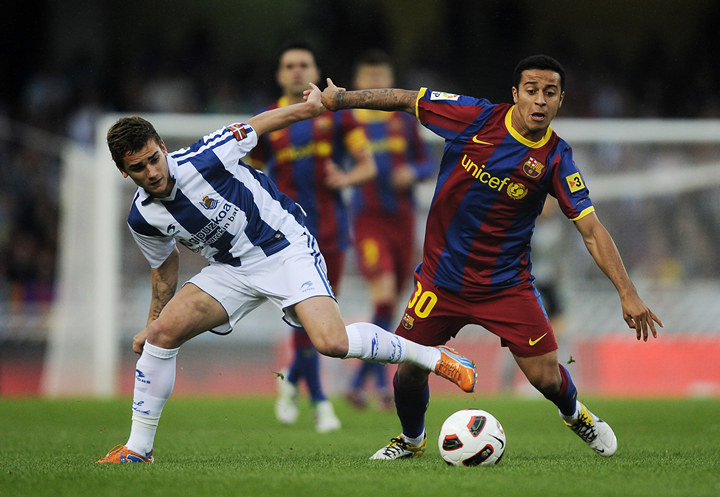 Already in 2011, Josep Guardiola previously contacted Griezmann, and three years later he became the star of Atlético. Diego Simeone signed Antoine to diversify the game thanks to his technique and speed, but it did not work out right away. By the end of October 2014, Griezmann did not score a single goal in the example, and the dissatisfied Diego Simeone publicly motivated Antoine: "We hope that this important young player for us will become a man and just a great footballer."
The reaction was immediate. The next day, Griezmann shipped a double, and in the next ten games he shot 7 balls.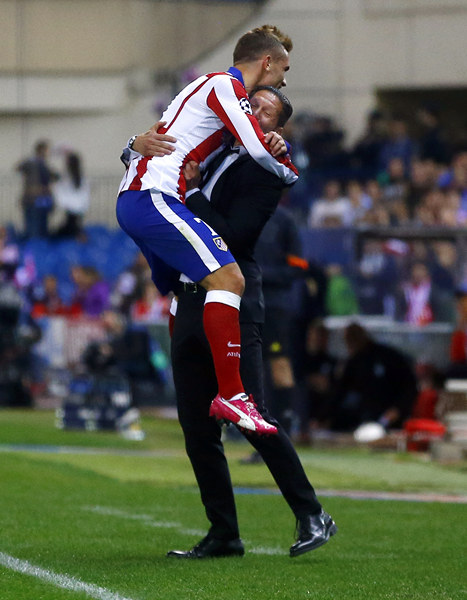 He called the work with Simeone the main reason for the progress: "He is the driving force. At the first workouts, I was out of breath, my legs seemed unrealistically heavy, but then you are in perfect order. Diego demands that we are always involved in the game, I need to be more active in helping the team defend."
In 2016, Griezmann reached the cosmic level: he dragged France to the Euro final, scored 32 goals in a season for Atlético and became the best after Messi and Ronaldo.
Now the club career is not the best thing in Antoine's life: he never took root in Barcelona , ​​the return to Atlético was accompanied by strange maneuvers with an exit only after the 60th minute, so as not to pay Barca too much. But the team – happiness. Griezmann is not the frontman in the presence of Kylian Mbappe, but still the most important hero.