During the New Year holidays, Sports.ru traditionally collects kind and inspiring stories of the outgoing year into a series. In 2022, there were few reasons for joy – the more valuable is the story of people who are doing well. We start with a story about the French striker Florian Sotok – digress from the problems and dive into his powerful story.
In August, Ligue 1 held a vote for the best player of the month. An unusual trio gathered: Lionel Messi, Neymar and Florian Sotok.
Sotoka even squeezed into the results beautifully: he overtook Messi, but lost to Neymar.
Okay, there are explosions that are four weeks long, right? But Sotoka has been shining for at least 4 months: in Ligue 1-2022/23 he has already scored 6 + 5, only five players overtake him, and only two are not from PSG. More importantly, his Lens are second in France after 15 rounds with 36 points, 6 points clear of the non-championship position.
And Sotoka, 32, who received his first professional contract only at 24, had previously survived the break of the crosses, and was preparing to make a job in a shoe store not temporary, but permanent, suddenly turned out to be the main star of a wonderful team.
Here is his story.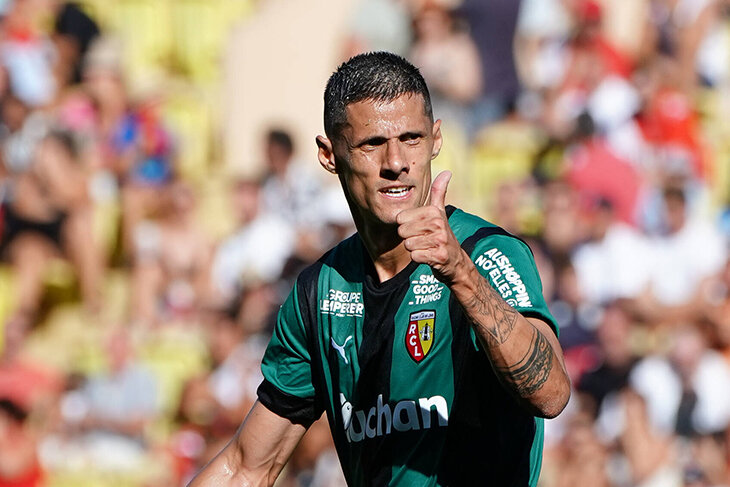 Sotoka won the Universiade in Kazan (although he did not even know which tournament he was going to) and played right back in the Montpellier reserves. Everything was not in vain
Sotoka was born in Narbonne, France in October 1990. Land of rugby – Florian said that almost all of his friends were involved in this sport. Sotoka himself fell in love with football, played on the field where the amateur club Narbon met, and did not even knock on the academy of professional teams.
Growing up, Sotoka played in his native field for this Narbon. In parallel, he entered the University of Montpellier STAPS, where he studied sports marketing. In an interview in recent years, Florian said that he still believed that some club would offer him an internship at least in the second team. And this does not sound utopian.
Firstly, in France, scouting is developed at the level of amateur teams. For example, this is how Reims found Boulaye Dia (worked as an electrician) – he subsequently became the third sale in the club's history (for 12 million euros to Villarreal), you could see him at the base of Senegal at the 2022 World Cup.
Secondly, Sotoka was not bad by amateur standards. At the age of 19, a club from the fifth division of France was interested in him, but Florian tore his cruciate ligaments and did not play football at all for a year. The striker had several more serious injuries atypical for the amateur level, but at the age of 22 he still got a chance at Martigues, the fourth French division, the most elite among amateur clubs.
A year before the Martigues, Florian tossed between Narbon, studying at the university and working for an uncle that had nothing to do with football. Sotoka said in an interview with the Lance club website: "It was necessary to earn money in order not to be financially dependent on parents. My uncle opened a shoe store and invited me to work. I was a handyman: I communicated with clients, solved logistical issues, sometimes I played the role of a loader and courier. I didn't make the shoes myself.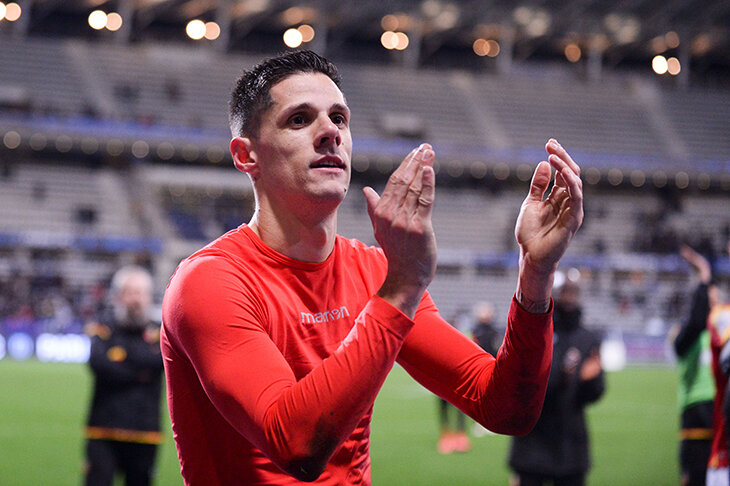 Now Florian remembers the shoe store as the best school in life: "It was difficult to combine study, work and football. Very hard. For me, working in a store was harder than football. Later, when something didn't work out in my football career, I recalled this experience, which hardened me."
Immediately after moving to Martigues, Sotoka found himself in the French national team, in which Kylian Mbappe or Antoine Griezmann will never play. This is the university team for the 2013 Summer Universiade. Conditions: studying at the university + playing for an amateur French club. Sotoka rode and won the gold medal. Even scored in the final against Great Britain. And he recalled funny about the tournament: "We didn't really understand where we were going at all. We arrive and there are almost 55,000 people at the opening. Something unreal."
Universiade-2013 was held in Kazan.
Then everything developed unexpectedly quickly: after a year at Martigues, Sotoka went to Beziers (the same fourth division), stayed there for several months, scored a hat-trick against the Montpellier reserve team – and Montpellier, who played in the League 1 and three years before that he became the champion of France (it takes place in the summer of 2015, Montpellier won the title in the 2011/12 season), invited Sotok.
At almost 25, he received his first professional contract. And he even played for Montpellier – he went to the base for the League Cup match against Lorient and spent a few seconds of the game with Lille in the 28th round of Ligue 1-2015/16. Of course, he mainly played for the reserve team and even there was a gag in training, sometimes he played right back. In the summer of 2016, Sotoka left for Grenoble from the same fourth division.
No depression. Florian recalled: "Let me take part in only two official matches of Montpellier, but I fulfilled my dream. I played in Ligue 1! Grenoble turned out to be the perfect option. The club rose from scratch after liquidation in 2012, and it was from Sotok that it got out of the swamp.
Season 2016/17 – rise to the third French division.
Season 2017/18 – promotion to Ligue 2, second division.
Season 2018/19 – 9th place in Ligue 2.
In Ligue 2, Sotoka had the best season of his career: 12 + 7 on goals + assists and participated in 37 matches out of 38. In the summer of 2019, Florian was taken by Lens, who still could not enter Ligue 1.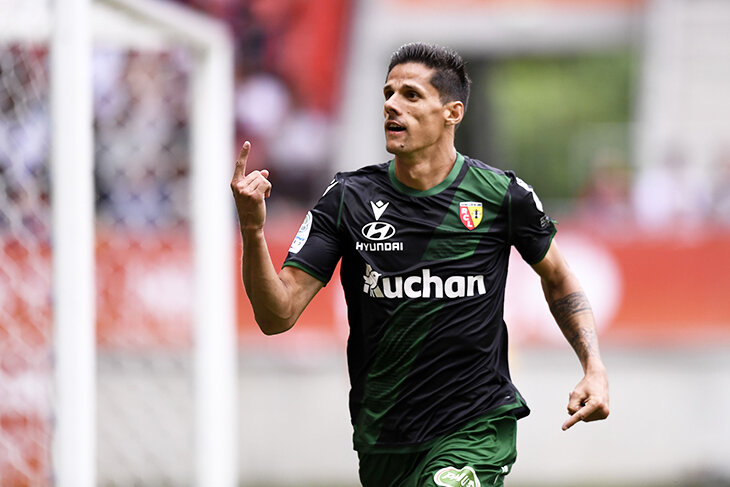 With Sotok, everything worked out in the very first season (2019/20). Also an extraordinary story: in the match of the 28th round, Florian scored the only goal in the match with Orleans (1:0) from the penalty spot. Immediately after the championship was frozen due to the coronavirus pandemic, after a long cabinet showdown, it was recognized as completed ahead of schedule. Lens, thanks to the victory and a goal from Sotok, froze in second position, thanks to which they squeezed into Ligue 1. So Florian scored the most important goal in his life, only learning about its importance a couple of weeks later.
For the third season in a row, Sotoka and Lens pleasantly surprise Ligue 1 with performance and results. 7th place two years in a row, and now the fight for the Champions League.
Florian is proud of the hard way to the top: "I went through all the French leagues that you can imagine. I'm proud to come from the wonderful world of amateur football."
Sotoka is a family man. And Lens is the most family team in Ligue 1
When asked about football idols, Sotoka avoided answering and said that in life he focused on only four people: mom, dad, grandparents. He lived with his parents until he left for Martigues (he was almost 23 years old), spent a lot of time with his grandparents as a child, since his mother and father were constantly working.
"I could always count on relatives," Sotoka said. – I think that they raised me well, they explained that respect for a loved one and hard work are the most important human values. I had no siblings, but I perceived my cousins ​​Arnaud and Guillaume as such. We're about the same age, we've always been there."
Florian still discusses every match with his father: "He is more emotional than me, sometimes you have to calm him down." He worked for his uncle in a shoe store. He lived with Arno after leaving his parental home – he considered this a good intermediate point before a completely independent life. Marin and his wife have been together for 8 years, now they are expecting their third child: "It is difficult for the wives of football players, she constantly followed me, changed jobs, always believed in me and never got angry. She is a wonderful mother, our children are lucky. Although their dad is also nothing.
Warm relations – and in the teams for which Sotoka played.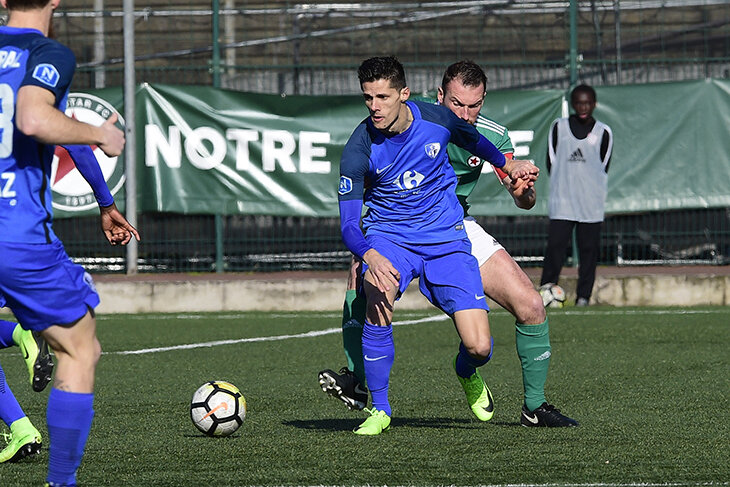 In Montpellier, reserve team coach Fabien Levefre said: "On the road, 24-year-old Sotoka constantly looked after the guys 16-17 years old. He supervised their behavior and discipline."
At Grenoble, Sotoka organized table tennis and petanque tournaments to bring the team together. Coach Olivier Guegan saw in Sotok a person with an exceptional mindset for a football player, his partner in attack Edwan Maanane called Florian an ideal teammate, both recalled that Sotok constantly asked how to act so that his partners were more comfortable nearby. The fans also appreciated Florian and came up with a chant: "Sotoka, you have been here not so long ago, but you are already better than Fred Tom (another Grenoble player – Sports.ru).
Lens sports coordinator Florent Ghisolfi emphasized the strength of Sotok as a partner: "There are a lot of selfish strikers in France. Sotoka enters the field and thinks only about the victory of the team, and not about his goals.
He is a kind person. To fulfill his potential, Florian needs a club-family. He likes this team concept. The dressing rooms of some clubs are reminiscent of the wild jungle, where players fight each other because of quarrels. In such a team, Sotoka would hardly have shown himself. "
Now Lens is the most family team in Ligue 1. They come up with a cozy contract extension with captain Seko Fofana and the whole squad celebrate the call of Jonathan Kloss to the French team.
If you watched Lance's home matches, you probably admired the atmosphere of the Bollaert-Delelis stadium – something at the level of the Bundesliga with a French flavor. Lens are only one of two teams in the top 5 leagues to have won every home game this season (8 out of 8), followed by Arsenal but with fewer games (6 out of 6).
And it was in such a team that an amazing concentration of players with amateur league experience suddenly gathered: Florian Sotoka, Jonathan Kloss (he worked as a storekeeper and butcher, got into big football only at 25) and Jonathan Grady (without experience in the football academy, he made his professional debut at 21) . Kloss moved to Marseille this summer, but Grady is in place – and this is Sotok's best friend. During the World Cup, they even spent a joint holiday with their families in Thailand.
Sotoka is also a tactical unique. From an ordinary post turned into a creative between the lines
When Lens spent their first season in Ligue 1 after their return (2020/21), Sotoka seemed like a regular pillar: 187 cm, looking for scoring chances after crosses, trying to play for the team through discounts after casting. In the 2021/22 season, he began to go down into the depths much more often, play along in the promotion, pull the defenders behind him. And he surprised France when, on February 19, 2022, against Lyon (1: 1), he played the entire match as a full-fledged central midfielder in a 3-5-2 formation – usually Lens plays 3-4-3, where Sotok was almost always the tip , rarely one of the players closer to the flank.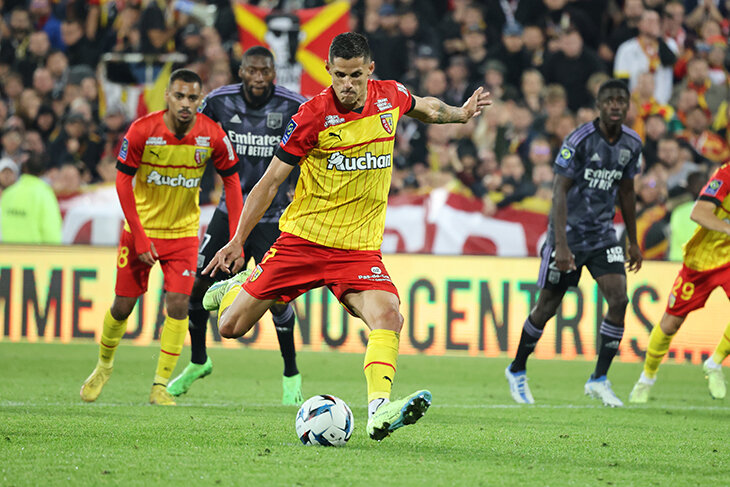 It cannot be said that this did not foreshadow anything at all. Even Edwin Maanane from Grenoble said: "Soto was not a free-kick striker, he gave a lot of goals. For a striker at that level, he had great speed and dribbling."
At Lance, he first got used to the role of a nine again (albeit willingly assisting), but in Ligue 1 he began a completely new evolution, where speed and dribbling are not noticeable in any way – in fairness, in the main French division, Sotok is simply not able to surprise like that.
Let it go. Because Sotoka has become one of the smartest players in the league. Florian excels at finding space between the opposition's defense and midfield, sharpening passes behind the backs, and appropriately pulling deep (to help advance) and flanks (to overload a flank, stretch the defensive line, or try to sharpen from a looser area than the center axis).
Here are examples from the game with Ajaccio (0:0) – not the brightest game of Lance and Sotok, but his help in different stages of the attack is still noticeable.
Creative metrics capture the power of Sotok as a playmaker.
In pre-kick field passes (50), he is second only to Messi (56) and Neymar (62). The powerful aggravation statistics are preceded by another important detail – 3rd place in Ligue 1 in assisted passes accepted (115). Take a closer look at Sotok if you like intellectual football built on passes. He almost does not exacerbate through jerks with the ball, or even more so high-speed dribbling. Even by the standards of his championship, a completely mediocre footballer in these parameters. But his sense of passing and space is simply amazing – especially in the context of the fact that he evolved right before our eyes, getting a normal chance in the elite division only with the advent of his 30s.
Coach Frank Es is delighted with the development of Sotok: "His progress is monstrous, he has learned to play great for the team. Florian's story is not just a fairy tale story, he really deserved everything that happens to him. I can say that Sotoka is the human embodiment of Lance's success as a football club."
Important detail: Sotok scored less than expected for the third season in Ligue 1. In the 2020/21 season, he scraped together 8 goals at 10.2 xG, in 2021/22 – 6 at 9.3, in 2022/23 – 6 at 6.4. That is, it is precisely as a finisher that Florian does not shine even in the best period of his career. But even as a striker, he did not fly out of the base. Now, when he plays attacking midfielder, even less attention is paid to it.
With the expansion of the set of functions, Florian became the guarantor of the Lance's hybridity. Can play an insider in 3-4-2-1, an attacking central midfielder in 3-5-2, a striker in 3-4-1-2 or 3-4-2-1. And all this fits into the picture of one full match: he will start as a kind of playmaker, when defending he will go down as the third central midfielder, in attack he will rise high and play the usual target man under the serve.
Es emphasized the value of reshuffling: "Sotok's rare positional hybridity makes us better both offensively and off the ball." Florian is one of the best offensive players in Ligue 1 in terms of interceptions (1.14 per 90 minutes) and ball returns (3.94).
Let it sparkle further, but a tradition is already looming on Sports.ru – every New Year we talk about an amazing Lance player: Kloss is the first, Sotok is the second. Looking forward to opening in 2023.