Cadiz demands to replay the last 10 minutes.
The struggle for survival in La Liga is traditionally hot. On January 16, Cadiz hosted Elche from 19th place, closing the table. Dispersed 1:1, but not in peace.
All because of a refereeing scandal – the goal of Elche forward Ezequiel Ponce was scored from offside. But the main referee Carlos del Cerro Grande counted it.
Yes, the screenshot was taken at an angle. But the leaders of the judges have already recognized the error.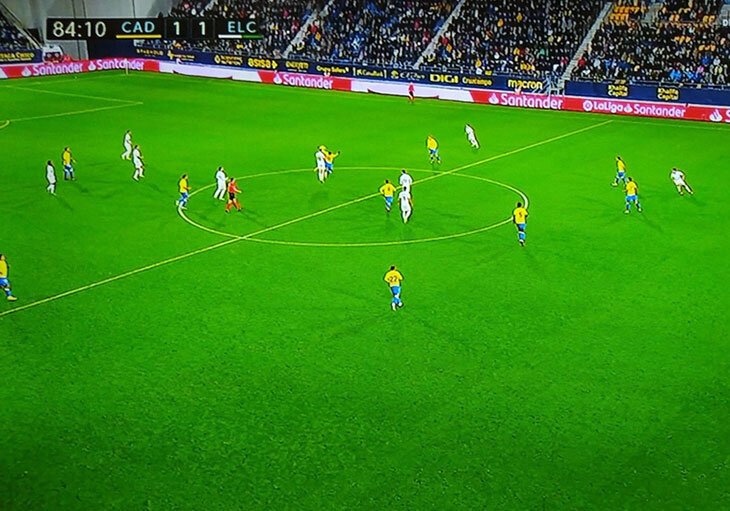 Then a strange insider from Mundo Deportivo with reference to Diario de Cádiz – supposedly side referee Guadalupe Porras asked the VAR to check the goal for offside, but they did not listen to her.
First, referees don't have to ask VAR for anything, especially when it comes to a goal. Every moment is viewed as such.
Secondly, such appeals are not provided for by the protocol. VAR turns itself on when it sees a potential error.
Perhaps we will find out the details, but so far it looks like a double mistake: first the linesman overlooked the offside, and then the judges in the VAR center. Perhaps it's a matter of technical nuances.
Because of this moment, La Liga suddenly cut down with the federation
After the match, Cadiz head coach Sergio Gonzalez said that del Cerro Grande himself did not deny the mistake: "I talked to him and he admitted it. He's sad."
The Technical Refereeing Committee (CTA) called Chief Referee Carlos del Cerro Grande's mistake "inexcusable" and said that video assistant Javier Iglesias Villanueva will face consequences.
The committee also urged La Liga to implement a semi-automatic offside detection system, similar to the one used in the 2022 World Cup and Spanish Super Cup matches.
"It is impossible to eliminate human errors, but it is possible to avoid them in offside situations if you use a semi-automatic tool. Therefore, we call for the introduction of semi-automatic offside technology after the experience in the last Spanish Super Cup," the CTA said in a statement.
The league responded harshly: "On behalf of La Liga, we deplore the CTA's grotesque statement to the Royal Spanish Football Federation, in which they, without admitting their responsibility and without apologizing, are trying to shift the blame to an organization completely unrelated to refereeing, – to La Liga.
Due to an error by the referees, Cadiz demanded that the end of this match be replayed from the 81st minute. Here is the club's statement:
"The legal services of Cadiz submitted a protest to the competent authorities regarding the results of the meeting with Elche, requesting the annulment of the result of the match and its resumption from the 81st minute and from the same moment at which the refereeing team counted the goal, despite the fact that it was preceded by a loud, blatant and inexplicable offside, which can be seen on the video from the match."