Two removals, the third cancelled.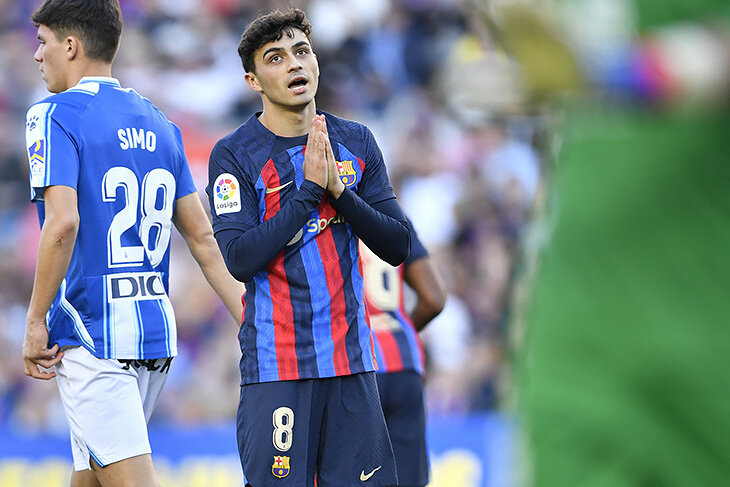 The intrigue in La Liga becomes even sharper: Barcelona played a draw with Espanyol (1:1) in the Catalan derby. For the third time in the last five matches between the teams.
After the victory of Real Madrid's Friday victory over Valladolid, the Spanish giants are again equal: 38 points each. The gap from third place is impressive – 11 points from Atlético – so only two superclubs are important.
So far, Barca is in the table above due to the better goal difference, but this rule is only for the intermediate version, so far only one match has been played between them.
As soon as the second one is held, it is personal meetings that will become a priority indicator – here Real Madrid have an advantage, Madrid won the first match in the fall. The teams will play in Barcelona on March 19.
Barça dominated but conceded the only shot on target. Refereeing pissed Xavi off
In the match, Barcelona far surpassed Espanyol:
• 77% possession vs. 23%.
• 21 shots on goal against four.
• Six shots on target to one – he scored for Espanyol.
There were still plenty of cards: the chief referee Mateu Laos handed out 15 (!) yellow cards, and two of them turned into removals, because they became second. Kicked out one player per team: Jordi Alba from Barcelona and Vinicius Souza from Espanyol.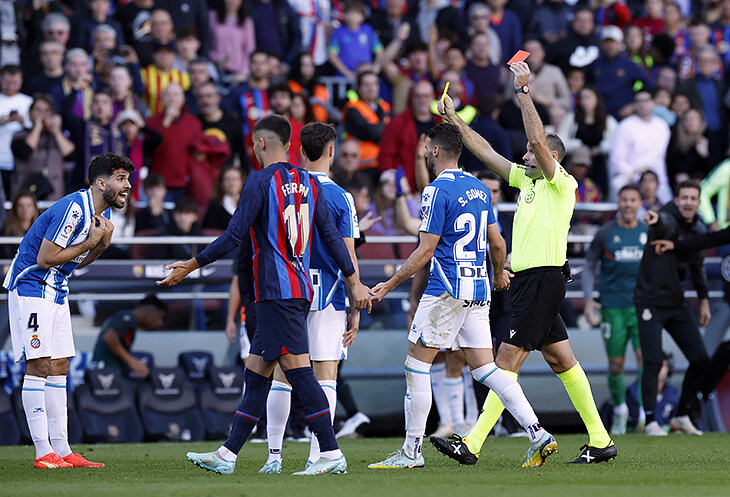 There could have been more deletions: together with Souza, Espanyol defender Leandro Cabrera received a red card, but after watching the VAR canceled it. Cabrera stayed on the field and finished the match.
Even people from the edge of the field received a warning: Xavi was too outraged by one of the decisions of the referee. Laos showed another card to Rafinya, who by that time had already been replaced.
The head coach of Barca was annoyed: "Laos is the referee who dominates and controls the matches, but then he lost control, and I told him about it. He handed out meaningless cards. The referee must be calm, cool… And this is usually typical for him, but this game is out of control. But I don't blame Mateu for anything, the draw is our fault."
The last Catalan derby (2:2), from February 2022, by the way, turned out to be even richer in removals: there were already three Reds – Gerard Pique, Nico Melamed and Manu Morlanes from the bench. And yellow judge Alejandro Hernandez Hernandez handed out nine that time.
Matches between Barcelona and Espanyol are always fire. Like the championship race this season.