Or maybe Borussia will keep him?
Jude Bellingham is the main goal of the European tops in the summer of 2023. Real Madrid, Liverpool and City compete for the young Englishman.
Real Madrid offer 100 million euros and Camavinga, asks not to renew the contract with Dortmund
According to Sky Sport Deutschland, Real Madrid are actively involved in the fight for the midfielder, developing various options for negotiating.
Real Madrid do not want to pay more than 100 million euros for Bellingham, therefore, they are considering the option in which Eduardo Camavinga will enter the deal. It is not yet known whether Borussia Dortmund are aware of this idea of ​​Real Madrid.
In addition, it is not yet clear whether Camavinga will agree to a move to Dortmund. The 20-year-old midfielder is unhappy with the amount of playing time at Real Madrid (1131 minutes in the 2022/23 season), but at the same time he feels comfortable at the club. Carlo Ancelotti considers Camavinga inviolable. His departure from Real Madrid in the winter is ruled out.
But the coach also likes the Englishman. "Bellingham showed at the 2022 World Cup that he is a great midfielder. But I'm focused on my midfielders, who are very good. Young Aurelien Tchuameni, Camavinga and Valverde. We have a lot of young people," Ancelotti said cautiously.
Marca journalist Carlos Carpio found out what Madrid attracts Jude: Real Madrid presented Bellingham with a project with Vinicius, Rodrigo, Valverde and Tchuameni and showed the player the extent of their progress over 4 years. This is one of the important factors."
Back in September 2022, they wrote that Jude is one of the main goals of Real Madrid. This was reported by journalist Jose Alvarez Gaia on El Chiringuito TV, and other Spanish media confirmed the information.
Real Madrid are interested in this player, he has already been contacted about a transfer next summer, said Gaia. Bellingham gave a positive answer. Sources in England have told me that Bellingham wants to play for Real Madrid despite an offer from Manchester City.
Madrid even asked Bellingham not to renew his contract with Borussia. The player has done so, but at the same time is considering other options. His current deal with Dortmund ends in the summer of 2025.
Liverpool see Bellingham as new Gerrard, Klopp hopeful of him
Jurgen Klopp also wants to sign Bellingham. Liverpool are optimistic about the upcoming negotiations for the 19-year-old, according to Sky Sport Deutschland. The club sees Jude as the new Steven Gerrard.
"There has not yet been a personal conversation between Klopp and Bellingham. Other people from the club interacted with Bellingham's entourage. They want to sign him, and they have a feeling that everything can work out. They think Bellingham wants Liverpool," journalist Florian Plettenberg told Transfer Update.
Gerrard wants to convince Jude to choose Merseyside. "All he has to do is give me a date on the calendar when he's free and I'll fly to Dortmund to talk about [the move]," the former Liverpool player told BT Sport.
Bild TV presenter Valentina Macheri spoke about how the transition is going. "According to our information, his father is in talks with Liverpool and Jurgen Klopp wants to see him in the team. But Real Madrid and Manchester City are also in the game. These three teams are prime candidates for signing him.
Klopp says if Bellingham is going to sign for the money, he will not choose Liverpool. But if Jude decides in favor of personal development, tradition and love of the game, he could go to Liverpool.
My intuition is that we can probably see him at Liverpool," Macheri told Sky Sports News.
Manchester City are still in doubt, but they have the best relationship with Dortmund
City are another candidate for Bellingham. According to ESPN, the club plans to upgrade midfield. But before that, City will find out if Ilkay Gundgan and Bernardo Silva will remain in the team. After that, a decision on the level of investment will be made.
Bellingham's transfer will not be easy to arrange due to competition between Real Madrid and Liverpool. But Manchester City have an advantage – the club is on good terms with Borussia after the transfers of Erling Haaland and Manuel Akanji.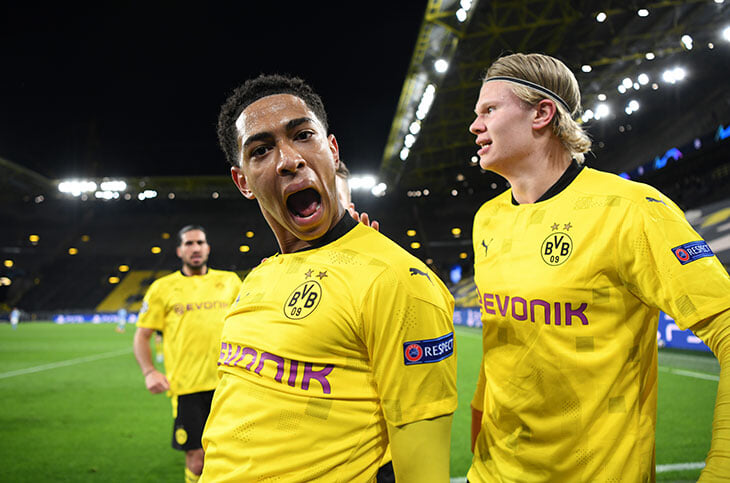 Pep is also delighted with the player. "I was impressed with Jude Bellingham two seasons ago when he was 17. Imagine how he is now. He is an exceptional, great player. I think everyone knows this, and not just because the Manchester City manager tells you! Guardiola said in September 2022.
But United are less and less associated with Bellingham – he is scared away by the huge price tag on a football player.
Can Borussia Dortmund keep Jude?
Makes every effort. Dortmund want to make a historic offer. According to the German Bild, Borussia plans to speak with representatives of Bellingham until March 2023. The midfielder will be offered a new contract, which could become a record in the history of the club.
Borussia are ready to give Jude the highest salary in the team – 15 million euros per season. But Bellingham is leaning towards a transition so far.