In November 1995, Buffon first entered the field in Serie A. Almost 28 years have passed, and he remains in the game. This season, he was prevented by a hamstring injury – Gigi played only 5 times. In the past, he has kept clean sheets in 8 of 26 matches in Serie B.
He turned 45 on Saturday. Gigi no longer plays in Serie A, but by choice. A couple of seasons ago, he was Juve's best goalkeeper. And in January, he almost threw Inter out of the Coppa Italia with Parma. Exhausted Milan thought about renting a veteran: it is necessary to somehow fix the problems on the line.
We analyze the secrets of a long-liver, from which Federer takes an example.
Gigi eats what most footballers avoid. But before and after the game he eats sushi, not carbohydrates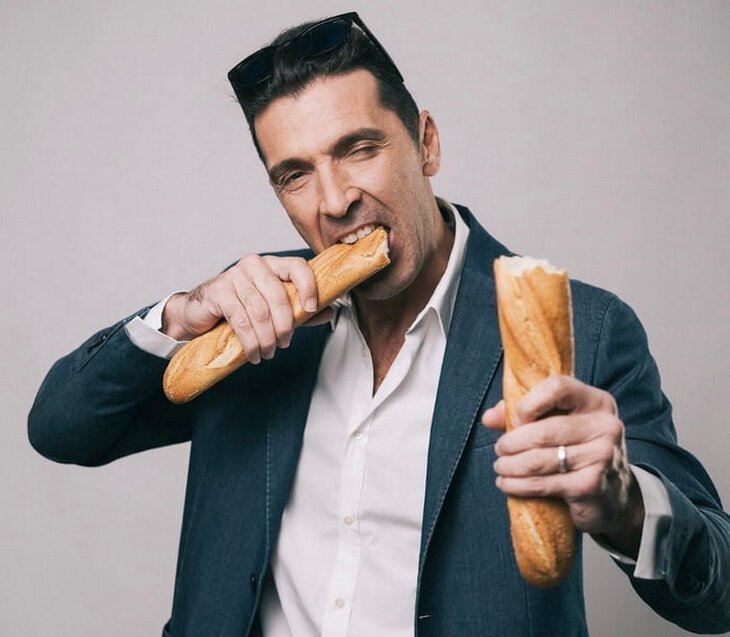 Buffon has been asked about longevity for the tenth year: an exorbitant level of 45 years is a rarity even for a goalkeeper. Usually such anomalies are looking for a sophisticated explanation. You expect insiders about a futuristic cryo-chamber hidden in the backyard, sleep techniques of Buddhist monks, or at least a diet of rejuvenating apples, if the technology failed.
But when Max Allegri was asked about Gigi's longevity, the coach replied simply: "I think the secret is that he experiences everything like a child, with a share of healthy madness."
There are no other secrets in the diet. Buffon always ate anything that wasn't nailed down. As a child, he grew up above a grocery store owned by relatives and "devoured mortadella sandwiches on an industrial scale." Professional sports have not changed him. Once the keeper admitted: "My main vice is gluttony. I keep myself in hand, an athlete after all, but once a week I overeat like an ordinary person.
Age did not convert him to the new faith. Gigi does not calculate the calories in each serving and does not obsess over salads. He likes gluten. He limits himself to very specific goals: "Anger keeps me going throughout my career. I used to eat pasta 9-10 times a week, but now I eat probably 5 times. I used to drink 10 glasses of wine a week, now I have two. But it's not that you play better if you drink a couple of glasses less. Denying pleasure is a way to ignite that very anger in yourself. "
Pasta five times a week, wine, meat – such a diet cannot be called strict. Especially against the background of other players. Maybe this is the solution? Buffon differs from others precisely in that he eats how much and when he wants. And if he does not eat, then to annoy himself. This keeps him focused and motivated.