Giving players second, third chances is fine.
"Torpedo" of recent years is an interesting phenomenon, but in the 2022/23 season there was a rise to a new height. Nizhny Novgorod people delight with hockey, they win, balancing on the verge of the floor (attention, not the ceiling!) of salaries and by their example they prove that a bright and ambitious team in Russia can be built without spending space. This can be done through trust in coaches and a thoughtful approach to players from your school.
Torpedo-2022 is considered an achievement of Larionov, but the current status of the club is the result of the last few years of work, which was started by CEO Alexander Kharlamov and general manager Maxim Gafurov. It was with them that creative coaches came to the team (Nemirovsky was in front of Larionov and Nizhny Novgorod also played creative hockey).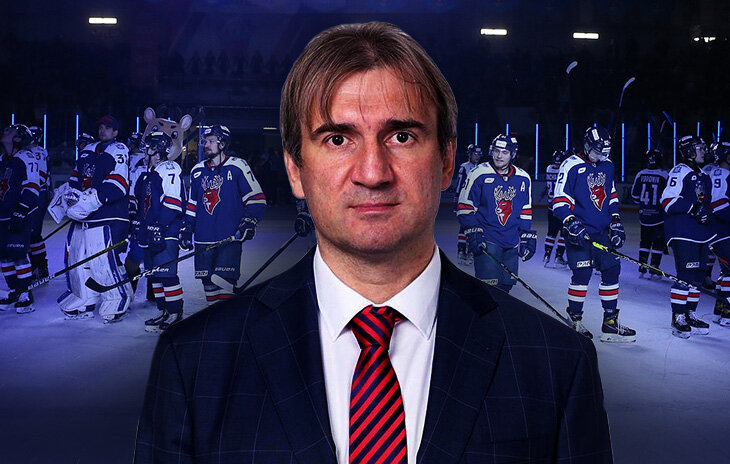 We talked with Alexander about inviting Larionov, about the values ​​of the club and about the ceiling (more precisely, the field) of salaries.
(The conversation was zoomed in, and before it began, Maxim Gafurov came into the frame to Alexander for one remark).
– Nikita, hi. For starters, I'll say that they have already begun to rebuild abruptly for us. Fans ask: "Can we continue in the same spirit?". And they don't give us any more. People come to us with such analyzes, with a forecheck… Okay, good luck, I won't interfere.
(Maxim left, only Alexander remained).
What kind of family atmosphere do you have?
– It is necessary to build such a working atmosphere – so that people feel comfortable and you feel comfortable. You need to catch this wave so that everyone moves in the same direction – then it will be easier for yourself and for people.
– In your democracy and Larionov, probably, very well fit.
– Igor Nikolaevich is responsive, and, you are right, he easily fit in with all his coaching staff. Everyone there, you know very well, are professionals – with their own stories. Both Olympic champions and Stanley Cup winners (the 1992 Olympic champion and 2004 Stanley Cup winner Nikolai Khabibulin, the 1984 Olympic champion Mikhail Vasilyev, and Andrei Kozyrev – Sports.ru work in Larionov's headquarters). But this glory does not oppress them. They are completely open, calm – anyone can come up and ask for an autograph, take a picture. Nobody will refuse.
They asked them to go to the Golden Puck tournament – if there is time, they sat down and drove off, no problems at all.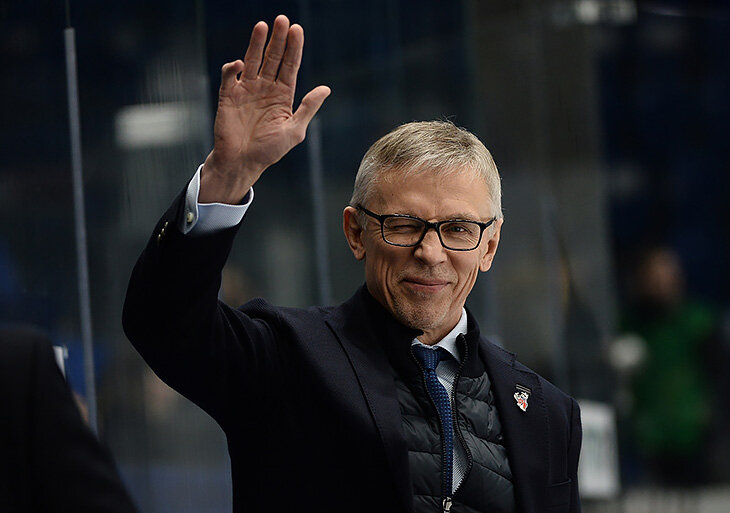 – Igor Nikolaevich, for his part, told how he ended up in Torpedo. How did this process look like for you?
– I have known Larionov for a hundred years, a very, very, very long time. I knew him as a player, and a CSKA player, and as a national team coach. A person lives hockey, studies a lot.
And not only hockey, draws a lot of information from football – that is, he is such a versatile person. He is interested in how great coaches work – both hockey and football. From any sport, he tries to pull out something that could be applied in hockey.
Working as the head coach of the national team (in 2020-2021, Larionov headed the youth team – Sports.ru), he collected a lot of information on the players. That is, he called the heads of the clubs – even if there were one or two people there – and specifically talked like that. We had several people included in the clip – and Larionov called anyway. We discussed our strengths and weaknesses with him. He has such an approach – even if these are short tournaments of three games, he is so used to it, probably, he is so calmer.
And what is most interesting: at first we talked before the tournament, then I myself became interested in how our people played there with him, and we called up after. He told some things – not necessarily from what was happening on the field. Psychology was discussed a lot – because there are stages of growing up of players, there is a lot of things in the connection between agents and parents, and in order for the guys to reach a more professional level, this needs to be put in order. Not every player at the age of 16-17 has the necessary knowledge.
That's how we constantly discussed – one, two, three. Purely about hockey, I asked – what do you think about Torpedo, about the game, about the players. Then the pandemic began, the championship was stopped, and I asked if he had a desire to work in the KHL. He replied that he would be interested. Moreover, his contract with the FHR ended.
– That is, you talked for about a year and a half before the appointment. 
– Yes, it was not some spontaneous decision. After the departure of David Nemirovsky, we discussed various candidates with Max Gafurov. In any club – be it CSKA, Torpedo or Ak Bars – there are supervisory boards, and, as a rule, the appointment of a head coach is the prerogative of this top echelon, and the management submits a proposal for discussion. We had the same. We studied all the options, discussed, proved – and here is the result.
"Torpedo" – a platform for restarting a career? Why not?"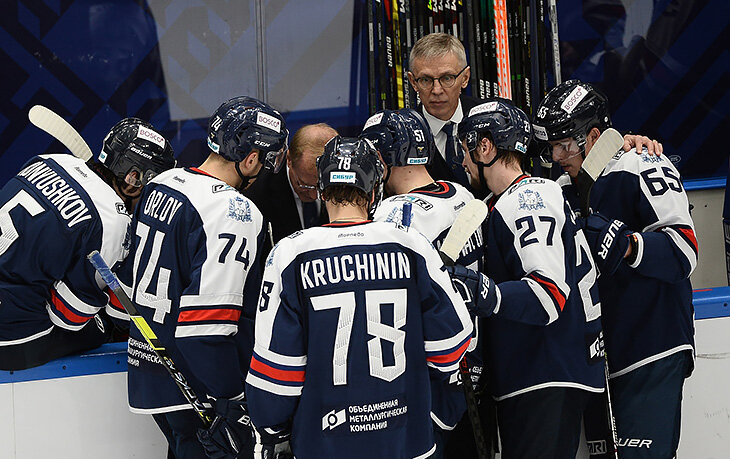 – Larionov at some press conferences has already talked a lot about how Torpedo relates to building a club. I remember his phrase that we are not so much a business as we should please the audience and prepare the guys, give them a chance in hockey. To what extent is this your position?
– Of course, I share the position of Igor Nikolayevich. First of all, hockey is a game. But business should not be forgotten either. Clubs are aimed at making money – we are also trying. And we generally make good money. Hockey in Nizhny Novgorod is very popular, people fill the stands, for which we are very grateful to them. Now a new palace is under construction, a lot of work needs to be done before its opening – both on commercial projects and on the development of young players.
– Another important thing – there is a feeling that you clearly understood the mission: to look for your guys from 16 to, conditionally, 21 years old and make them stars. 
– You understand that there can be no other approach. We initially focus on the children's school, we are looking for young players across the country to grow them for the MHL and KHL. What we earn, we invest in the development of the school – because this is our future. Year after year, buying players for 30-50-80 million is a road to nowhere.
Even before the arrival of Igor Nikolaevich, Maxim and I built such a model: we tried to find players who, let's say, for some reason, were a little forgotten. It doesn't matter if the player is from Russia or from abroad.
– That is, you have become such a platform for restarting your career.
– Yes Yes. Why not? I agree with this approach, and my personal opinion is that the boys should be given both a second chance and a third. Sometimes it happens: it didn't work in one club, in the second. Here some come to us – and their second youth begins. Vivid examples: Kruchinin, Weidman (defender Chris Weidman came to Torpedo from the AHL two years ago, and now he plays for Montreal – Sports.ru).
– Kruchinin, yes, he showed himself very well this season.
– It's nice to see: a man is 31 years old, his eyes are burning, he enjoys hockey. I talked to him myself – he says: "Yes, I now enjoy the game so much!". Alexey is now the leader of the team, he got to the All-Star Game, the young people look at him and also try.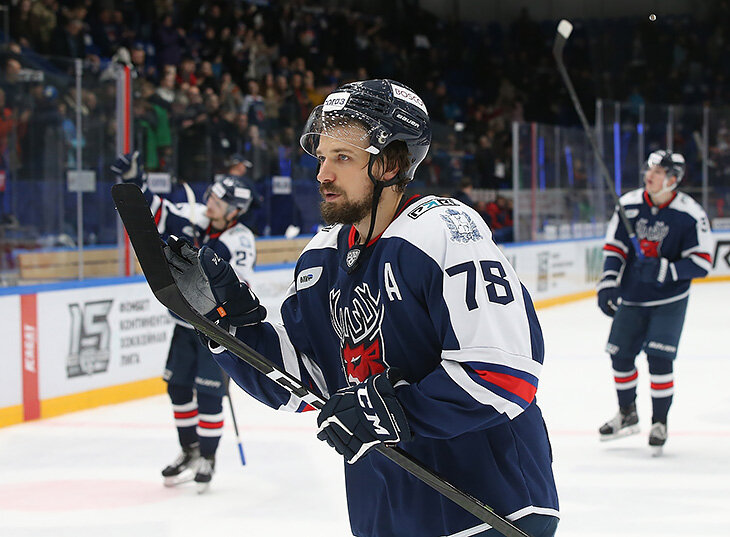 There is still a lot of work to do, the guys are growing – in general, we have about eight people who spend their first season in the KHL. This is a lot. In principle, everyone shows themselves well – I can't say that someone falls out a lot.
We have guys who from the youth team go directly to the KHL, bypassing the VHL. I agree that somewhere these are advances, but the main thing is to give this chance. It is clear that recessions cannot be avoided, because the guys are young. But they work, they try – this cannot but rejoice. Well, let's see further.
– Defender Bogdan Konyushkov, of course, is a discovery so far. It is even sometimes surprising how mature he plays.
– Here – a man has his first season, he played in the Major League. I can't say that no one knew him, he was in the sphere of interests of some clubs, but we paid more attention to him, so he ended up in Torpedo. The guy is a good guy.
Plus Maxim Fedotov, Yegor Vinogradov, Denis Vengrizhanovsky. I do not want to sing praises to them, but I believe that they can grow into very decent players.
"We need to return to the VHL – we are looking for a club with which we will share funding"
– I agree that no one falls out. The style is declared – and everyone corresponds to it. At first, however, it was clear that hockey with so many short passes, including in its own zone, was a new thing for some players.
– And this is such a long-playing topic. There are a lot of games now, and it's not physically easy, but I think that it is through games that they will hone this model. But this is modern hockey.
This should ideally start at the youth level. When I started working at Torpedo, Chaika, our youth team, was in 26th place out of 27 teams. The next year, we were one point short of the playoffs, and then the first and second places went. And this is mainly by their pupils – we have the majority of them in the youth team. These guys have grown up and are already playing in the first team. And the transition to the adult level for them every year becomes more and more smooth.
– And what did you change in the work of the school and the youth team to make it so?
– We spent a long time dealing with the coaching staff of the school – it turned out to be difficult to invite high-quality professionals. The school had to be refreshed, transferred to modern rails. Now we are trying to develop trainers, hold seminars, introduce new methods.
In "The Seagull" the coaches did not change, the work of Nikolai Voevodin and his staff suits us. The general approach has changed, but the goal is the same – the Kharlamov Cup.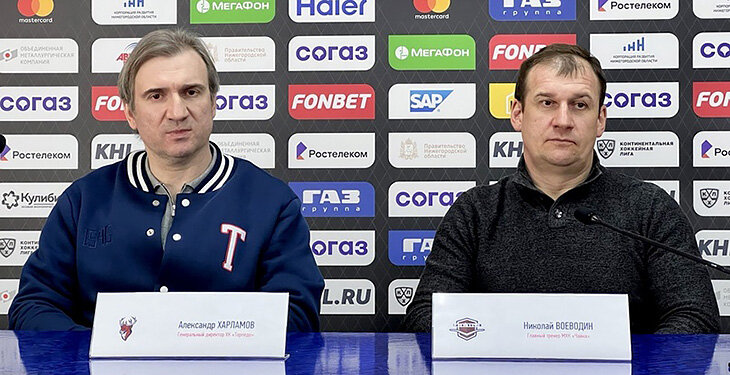 – Does Chaika play the same way now – a short pass, control of the puck?
– Yes, this is youth hockey, it is difficult to drive them into some kind of scheme. Now it is more important for them to act according to the situation, to understand what the coaches are asking for – to make it easier to start in adult teams. But yes, they also score a lot, they try to play on the attack and in a short pass. We constantly have a connection between the coaches – everyone communicates, expresses wishes.
– When Larionov came, did you discuss work with the MHL team with him? He said that he would go to youth games to celebrate talented guys.
– I will say more: not only with Chaika, but also with the coaches of the children's school, work is underway, everything is much more global here. There are a lot of games now, but when the moment comes, we will make sure that the coaching staff of the first team meets with the coaches of the children's school. Maybe not all, but those ages that play in the championships of Russia.
And, of course, next year we will try to return to the Major League. We are looking for a partner with whom we will share funding 50/50. There are several options from nearby regions, we are negotiating with them.
We will come up with something – because not all guys from the youth team can immediately get into the KHL. Many people take time and need somewhere to grow. And the Major League is an excellent stage for young players to develop, mature and then come to the first team.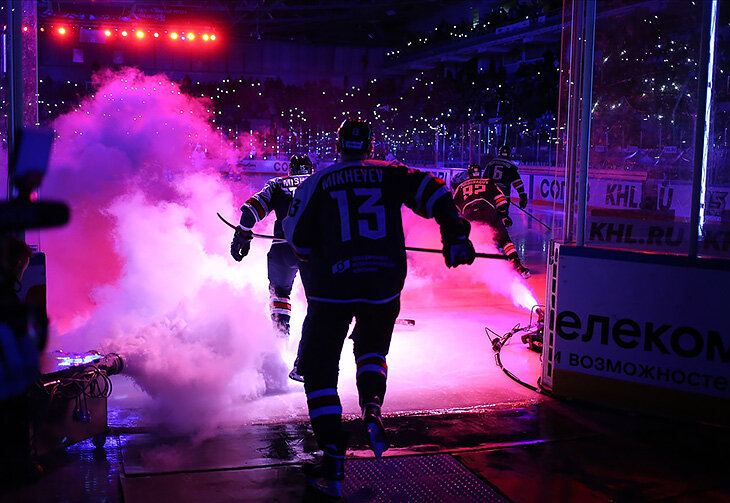 – And decipher, I'm not aware of such details – what is 50 to 50? 
– Now we are working under an agreement with Penza. There, in principle, how you agree, but, as a rule, you fall into such a framework – each Premier League club has its own tasks, respectively, someone is ready to take no more than five players, someone three, someone seven . And not the fact that they will play there.
And in half – if there are, say, four coaches, then there will be two of ours and two local ones. And, relatively speaking, 10-15 players from us. And the funding is divided in half.
"The players of that youth team are still consulting with Larionov – about leaving for America, for example"
– When Larionov worked in the youth team, I myself faced the following problem. His team won the adult Karjaly Cup in chic style, but stalled at the finish of the MFM, including getting 0:5 from Canada in the semi-finals. And even in the texts it was hard for me to defend his ideas – in my opinion, absolutely correct – because people wrote: where is the game, where is the result? So you were ready for the fact that Torpedo would not start with a series of victories, but vice versa?
– I think yes. You need to stick to the path that you have outlined for yourself. The result will come. We faced a similar phenomenon in a short period: there were games where we scored a lot of goals, five or six, and people thought that now we should score six each game.
It is clear that this will not happen. We have planned, and we are moving. This is not an easy job, and for the guys as well – to learn how to play correctly, modernly. And the coaches help them with this.
– I thought that there is such a moment – there are many experienced players in Kazan, and Kolya Kovalenko could say: if you play badly, we will put him on the bench. He feels more trust in you.
– We also do not have such that everyone is running with drafts naked. Everyone has their own tasks, everyone understands what needs to be done.
But hockey is a game where there will always be mistakes, and everyone will make mistakes more than once. The main thing is to correct mistakes so that the player perceives them correctly. Of course, when I made a mistake and sat down for five games, this is a peculiar approach.
If you look at the work of Larionov in the national teams, it's not just that the players who gave interviews after the tournaments said: "Wow, that's the approach! As a person explains, puts everything on the shelves.
Plus – it is not necessary to talk only about hockey. There are a lot of things that the legend can advise. A person with such baggage knows everything about how to prepare, what to eat, how much sleep and what to do in general. The boys are very interested. And if you build your career for a long time – of course, you will listen. We go to matches, and guys from other clubs still come up to Larionov, say hello, ask how things are going, give advice on whether or not to go to America, for example. This speaks volumes. And this is the approach of our club and coaches to the players.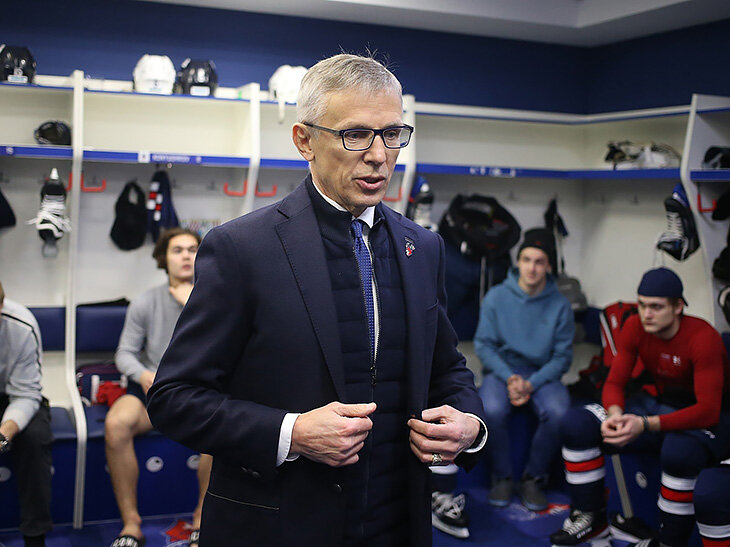 – Many say that you do not get to half the salaries. What's up with your payroll now?
– Now we are a little short of the lower limit, but we are working to fix it. Otherwise, according to the regulations, a considerable fine is due.
Maxim Gafurov and I believe that a big contract must be earned. If a player confirms his level year after year, we are ready to pay. Otherwise, we receive unreasonable and artificially inflated salaries – only in order to get to the "floor" of salaries.
We understand that if we take foreigners, the amount will be higher. And think a thousand times whether they are needed. Maybe we'd better train our young one, and he will play.
I repeat, we are building a palace, which, we hope, will be ready by 2025. And we want to keep this squad as much as possible, so that it grows up and turns into a strong, combat-ready team. Of course, it will be supplemented, something will change, but I want to keep this team.
Let these players grow – I understand perfectly well that some guys will end their contracts, and they will come for a promotion. But then there will be a conversation – we will think.