Ready for the holiday.
We are already used to the fact that Mainz and Cologne annually produce holiday sets for carnivals in their cities. Cadiz is also in a hurry, because one of the most famous and colorful carnivals in Spain takes place there.
Variegated colors, presentation at the "Gran Teatro Falla"
In 2023, the carnival runs from February 16 to 26 – Cadiz has prudently prepared for the holiday and released a hot pink uniform inspired by the carnival. The club soon announced that the first run was sold out in 48 hours and opened bookings for the next batch.
Cadiz did not reveal anything about the design of the T-shirt, only calling it original. On February 25, the team will play in a fresh set against Rayo Vallecano.
The form was presented at the luxurious Gran Teatro Falla: the place is not accidental – it is here that the annual artistic competitions of the Cadiz Carnival are held.
The Carnival of Cadiz is a folk festival that the authorities did not always like, but has survived to this day.
Cadiz is one of the oldest cities in Western Europe, famous for its combination of Spanish and Moroccan cultures. But the local carnival, which dates back to the 16th century, was greatly influenced by Genoese and Venetian merchants. Masks, serpentines, confetti were borrowed by the Cadiz holiday from Italian carnivals.
The main distinguishing feature of the carnival in Cadiz is the emphasis on satire, sarcasm, caustic criticism and ridicule of pressing social and political problems. This can be seen in witty outfits, satirical songs, ironic theatrical miniatures.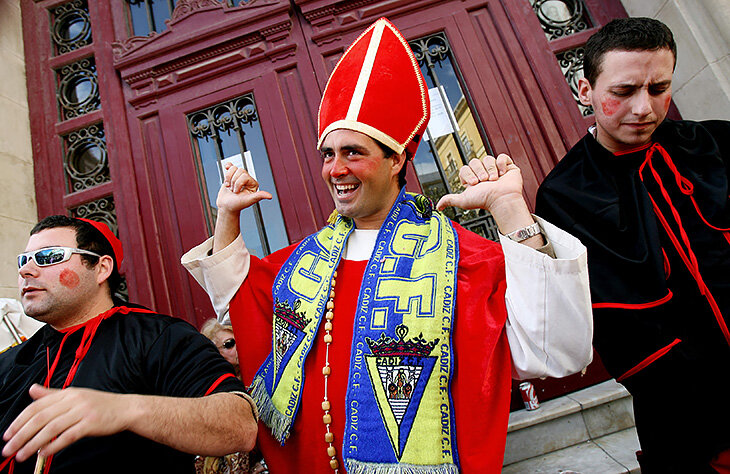 Throughout history, such a carnival has been repeatedly banned by the authorities, but the holiday has become so popular that it has not really been possible to eradicate it.