Midfielder Moisés Caicedo is finishing the season at Brighton after strong interest from Arsenal and Chelsea in January. Recently, the Ecuadorian even re-signed the contract until 2027, but this hardly means that they will not come for him again in the summer.
At 21, Caicedo is an indispensable midfield player for the Premier League's seventh team. He rose to this status in just a year and a half. 
Caicedo started the 2021/22 season at the Belgian Berschot. In January 2022, Brighton withdrew him from loan due to a lack of midfielders. 
"He's been incredible since he came. In every game, Moises was one of the best players. Caicedo is like a rock, hard to pass," Solly March described partner in December. 
Let's figure out what qualities Caicedo stands out for and how he still falls short of the best defensive midfielders in the Premier League. 
In January, Caicedo was close to Arsenal and even wrote a farewell post, but Brighton did not let go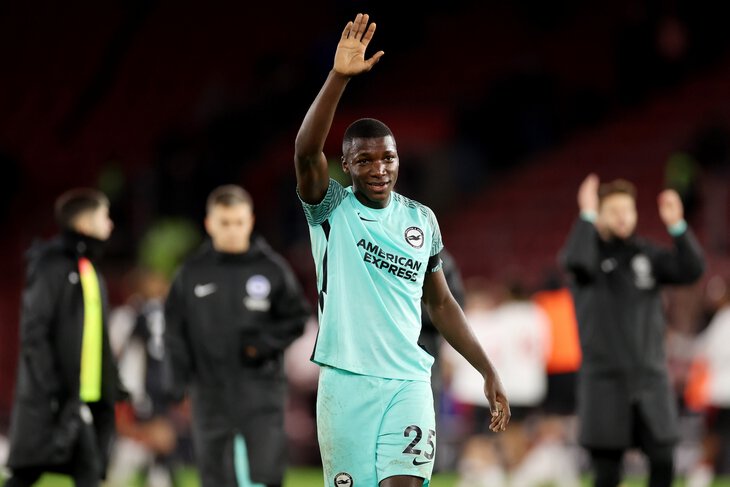 The transfer window for Moyses has been very stormy. 
The first serious rumors appeared on December 29, when The Athletic wrote about Caicedo as one of the options to Chelsea's midfield. But a few days later, De Zerby made it clear: "Hopefully we can keep Caicedo and Mac Allister in January. I would like to keep all the players until the end of the season." 
A new round of news brought mid-January. Insider  David Ornstein  wrote about a £55m offer from Chelsea, even though Caicedo was looking for a new agent at the time, so the deal would not have moved forward. An indicator of seriousness – a new interview with De Zerby: "The best decision is that he will finish the season with us. It would be better for Moises to change teams in the summer." 
On January 23, the Ecuadorian finally agreed with Futbol Division, and the very next day he declared his loyalty to the current team. "I am focused on Brighton. Things from the outside don't bother me," he said.
But three days later, everything turned upside down. Arsenal offered 60 million pounds for Caicedo, the player himself wrote a farewell post on Instagram and missed training on January 28.
Brighton stubbornly refused to sell Moises. New offer – 70 million pounds with bonuses just 2 days before the deadline. But it was also rejected. Arsenal urgently switched to Jorginho. 
So the Ecuadorian, despite the decisive steps of the top clubs, remained. De Zerby asked fans to be understanding ahead of the Bournemouth game: "I am very happy that Moises will stay with us until the end of the season. I want it to be supported, not criticized." Caicedo came on as a substitute in the second half.