Artem Denisov – about who is difficult to overtake.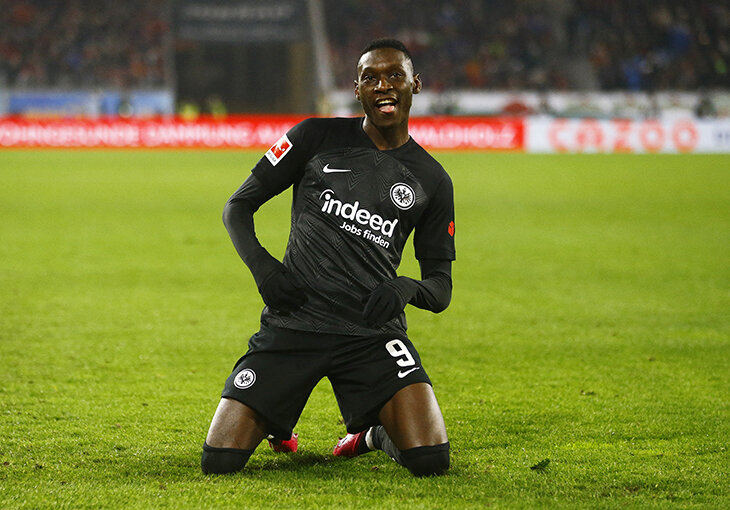 Randal Colo-Mouani is the same forward joker of the French national team. It was after his strike in the World Cup final in the 123rd minute that Emiliano Martinez made the most important save of the tournament.
After the final, the 24-year-old, of course, was very worried: "I will think about the missed opportunity for the rest of my life. It's impossible to forget. But you have to keep playing. Every attacker missed chances. You can't give up."
He didn't crack. After the World Cup for Eintracht, Randal has 7 + 2 in 7 games. In the 2022/23 Bundesliga, he scored 10 + 10 in 20 matches – the best assistant of the championship and the best in general in terms of performance. And there were also two winning goals in the group stage of the Champions League – in the fifth round against Marseille (2:1) and in the sixth against Sporting (2:1). It was Colo-Muani who pulled the team into the playoffs.
We already admired his fate: he had difficulty adapting to a sharp growth (he reached 187 cm), suffered from injuries, at 17 he could not find a professional club and thought about quitting football.
Now let's talk about his game development. The January ball against Bayern is the best illustration if it were necessary to characterize the striker with one goal. Two-man attack, antelope sprint, light dribbling, accurate shot.
In fact, Colo-Mouani sparkled already in Nantes. This is a team in which only three players often attacked.
Any explosion of performance can be downplayed by the thesis in the spirit of "yes, he just shot, this is a player of one season." Colo-Mouani has already broken the season record for goal + pass, but at Nantes he also brought consistent results, albeit without incredible numbers: 10 + 4 in Ligue 1-2020/21 and 12 + 4 in 2021/22.
Nantes is a great school for counter-attacking attackers. Great, but brutal. Their structure looked like this: 11 players defend, three attackers attack.
Here they are from left to right: Nigerian Moises Simon, Colo-Muani and Frenchman Ludovic Blas. Their breakthroughs were reminiscent of Desmond Doss's mantra in the movie Hacksaw Ridge. As the hero of Andrew Garfield repeated: "God, let me save another one," so Colo-Muani, Simon and Blas went on another run to someone else's gate, meeting first one opponent on the way, then another, then another. Often stumbled, but kept trying.
And if Doss performed feats alone, then Nantes at least had a combat unit. Blas, in addition to strokes, cut out an elegant opening pass behind the backs of the defenders on Colo-Muani, Simon could serve or shoot at speed, Colo-Muani himself willingly played along with his partners. His position as a center forward was conditional: the trio was constantly interchanged, just to get the ball to someone else's goal.
Colo-Mouani said with a chuckle that the Nantes style required incredible intensity: "I accelerate so much, I go so deep that after the sprint I lack clarity in front of the goal. I even miss the last pass sometimes."
Nantes coach Antoine Comboiret understood that strikers in such a system needed a unique symbiosis of performance and talent. And he admired Colo-Muani: "He is a football player and an athlete. Speed, martial arts, jerking with the ball, possession technique – all at the highest level. Positionally versatile, looks organic both on the edge and closer to the flank. He is generous, plays well for the team.