And even thanks for the changes after the crash.
Every year motorsport reminds us of mortal danger – drivers or spectators are constantly dying at the Dakar, and even in the over-thought Formula 1, the driver can fly into the barriers in an incredibly dangerous way or find himself in the rain at a speed of 250 km / h a meter from the tractor with zero visibility .
However, the most tragic in modern racing remains the fatal crash in the 2019 Belgian Formula 2 race: it cost the life of Antoine Hubert and almost killed Juan Manuel Correia.
In that accident, the cockpit of Correia's car fell apart and exposed the legs of the Ecuadorian:
They ended up peddling – Juan Manuel published the first x-ray:
They even suggested amputating the right one!
"The pain in my legs came on almost instantly. This was strange, because with racing adrenaline, the pain after an accident usually shows up after a few hours, when the adrenaline has already subsided. This time everything turned out differently due to fractures. I experienced a painful shock, and at the same moment the car began to smoke. I had to get out of the cockpit myself. When I saw the rescuers, I immediately asked them to give me painkillers.
I don't remember how I woke up the next day, and I don't even remember how long I stayed in the hospital. I spent three or four days there, after which I was transferred to London, and the next day I fell into a coma, from which I came out in two weeks.
Doctors are restoring my right leg. The left one suffered less, one operation was enough. The process will take another year, and most likely the leg will not fully recover. I lost six centimeters of the tibia, now it is growing again with the help of a special device."
This is what Juan Manuel said back in 2020. And now in 2023 he is taking his career back – he has already spent two years in Formula 3 (took one podium there), made his debut in the LMP2 World Endurance Championship (a podium and won two races), took a contract in the WEC and for 2023, and now he will again go to F-2. Although in general he spent two races in the main youth series already in 2022 – and finished 17th and 18th – but after them he persuaded one of the Van Amersfoort outsiders to take him for a full season!
All thanks to sponsorship – with her, the 23-year-old racer allows himself to keep his dreams about F-1.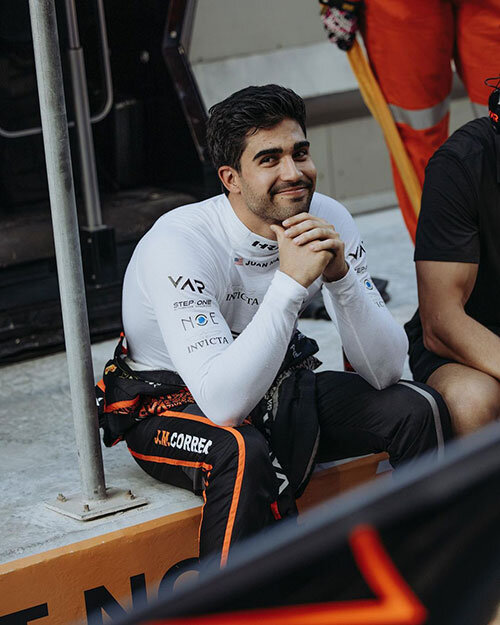 "I will still definitely go to F1 if the opportunity arises and I see a clear path – I will do everything to steer my project in that direction. But now I have obligations not only in F-2, but also in endurance racing. At the moment I'm at the point where even if I don't make it straight into F1 or whatever, F2 is still the best series for my racing development. I can still get a lot from her.
After all, there are other factors like money and sponsors: from where I get support and the opportunity to race in principle. We all know how much money it requires. I was very lucky to find such support for two years in F-3 for a comeback.
One of my main sponsors stayed with me even after the accident, and then I found a couple of new ones. I must say, most of them are very excited about the idea of ​​continuing with me up the stairs to F-1.
We are realists, we know that getting into F2 is one thing, but making a move into F1 is incredibly difficult. For this I need to fight for the title in F-2, and even in this case, for a chance in F-1, you still need to bring fat checks many times.
Is the injury no longer a problem?
In fact, not quite – the leg still does not work like a "normal" one, and after the races it takes a long time to recover:
"I really don't like to build a career around an accident because I don't want people to think that I'm trying to get their sympathy, you know? I'm just another rider, there's nothing special about my history.
Yes, while the rest of the riders are competing, replenishing lost fluids and returning to training or the simulator the next day, I need to go through hours of special physio. Previously, sometimes operations were assigned between races. Last year, after the first stage in Bahrain, I had broken bones patched up.