Mikhail Mudrik is slowly settling in at Chelsea, but an incident has already happened. Recently, he flew to Warsaw to say goodbye to the Shakhtar players, and got into a small scandal.
Defender Nikolai Matvienko jokingly asked: "Do you need a left-back to replace Cucurella?" Mikhail replied: "I need it … Just don't post it."
As you understand, Shakhtar's media service did not cut the moment. But many Chelsea fans are more likely to agree with Mudrik – Marc Cucurella's performance in the last match pissed them off.
Cucurella hardly played Mudrik. Only 7 passes per hour
Chelsea played 1-1 against West Ham on Saturday. Mudrik and Cucurella came out on the left flank, both were substituted in the 67th minute. The strangest detail: Cucurella routinely ignored Mudrik.
It's true: Cucurella got 49 accurate passes (55 attempts) during the match, and only one of the passes went to Mudrik, although he constantly rushed behind his opponents. In total, there were 7 passes.
The gear map confirms: Mark almost didn't pass to Mikhail – basically, the passes went across. In contrast, evaluate a bunch of James and Madueke on the right flank.
Social networks are filled with cuts, as Cucurella ignores Mudrik's jerks even in obvious situations. Simple dissatisfaction was also enough.
"Mudrik wasn't as bad as some say. He was good when he got the ball. It's not his fault that Cucurella pisses every time he needs to pass forward."
"I've had enough of this combo of Cucurella and Mudrik on the left flank. Give me Mudrik-Chilwell as soon as possible."
"Mudrik plays insanely well. Considering the fact that in the last 3 months he has only 100 minutes on the pitch, and also Cucurella plays against him.
"The synergy between Mudrik and Cucurella is still very bad. Cucurella does not connect to help Mudrik in the attack, and he does not come back. Because of this, Mark isn't sure if it's safe to connect. Because of this, we both attack and defend on this flank by 50%. This is our weak point."
Graham Potter also got it: "Cucurella ignored Mudrik the whole game, and Potter took them both off. Yes, every coach needs time, but at least let our game be nice to watch. All the progress I see has come down to millions spent and the top talent doesn't know what to do."
However, there were those who defended Mark – they said that Cucurella created space for Mudrik's jerks with his movement.
Michael also did not pass by the situation. The Chelsea player liked the post but quickly removed the like. True, the Internet remembers everything.
By the way, Mudrik also posted photos with Ben Chilwell in the gym with the caption "My bro." Also not a good sign for Cucurella.
Cucurella played poorly, but he is also a victim of Potter's terrible experiment
The problem is wider than the interaction of two players. She is structural. In this match, we most often observed such an arrangement of Chelsea during draws. 2-4-0-4 (sometimes 2-4-1-3), where zero is a big gap between the lines. It looked something like this: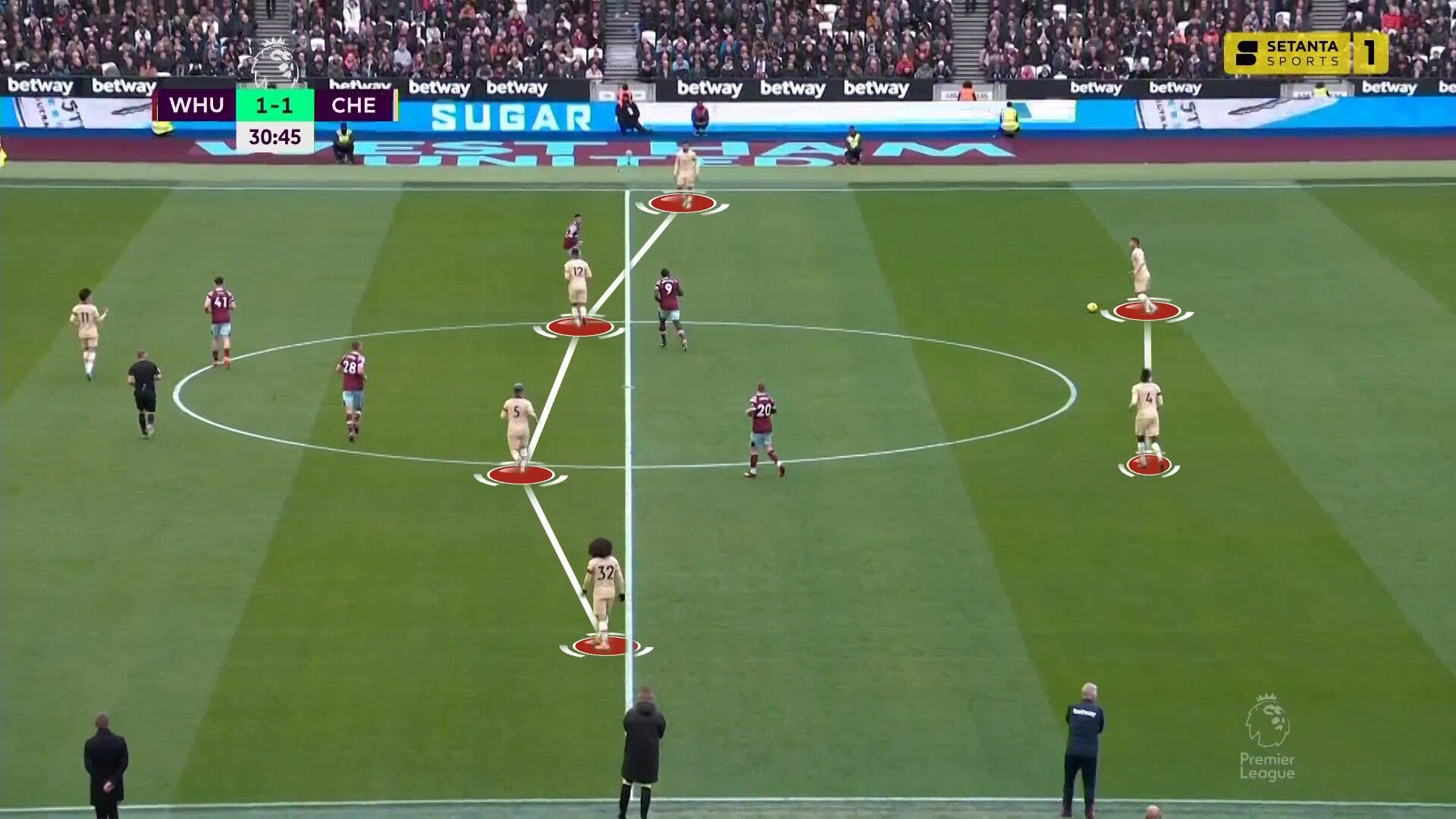 Indirectly, this is also noticeable through the gear map above. This arrangement was deliberate – as part of this strange design, attacking players were required to hold position and wait for the ball to be delivered. It's just that it's a very poor structure for advancing the ball to attacking players. For control in some conditions, it may be suitable (although also not optimal), but for advancement – just terrible.
As a rule, 6 players (2 central defenders, 2 wingers and 2 defensive players) ended up behind the ball line. Consequently, there were not enough options in the last line and in someone else's holding line. Only rolls in anticipation of an opponent's mistake, or a game through a long pass. In general, the progress was monstrously slow and came down to the individual qualities of the players.
Do not even ask what Graham Potter wanted to achieve with this. But here are the facts: such a structure was formed in almost every protracted attack; it didn't work.
The two parts of the team – the defensive six and the attacking four – were cut off from each other. Even when the ball reached the attacking players, they found themselves in the minority against 5 West Ham defenders (plus midfielders running to the rescue). Within such a structure, it was difficult for all attacking players to show themselves. Everyone was fed badly, therefore, it was possible to show oneself only by clinging to the episodes.