Mikka Pauli Häkkinen came to the UK from Finland in 1988, where he won everything there was to win in karting and junior open wheel series to become British Formula 3 champion within two years. His amazing natural talent, combined with hard work and dedication, have been a constant basis for success.
He made his F1 debut at Lotus in 1991, moving to McLaren as a test driver in 1993. An accident in Adelaide in 1995 nearly ended his career, but with courage and determination, he recovered and won two world championships with McLaren, for whom he played nine seasons in a row.
Not the most talkative person in his youth, Mika is now open, honest and insightful. From his home in Monte Carlo, the Finn agrees to remember all the main episodes in his career.
In this interview you will learn:
– the first years in the youth team: how Mika learned that just being fast is not enough, and how much the Marlboro helped him in his career (spoiler: just a lot).
– about the difficulties with the media due to difficulties with English.
– the atmosphere in the Lotus in 1991 – Mika's first team in F-1
– why did Mika already drive a McLaren in the not very prestigious Porsche Super Bowl and how he got his personal 911.
– how Mika provoked the anger of Ayrton Senna after the very first joint qualification with an unsuccessful joke.
– how to have a great relationship with the once-powerful Ron Dennis: basically keep your mouth shut and not claim #1 status.
– how he was recovering after an accident, as a result of which he even paralyzed half of his face.
– how the fights and victories over Michael Schumacher felt.
– what a not-so-nice guy David Coulthard really is.
– what Mika will remember from his career in his old age and why he did not return to racing after a year of break.
– what Mika thinks about the modern "F-1".
– what after an active career: teaching children karting.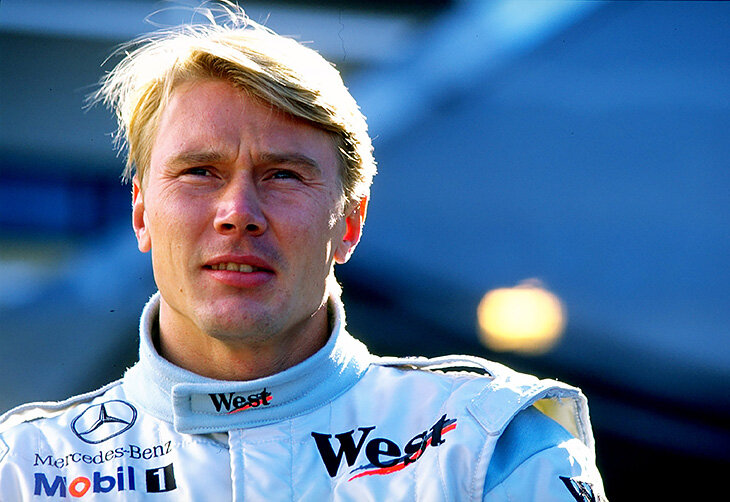 Early youth years: misguided debut, titles thanks to sponsors, difficulties with English
– When you first came to Britain to drive for the Dragon team, you still had a lot to learn, despite all your successes in karting and Formula Ford. How important were those early years in building confidence and character?
– Very important. When you're a young rider, it's all about learning, and that process is about yourself and also about working with the team. In 1988, in the GM-Lotus Euroseries, the Dragon was financed by Marlboro. It was a good, dynamic team with great people – very experienced. Everything looked good for me and Allan McNish. We won races. I won the European Series, Allan won the British Series. It was a fantastic time, but it was necessary to move to Formula 3.
I looked around and chose the Dragon team. They were ready to move on to the next level, and I decided: why not stay where I am? Everything looked good, but the problem was that I didn't know how technically sophisticated the F-3 cars were.
I had little experience in this, but Allan moved to West Surrey, which was a very good step for him. It was the time when reality came into my life. I thought it was enough to be fast and talented. I won championships on the way up, but it wasn't enough. I was very young, I was only 20. I needed an experienced F-3 team that could work on different tracks with different settings. This decision became a mistake, but it was mine, not someone else's. Now I was in a bad position and had to learn the hard way.
You can't compete with a team like West Surrey, for which Ayrton Senna once played, driving a car with a bad chassis and Toyota engine. Yes, we had some good results, but I was not there to win the race – I was there to win the championship. All this was a big test for me.
– Thanks to the support of Marlborough, you then joined West Surrey in 1990 and won the British Formula 3 title. How vital to your career was this commitment from such a powerful sponsor?
– It was great. I would not have become a world champion without their support. It wasn't just money, it was people like James Hunt, Mike Earle, Graham Bogle, Hughes de Chaunac. Even Ron Dennis was in on it. They all supported me. My English was still very poor. I could hardly say good morning. It was catastrophic, really bad, but I was aware of it. So my performance in the car was important and the Marlboro test day went very well.
It was a real support program for young pilots. They knew that after the departure of Senna or Prost, they would need new good pilots. The program was dedicated to education, communication with the media, health and fitness, as well as managing one's life. They sent us to driving school, to a health care program, they even taught us how to use a fax machine, can you imagine? It was a brilliant program that showed us that being a real professional racer is not just about turning the steering wheel left and right.
It was a long-term plan to prepare us to represent sponsors and companies, to speak to the world's media, to be professionals deserving of the millions of dollars that Formula 1 drivers would earn. You see it happening today. The big teams are looking after the young riders, preparing them for the future.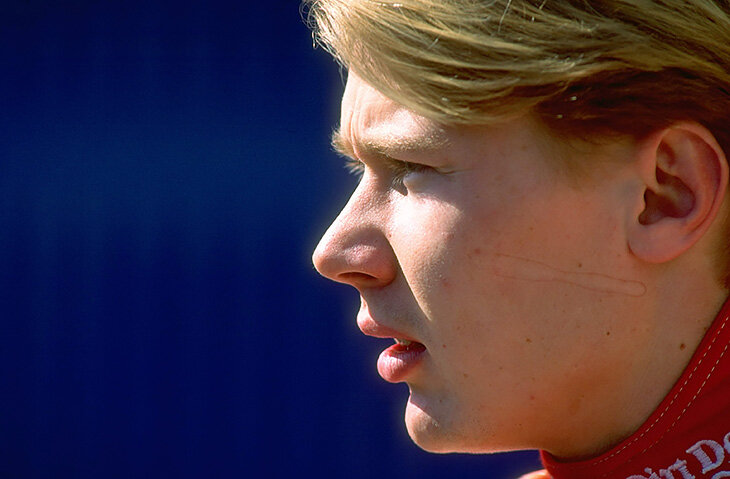 – In those very early days, you didn't seem to enjoy the media and still preferred to stay away from them. Why?
– Ha! Well, that was the weakness of my English, a big problem for me. I wanted to tell my story, but the language was a challenge, a barrier. Also, when you're young, you don't understand that you should only read authoritative materials, accurate reports, and not all this nonsense, so I had to learn who to respect, who I should trust.
Again, this is part of the learning process. You need to understand where good editors are, good journalists who write sincere texts.
– You won Formula 3, and in 1991 you got a chance to debut in Formula 1 for Lotus. This, I assume, was your dream come true?
– Yes, of course, the dream came true, and Peter Collins (team manager – Sports.ru) was very kind to me. He took care of me. Peter was a great person. Keke Rosberg (1982 F1 Champion – Sports.ru) was my manager. He had many connections in sports. It was Keke who was in the right place at the right time to give me this chance. The team was not at the top. Peter was under tremendous pressure. It was hard for him. The car was not perfect, there was not enough money for development. Many things just had to be dealt with.
Johnny Herbert became my teammate. He was like a son to Peter, and I thought: "Wait, there are two riders in this team," but I immediately recognized this connection. In a team, you cannot be emotionally attached to anyone. You have to be very disciplined in your emotions, otherwise people will start taking sides, and this can affect the young rider. Am I getting the best possible support? Am I being treated fairly? Things like that can make things difficult, but Johnny was a fantastic teammate.
Johnny was also very fast, incredibly fast – a big motivation for me. He made me work even harder and really influenced my career. However, the job at Lotus was not easy, it was a volatile time, but I was happy to be in Formula 1 and develop as a driver. He was very fast, but his ankles were badly damaged. He was constantly in pain, so I don't think Johnny was performing the way he wanted to at the time. If you look back, you will see that we were very equal in terms of speed.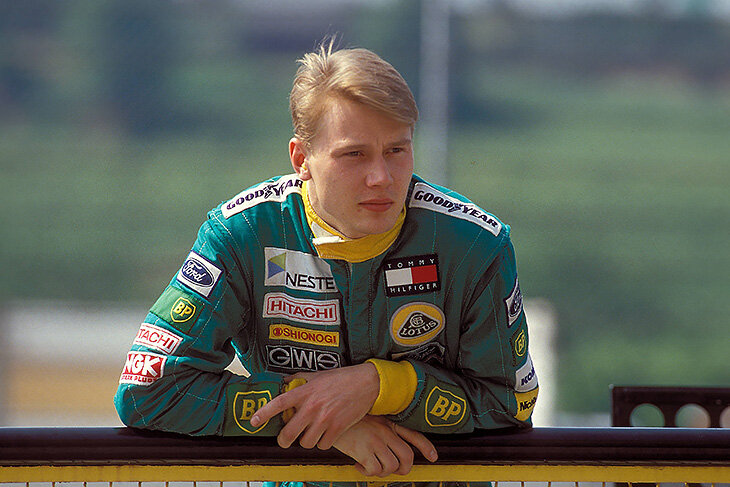 – In 1993, as a test driver for McLaren, you won the Porsche Super Cup race in Monaco from pole without ever driving a Porsche before. That must have helped you get a place in the Grand Prix?
– Just a test pilot, I was very disappointed. I just wanted to race and it was a great opportunity for a young rider to pass all the tests, develop the MP4/8 according to my style of driving.
In Monaco, Ron came up to me and said: "Do you want to race for Porsche?"
Certainly! It's a pretty difficult car so I just had to adapt and with so much experience testing an F1 car it seemed really slow.
In qualifying, I braked too hard before the Sainte-Deveaux corner. I lacked front end handling so the team just poured in more fuel to add weight to the front end. So simple. There were fast and experienced pilots, but they were not very happy when they learned that I got the pole position.
They knew how to drive those cars, how to take care of the tires, but luckily this is Monaco so I was able to go slow in the right places, be fast in the right places and they couldn't overtake me. It was a great experience, and later I heard McLaren manager Joe Ramirez say to Ron, "Come on, now we have to put this Finn in a race car", which was nice. Ron made a deal with Porsche that gave me a 911 road car for a year. It was silver on the outside and purple on the inside. Marvelous! I was grateful to the team for giving me the chance to show my talent and yes, it was a good weekend.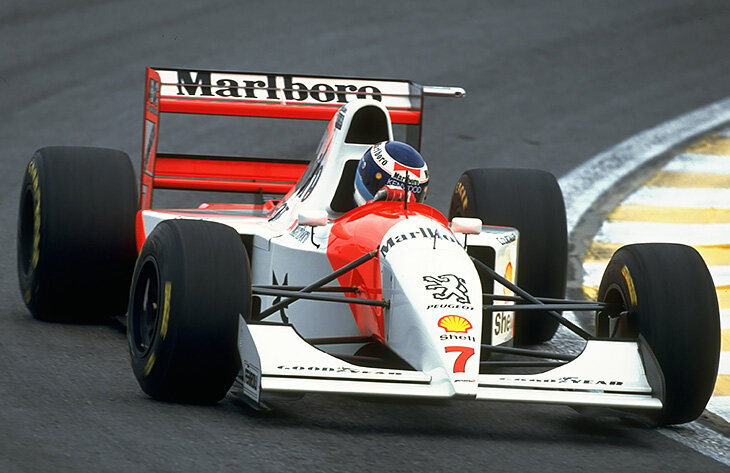 Debut at McLaren and immediately victory over Senna in qualifying, Ayrton's anger, internal battle
– You made your debut in Portugal when Michael Andretti left the team. Then you passed Ayrton Senna in qualifying, which caused a bit of a stir. How did he react to this?
– It was a huge success. We had a special braking system on the MP4/8 that allowed us to adjust the braking throughout the race day. We had power brakes, incredibly powerful, power steering, active suspension, everything. I knew this car so well. I knew that I could drive at the absolute limit and never believed that anyone could go faster. I was so fast in this car.
Ayrton understood that there were other fast pilots, but when I sat down and drove faster than him, I wanted to understand what was the matter. As a three-time world champion, he was very mature, very confident, so he asked me, "Mika, what have you done?" I said: "Ayrton, these are eggs."
He became furious and very upset because of my words. I was shocked, tried to explain to him that it was a joke and that of course I respect him for everything he has achieved. But also that we need a little humor.
It was a very traumatic moment for him. People asked him: "Who is this Finnish guy? What happened to Ayrton? An interesting moment for him: he realized that now there is a big threat inside his team, and if I start kicking him in the ass, he will look ridiculous. After that, in Japan and Australia, he won both races, but I was on the podium with him in Japan.
His engineers began to work very hard. He and Giorgio Ascanielli were very close, and because they knew I was a threat, they didn't care about me or what I was doing. They didn't share or talk about anything. I had to come down from heaven to earth. I still had a lot to learn, and I was lucky that Ron gave me time to study, to work with the team. He told me, "In time, everything will be fine."
You seem to have developed a strong relationship with Ron Dennis in the following years. Was he important to your success as a rider?
"Yes, because I have learned to keep my mouth shut and let Ron speak and lead the team. He was the number one man, and over the years we developed a close relationship. I didn't want to waste energy on "I want this, I want that, I'm number one" and I think Ron respected that. I just did the job of a driver who wants to win races and Ron handled everything else.