With Richarlison and Dimitri Payet, heroes of the top tier, Pole Marcin Oleksi claims the best goal in 2022.
Of course, you've never heard of him. And they shouldn't have: this is an amputee football player who scored a gorgeous ball in a fall over himself.
Something reminiscent of Richarlison's flight , right? Only here is a man with crutches, who does not have part of his lower leg.
Oleksi became disabled when he was hit by a skating rink while working on the road. I had to amputate part of my leg
Marcin plays for Warta from Poznań. On November 7, 2022, his team defeated Stal – 4:0. You just watched the goal from this match.
But how did the guy get such a goal?
"When the partner was just approaching the ball, I realized that the pass would go to me," Oleksi said. – When I shot, I watched all the time how the ball flies – and how it flies into the corner. I always wanted to score beautifully. You saw how proud I was of this goal – I straightened up, puffed out my chest. I was so happy!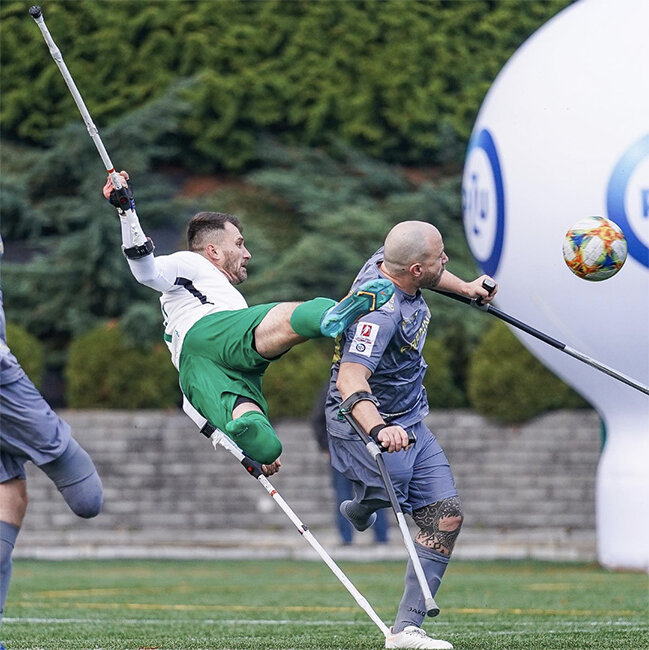 The football player said in an interview with Sport.pl that even then he felt that this goal could fly out of the narrow environment of football among the disabled. But he did not expect such a grandiose effect. Oleksi admitted that he had previously tried to do something unusual when the ball was in the air. Now it really worked.
The player will be 36 in April. His life changed in November 2010, that is, at the age of 23. Marcin was a goalkeeper, played in the fourth division, often received personal prizes in tournaments, but made his living not by football, but by road work. Once he went to patch up a big hole in the pavement.
ANDbecame a victim of an accident: the car flew into a 150-kilogram skating rink, and he drove over the guy's legs.
"At first I didn't feel anything. Then came the realization of how bad it was," Marchin recalled. "But at that moment I didn't worry about my legs, or about my life in general."
On the way to the hospital, he lost consciousness. It was only when I came to my senses after the operation that I realized what had happened. Part of the leg was amputated diagonally. The Pole admitted: first of all, he was happy that he was alive at all.
Marcin returned to the field because he wanted to play with his young son. And now he is in the Polish national team
Oleksi did not want to upset his family with his appearance, so he joked about his leg already in the hospital.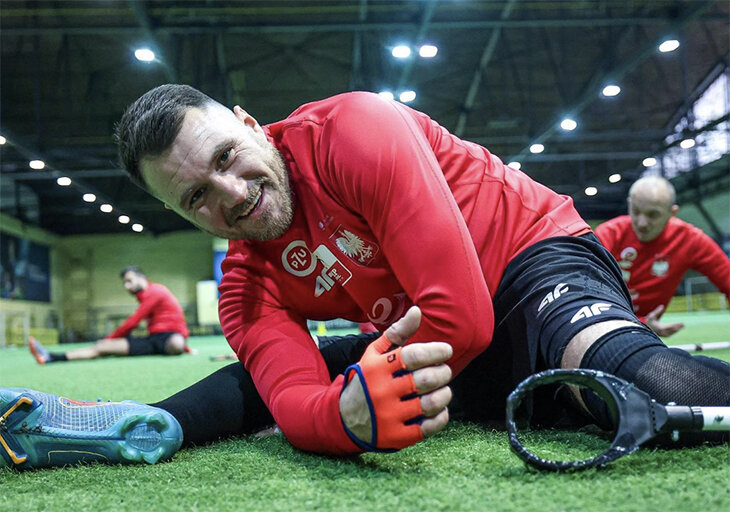 Marchin calls that time a difficult period: two years in a wheelchair, the birth of a son and constant thoughts about how to provide for a family. But it was the son, in a sense, that brought him back to the field: "One day I promised myself that if I have a son, I will play football with him. As he grew up, we went to the playground. Memories flooded in. And I began to look for a football job," says the Pole.
One of the academies invited Oleksi to work with young goalkeepers. And he really liked this job. And later he returned to the game himself: in 2019, he held the first training session in the club for amputees in Poznan. In 2020, he made his debut, even scored, but after 20 minutes he broke his fibula. But as you understand, he did not stop there: he returned, impressed many and even got into the Polish national team. And now he plays in the fifth team of the country – Varte, for which he scored a masterpiece goal.
Before disability, Oleksi played at the gate, and now he has become a forward. "I have faced strikers as a goalkeeper for so many years! So I know their behavior, I know how they react in certain situations – it helps," he explains now.
Of course, adaptation as a disabled person was not easy.
"First you think of the negative. But over time, I paid attention to the good. I managed to get out. In many ways, this is the merit of my wife, children, family, – Oleksi said in an interview with TVP. "Maybe if my life were worse, I would complain. But now I'm not complaining. Everything seems to have changed for the better."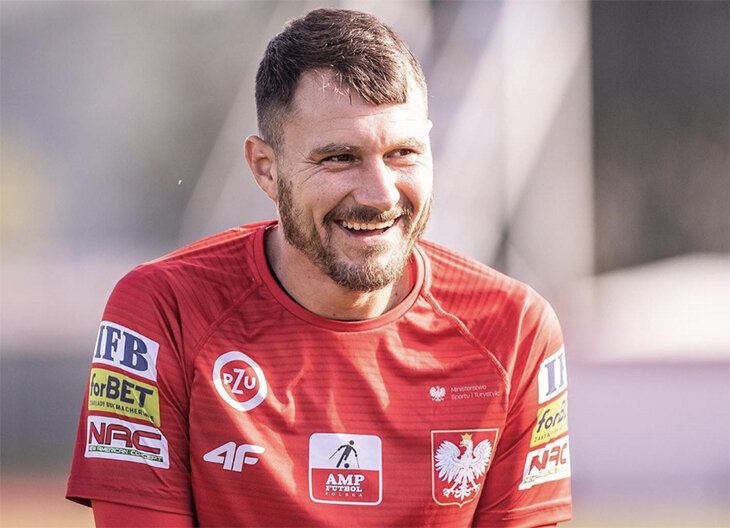 How do amputees play football? They even have the Champions League and Russia is the best team in the world
The main thing is to imagine how everything works.
• The players play on a field measuring 60×40 m, there are six field players and a goalkeeper in a team.
• UEFA has already held three Champions Leagues: in 2022, the final was held just in Poland – in Krakow, Turkish Etimesgut won. Third place went to Manchester City.
• There are also European and World Championships. The most titled team in the world is the Russian team, the Pentacampeons. Brazil and Uzbekistan took gold three times each. By the way, Russia hosted the World Cup twice: they played in Sochi in 2002 and in Kaliningrad in 2012.
• Turkey won the 2022 World Cup. The Poles also played together with Oleksi – they defeated Tanzania and Spain in the group, and in the 1/8 finals they flew out from Brazil.
Amputee football is not a Paralympic sport, but the question of its inclusion in the program has been repeatedly raised at the international level. This variety is developed in 30 countries of the world.
***
We will find out the winner of The Best award on February 27th.
The Puskas Ferenc Award for the best goal will be presented for the 14th time. It has already been won, for example, by Cristiano Ronaldo, Neymar, Zlatan Ibrahimovic, James Rodriguez, Mohamed Salah and Son Heung Min.
Representatives of 12 different countries won, only the Brazilians won twice (except for Neymar, Wendell Lira took in 2015).
The Poles have not yet won the Puskas Prize. It will be beautiful if it is Marcin Oleksi who becomes the first.