Denis Romantsov – about John Hartson. He scored for Arsenal in the European Cup final, and at West Ham he became one of the best scorers in the Premier League.
In his youth, he did not like to waste time sleeping. Wales teammate Robbie Savage recalled : "If I showed any signs of being awake when John returned to the room, he would run at me.
Such a hulk! Can you imagine what it was like for me?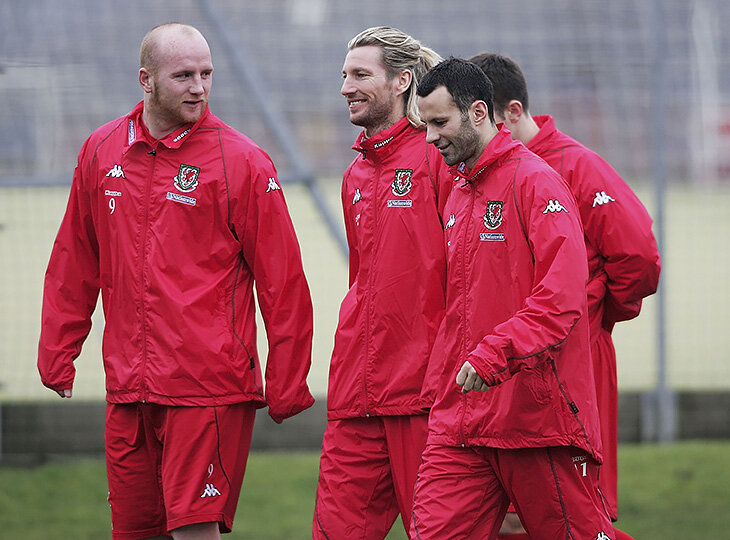 It was safer to pretend to be asleep, but he did not really let him fall asleep – he wandered around the room, clattering against the furniture.
And one day, in the middle of the night, there was a knock: "Room service!" "Oh, how lovely," said John, and accepted the tray of sandwiches.
He chewed so loudly that I said goodbye with the hope of falling asleep: "What are you doing, Harts?" "I often refresh myself at this time."
He said this with such a serious expression on his face that I burst out laughing. Harts is crazy and I love him to hell. The way he fought the disease is perhaps the most inspiring thing I've seen in my life."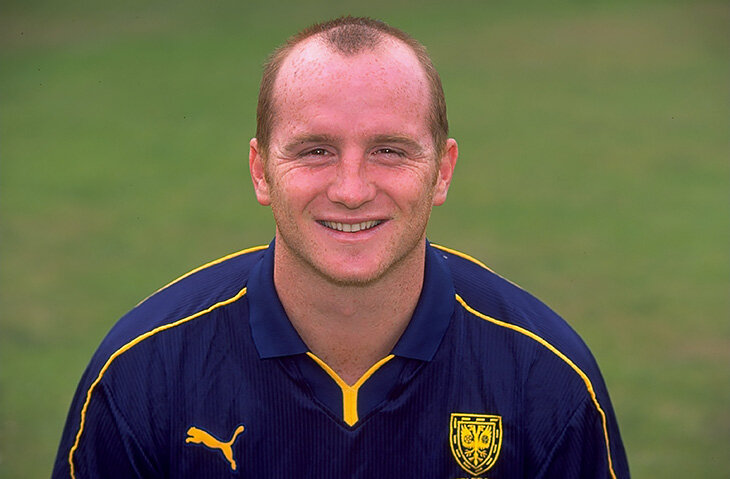 In the hospital, Hartson also slept little, but not because of the parties. The pain was deafening and blinding. He bit his lip to keep from moaning, then clenched his teeth. Either he fell asleep, or he lost consciousness.
The most common dream of Liverpool's goal was at Anfield, which led Celtic to the semi-finals of the UEFA Cup-02/03.
And sometimes the headline of The Sun newspaper flashed in semi-delusion: "John Hartson is the most expensive junior in the history of British football!"
He's wearing a Mickey Mouse tie, a brown bomber jacket, and someone else's shirt. He shakes hands with Arsenal manager George Graham and signs a contract for £3,250 a week – 10 times what he earned at Luton.
Arsenal buy him for 2.5 million pounds. "The world is at your feet, baby," the father says in a Welsh accent.
2 years before his debut at Luton, Hartson was expelled from the club – for stealing a bank card 
His father worked in Swansea, for a firm that put up "For Sale" signs. Another function of Cyril Hartson is to put four children to bed: their mother worked as a nurse on the night shift.
John got his first money at the age of 13 – he cleaned dishes at the Barons bar: 11 pounds per shift plus tips. He left them there – in slot machines.
"After losing again, I – while my mother did not see – put my hand into her purse and felt for her wallet. Opening it, he took out 50 pence. I didn't consider it stealing – I just wanted to play the slots a few more times, " Hartson admitted .
A few years later, a more worthy income arose – the Luton football club, where my father drove to view in a work van, offered a contract for 26 pounds a week.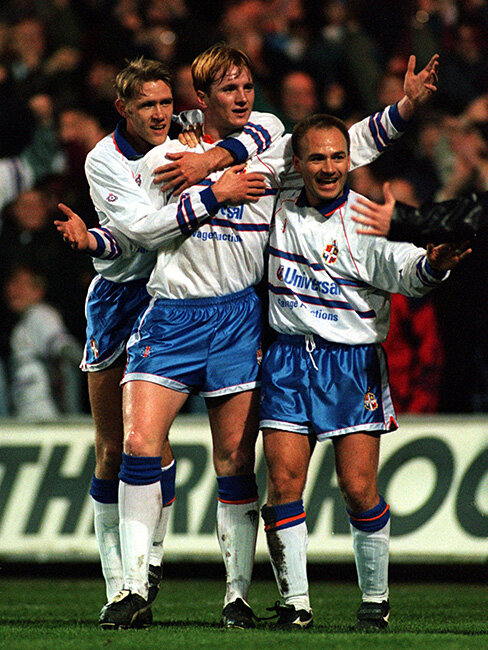 In Luton, he took up the old. He settled in the family of teammate Scott Goodfellow, stole a bank card, withdrew 50 pounds and fed it to a slot machine.
A week later, the theft was revealed – he was sent home: "Are you betraying a dream for a cheap buzz?" the father asked. Mother was crying – she had no words.
But still he was lucky – they forgave him, returned him, and a couple of years later he scored in his debut game for the Luton first team. It was fabulous, but he could not help himself – slot machines pleased him just like goals.
Two months after his debut at the base, he was left without money, although he already received 350 pounds a week.
Hartson was afraid of being sent to a drug clinic, but instead scored in the European Cup final
And on January 12, 1995, after 11 goals in 54 games for Luton, head coach David Pleat called him up. "What have I done again?" John thought as he knocked on the door.
"Go to your room, dress decently and shave," Plit ordered. – We are going to negotiations with Arsenal.
He raced home in a small Ford bought by his father for £400. I couldn't find any decent clothes, so I took the landlord's shirt and put on that same Disney tie that was a Christmas present.
"Within a few hours, I was the most expensive and by far the most gaudily dressed junior in the history of English football," John admitted . – I signed a four-year contract, and my dad, who replaced my agent, also agreed on lifting – 50,000 pounds.
When he mentioned this, Arsenal coach George Graham immediately agreed, and then we thought: "What if they asked for 200,000?"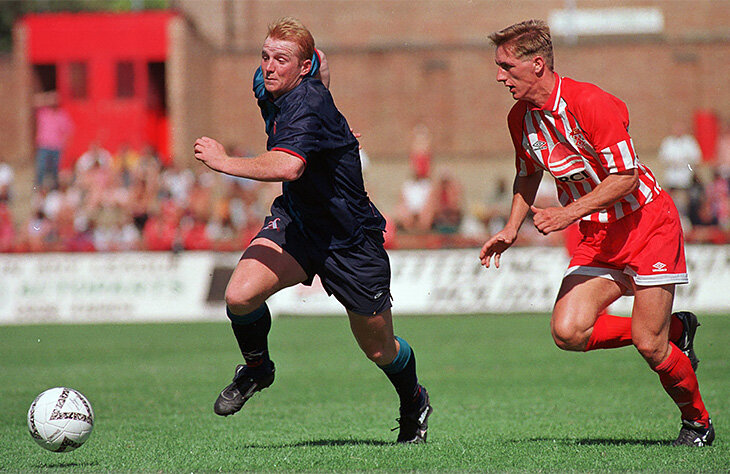 An injury to Alan Smith left Hartson at the start, scoring twice in the first three games and running into a send-off in the fourth for taking down Sheffield Wednesday defender Dan Petrescu. While serving a suspension, Graham was fired for taking a bribe from Norwegian agent Rune Hauge.
Hartson's anxiety was aggravated by the publication in the Sunday tabloid – his Luton friend blabbed that while vacationing in Ibiza last year, John did not limit himself to alcohol and took something more serious.
Midfielder Paul Merson had just returned from a drug clinic and John was afraid to drive in the opposite direction, but Arsenal ignored the scandal.
Not before that: interim coach Stuart Houston tried to brighten up the failure in the Premier League (12th place) with a victory in the Cup Winners' Cup. In the final, Hartson scored against Zaragoza, but ex-Tottenham midfielder Nyim's phenomenal shot crushed Arsenal.
Hartson said in an interview that he is treated like a dog at Arsenal 
A month later, John was consoled by the appointment of a new coach – Bruce Riok. Hartson played for the Luton junior team with Bruce's son Greg and often visited the Rioks.
"He played videos of matches for us and gave us interesting tips," John boasted . "He treated me with kindness and friendliness."
It seemed that with such a coach, Hartson would become the leader of Arsenal. Everything was leading up to this.
"Bruce respected brutal football, " Merson recalled . – Once Hartson hit Tony Adams in training, and Bruce shouted: "Brilliant, John!"
The rest of the players looked at each other in shock: John almost cut our captain in half!
But the season began, and Dennis Bergkamp, ​​bought at Inter, played with Ian Wright in attack, and Hartson did not even get on the bench in many matches in the fall of 1995.
"Now I understand that being 20 years behind Wright and Bergkamp is not so scary, " Hartson said in the mid-2000s. – But then resentment boiled in me, because Riok did not explain why I was worse.
He hardly noticed me at all. He only wanted to weigh himself twice a week. His concerns about weight undermined my self-confidence. And in the end, I made a big mistake."
On the advice of agent Steve Davis, Hartson gave an interview – though not to Piers Morgan, but to Tony Stenson from the Daily Mirror, but also interesting: "I'm going through hell here. They treat me like a dog. I deserve more. I used to feel that I was taking off, but now that I was falling without a parachute.
In response, Riok yelled at Hartson, put in an exhausting hour-long workout and returned to the start, and John scored three goals in three games.
A new, more serious conflict between the coach and Wright played into the hands. Tired of Riok's claims, Ian threw a jersey at him at half-time in a match against Sheffield United.
Hartson returned to the squad, but soon the coach changed.
"Everything was kind of quiet, " John recalled . – In the morning newspaper there was a photo of Wenger and Wright, who, as it were, greeted the Frenchman on behalf of the players. Although, as I was told, Ian just happened to be on Highbury then.
Hartson was infuriated by Wenger's approach to training and nutrition. Why stretch after a workout? Why can't you just go home? Why eat chicken and carrots instead of steak and potatoes?
John was angry, but rather at himself. "He tried to meet the new requirements, but he could not do anything with being overweight," explained  Ian Wright.
And John again got hooked on gambling. Roommate Martin Keown made sure that Hartson transferred part of the salary to the pension fund, but John carried the rest to the bookmaker.
And in four months with Wenger, he never scored in the Premier League.
The radio host called Hartson a donkey and urged fans to boo John in the first match for the new club
"Arsen said he appreciated my style and advised me to stay and learn a lot from working with Bergkamp and Wright, " Hartson recalled . "But I was worried that I would be a reservist. I wanted to play every week."
A £3.3m move to West Ham doubled his salary. Now he was betting on the phone. Debts? Nonsense. For 85 thousand pounds he sold a Bentley, bought six months ago for 115 thousand, and again called the bookmakers.
And Harry Redknapp put it on him: "The team was at the bottom," admitted the head coach of West Ham. – The bet on foreigners – Futre, Raducoi, Dumitrescu – did not materialize. By getting rid of them, we had too few players to fight for survival.
I had my eye on Pierre van Hooydonk, but he liked to go deep and shoot from a distance, and I needed a free-kick striker like Hartson. Big and strong. We agreed with John in 10 minutes.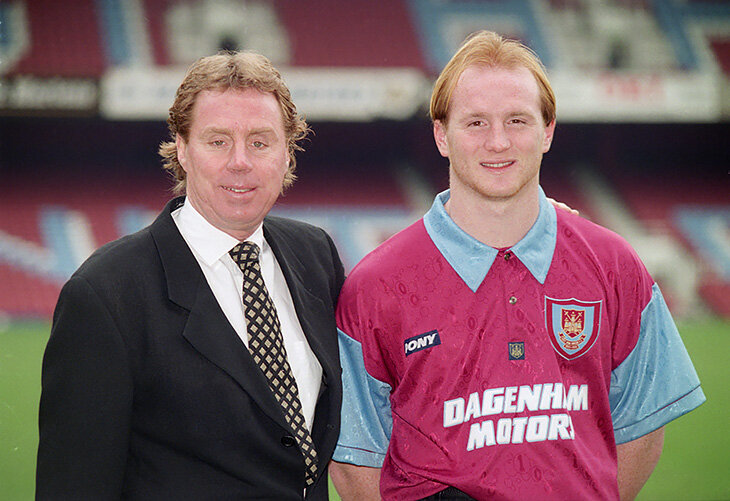 Journalists considered the purchase of Hartson and Kitson from Newcastle for West Ham's huge 5.5 million a reckless gamble, and radio host Danny Baker even called John a donkey and urged fans to boo him in the first game.
But, firstly, after the sale of Bilic to Everton for 4.5 million, we could go to such expenses. Secondly, West Ham were 18th and it was Hartson's goals that saved us from relegation.
True, in that very first game, John headbutted Derby defender Igor Shtimats – in a fair fight, but the Croat staggered and fell like a wounded soldier. Hartson received a warning, which, given his past sins (7 yellows in 10 first rounds!), led to a two-match ban.
I am delighted with how John justified my investment, but when a year later [in the spring of 1998] he hit the same Shtimatsu so that he got a red one, I called him an idiot.
Redknapp loved Hartson so much that he took Walthamstow to the racetrack: "We made a couple of bets for little money and talked a lot – about dogs, horses, families, football, " Hartson recalled . "Maybe that's how he looked after me."
It helped in some ways, but not in everything. In the 97/98 season, Hartson became one of the best snipers in the Premier League with 15 goals, but in the middle of the championship he thundered into the camera for the night because of a fight in a bar and became the hero of an investigation by The News of the World newspaper, which found out that John owed bookmakers 130 thousand pounds.
"He played with such desire and devotion that I forgave him almost everything," said Redknapp. – Powerful, assertive, insatiable – in the 97/98 season, the English defenders were powerless against him. Even the great Sol Campbell.
John was just tearing the Premier League apart."
He tore so that the second Manchester United coach Brian Kidd insisted on buying Hartson instead of York – this was one of the reasons for his conflict with Ferguson.
Hartson added 15 kg and kicked a teammate in the head
Then – again the police station and the court: the striker of the Wales national team kicks a decorative basket of flowers in the center of Swansea!
Then Hartson dragged 15 kg overweight to the 1998 preseason. Redknapp attributed this to betting stress, drinking, and the bad influence of a friend, Vinnie Jones .
Harry told assistant Frank Lampard Sr. to work with Hartson individually, but nothing came of it: "I ran at the speed of a 50-year-old man, but he couldn't keep up with me, and then collapsed like a log," said Lampard.
Redknapp asked John to come to his senses, but instead he hit attacking partner Eyal Berkovich in training (they had previously quarreled at a team meeting).
"It's hard to shock me, but Hartson did it," said West Ham defender Neil Ruddock. "I think even Redknapp's hair stood on end on his wig!"
Before that, we beat Liverpool in the Premier League, but lost in the League Cup to Northampton, so John flared up. He knocked down Eyal in a tackle, and he fell and waved. In response, John kicked Eyal with his left foot.
From the video it seems that it was right in the head, but I was a few meters away and I know: the blow fell on the shoulder, and only then the boot hit the face.
Otherwise, Berkovich would still be treated.
The conflict would have remained within the team, but it was on that day that someone let a fan into training, and he dragged a video camera and sold the recording to journalists.
When we conceded in one of the next matches, the opposing player got on his knees, and the scorer faked a blow to the head."
"After that story in training, Berkovich could not eat properly for two days," Redknapp added , "but I still argue that such an act is not in John's character. He usually didn't bully. His heart is almost as big as himself.
But, apparently, due to problems with gambling, he was then out of his mind. We fined him two weeks' wages (£10,000) and transferred the money to the leukemia fund."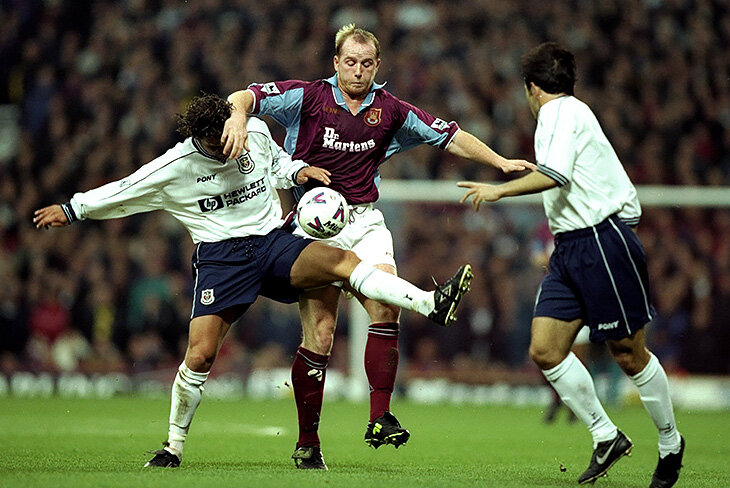 Hartson was in for a long ban, but Berkowitz told the Daily Mirror: "John and I are on great terms and not going to be ruined by an unfortunate mental breakdown. Leave Hartson alone. He doesn't deserve punishment."
"I was under pressure to kick John out of the club, " Redknapp recalled . "But football managers are pragmatists, and John was too valuable a player to just throw him away.
First you had to get it in shape. I took John to the French fitness coach Tibius Dera, who helped Wenger at Arsenal, and he immediately got down to business: "I don't have time for an idiot like you. If you're not ready to work hard, goodbye."
The coach took Hartson to France, woke him up at 6 in the morning, exhausted him with classes four times a day, and after a week and a half he returned fit and happy.
When [in January 1999] Wimbledon offered him as much as 7.5 million, I readily accepted. John is one of my favorite players, but I felt that weaknesses would prevent him from reaching his potential.
Hartson's career was saved by the Manchester United leader of the 80s 
Hartson gladly went to Wimbledon – and not only because in the last games for West Ham he was booed, but at the new club he received 20,000 pounds a week instead of the previous 12,000. He also knew manager Joe Kinnear for a long time – became friends at the dog races.
The new partners considered such a defiant transfer the end of the real Wimbledon and, upon meeting, shredded John's Armani suit.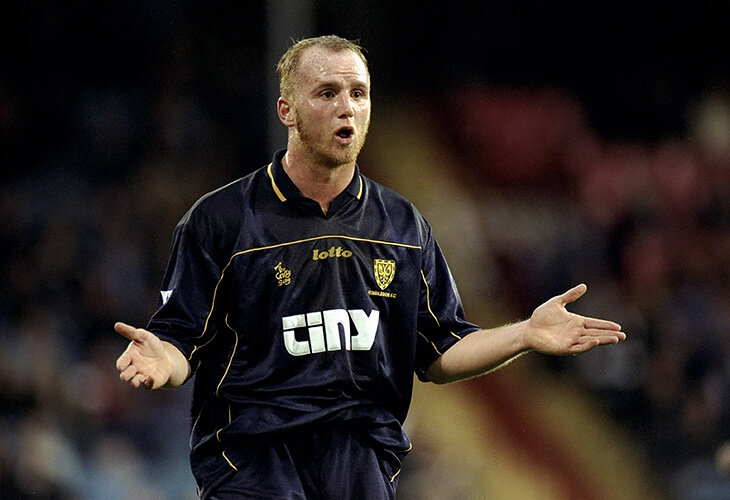 And this is just the beginning. Two months later, Kinnear suffered a heart attack and left the team, and at the end of the 98/99 season, club owner Sam Hammam, who took care of John and attended his daughter's christening, sold the club to the Norwegians, and they hired Egil Olsen as coach.
Hartson missed almost the entire second round of the 99/00 season due to injuries, and marked his return with a red card in a disastrous game with Bradford (0:3). Wimbledon was relegated and John publicly criticized Ohlsen.
Not afraid to burn bridges – George Graham called to Tottenham. But both there, and at Charlton, and at the Scottish Rangers, John did not pass a medical examination due to problems with his knee.
At 25, my career seemed completely ruined.
"I almost gave up and sent everything to hell," said Hartson. – When I didn't play for a long time, I rented a box at the Selhurst Park stadium and took friends there. I bet, I had fun, after the match I went down to the bar and had drinks with the players, and then I went by taxi to London.
But there was a coach who believed in Hartson more than the doctors and himself. Gordon Strachan from Coventry.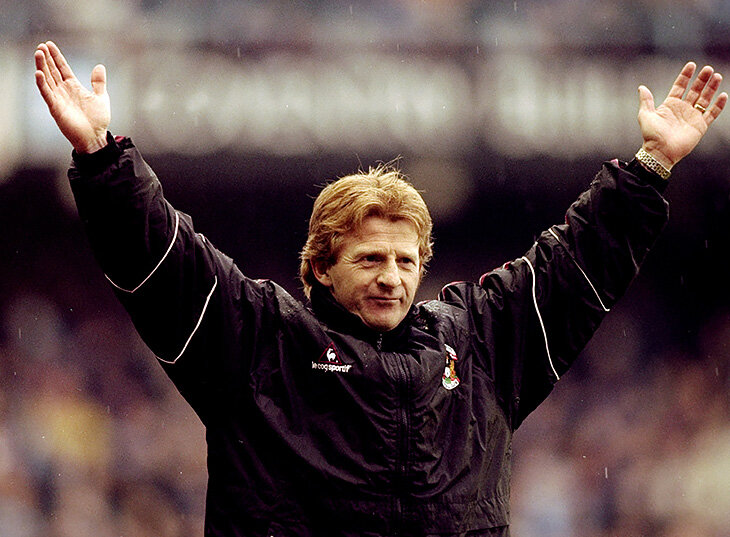 "I heard from someone that if John were a racehorse, he would have been shot long ago," Gordon joked . – Of course, we are talking about injuries that disrupted so many transfers. Many said that as a first-class player he ended, but I thought otherwise and insisted on a transfer.
[In the winter of 2001] Wimbledon asked for an unbearable amount of money for us, but due to financial problems and the need to remove Hartson from the payroll, they nevertheless accepted our conditions – 200 thousand pounds and a million from John's future transfer.
Yes, he got heavier and ran a little, but how he controlled the ball and understood the game! In addition, his sedentary manner benefited our other Welsh striker Bellamy.
Craig lacked the physical strength to butt the defenders, but Hartson took over, and Bellamy ran freely along the entire front of the attack.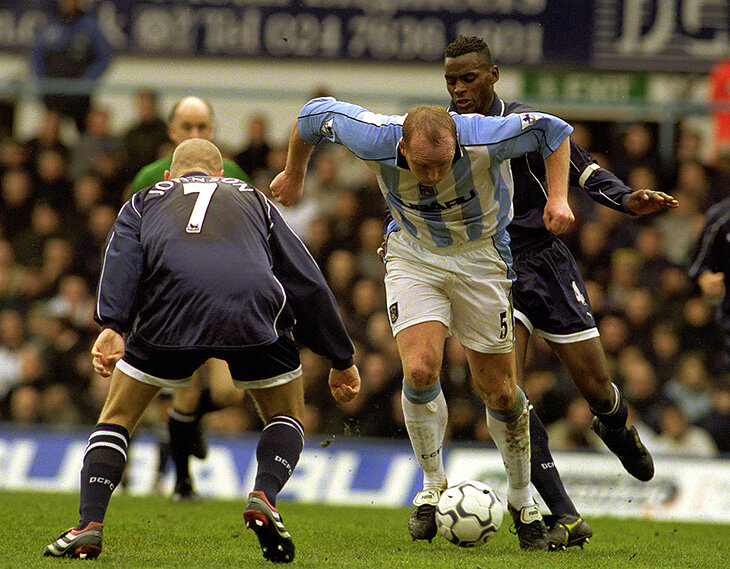 We were out anyway, but Hartson gave us hope for salvation by scoring 6 goals in 9 games."
After a powerful spell at Coventry, John joined Celtic.
In Scotland, Hartson scored over 100 goals and met a new love
"The fact that the Rangers waived him in August 2000, he called the most humiliating moment of his career,"  said Scottish journalist Paul Cuddihy. John was impressed when Celtic manager Martin O'Neill said he would sign him even with a hole in his heart.
The fans did not understand why, with Larsson and Sutton, another striker was needed. And Hartson hasn't scored in his first 10 games yet. But then he scored a hat-trick in the game with Dundee United and became the second championship sniper after Larsson.
He did not have the technique of Henrik and the subtlety of Lubomir Moravczyk, but when he received the ball in the penalty area, he rammed any defense.
In Scotland, John scored more than a hundred goals (most against the Rangers – 8), but the last season was overshadowed by a new scandal.
A relationship with art teacher Sarah McManus was revealed, and he divorced his wife, lost a million and a half pounds because of this, got bogged down in depression, began to overeat at night, got better and was sold to English West Bromwich during a holiday in Mallorca.
New problems rained down: he snored loudly at night, and Sarah began to sleep in another room. Exhausted by headaches and drowsiness, John discovered two bumps on his body.
Sarah persuaded the West Bromwich doctor to see him, but he did not reveal anything definite, and John decided that everything was fine.
Leaving football, he returned to Swansea. He lived close to his children, enrolled in coaching courses and joined the team of commentators on the Setanta Sports channel. I always liked to chat, especially about football.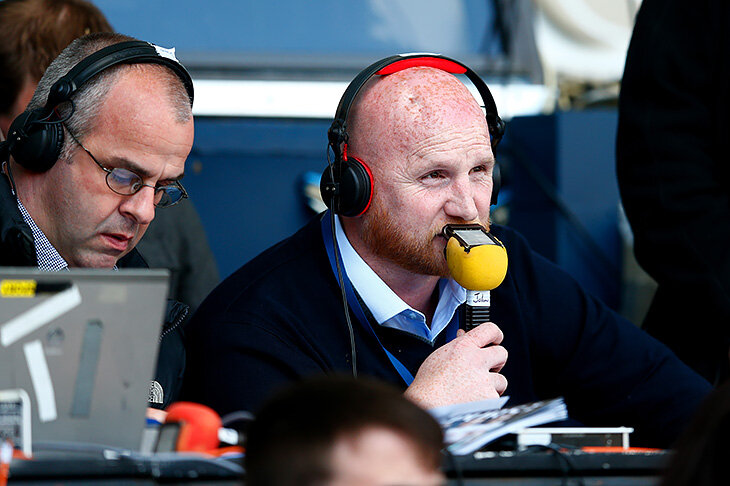 The channel soon went bankrupt, but John performed so well paired with Terry Butcher that he received offers from Sky Sports and ESPN.
Hartson has been fighting for his life since 2009
A week and a half before her daughter's first birthday, Sarah called John in Dublin, where he met with Celtic fans, and said that she was pregnant again. The good news temporarily distracted from the headache, but it became increasingly difficult to ignore.
The tablets didn't help. He briefly fell asleep, woke up broken and noticed that his eyesight was deteriorating.
On July 9, 2009, I dragged myself to the doctor again. At four o'clock in the afternoon I found out that he had a malignant tumor of the right testicle, and at six he was supposed to commentate on the Europa League match Llanelli Town – Motherwell for the S4 °C channel. The channel's producer had to report the diagnosis earlier than Sarah.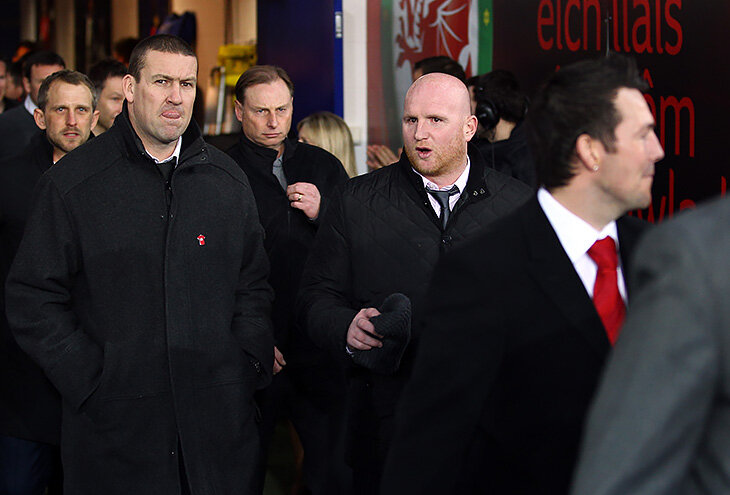 After a couple of days, it turned out that the cancer had spread to the brain. "I will live?" he asked the doctor. "It is not yet clear what will happen next." And a few more vague words instead of "yes."
Sarah was warned: due to drugs, steroid psychosis is possible – hallucinations, strange statements.
"Where is Dad?! John shouted. — Back at the bar? How can he when I'm here?!" – "Dad is nearby, in the hospital, but there is no bar here."
Without listening to Sarah, he threw off the blanket, jumped up and began to pull out his pipes: "I'm leaving here. Get out of my way". His parents came running with a nurse, tried to restrain him, but he pushed everyone aside, stumbled and hit his face on a metal cart with medicines.
He fell asleep, but a minute later he woke up from snoring. He got up by the bed and acted like he was playing in a casino. Then he shouted to his father: "I know what they are up to. They want to cut off my arms and legs. Please don't let them."
"It was heartbreaking. He was scared like a child," Sarah recalled .
On the birthday of John's daughter, doctor Gianfilippo Bertelli reported that the cancer had spread to the lungs.
He stopped breathing and needed emergency brain surgery. Bertelli explained to his relatives: they need to drill through the skull and pump out excess fluid. "Now the main thing is to save his life. Cancer treatment is already in second place."
After the operation, he began to breathe again and underwent a course of radiation therapy. Sarah played his favorite song Use Somebody by Kings of Leon and said, "I can feel your fingers move. I know you can hear me. Remember how on your birthday you promised to score against Hearts.
When the match started, I was so nervous, but you fulfilled your promise already in the fourth minute. Looks like you scored Craig Gordon. I didn't understand football, but I was so proud of you. And now I'm proud."
He slowly opened his eyes and Sarah continued, "Celtic became champions that day and we celebrated all night. There was a power outage in the restaurant, we went out into the street, and thousands of people sang: "There is only one Johnny Hartson!"
When it seemed that he felt better, hallucinations and breathing problems began again. He said—although rather hoarsely—to his older brother, "I can't take it anymore. I lost."
In the meantime, postcards arrived daily. One of them had a photo of him in his Arsenal uniform and the caption: "Keep fighting, John. We wish you all the best. Arsen and the guys.
A few days later he asked for ice cream – overgrown, emaciated, he did not eat on his own for two weeks. The nurse agreed, and his cousin Mark ran for ice cream as fast as if he had left his wallet and documents in the store. "Chocolate chip, please," John hissed after him.
"I felt disabled. Couldn't pick up the TV remote or even get out of bed to go to the bathroom. I burned with shame when pretty 20-year-old nurses helped me with the toilet, " Hartson admitted .
When they let him go home for the day, he saw himself in the mirror of his father's van and was amazed: his eyes were sunken, and his tracksuit hung on a hanger. Lost more than 30 kg in a few weeks.
"If you had lost that much weight a little earlier, I would have signed you again," Gordon Strachan said at the meeting.
Followed by a three-month course of chemotherapy. Lost appetite, felt sick, sleepy, diarrhea began, eyebrows and eyelashes fell out. The end of the course coincided with the date when Sarah and John could find out the sex of the unborn child. Again a girl – as desired.
We thought about the date of the wedding. Sarah counted on July 2010, a few months after giving birth, but John insisted: sooner, as soon as possible.
In early December, a medical examination was due, which would show how the body took the chemotherapy. "I wanted Sarah to be Mrs. Hartson in the event of my death, " John explained . "I didn't want to give her unnecessary trouble because they didn't have time to sign."
Two days before the wedding, John learned from Dr. Bertelli that he was close to recovery.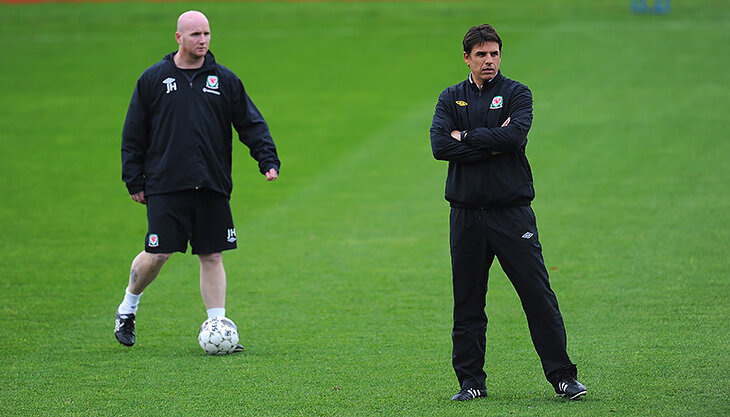 He survived several more operations (on the lungs) and again became a commentator on the S4 °C channel, and in the summer of 2012 he entered the coaching staff of the Wales national team, with which he reached the Euro semi-finals four years later.
A month ago, I saw 47-year-old Hartson in Doha: a beard, a scar on the top of his head – but he still looked somewhat like a boy in a bomber jacket and a Mickey Mouse tie, anticipating a transfer to Arsenal.
John comments on ITV and made his World Championship debut at the end of November 2022. He looked excited and happy again.