The great idol of the great.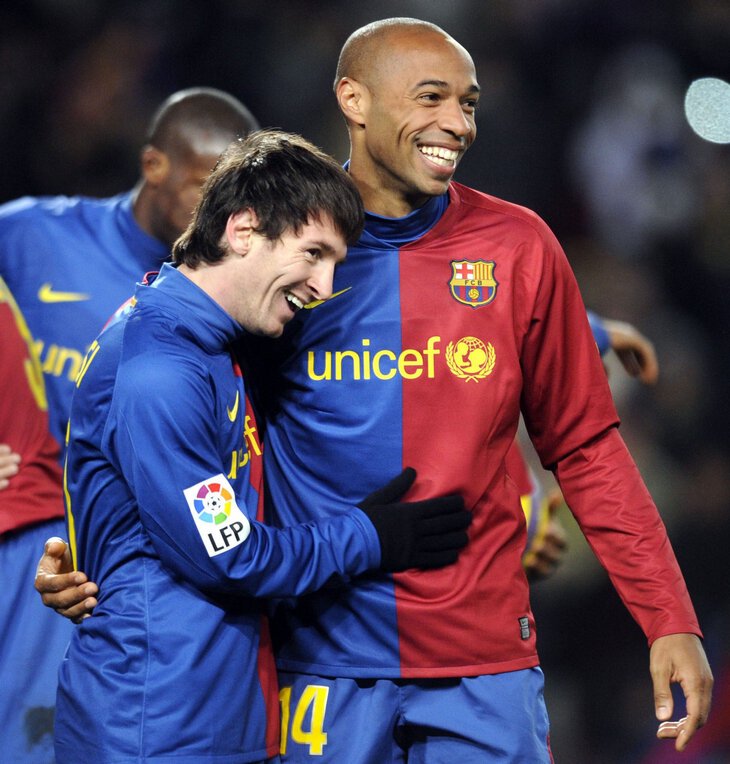 The latest obstacle for Argentina and Lionel Messi at the 2022 World Cup is the powerful French team.
France is an important country in Messi's life. Leo plays for PSG and lives in Paris, and of the national team players he gets along well with Ousmane Dembele and even made peace with Antoine Griezmann. And then there is one brilliant French striker who played a crucial role in the career of the Argentinean.
His name is Thierry Henry. Just two years ago, Leo openly admired the greatness of the legend in an interview with the Daily Mail :
"On the first day when he was in our dressing room (at Barcelona), I didn't even dare to look him in the eye. Everyone, myself included, knew what Thierry had achieved in England. By that time, I had his image, and then we suddenly found ourselves on the same team. I was a young guy. He made an impression. Such embarrassment is completely natural.
This was how I expressed the admiration I felt for Thierry. I liked Henry, his ease with which he could go to the gate, score and kill the intrigue in the match. He is an incredible player who has had a major impact on me as a footballer."
And then Messi and Henry played together. Thierry sacrificed himself for Leo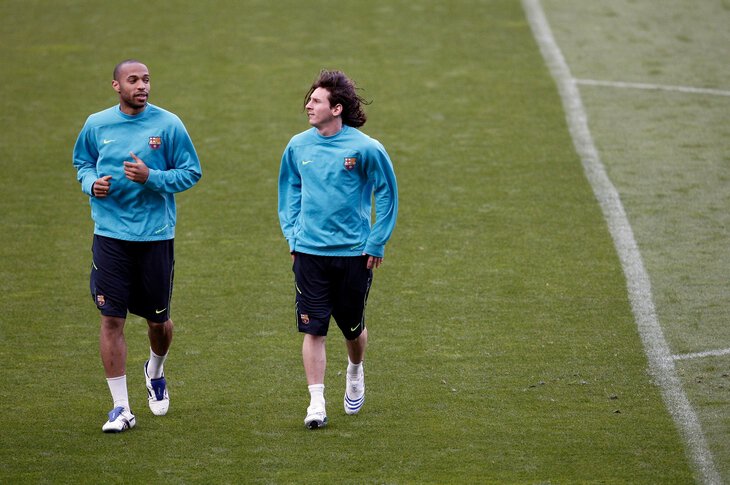 Henry joined Barcelona in 2007. Messi was just beginning to break, so the transition of such a superstar was an incredible event for him. The Argentine admitted that he watched almost all the games of that Arsenal – and was incredibly fanatic about Henry's movements with the ball.
That version of the Argentine is the best dribbler in the world. Frank Rijkaard put Messi on the right flank – and so the Argentine was given the opportunity to tear apart a direct opponent. A southpaw on the right flank, Leo had chances to move to the center, but his position was very close to the touchline. Because of this, in his first season, it was Henry who ran into the center – and felt as comfortable as possible.
But under Guardiola everything changed. Pep forced Messi to move more often from the flank, and Thierry literally chained him to the left side. The Frenchman at first did not accept these drastic changes and refused to listen to the coach: "I decided to show how smart I am. Sometimes this happens to everyone. I brazenly went to the other side of the field and played a couple of times with Messi.
I did not hear how furious Pep was, because he was far from the coaching bench – and I am very glad that I did not hear the words. I scored. We were leading. I went into the second half in a great mood, and he changed me. Pep yelled a lot then, said that only one guy should do this in his team. Now I agree with him."
Thierry had to work more off the ball and give up shifts to the center. Henry was ready to endure – he realized that a great player would come out of Messi, if he was not interfered with to create.
"Calling Messi's dedication is just ridiculous. I do not understand people who are not sure of the desire. It excites me, because I also walked the field, Thierry recalled in 2020. "It wasn't because I lacked the will or didn't want to play. Sometimes I got tired, and sometimes I just couldn't do it, control my brain. It might happen, or it might not. But Messi is a beast, because he participates in episodes and gives assists. You have to enjoy Leo's game while he's on the pitch. You need to stop complaining about what he doesn't do. It doesn't happen often, let's be honest, but I repeat: if there is a player on the field who deserves a pass, it is him.
Leo admired in return. Messi admitted that he constantly took something important from Henry's game – for example, it was Thierry's notes that helped him become stronger in terms of implementation. "I have the deepest respect for Henri. What he does on the field is great. I would like to have the same talent in finishing attacks: his speed, his dribbling, his finishing touches. I try to learn something new in this regard using the example of Thierry, "said the Argentinean in 2010.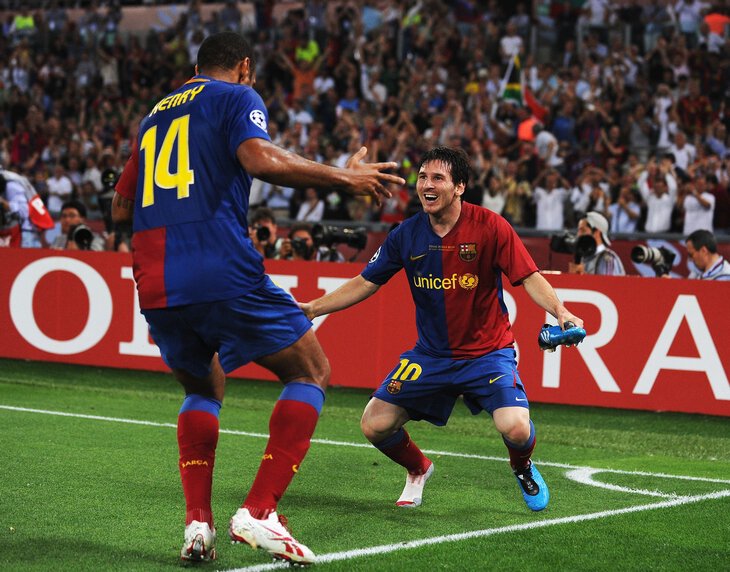 They played together for only three years. In 2010, 33-year-old Henry, under pressure from Pedro, lost his place at the base and left to work in the MLS. At first, Thierry was very sad about this and emphasized that it was not at all his age, but many, many years later, in an interview with Football London, he analyzed in detail the reason for leaving:
"I had to realize that this is no longer my team. Imagine, I'm already 30 and I could stay at Arsenal – but I really like to challenge myself. At Arsenal, I could play where I wanted and it was much easier for me because Bergkamp was next to me. He liked to stay in the middle and let me move around the field.
I moved to Barcelona – they played a different football there. I had to relearn because Rijkaard told me to stay on the left. Then came Guardiola – a great coach, but very demanding. Working with him is almost a game of chess. Pep said that we are fools if we do not see the potential of Messi – and I should become his Bergkamp.
If Leo does something, we must support him by sacrificing our ambitions – and this will benefit the team. This is a difficult moment: players with big egos can make life hell for the whole team at this moment if they don't back off. I stepped back and I think I did everything right."
Henri protects Leo – and considers him the greatest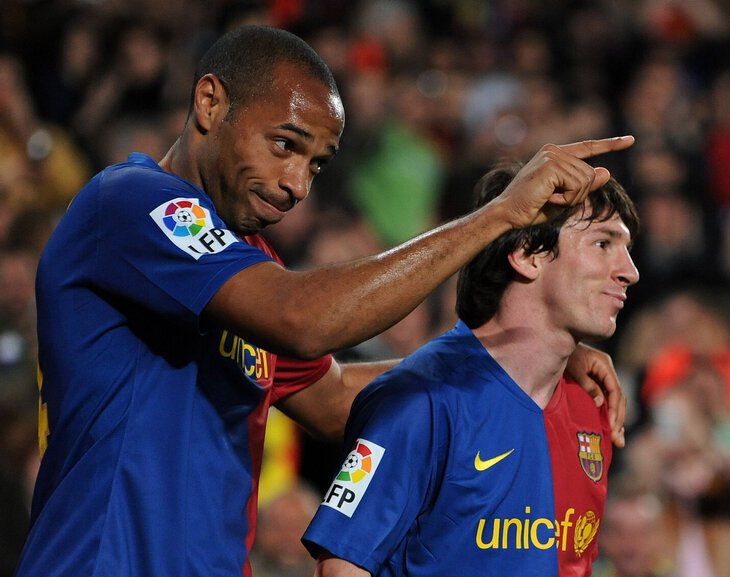 Over the years, mutual respect has not disappeared anywhere. Thierry hasn't played for a long time, but often supports Messi in the press and still considers him the best player in history.
How else?
"I played with Leo, so my answer is obvious," Henry recalled in an interview with FIFA in 2015. – I respect Ronaldo as a person who maintains such a high level for so many years, but I played with Messi. There were extraordinary moments. We lost and won together. In training, Messi took the ball and left the rest behind. One training session with Leo will leave you no choice – you will immediately understand that nothing is more incredible than you have ever seen.
Seven years later, the rhetoric has not changed. In 2019, Henry admitted that Bergkamp will always be his favorite player, but in terms of talent, no one can compete with Leo. Thierry was also one of the first to defend Messi after a difficult start in Paris: "When you leave the place where you have been playing since childhood and could not even imagine that you would leave, it takes a lot of emotions. Do you think this is easy to accept?
You need to realize and accept where you are, adapt to a new league and a new team. This is not easy, just someone shows emotions, someone fights with them inside himself. You saw him cry as he left. These are real tears. He wept before the world. Messi is a man, accept it. Otherwise, you will never be able to understand what his true greatness is."
Before the start of the 2022 World Cup, Thierry did not hide: "There were those who left Leo so as not to remain in his shadow. But the fact is that the shadow of Messi itself overtakes you. This World Cup is his chance to outshine everyone."
And now the final step remained before Leo – against France, Kylian Mbappe, who is called the new Henry.