The transition of Zelimkhan Bakaev to Zenit after the expiration of the contract with Spartak is probably the loudest transfer in Russia in the summer of 2022. Last season, Bakaev became one of the best RPL assistants, practically not playing full matches (6 assists, only Zinkovsky and Szymanski gave more). After moving to St. Petersburg, Bakaev so far appears on the field even less often – 290 minutes and a goal from a penalty kick in 17 rounds.
Alexander Dorsky met with Bakaev and found out why the first part of the season turned out to be so crumpled, how Zelimkhan's role in Spartak changed under Domenico Tedesco, and why he supports Cristiano Ronaldo even now.
***
– How can you characterize your first six months at Zenit?
– In the first three months it was very difficult, I experienced incomprehensible sensations – after all, I spent fifteen years in the same club. It was hard even in training, I fell out. There is an exercise, the guys combine, and I do everything at random.
At the time of the transition, I did not think that there would be such a start. Focused on the loan experience in the Tula Arsenal – it immediately went, scored, beat, gave back. Psychologically, I was ready for Zenit, but I had not yet encountered competitors of this level. Everything here needs to be done faster.
– Semak, did other players notice that you are not quite comfortable?
– Semak came up several times, reassured. He even gave the example of one player who had a very hard time adapting to Zenit, and now plays in the first team. Moreover, in my opinion, this player is one of the best.
I've been overthinking myself. I have such a character: I want to immediately show myself. Something doesn't work out – I try to repeat it, it doesn't work out again – I repeat it again. This condition affects everything: on the reception, on the transfers, on the blows. If he had been more cold-blooded, he would have been more effective.
– Perhaps your best segment in your career is the fall of 2019 under Domenico Tedesco. You were very productive, but even then Tedesco said that sometimes you lack patience. Is this what you're talking about?
– Yes, in some episodes I'm in a hurry and either make the wrong decision, or something doesn't work out technically. Usually this happens when I catch the courage: I start playing too adventurously. For example, where you need to save the ball, I sharpen. Probably, Tedesco told me this most often, but in general – every coach. I have this mentality: I love to create and I hate to play back. Even when a partner plays backwards, I don't like it. Of course, I understand that playing forward is not always correct.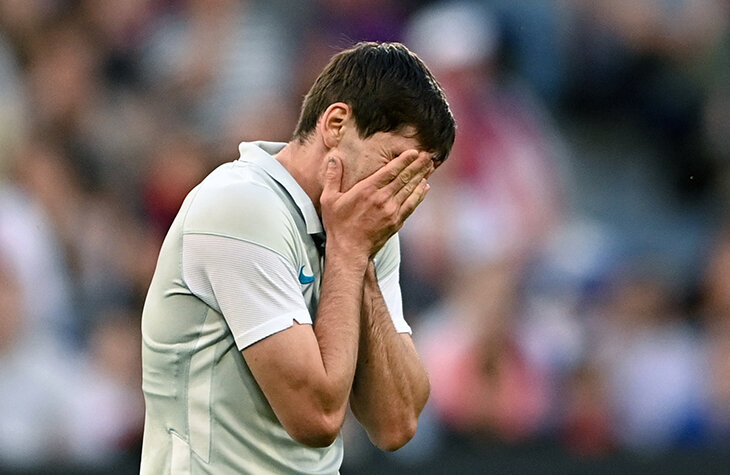 – Coaches say that you are sometimes in a hurry. Was that the end of their prompt, or were they doing something else?
– Tedesco prepared a cut of Zidane's game – the camera filmed only him. One is an accurate transmission, two is an exact transmission, like nothing special, but no errors at all. Then an explosion: bam – assist, bam – goal.
This video made a very strong impression, even tried to act at that pace. Nothing worked out for me, stylistically I am completely different. And Zidane is unique.
My father's acquaintances talked about competition at Zenit – he motivated me by talking about these conversations. In St. Petersburg, Zelimkhan encountered Spartak fans – everything is positive
– Your agent German Tkachenko said that you considered the risk of reducing playing time at Zenit. How did these conversations go?
– The three of us discussed it: father, Herman and me. I would have been frightened and not crossed – I would have shown weakness, with which I would then have to live. I am confident in myself, I understood that it would be difficult, but I did not come to St. Petersburg to sit on the bench. I will fight for a place at the base until the last.
– Have you heard any doubts about the transition from anyone?
– Several acquaintances of my father said: "Why? There's some serious competition out there." This hurt my father, he explained to me that I had to show and prove everything to everyone.
I know that if I work correctly, everything will work out. At first I could not imagine that I would get into the youth team of Spartak – I did. Next – "Spartak-2", it generally seemed like space. With the base, and so everything is clear – entrenched there. The national team is fantastic, but I was also called into it. Why can't it work out at Zenith?
– Have you encountered hatred from fans in six months?
– I don't remember being booed by Zenit fans. At the "Opening" – yes, the central stands warmly received, I heard a lot of new things about myself. I understand these people.
In St. Petersburg, I ran into Spartak fans several times. You go into a restaurant: someone shows a diamond with a gesture, someone – on the phone. We talked, but always in a positive way.