Vyacheslav Isupov from the age of 17 was involved in the basis of CSKA. For three years – from 2010 to 2013 – the goalkeeper trained with the main team stuffed with stars, but it was impossible to compete with Akinfeev.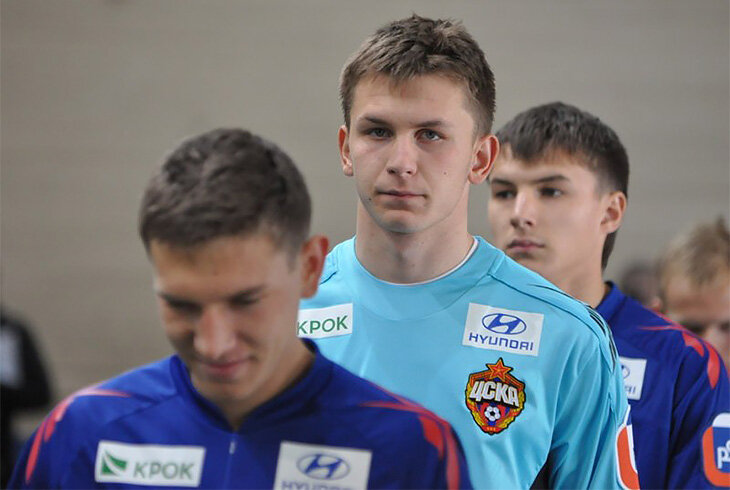 After leaving CSKA, Vyacheslav shot at Vityaz near Moscow and conquered the FNL. For six seasons in the World's Best League, the goalkeeper has worked with Krasnozhan, Shalimov, Talalaev and even Tatar Ferguson.
In the summer of 2022, Isupov put his career on pause and moved to the United States with his family. Now he lives in Miami, preparing documents for a talent visa (permission to stay and work of foreign citizens with outstanding achievements) and plans to break into the MLS.
CSKA: Akinfeev trained several times a week, Doumbia played the fool, Slutsky prompted the goalkeepers and listened to the backbone
– At 17 you were attracted to training with the main team of prime CSKA.
– I still remember the first meeting with the base. Krasic and Aldonin, who missed the match [the Champions League quarter-final against Inter], had to take a shot on goal. I was not even in the duplicate, but still at school. I put on my best gloves. Went with wild jitters.
Slutsky, his assistant Shustikov, a massage therapist, a doctor and Krasic with Aldonin, whom I saw only on TV, were at the training. It showed itself well, although it flew a lot. Soon I was attracted to the basics training, and from the age of 18 I regularly went to training camps with the main team.
– A month before your 18th birthday, you got into the application for the Europa League match.
– For the first time I went with the team to the last match of the year. The game with Sparta Prague meant nothing (in 5 rounds CSKA scored 15 points and guaranteed the first place), so they took a lot of young guys.
Cool impressions. Winter snow. You live in the center of Prague in a top hotel. I had a paradigm shift. Yesterday you think that these are unattainable stars, but today you share a dressing room with them. Then I realized that they are people too.
– Which of the CSKA stars impressed you the most?
– It is difficult to choose between Wagner and Tosic, but, probably, a Brazilian. When they played at close gates, he took the ball almost out of my hands. Then he handed out transfers, took over. The same Tosic. This is his element. He could beat anyone and score due to fast legs.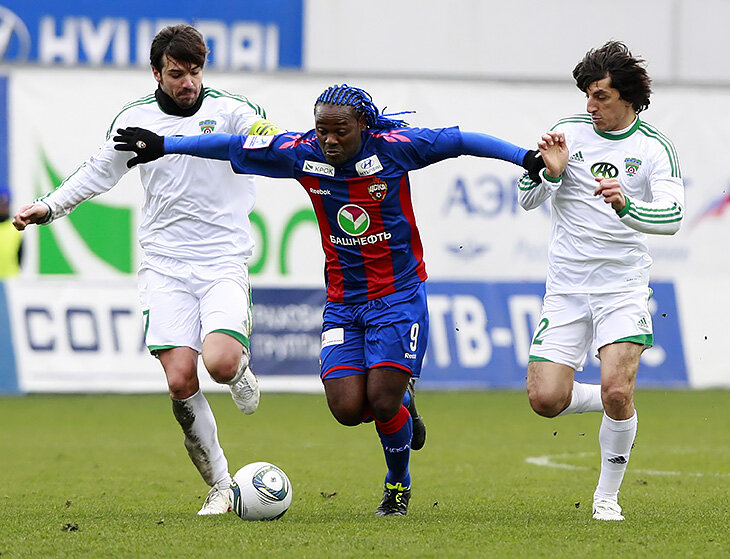 I also note Doumbia. In training, he played the fool: ha ha, hee hee, the ball bounces ten meters. Wood – wood. Came out to the game – the best. He still has a kind of coordination: it is difficult to understand what he will do next. Due to this, he won.
The boys singled out Aldonin from the double. He shoved hard at all the youngsters, even when they seemed to have done everything right. Always demanded the maximum from them.
– Was there a real chance to compete with Akinfeev for a place at the base?
– When he got a second break of crosses in a collision with Welliton, Chanov called me (Vyacheslav Viktorovich, CSKA goalkeeping coach from 1995 to 2014 – Sports.ru): "Now you only work with the first team."
I was determined, but a few days later they rented Gabulov. Apparently, they did not count on Chepchugov. I turned into the third goalkeeper again. If Gabulov had not been signed, there would have been a chance.
– Akinfeev kept aloof?
"We had a great team of goalkeepers. Igor prompted all the time: "Don't twitch, take a position."
In the mode of two games a week, Akinfeev conducted only recovery and pre-game training. When you're at that level, you don't have to train. You need to competently recover and bring yourself to the next game.
Therefore, sometimes there were two goalkeepers in training: me and Chepchugov. We must give Sergei his due, in some training sessions it was impossible for him to score, especially when they played in the "aquarium" at close gates. But there were times when he could not come to training. Once he said that he was poisoned by fish – I was the only goalkeeper.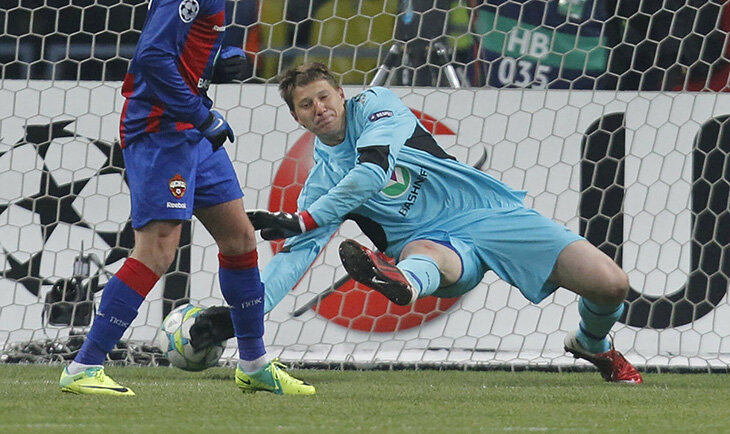 – Was Chepchugov already on his own wave then?
– He was always an atypical person: someone in an interview said that at the beginning of his career at CSKA he came to training in a fur coat. He always helped me. He told me he could deliver. Now I come across his posts: I try to find the logic, but to no avail.
– As a goalkeeper, you could stuff Ignashevich and Berezutsky?
"Only good memories of them. The brothers were constantly making fun of each other. Ignashevich demanded that I not shut up at all, even when we attack. At first I had a simple clue: left, right, back. And he wanted specifics: there is an option on the right, you can play through me.
– CSKA is the first big club in Slutsky's career. How did he behave in the beginning?
"He was a goalkeeper himself. Constantly prompted: "Strengthen the position!" He wanted us to cut the corner for the striker.
He didn't have much authority back then. He strongly listened to the backbone: Akinfeev, Berezutsky, Ignashevich. I could consult with them, but I made all the decisions myself.
– Slutsky compared you with Revyakin and noted that the competitor is more arrogant.
– Perhaps my good breeding and modesty played a minus. And Revyaka, on the contrary, was arrogant in a good way. He almost got kicked out of training once. They played for a small goal, Ignashevich shot higher, he started yelling: "Where to? Where?" He got busted for it.
– In your profile ten years ago there are several pictures from nightclubs. Could your CSKA career have been different without hanging out?
– I didn't abuse it, but it was interesting. In the boarding school of CSKA, they once escaped through the window of the second floor, went to the club, returned, changed into a sports uniform left in advance on the street and calmly sewed it back on, as if they were on a charge.
In this photo you are sitting in the driver's seat. Was there a cool car at 21?
– This is Bazelyuk's Audi RS5. He bought it from Zhora Shchennikov at a good discount. Kostya quickly sold it and has not used the car for a long time.
– You played for the youth team under Dmitry Alenichev, who forced you to practice throwouts. What else do you remember?
– The point was to focus the attention of the guys that there are no trifles in football. The next time in the game, the player will remember this and throw in the ball carefully.
Alenichev always spoke calmly, did not yell. If a person did not understand, he simply did not call the next time. I really didn't like it when someone wasn't focused. He always said: "Training is only 1.5 hours a day. At this time, you need to be extremely collected. He often paid attention to mistakes: "As soon as you think you're okay, finish right away."
In the [youth] national team, I lived almost all the time with Alexander Kozlov, who recently left us, unfortunately. Alenichev loved him very much: Sasha was a captain. Sometimes, as a joke, there was a setting: "There are few chances, so we push forward and hope for Kozlov." At that age, he was head and shoulders above all: fast, sharp – he started from a meter so that the back of the thigh was torn.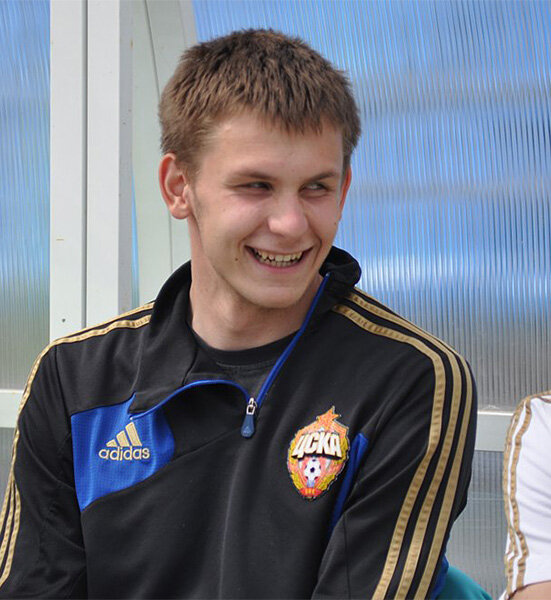 FNL: Teryushkov was not allowed to Khimki, Shalimov demanded the level of the RPL, Talalaev turned on Pulp Fiction
– You first left CSKA on loan to Loko-2, where Jikia was the captain.
– He already had a cannon strike from the left. Plus the leader – it was not in vain that he was chosen as the captain.
– Then he moved to Vityaz, whose president was Sergey Lalakin.
– I'm sitting on the balcony at the base. I look, someone on the other side walks in the bushes with a machine gun. A couple of hours later, his motorcade arrived, the guards jammed all communications.
He is a former paratrooper. On the day of the Airborne Forces every year he jumps with a parachute into his country residence. Once I twisted my leg upon landing – I came to recover at the base, where there was the necessary equipment.
The boys also told how, somehow, during a break in the match, his deputy came into the locker room. He took out a knife from his pocket, stuck it in the table and began to shove: "You can't run in the sun for an hour and a half at full strength. When I was your age, I ran naked through the woods for a week."
– After a hotel in Prague, how do you like the hotels of the Second League?
– There are a lot of bad hotels in small towns, but sincere people work there and try hard. You are already enjoying it.
Sanya Ryazantsev was in Khimki. The man scored against Barça at the Nou Camp. Young people could start whining "damn, where did they bring us." And he was always happy. After that, I realized that it's not the hotel where you spend a maximum of two nights that matters, but how you play.
– You got to Khimki when they first entered the FNL.
– There was no big money in Khimki then. Everything rested on competent management. Tazhutdin Kachukaev (General Director of Khimki from 2015 to 2018 – Sports.ru) looked for talents, developed them and tried to make money on it. The team and the atmosphere were top-notch: after the game, the whole team sang "Fantazer" in the locker room, gathered at someone's house.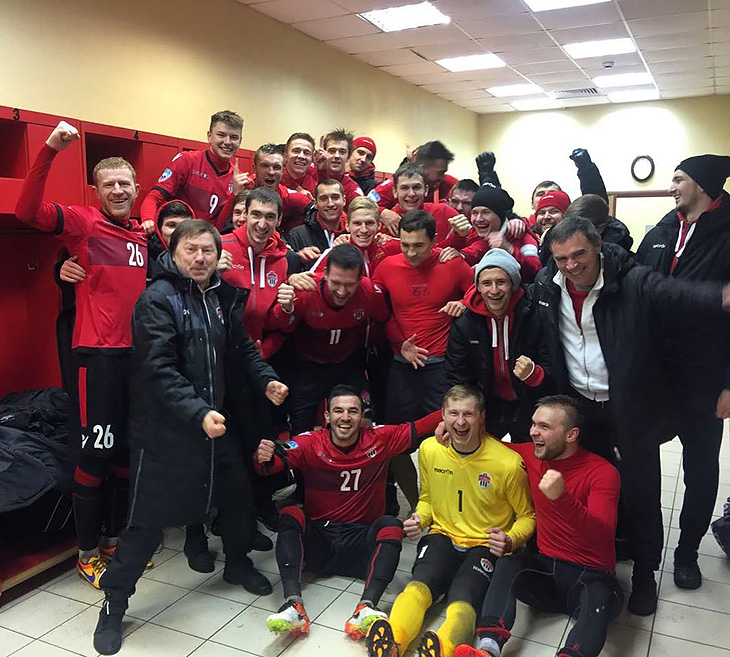 – Is there a circus in Khimki now?
Circus, I agree.
Teryushkov was also in business then, but behaved more modestly. Either he was not allowed to go to the club, or he himself did not want to. He came to official events, pushed a boring speech. Now, apparently, he's screwed up.
– In Khimki you worked with Krasnozhan, Shalimov and Talalaev. Describe their style.
Krasnozhan made a strong impression on me. It can be seen that he developed his training system for a long time. Thoroughly explained everything. Theories were before each workout. We didn't have the strongest squad, but we fought as best we could.
Analyst Yevgeny Shevelev worked with him. Even in CSKA there was no such position. For the sake of theory, he drew animations on video, like on Match TV, manually recalculated InStat indicators and realized that they often lie.
After Krasnozhan, Shalimov came and sheathed me. He demanded that the FNL players play at the level of the RPL tops. He wanted us to understand everything the first time. I can't remember anything else about him.
– Shalimov drank?
Whether he drank or not, I don't know. Sometimes I came to training driving, sometimes with a driver.
– Talalaev.
– Shalimov was replaced by Talalaev. It turned out so cool that he came to Khimki after Shalimov, and then to Akhmat – in both cases he pulled the teams out of the swamp.
Talalaev followed the example of Krasnozhan. Perhaps he learned from him. But he still stood out with a beautifully delivered speech. A very strong motivator. It was interesting to work with him.
On the first day, he played us a segment of Pulp Fiction. Two men shot the third one in their car and call the solver in the hope that he will wash the car and everything will be clear. And he arrives in a beautiful suit and simply says what to do.
The message was that Talalaev decided the same. He will not enter the field for us and pull us out of the ass. He can only suggest how to do it. It got to me very clearly.
He knew the specifics of the FNL and understood what we were missing. At the first training session, he said: "If you didn't have time to play the ball, play the body." The exercises were for martial arts, wrestling. If you did something wrong – immediately punished: somersault, push-ups.
Talalaev often practiced various tricks on the installations. Arrived in Vladivostok, all sleepy. Somehow you need to cheer up the team. He takes the youngest – Kamran Aliyev, who is now in Tula – and says: "Kama, today you name the composition and carry out the installation." He chose a line-up that played for a week. I think Talalaev was counting on it.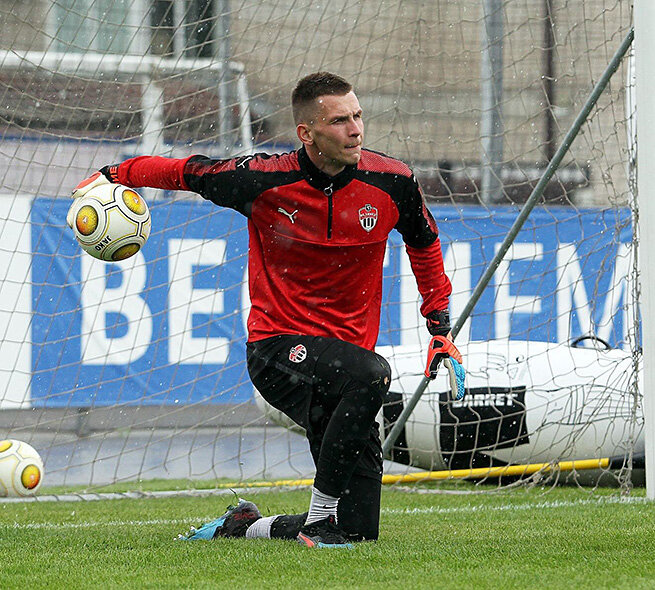 – If everything was so great, why did you leave Khimki?
– We did not agree on the terms, and Neftekhimik just entered the FNL and was looking for reinforcements.
Fnlovsky Ferguson worked there – Yuri Utkulbaev. He was a coach, a sports director, and a manager. We didn't have a theory about our game – only about the opponent. For each team, he built a training plan to play on its weaknesses. Due to this, they achieved results.
By the standards of the FNL, everything was clear. Day to day salary. Not a single delay. A natural field at the base, an artificial field in the city, the stadium was reconstructed.
– You called one of the FNL games disgusting. Is the league nasty?
– No, I liked it. A unique league in terms of geography of participants. The only downside is refereeing. Well, how else? As the country is arranged, so is the sport.
– In winter, you said that at 33 you see yourself as a player in the Russian national team. Were you kidding?
– No, in all seriousness. By this age, the goalkeeper matures, so it is quite possible. Goals should be set as high as possible. In fact, the difference is not very big, especially for goalkeepers. Less error rate. Slightly higher speed, the percentage of the implementation of the attackers.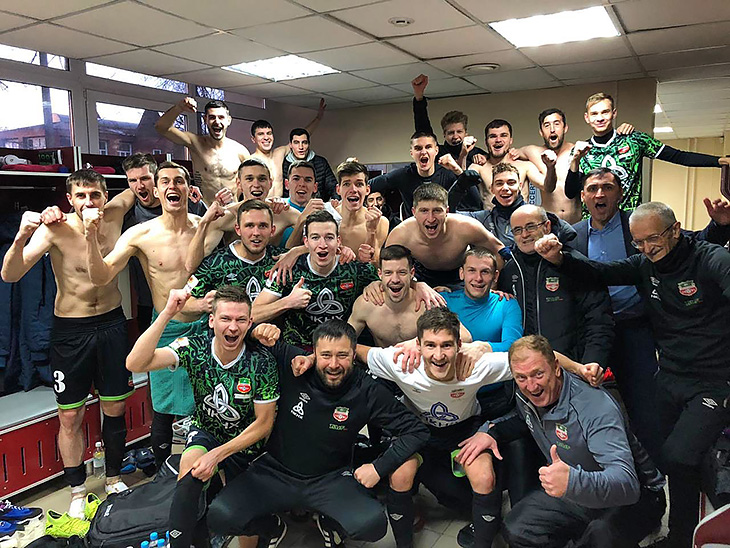 – How to get from the FNL to the national team in 4 years?
– It's better to ask Andrey Lunev. He was from Saturn, which was in the Second League, moved as the third goalkeeper to Ufa – immediately to the RPL. Two goalkeepers broke, he started to play. Saved two penalties – hit the "Zenith". From there to the team. The main thing is to be at the right time in the right place.
Moving to the USA – 5 million rubles, life – from 4 thousand dollars a month
Why did you decide to move to the USA?
– I didn't plan to. It happened. I decided to take a break, relax with my family, reboot.
Arrived in the US, planned to travel. And then mobilization, plans began to change. I thought a lot, weighed. I realized: there is only one life, I want to try myself somewhere else, apply my experience in another market and get a new one. I always dreamed of learning a new language, traveling a lot, learning different cultures.
We have good friends in America. They told us about the talent visa. I realized that I have a chance to get it – I decided to try it. Soccer in the USA has great potential, and the 2026 World Cup is still ahead, so you can try yourself as a football player, coach or rehabilitator in the future.
– You are planning to move to the USA. How to calculate the budget?
– So that it is enough for the first time and until the moment I receive the documents necessary for work. The visa application is considered from 3 months. The end date is not specified. I think everything should take no more than a year.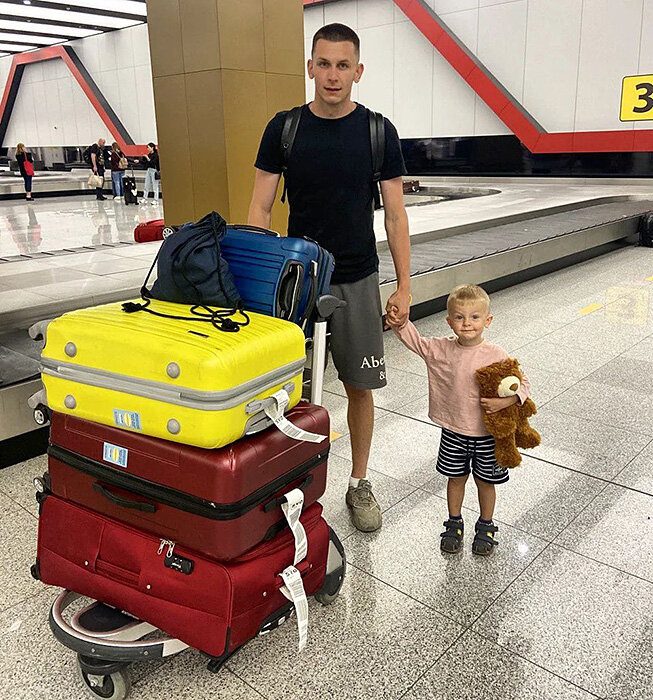 – What was the amount?
– The minimum amount for living in Miami is 4-5 thousand dollars a month for a family with one child. Less – you will already be malnourished. These are housing, travel and groceries in the supermarket. If you go to events, go to the beach and other places where paid parking (in October I spent $ 200), then 6 thousand will come out.
– How did you get dollars in Russia?
– Wild Quest. I studied everything about cryptocurrency, but everything turned out to be easier. I opened a brokerage account, bought dollars there, transferred it to a bank account, and sent it by swift transfer to an American one when I opened it here. The simplest and most profitable scheme.
– The dollar is now at 60 rubles (the interview took place in October – Sports.ru). Forced relocation will cost you 5 million rubles. Where did they get this amount?
– Earn by working together. I played football for a long time. I had a good salary for the FNL plus bonuses. On average, about 300 thousand a month came out. I tried to postpone. Living in a small town [Nizhnekamsk], this is not difficult. Plus I rent an apartment in Khimki. My wife also worked [as a model].
– My wife advertised Wildberries, Austin, Loreal, Faberlic, Incanto, Stockmann. How much do they pay for filming?
– Multi-brand shooting for Wildberry – 10 thousand per day. Stockmann paid about 100 thousand in 2-3 days.
– She also has a photo from the Match TV presentation.
She was the hostess. She told me what a gentleman Alexander Grigoryan is: he gives flowers to the channel's employees.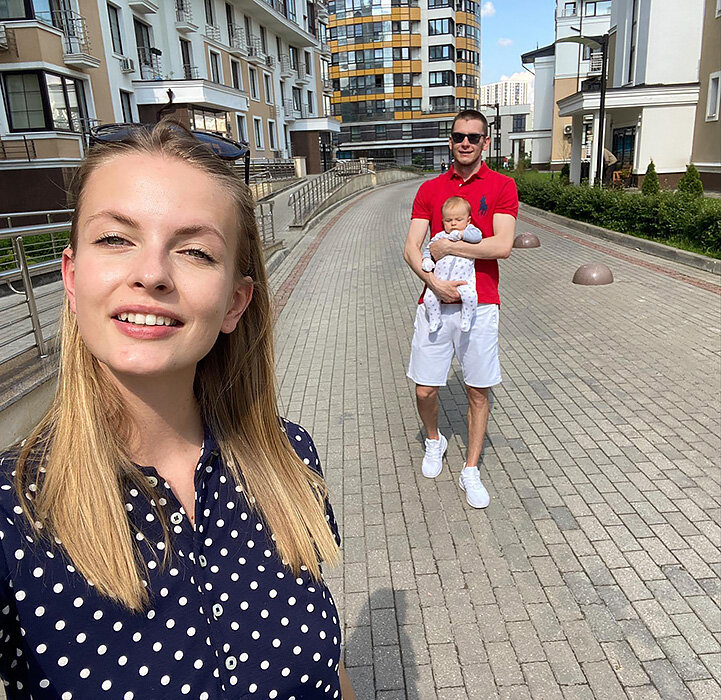 – Your son was born in Miami in 2020. The wife said that the birth cost 20 thousand dollars.
"This is one of the cheapest ways for a child to obtain US citizenship. The next day they give a birth certificate confirming that you are a citizen of the country. When the son turns 21, parents can apply for family reunification.
Giving birth in the USA costs 200-250 thousand rubles, you can find it cheaper. But America has a much higher level of hospitals and doctors. In Russia, childbirth will cost more in conditional Lapino (the medical center is located in an elite area of ​​​​the Moscow region – Sports.ru).
In Miami, it is easy to get a credit card and pass on the rights (test – in Russian), reduce gasoline prices, and a children's coach earns $ 5,000
– In August, you flew to the USA. How did you get there?
– In 2020, I flew from Moscow to Miami with transfers for 50 thousand round trip. Now we flew from St. Petersburg via Dubai for 250 thousand for three with a child.
How much does it cost to live in Miami?
– After the coronavirus, many Americans began to move to Florida due to soft restrictions. Housing prices have skyrocketed. I rent an apartment of 50-60 square meters in a townhouse for $1,800 a month. The price includes all utilities (up to $100 per month), internet and parking. It is considered cheap. Normal apartments cost from $2,500.
The range of products is much higher. Some are cheaper than in Russia. A huge piece of peeled salmon costs $20. Pineapple – $2 each. The quality of the products is higher. Bread tasteless, sugar is added to it. The normal one is more expensive: a loaf is about $5.
Salaries in the US are several times higher than ours, so food for locals is a penny. A friend works as a handyman. Like a husband for an hour: screw the picture, change the outlet, replace the faucet. He gets 45-55 dollars an hour. Another has been living in New York for 10 years, working as a lawyer. I recently moved to a new company: a salary of 200 thousand per year plus a guaranteed annual bonus of 600 thousand. Minus taxes, but still it turns out decently.
In Florida, goods in supermarkets and pharmacies are not taxed. In other states, a tax is added at the checkout when paying. In Chicago, 10.25%, for example. It also legalizes marijuana and guns.
Gas prices vary by state. In Chicago, $4.8, in Florida, $3.3 per gallon [3.8 liters]. Prices are constantly jumping. Gasoline cost 3.15 in October because the oil companies were exempt from the tax. I doubt that such a scheme is possible in Russia.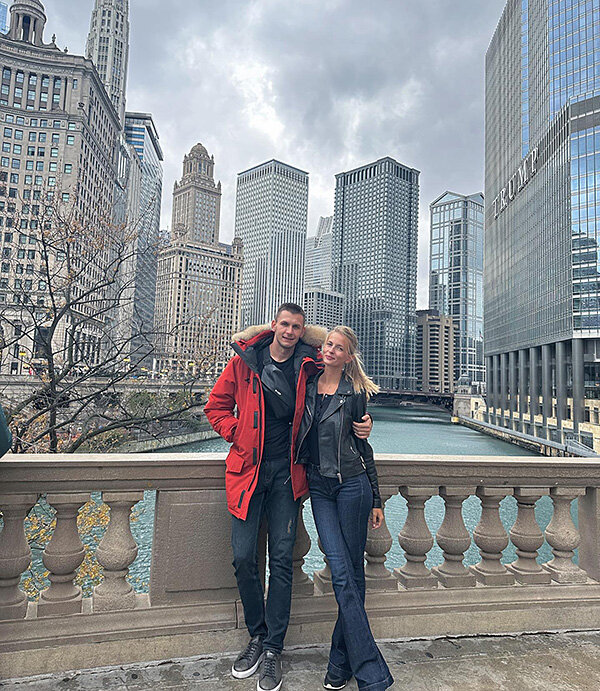 What did you do for three months?
– The first month I was engaged in the organization of life. I thought I knew English well – it turned out, not very well. They don't speak the way we are taught. Shorten, insert slang words. The most difficult to understand are those who live here from birth, especially blacks.
Rested, swam, traveled around the neighborhood. They flew to Chicago.
I was looking for a car: it is more profitable to buy than to rent. I took a 2015 Volkswagen Passat for 10 thousand dollars. Without it, there is no option if you do not live in a downtown [city center], where public transport is developed. A little further from it is already more difficult: buses do not run like in Moscow. Public transport in our capital is one of the best in the world.
Then they announced mobilization, and we decided to deal with [talent] visas. I started collecting letters of recommendation. Signed by Jikia, Alenichev, Tazhuddin Kachukaev. The RFU did not figure out which of the departments was not responsible for this, they only received a football player's passport.
It remains to collect all the papers, translate the documents into English and submit them. If the examination of the documents is positive, they are invited for an interview. But as I understand it, this is more of a formality.
– How much does it cost to submit documents?
– About a thousand dollars. Still have to pay for something. I hired a lawyer for 10 thousand dollars. It is cheap. On average – from 20 thousand to infinity. There is no upper bar in the US.
What are your plans if you get a visa?
– Get into the MLS. I learned: it is difficult, but real. The fallback is the United Soccer League, like our FNL.
I have a coaching higher education, but it is not listed in the USA. Need to re-learn. A children's coach here is considered a prestigious profession with a normal salary: about 5 thousand per month. Maybe I'll try myself in this area.
I am also interested in rehabilitation. If I have time, I want to get an education in this area.
– You have issued a bank card in the USA. Hard?
– I had a Russian card, which is just a piece of plastic here. I couldn't even call an Uber, because here you can't pay for a taxi with cash.
On the second day I went to the bank. It turned out that it was necessary to sign up for a certain time in advance. He brought a lease agreement, Russian rights, a passport – they opened an account. They gave me a loan two weeks later.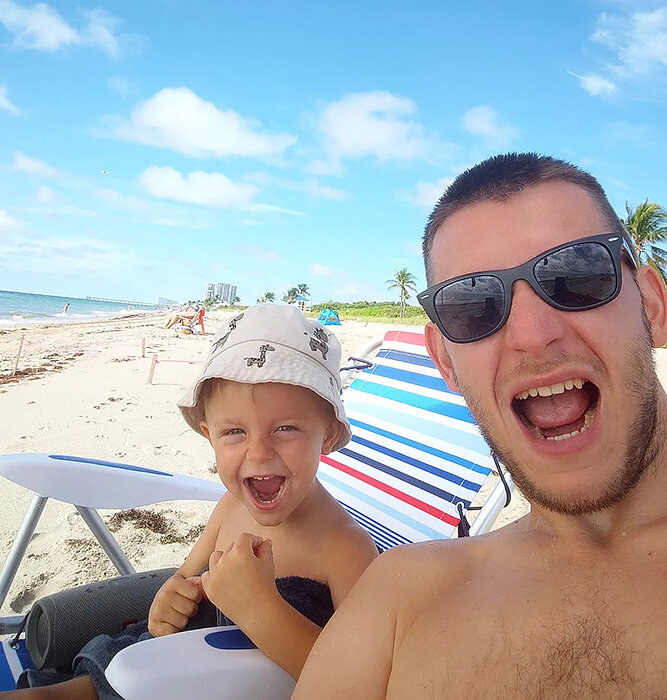 – You also passed your driving test. As I understand it, it was very simple.
– Surrender rules vary from state to state. They fly to Miami from other cities to get rights. Even a tourist can do it here. It's not possible in other states.
First, I passed the theory: you need to score 40 correct answers out of 50. There are 7 languages ​​to choose from, including Russian. The main thing is to memorize questions that are about distances – in America everything is in feet. For example, how many feet before the turn you need to turn on the turn signal.
The rest of the rules are similar to Russian ones. The main difference is that in the USA you can turn around through two solid ones and turn right at a red traffic light if there is no prohibition sign.
There is a category of questions that checks you for adequacy. For example, is it possible to drive in a traffic jam and read? Answer options: you can, you can't, you can in the right lane, you can if you read comics. There were 5-10 such questions.
I was wrong about one thing. You have a fire extinguisher in your car, while driving you notice smoke from under the hood, what should you do? Three options. Stop, open the hood wide open and start extinguishing. Stop, open the hood and start to extinguish. Stop and run away.
I chose the second option. It's kind of logical. Wrong. Need to run away. This is the difference in mentality. Everything is insured. The main thing is health. For us, a car is a luxury, but here everyone doesn't give a shit about it. Even rich people often drive middle-class cars.
– After the theory – the site and the city?
– There is no city. You come to the mall parking lot. The area is marked with markers and stop signs.
Ah, still funny. You don't have a license, but you have to be in your own car for the exam: rent it, borrow it from a friend, it doesn't matter. Passed the theory – received a temporary license, according to which you can drive if someone with a license is driving with you.
On the site, you need to stop at all stops and count three Mississippi (one Mississippi, two Mississippi, three Mississippi) – so that the police do not find fault. The instructor tells you where to go. From the tasks: make a U-turn in three steps, drive in front of the box and drive out backwards.
When you back out, you still have to put your hand on the seat next to you and look out the back window, despite the mirrors and cameras. The same thing when turning: it is not enough to look in the mirror, you need to look into the dead zone.
If everything is ok, the instructor sends you to the booth, where after 20 minutes you get your license. They also check their eyesight on a special apparatus – that's the whole medical board.
How do Americans drive?
– Peculiar. The guy from Ukraine, from whom I bought a car, immediately warned me: if you see a Toyota Corolla, keep your distance. Perhaps there is a person driving for the first time.
Driving in the city is very slow. You leave on the highway – everyone is chasing. I didn't have any incidents. Clear markings everywhere, illuminated at night.
– In your stories, you recently posted the area where Ruslan Nigmatullin lives. How did you meet him?
– At the age of 15-16, I went to a tournament in Minsk with the youth team. Nigmatullin then worked as an agent, he wanted to sign me. I had another agent, we did not agree.
I flew to Miami in the summer and wrote to him. He remembered me, invited me to visit, told me what to do at first. Thank you so much for helping me so far. Now I keep fit in his team.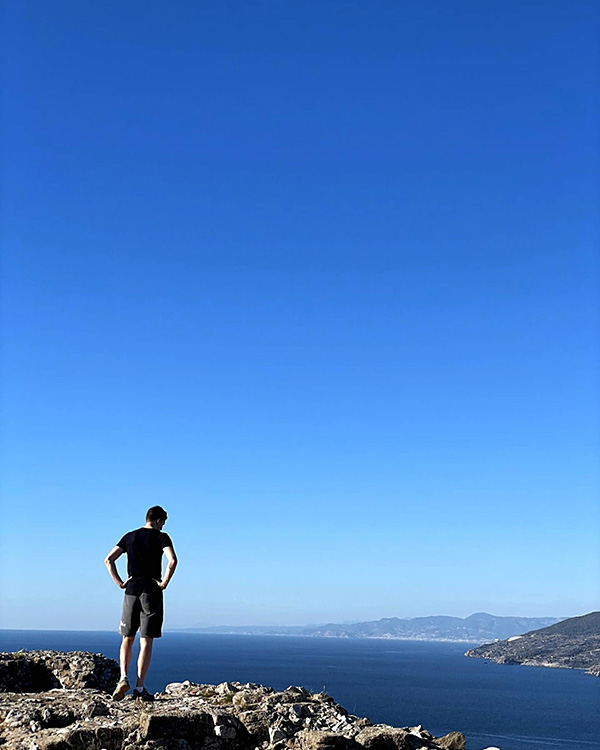 – You were at the game "Miami" – "Chicago". How far does the NBA fall short of the FNL?
– Of course, the atmosphere of the NBA is not up to par. Seriously, I did not see anything supernatural in terms of organization. There were cannons with fire and an awesome laser show.
For the anniversary, my wife gave me a $200 ticket for the 11th row. You could buy a ticket to the upper tier for 30 bucks and still enjoy basketball. Now I want to go to MLS – tickets to Inter Miami cost from $10.
How was Halloween in America?
– Grandiose. Within two weeks they began decorating the houses. You are driving down the road – a hand hangs from the trunk of the car in front. Look closely – like a toy. On October 31, children go from house to house and ask: "Trick or treat?" Kind of sweet or nasty. They are given sweets and other treats.
What do you miss the most from Russia?
– For parents, first of all.
For delicious desserts. Everything here is sugar with sugar filling and sugar sprinkles. If Russian confectioners make it, then cool. In the US, taste buds are atrophied: they crave everything super sweet, super salty, super sour.
Not enough service. In Moscow, you can order sour cream at night – the courier will bring it in 15 minutes. There is no demand for this here, so there is no such service. It's the same with cars: they paint crookedly and say that this is their best work ever.
"I will be happy if I don't regret anything," you said at the beginning of your career. What would have to happen for you to regret moving to America?
– I love Russia, I would like to come. In the US, I now have more opportunities. If it had been the same in Russia, I would not have gone anywhere. If I return, I will not regret it anyway – there will be a new experience.