In 2016, The Players' Tribune published Pele's text, an appeal to his young self.
Below is a translation of the most touching letter, which will help to understand a little better how the legendary football player lived and thought.
***
Dear Edson (or Diko, as your family likes to call you).
Listen very carefully.
When your family moves from Tres Coracoins (the city where Pelé was born), don't forget your mom's socks. You are young, you are only 5, but you must bring your socks. If you forget them, your life may be very different.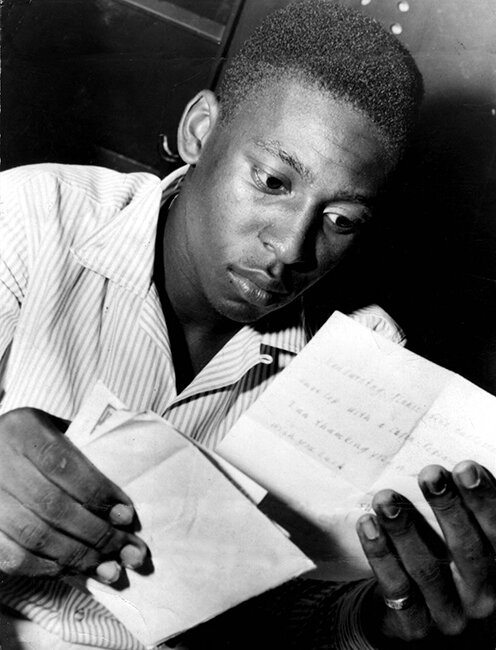 You and your family will move to a very small town called Bauru. You're moving to this place because of your father. You see, he plays for the Bauru Atlético football club. Your family has a very simple house in Bauru. You and your brother share one bed. It's not always convenient, but it will make the two of you very good friends.
There is no grass around the house. Just mud and sand. This is your first football field. There will be many big ones ahead, I will tell you about it later, but now your stadium is in front of your house. You and your friends make gates out of sticks and bamboo.
You don't have the money to buy a real ball. That's why you should never forget your socks. The family has very little money. So you make a ball by stuffing old newspapers into your socks.
Of course, the ball is not always round, but that's okay. You and your friends will play for hours outside. They'll call you "Barefoot" because you can't afford boots either. You will quickly learn to circle puddles. The biggest danger is water, and puddles will be your first defenders. You may have to put this letter aside for now and call your mom to apologize. Because over the years you will ruin a lot of her socks!
Ah, your mom. She is a very tough woman. As I write this, she is almost 99 years old. She still teases you. When you visit her, you won't be able to talk about what you want to talk about. She will say: "This is my house and we will discuss my affairs." Like this.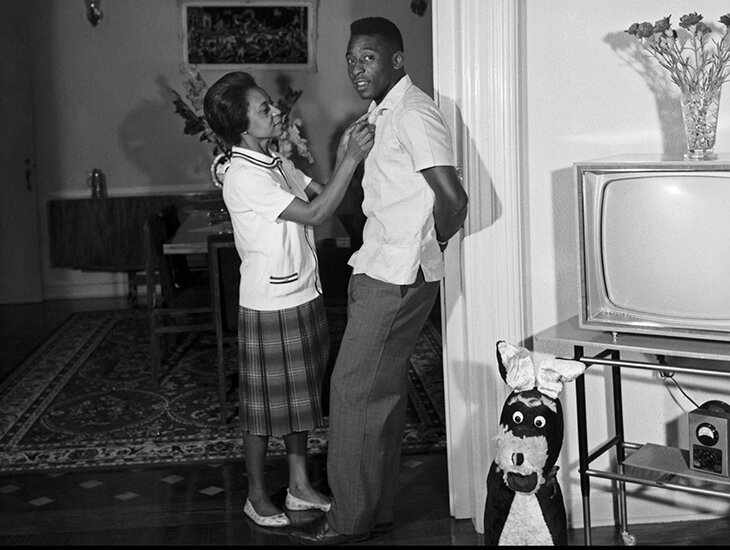 She is always the boss in the house. Father often leaves to play football, and she saves money and makes sure that you, your brother and sister have books and shoes. She teaches very important lessons. There is one lesson that you will remember for a long time. This is a lesson about your neighbor with a mango tree.
One day you will bring home a mango from her tree.
Mom will ask:
"Diko, where did you get it?"
"Donna Maria across the street.
But did you ask her about it?
– Yes, yes, of course.
It's a lie.
She will say, "Okay. Diko, let's go ask Donna Maria if this is true."
Yes, sometimes you're a bad boy. When you get older, remember this and be embarrassed.But this is the most important lesson your mother will teach you. It's not about the mango, Edson. It's about respect for other people.
Now let's talk about the father. Many times he will watch you play in the street. You score one, two, three, sometimes four goals. But the father is not happy. He says you should play better.
What? You do not understand. He will say, "No, no, no. You need to learn how to do other things. You must have many skills on the field. Not just scoring goals."
This is very important advice. Always remember this. Later your life will change. But he will tell you the same thing when you play for Santos.
(It's true, Edson! You will become a professional player. Keep calm. I'll tell you later)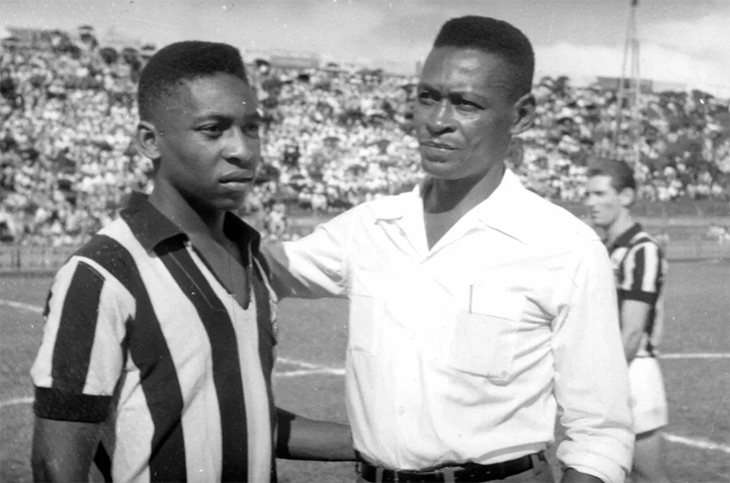 After the match, the father will say:
– You made two or three bad passes. Why?
– But dad, we won 4:1.
– You have to be more precise. You can get better.
You see, your father loves competition. He once headed five times in a game. This is a Brazilian record.
When you score your 1000th goal at the Maracanã, it will be a penalty – the whole world will freeze to see it. The atmosphere in the stadium will be one big party, no matter which team the fans support. You will receive a trophy, there will be many photographs, it will go into the history books.But during the celebration, the father will come up and whisper: "I scored five goals with my head in one game, but what did you achieve?"
And you both laugh. Your father is a special person – and he is the only reason why you decided to play football. Even though he was injured at the end of his career, you will always consider him the best player. All you want to do is be like your father.
You will never score five headers in one match, but you will score so many goals (1283) that you will become known throughout the world as "Pele".
Pele? Who is Pele? Your name is Edson, and your parents named you after Thomas Edison, an American inventor.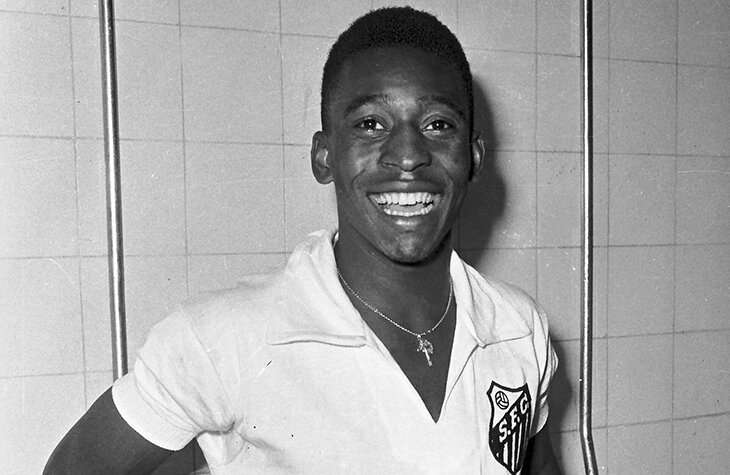 Pele was annoyed by the name "Pele". He considered the nickname garbage and wanted to remain Edson – in honor of Thomas Edison
I know that you are very proud of the name – Edson Arantes do Nascimento.
Treasure it now, because you will no longer have that name.
Bauru had a goalkeeper named Biele. One day at school you will say to your friends: "Heard about the rescue of Pele?"
Friends will laugh and say: "His name is Bile, not Pele!"
And they will start teasing you and calling you "Pele". You will get angry, one day you will even fight, for which the school will suspend you for two days. Do you know what will happen when mom finds out about this? Oh no…poor boy.
From this day on, everyone will know you as Pele. But never forget that boy, Edson. Keep the memories of him in your heart.
When you turn 13, you will start playing football at a more serious level. This will be the start of your incredible career as a professional footballer. First, you will train with the Atlético youth team from Bauru, where your father plays. By the way, this will also be your first job – you will clean the boots of the players of the adult team. They will give you one or two coins for every pair you clean. Not much, but enough to buy a real ball. No more socks!
You will become a very good young football player. A gentleman named Waldemar de Brito will appear in your life and play a very important role in the beginning of your journey at Santos. After he sees a great talent in you, he will say:
"Pele, I believe that you will become a very, very good player. But never think that you are the best. Never think that you are God. If you're going to earn serious money, save some of it for the future. No need to lower everything on cigars, sweets and other delights of life. You must always remain a simple boy from Bauru."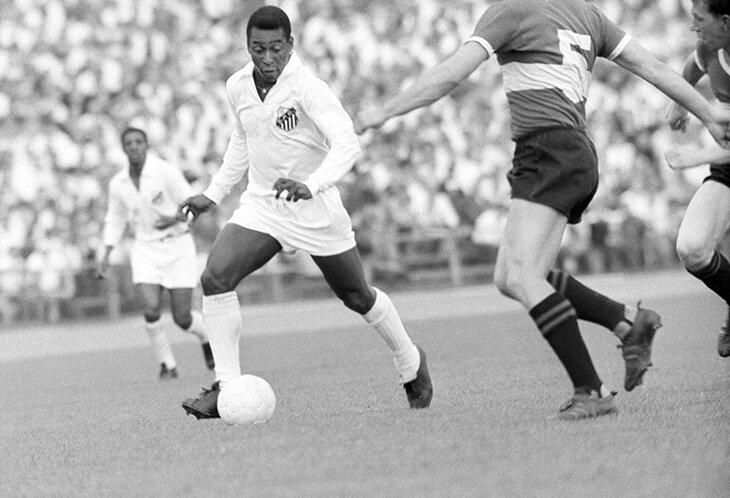 Remember these words because you will be a professional footballer at 15. You are still quite a boy. When you first enter the Santos dressing room, you will see your teammates lacing up their boots. You will be scared because they are all grown men. Then you look at your jersey number and see a 10 there. You will think: "Oh my God, what am I even doing here?" And you will remember this moment for the rest of your life.
The director of the club will call you: "Pele, come here. Put on a T-shirt, you will be photographed now!
There will be so many flashes that you can go blind. You're so thin that the T-shirt is very funny on you. "The day after tomorrow the photo will be in all the newspapers, boy," you will hear from the director of the club. And then you run up to your father and joyfully say:
"Dad, I was photographed in a T-shirt with the tenth number, they probably liked me!"
Yes, you are still that little boy from Bauru.
Let me tell you a funny story.
Santos is very far from your house. First you need five hours by train to São Paulo. Then another two hours by bus to Santos (Edson, please take books with you and read, not just sleep on the seats).
And then one day you come to Santos, where your father is supposed to meet you. You wait, you wait, you wait, but he's still gone. It's hot outside, you're thirsty. Well, you can wait forever, but you have to go to the beach, you want to drink. How clean the water is here… You collect some water in your palm and drink it.
Ugh! What's happened? What's wrong with this water? Why is she so salty? Is it poison?!You will remember this incident for a long time and laugh, believe me. Yes, in Bauru you have not seen any beaches, sand, sea. And here in Santos is a beautiful blue ocean. Then you will see the ocean for the first time.
Don't drink from the ocean, Edson!
You're much better off on the football field.You played for Santos for only half a year, and you were already bombarded with offers from Milan, Madrid – and from all over the world! This is probably going to sound unbelievable to you, but listen to what I have to say: don't accept these offers.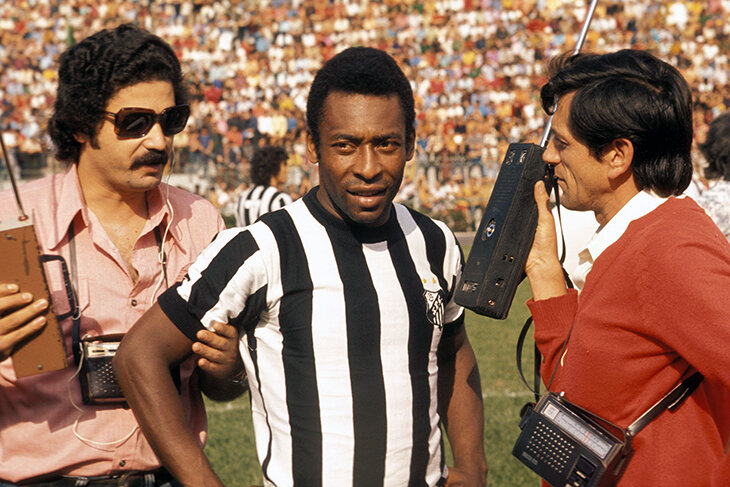 And again: never accept these offers. You will have many opportunities to go abroad without it, I promise.
Why would you want to leave Santos? "Pisces" (nickname "Santos") is so close and dear to your heart. Together with your partners, you will make Santos one of the best clubs – not only in Brazil or South America, but in the whole world. In 1962 you will make a continental treble – win the Copa Brazil, the Copa Libertadores and the Intercontinental Cup. You will travel a lot and play friendly matches with clubs all over the world. Once in the Congo, even the civil war will stop for the duration of your game.
You will travel a lot with the team, but at the same time you will be able to stay close to your family. So why would you want to leave Santos?
You will start playing for the national team. This is an incredible honor for you. When you are 17, you will fly to Sweden for the first time for the 1958 World Cup.Many things in Sweden will surprise you. You'll see a battery-powered radio there, something you'll never see in Brazil.
One day you and your team will go into the store and your partner, Garrincha, will hear a strange voice from the radio. It will surprise you so much that you will take the receiver in your hands and listen to every word, but you will not understand anything – the announcer speaks Swedish.
– Pele, why are you listening to this rubbish? Garrincha will ask.
"This is an amazing thing, I want to buy it," you answer.
– Why?! Don't, you won't understand a word of what this voice will say!
What Garrincha does not yet know is that when you return to Brazil, the receiver will pick up Brazilian radio stations and speak Portuguese.
Oh, how you'll laugh when Garrincha realizes that. You can't even imagine what his face will look like.
While traveling the world with the Brazilian national team, other surprises will await you. True, one of them will upset you.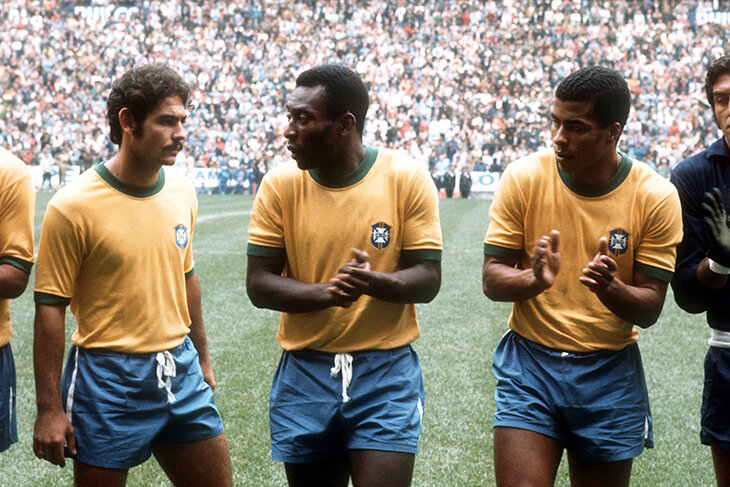 You think that everyone knows your country, understands where it is. But it's not. In those days, people couldn't find Brazil on a map.They said, "Ahh, Brazil! It's somewhere in Argentina, right? You say with a smile on your face that these are different countries, but inside you are disappointed, because people have no idea where your country, your home is.
But don't worry too much. After the 1958 World Cup final they will find out. Because you will win this final. Truth. For you it will be the first of three World Cups.
After the end of the final game, you will faint. Even today I cannot explain why this happened. Perhaps the emotions were too strong for such a young boy.
When partners bring you to your senses, you will cry. You will cry a lot in the future, Edson. What can you do, you are a very emotional person and it is easy to bring you to tears.
Winning the World Cup is not just your dream – it is the dream of the whole country. And you will win this tournament at only 17 years old. You are so young.You will become the youngest world champion in history. Thank God for this victory. You will never be so young again.
In 1970 you will cry again because you will reach the World Cup final again. But these will be other tears. Emotions will be even stronger. Ask the Lord to help you. You just can't lose in the final of the last World Cup.
What will happen? Why the last one? I will not say. Some things cannot be explained. Even from the future.
When your career with Santos and Brazil ends, you will have a unique opportunity to play in the USA. And not just in the USA – in New York itself. Your team will be called "Cosmos". Don't miss this opportunity. This is very important for the development of football in the States.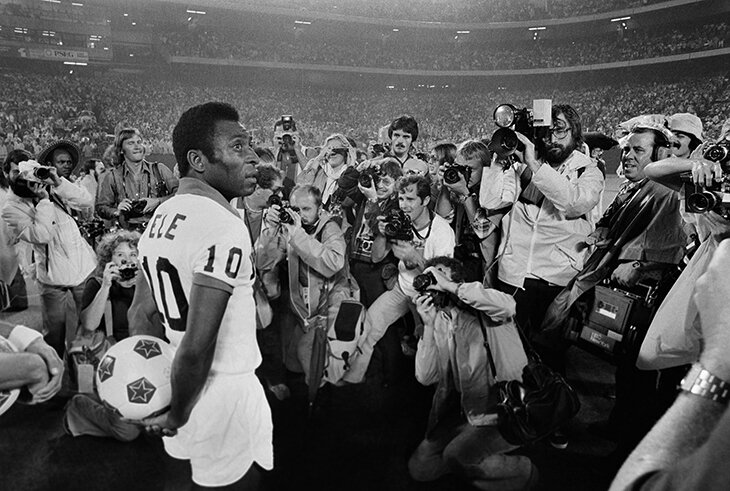 Before I say goodbye to you, I want to talk about beauty. You will see many beautiful things in your career. When you run into the crowd of fans to celebrate a goal scored, you will see people crying with happiness. It's beautiful, Edson. Moments like this show how much you mean to people.
But I want to tell you about a special moment that you will remember for the rest of your life.In 1968 you will play with Colombia. During the match, your partner Coutinho and the Colombian player will start fighting. Some players will run to separate them, and you will be among them. When everyone calms down, the referee will show you a red card.
You will tell him: "No, no, no, I didn't fight, I tried to separate them!" Only it will be useless, you will be kicked off the field anyway. The referee will think you fought because you look like Coutinho.
You will leave the field in anger and go to the locker room. You take off your boots, take a break and hear some noise – for some reason, the fans at the stadium are screaming very loudly.
Your coach runs into the locker room and yells:
– Come back! Come back quickly!
– What? Who will let me back? I got red.
– No you did not understand. Put on your shoes. There, the fans began to rage, they are against the referee's decision. Come out and see for yourself!
This is the only time in my life I have seen something like this. Colombian fans saw that the referee made a mistake and demanded to return Pele to the field.
As a result, the referee who made a mistake was replaced! It has never happened before in football – the referee is kicked out, and the removed player returns to the field.You see, the fans didn't want to spoil the beauty of the game. And they did not care a bit that the referee made a mistake that was beneficial to their team.
You go back to the field, the crowd screams with all their might.
This moment shows how much you mean to people. See? God gave you a wonderful life.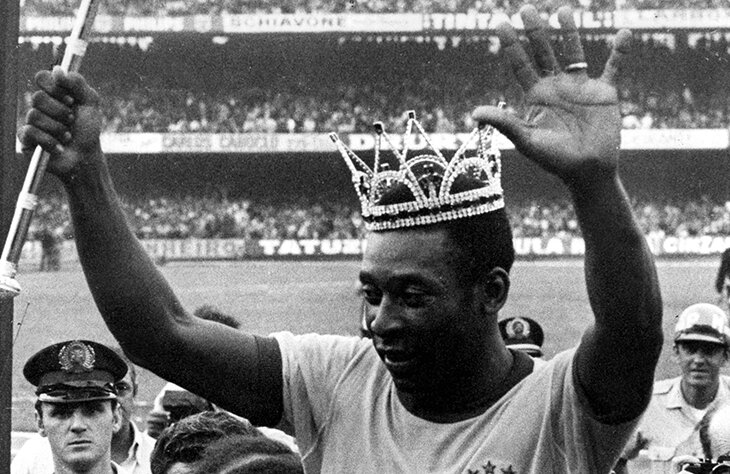 Ask him to take care of your family. You have to take care of each other, trust me.
But there is one more thing that I pray to God every night. It's harder to explain. Brazil has great people. We have wonderful cuisine, music, culture. But we have many problems. It is crime and poverty. Yes, even as I write this letter to you, Edson, our country is having a hard time.
You must ask God to make life in Brazil better. There are still many children here who play football in the streets barefoot. There are still many children who cannot buy a ball. There are still many children who steal mangoes. It is very sad. Football cannot give everyone what he gave you.
What will be the best moment of your life? He already was. This is the moment you were born. Because you have a great family that has always supported you, gave you a good upbringing. Therefore, when you travel around the world, all doors are open for you. People from all over the world love you with all their hearts and you should do everything in your power for them to thank them for this.