In the company of Vitya Kravchenko.
Blogger Vitya Kravchenko got bored in Qatar and flew off to watch the Argentina-Croatia semi-finals in Buenos Aires. He posted very atmospheric photos and videos – we immediately wanted to know how the city lived before the match, what was happening during the broadcast and how people celebrated reaching the final.
Of course, we understood that Argentina was absorbed in football, but the details of this incredible love are even a little shocking.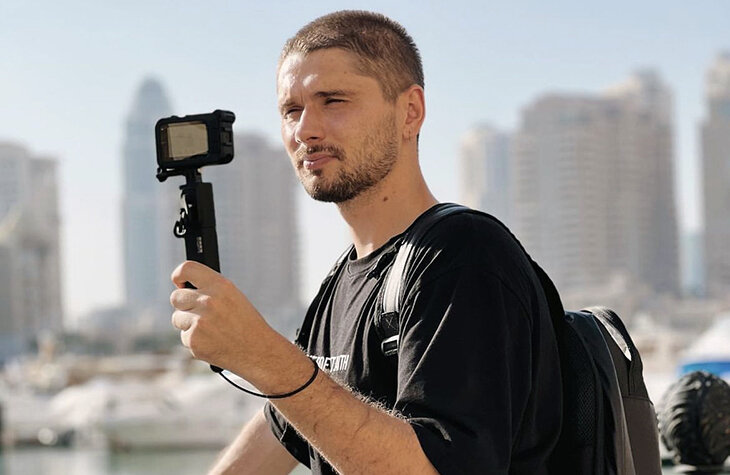 Here is Kravchenko's story, after which it is terrible to imagine what will happen to Buenos Aires on Sunday. For any outcome.
Initially, we wanted to bring three videos from Qatar, but it turned out to be unrealistic. Because there is absolutely nothing to film in Qatar. They made two releases, and decided to shoot the last one in the country that will reach the final: to convey the atmosphere, to compare it with Qatar, and in general, this may be the last financial opportunity to be so weird.
We looked at the grid, it was clear that the semi-final Brazil – Argentina is likely. They wanted to fly it to South America and stay as a guest of the winner. Everything had to be decided before the quarter-final: there are few flights, tickets are not getting cheaper. I believed less in Argentina, I didn't really like it as a team, so I took tickets to Sao Paulo. I spent 130 thousand – I travel with my girlfriend Renata, who is now also part of our team.
We had a transfer in Barcelona, ​​where we watched the quarterfinals. I was sure that Brazil would pass Croatia, and I was very worried about Argentina. I reassured myself that the victory of Holland is also normal, it's okay. But it was not worth worrying about Argentina. As soon as the whistle blew and Brazil started very slowly, I realized what I had done. I realized that I was in too much of a hurry. It was hard to watch the match, I left the bar, then came back.
The end result is a fiasco.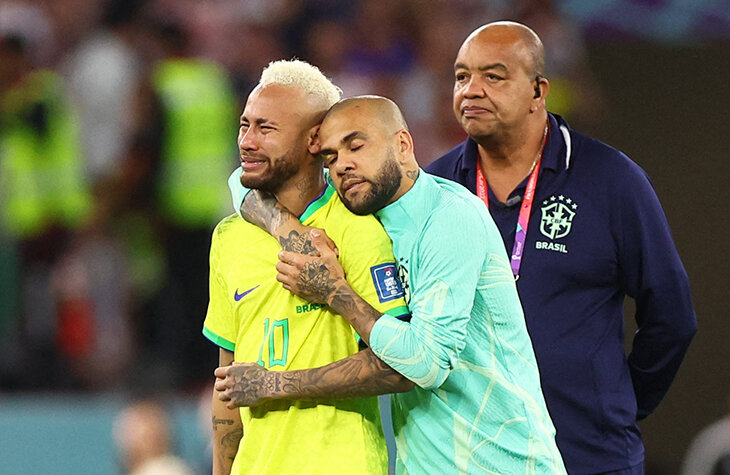 I didn't know what to do. I started watching Argentina while out and with the score 2:0 in a fit of passion I bought tickets from Sao Paulo to Buenos Aires. They were no longer so expensive, something like 40 thousand for two, but still. And then the last minute of stoppage time. The Dutch score. 2:2.
It's like it didn't happen to me. I already wanted to hurt myself, waiting for the victory of Holland. I decided that I was leaving YouTube, I would not shoot anything else, I would climb under the bridge and stay there to live.
But Argentina won on penalties.
We flew to Sao Paulo, spent the day there and got to Buenos Aires.
Argentina on the day of the match: in the form of Messi, even dogs, but Kravchenko found a T-shirt only in a lingerie store (the rest were sold out long ago)
There was a day left before the match Argentina – Croatia, but something was wrong. It seemed that there is no world championship here. And it looks like it won't. Nothing hinted that tomorrow was the most important match.
But the next day we understood everything.
We woke up at 9 am, the local match started at 16:00. And the first thing I saw when leaving the house: dogs walking in Messi T-shirts.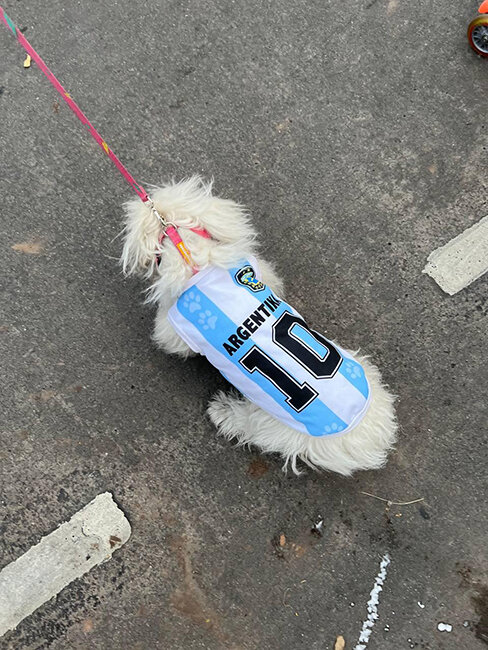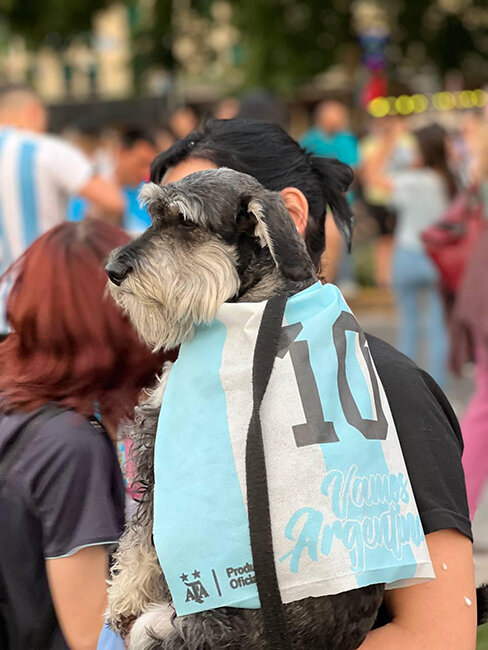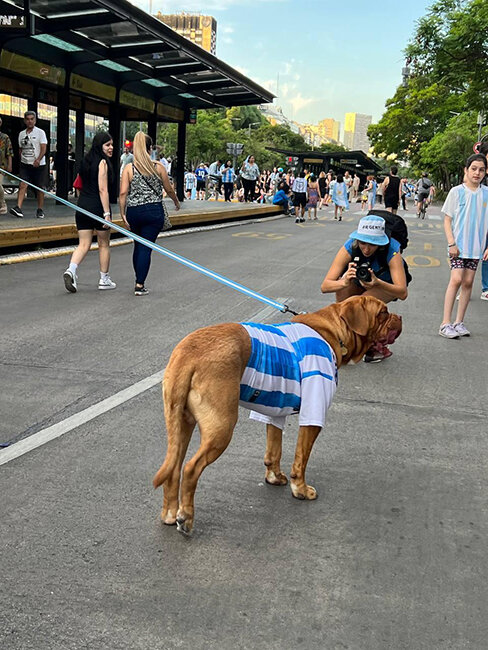 Yeah, people walk their dogs and they're wearing T-shirts with a ten on the back. A typical day in Buenos Aires.
Another impression – someone turned off the sounds of the city. It's like turning up the volume controls. All you could hear was birds and cars. Everything else froze. People didn't talk to each other in cafes, just mechanically drank something, smoked. You could feel the tension. It's like you're coming to an exam, there are still 20 minutes left, and everyone is terribly nervous. Anticipation of something very important, but disturbing.
As the match approached, we realized more and more clearly that there were no people around us in ordinary clothes. All in Argentina jerseys. And everyone has Messi on their back. For the whole day I met only two T-shirts with other names – Julian Alvarez and Carlos Tevez. Everybody. Solid Messi. It's even a little sad: as if there is no De Paul, Di Maria, Otamendi, Mac Allister and others.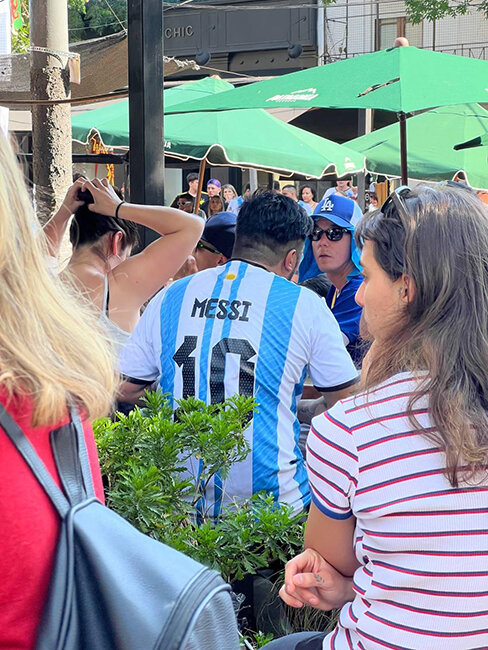 By the way, the attitude towards the players in the national team, their gradation can be easily traced by banner advertising. There is Messi, who advertises tokens and NFTs – this is now a trend, the top one. There is Di Maria, who advertises mobile sims and has a painted face on all the posters. The attitude towards him at the World Cup has changed dramatically. And there is, guess what, Emiliano Martinez, who advertises everything else. Yes, he is the third most popular here. And this is with Gomez, Dybala, Icardi, Julian Alvarez.
Since there is a lot of stealing in Latin America, and especially from tourists, we decided to blend in with the area. They tried to find paraphernalia – T-shirts, scarves, flags – but it was impossible. By the semi-finals, everything was sold out. There was absolutely nothing in the city. I'm serious. The only place we found T-shirts was in a lingerie store. They sold burnt T-shirts, flags and hats from some shoe covers. We bought two T-shirts, one hat, two flags – and paid 350 rubles for it.
They are of such quality that they directly sprawled on us. But now it's a relic.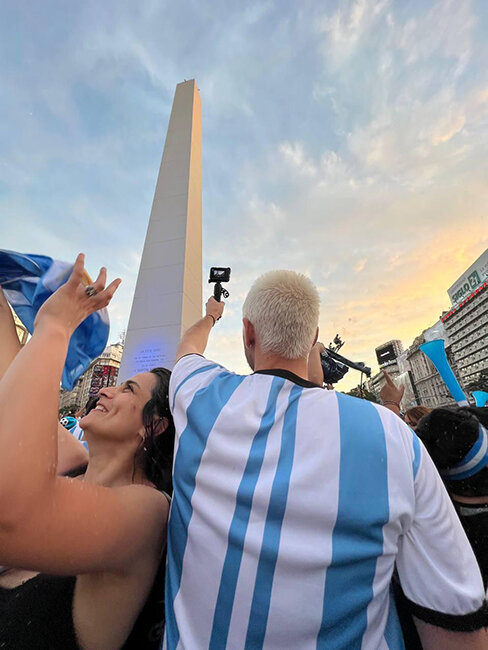 How Argentines watch matches: all establishments (even bakeries) turn into bars, bands play, people drink and pray
The next dilemma is where to watch the match. I knew that the park of the Palermo district had the biggest fan zone. And even before the trip, we were looking for a special bar for a very long time, but when we arrived in Palermo, it became clear that there was no point in this. Here in Moscow, to watch football in a cool atmosphere, you have to go to John Donne, the League of Popes, there are four or five more places. In St. Petersburg, you have to go, for example, to Rubinstein. But in Buenos Aires it absolutely does not work, because you can watch football everywhere.
Even a bakery that sells buns is becoming the equivalent of John Don. All the TVs that they have, they put on the street. There is also something left in the premises, but it is impossible to get there, everything is booked there a week in advance. People watched the quarter-finals and immediately booked tables for the semi-finals.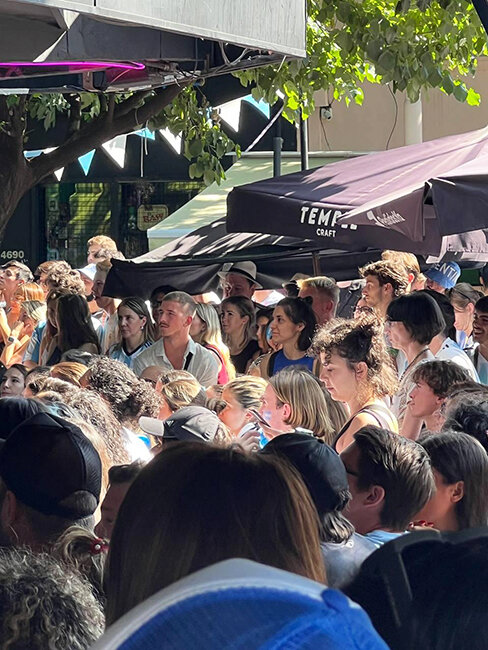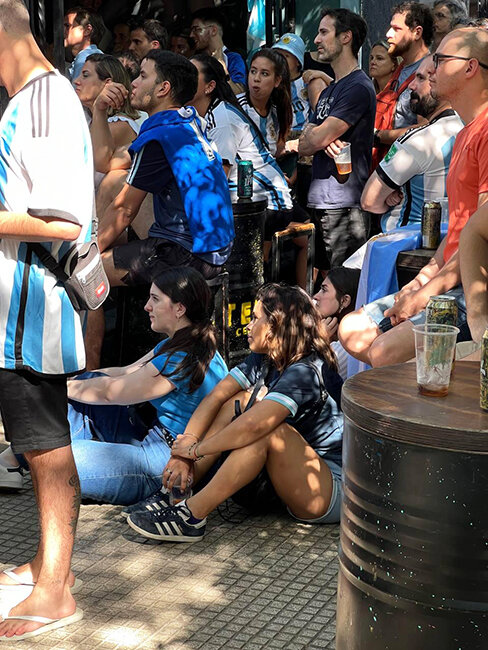 What's happening on the street. Every bar has a style – for example, high black chairs. But on the day of the match there are 60-70 different chairs, which the hosts, apparently, bring from everywhere. Just to get as many people as possible to sit at their bar. And these 60-70 chairs are also booked in a week. I emphasize once again that it does not matter at all what type of establishment – a pub, a bakery, a coffee shop, a restaurant. Yes, the same Subway put four TVs and gathered crowds around them. Everything is geared towards football.
Since no bar can handle such crowds, locals take advantage of it. Near each bar, people stand with basins, thermal bags or barrels of ice – in them, of course, beer. And they impudently sell it right a meter from the entrance to the bar. Moreover, the bar sells beer for 1000 pesos, and they sell for 300. And no one drives them. Moreover, everyone takes beer from them. Because until you order, until they bring it to you – it's much longer.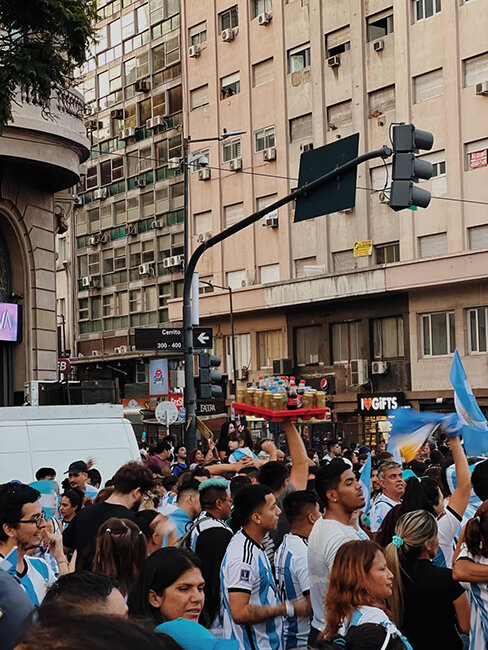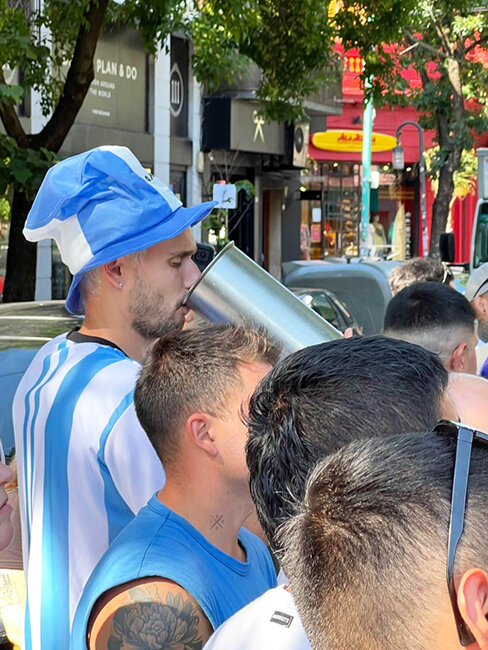 In bars, I would single out three categories of people. The first is that those who managed to reserve seats on the chairs drink beer from the bar and eat good snacks. The second is those who stand near the chairs and buy cheap beer in front of the entrance. And there is a third – the types that come on some scary bikes. They have 2-liter bottles of cola with them, they cut off their necks and pour cheap cognac or whiskey into them. As I understand it, they live in favelas, here it is called Villa. And these types are directly thrown hard with chatty cocktails: they come in companies of 7-8 people and pass 2-liter bottles to each other.
And these three categories of people watch football together. They are completely different. Someone comes with babies, with strollers, whole families. And nothing bothers anyone. They are so absorbed in the match that they do not notice what is happening around. No claims to each other.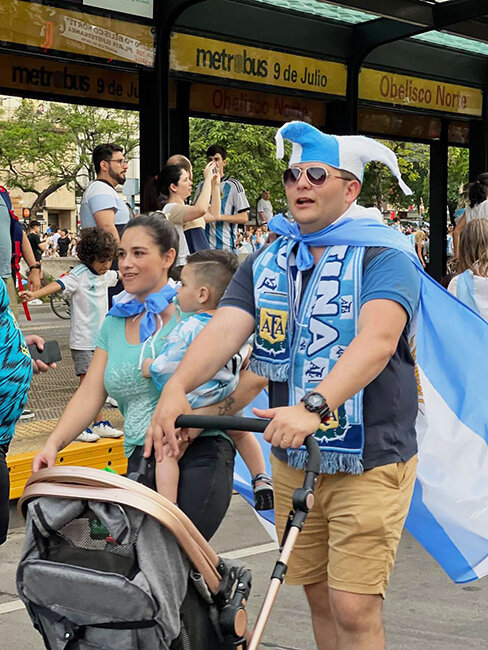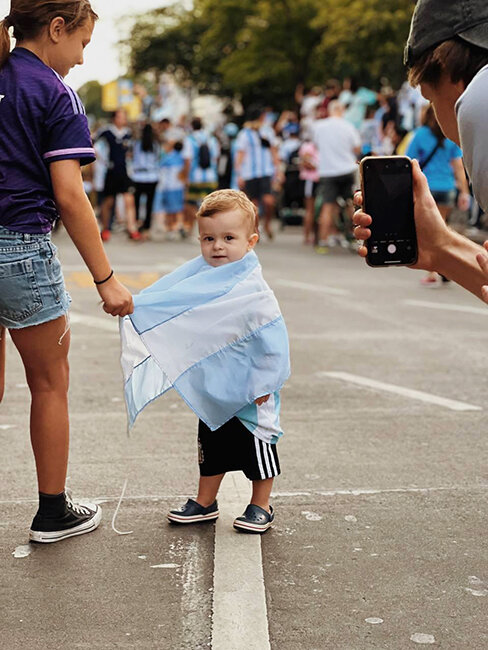 At one intersection there are five or six such bars. By the beginning of the game, the intersection is completely blocked, the police put cars across, and people mix. It is not clear where the crowd starts from one bar, and where – from another. You can only determine by the direction of the head – who is watching which TV. And at each crossroads, such companies of 300-400 people are formed. Everything starts calmly, and then develops into an anthill. If you don't come early enough, it's hard to watch football, you're too far away from the TV. Because of this, I almost never saw the match. At the same time, no one sticks into phones, I didn't notice them in people's hands at all.
And here the fun begins: in all these bars at each intersection there is a different delay. Someone connects broadcasts via the Internet, someone via cable. And there is always a bar that will be the first to know that, say, a penalty has been set. Nothing seems to be happening, and then from some bar it is heard: "DAAAAAAAAAAA!" Beer flies up, everything rumbles. So it was with Messi's goal. Silence, everyone froze, and then 40 people fly out of the neighboring bar into the crowd.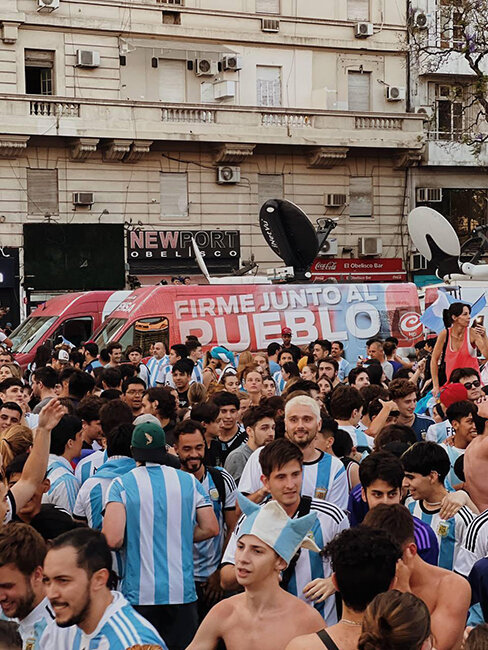 I wouldn't call it insane. Everything looks very organic. And there is no negative in this. This is a cocktail of the right patriotism, multiplied by the love of football. We add historicity here: everyone in the family has their own traditions and views – grandfather loves Maradona, and his father considers the great Messi. Everyone has something to do with football.
Girls from 16 to 20 years old come to bars in large groups. Here I saw girls mostly with guys. And here, eight girls came much in advance and took their places near the TV – they squatted on the ground. Nobody called them here, they are really very interested in the match. And after the second goal, the woman next to me began to roar and cross herself. She was alone. No husband or sons.
We slowly moved between the bars and eventually stopped near where the orchestra was playing – with drums and saxophones. These people were very poorly dressed, dirty, drunk, all in terrible tattoos. But near them the epicenter was formed. They did not watch football at all, but only set the rhythm, played the Muchachos song endlessly. It's about how Argentina couldn't win the World Cup after Maradona, but now Diego is helping in heaven, and the team has already broken the curse by beating Brazil at the Maracana. The Argentines believe that now they will definitely become world champions and wind up Muchachos every 5 minutes.
I stayed to watch the match near this bar, it was incredibly cool. And when the first half ended (2:0), the real festival began.
Yes, it was just a warm-up.
Argentines celebrate all victories in the square near the Obelisk. They burn fires, launch rocket launchers, cook barbecues and just enjoy each other
They celebrated the victory in the first half as a victory in the match.
People flew off, rolled. The types who brought with them mumbling in plastic bottles poured it all over the crowd. And no one said anything to them. The police did two things throughout the match: they smoked cigarettes and watched TV. Nothing else.
Argentina won 3-0. The orchestra that was playing at the bar began to move along the street. People stood on the roofs of cars, on kiosks, at traffic lights. The task of the Argentine after the victory is to take the highest possible position. For what – it is not clear. But if there is a point above the ground at least half a meter, someone will definitely stand there.
Madness, chaos and lack of control began. The orchestra gathered thousands of people from all the streets behind it, everyone went to the music, to the drums. The streets are paralyzed, there is no movement. It's not like cars can't get through – you can't even get through. As if after the match of the Russian national team, all the fans left the Luzhniki stadium – only this is not in front of the stadium, but in the city. You are closed, there is nowhere to get out, it is not clear where the column ends. You can only stand and sing. Complete collapse. Fun spills and envelops – you no longer understand where you are, what is happening in general. And it is not clear how this could end. Because an hour passes, two – and the ecstasy only intensifies.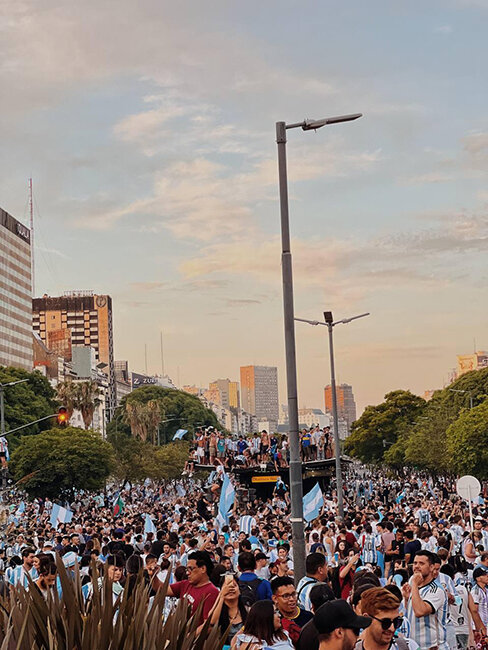 What else you need to understand about the situation: all shops are closed. They closed two hours before the match, put up bars. You can't call a taxi – it just doesn't come. That is, even two hours before the match, at 14:00, people did not work – such an unofficial day off on a weekday. And no one has any complaints. A girl who lives here said that during the match she ordered delivery, but she did not come for several hours. As a result, a female courier arrived, because the men did not work that day.
If you were driving somewhere, that's all. You leave the car until the next day. Well, at best you can pick it up at night. We saw several delivery men who could not even pass on mopeds and scooters, took off their backpacks, lifted them into the air and celebrated with everyone.
We nevertheless got out of this area and went to charge the cameras. And then they moved to a place where Argentines always celebrate victories after matches. This is the square with the Obelisk, which was built for the 400th anniversary of the founding of Buenos Aires. Imagine how much this area remembers. There is one of the widest streets in the world – and it is completely filled with people. Hundreds of thousands of people.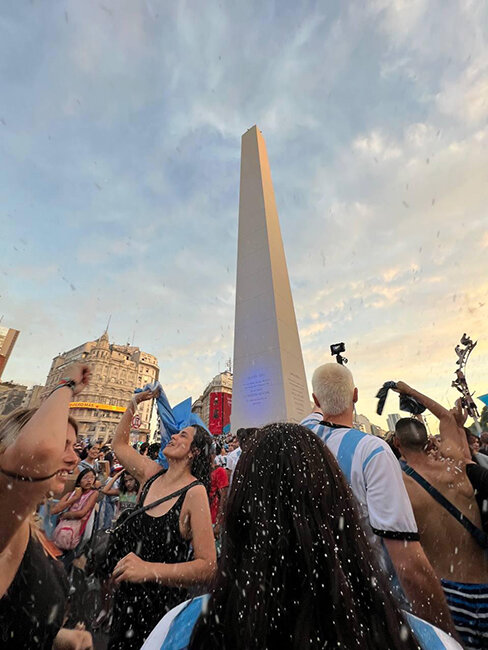 And now something terrible is happening. Everything explodes, fireworks, rocket launchers. As if they won not the semi-finals, but the World Cup. At the same time, there are many children, entire families. Here the father is carrying a stroller, in which there is a huge column, and next to him is his wife with a child in her arms. So they prioritized. When from childhood, from the age of 2-3, you are brought to this square, when you hear all these charges, you teach them … How can you not love football later?
Towers swayed there, traffic lights broke. When I looked at it, I caught myself thinking that maybe that's why they don't win the World Cup. Perhaps they are protected by the football god. After all, they simply will not survive this happiness. They will not have any traffic lights or kiosks in the city. There will be nothing.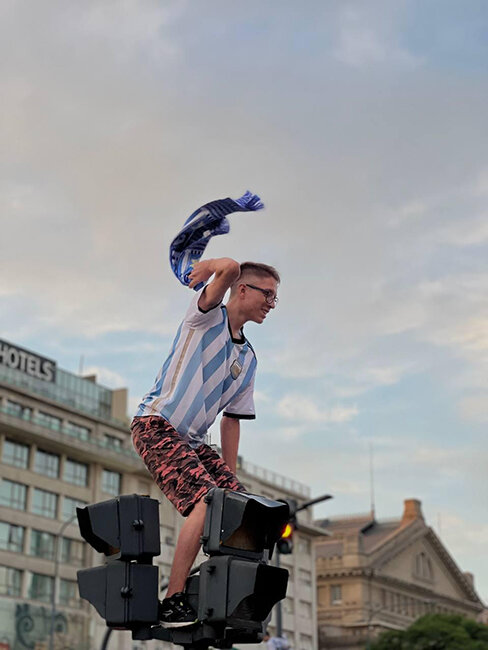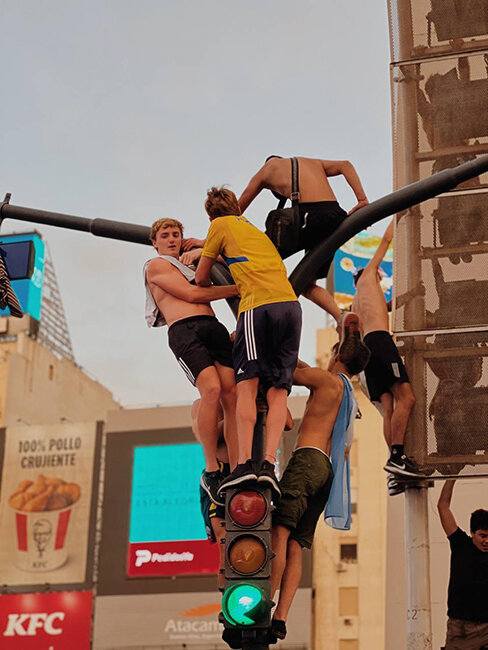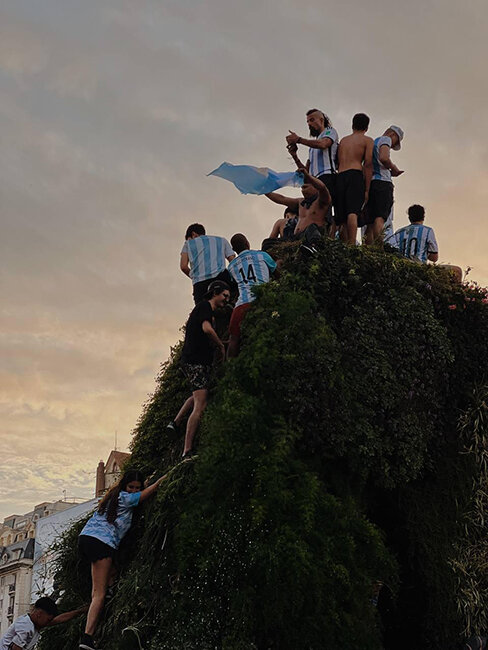 This crowd is heterogeneous, it is controlled by no one and nothing. All these people were not told to come here. They already know where to gather and what to do: yell, sing, dance, jump. And the whole city is already there: men in shirts and trousers, women with children, dudes with a naked torso, in tattoos and with bandages on their faces so that they would not be recognized. Flags of Boca, Rivera and other clubs.
Within this crowd, a separate life, an ecosystem, is created. They start selling beer and water, some white and blue rags that look like T-shirts, so that those who don't have enough get it. They also start frying sausages and barbecues, baking rolls. And no one breaks the price tags – everything is 50-100 rubles. Four hours ago, cars drove here, and now it's a real fest: you can cook where songs are sung, you can buy food. And for this you do not need to go anywhere. It's amazing how quickly this all comes together. It's like they've been preparing for a whole month, but of course it's not.
And it is not clear when the fest will end. The crowd rolls and rolls, people are more and more cheerful.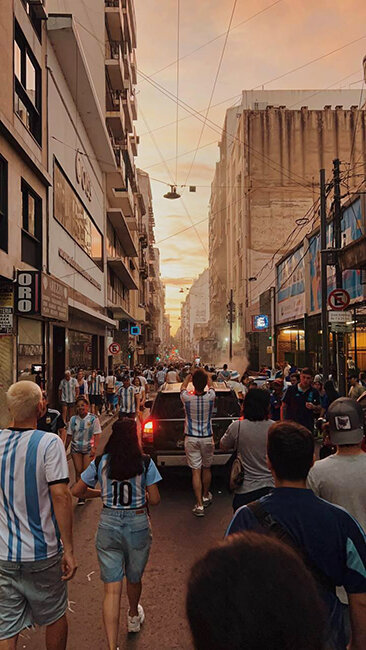 The next morning is also an interesting picture. You fall asleep to the Muchachos song, wake up – it's again. Only it is no longer coming from the fans on the streets, but from school buses. Children clap their hands and sing.
At 9 am, people who have not yet gone to bed walk. They are all crooked, oblique, barely crawling in Messi T-shirts on old tunes.
Of course, nothing works. Everything opens only after lunch.
Is it true that the World Cup distracted people and government from wild inflation and economic collapse?
I understand how it is heard and read from Russia: it seems that officials are hiding behind the World Cup. But I'm sure it's not a cover. Officials love football just like other people. And people here live for the World Cup. I talked to a dude who was in shock, saying that they have terrible inflation, the economy is over, while 100 thousand people flew to Qatar. They take loans and as long as the World Cup exists, they simply physically cannot think of anything else.
Argentina is a country of defaults and rampant inflation. Why is this happening and does it affect football?
So you broke up with a girl, but today is your birthday. And on a day like this, you don't want to think about the bad. Everyone congratulates you, they say nice words. You know there are problems, but let's discuss them later, shall we?
Quiet before the finale. Nobody watched France here, people just walked past the TVs. 1:0? Well, okay. They don't care who they play with.
There are still two days before the final, and I already have the feeling that everything has happened. I can't even imagine how Sunday will go.