In 2010, Yuri Zhevnov moved to Zenit in the status of one of the best RPL goalkeepers, but he never ousted Vyacheslav Malafeev from the start. In 2018, Zhevnov returned to the club – already as a coach. For four and a half years, he worked with almost everyone who tried to become the new Malafeev: Andrei Lunev, Mikhail Kerzhakov, Stanislav Kritsyuk, Daniil Odoevsky.
Alexander Dorsky spoke with Zhevnov about the details of the life of Zenit goalkeepers.
***
– After returning to Zenit in 2018, you said that you dreamed about it. Is it the pain of an unfulfilled chance?
– Probably yes.
In the first year after leaving Zenit, it was hard to come to St. Petersburg. Over time, it became calmer, he came to play for Torpedo and Ural. Already then – yes, dreams. At first, I generally imagined how I would return as a player, then as a coach.
The base was exactly like in the dream, haha. The players are different, but that doesn't matter: I'm happy to be at Zenit.
– You came to Zenit as an assistant goalkeeping coach. Fans still do not understand why two goalkeeping coaches are needed.
– This is a fairly common practice for European football. PSG have more than two coaches, during the Champions League I saw that Lazio also had at least two goalkeeping coaches.
One goalkeeping coach is a stereotype that needs to be abandoned. There are three or four goalkeepers in the team, most of the time they work separately from the general group. To reproduce game situations, you need more than three goalkeepers (one at the gate, two help) plus one coach.
Due to my age (41 years old – Sports.ru), I am an active coach. I like to serve myself, to hit on goal, to score. Mikhail Yurievich Biryukov analyzes from the outside. Let's say I would be alone: ​​I would have to strike, and then correct, correct some nuances in the actions of goalkeepers. Of course, you can watch the video after training, but you also need a quick prompt on the field – it comes from Biryukov. Or a tactical exercise on the whole field for two goals: the second coach can always work on another field with free goalkeepers.
Several goalkeeping coaches are the norm for modern football, including Russian.
– Are the trainings from Biryukov in the early 2010s and early 2020s different?
– The development and maintenance of physical qualities have been developed for a long time, but the equipment and exercises are changing. For example, in many teams, including Zenit, a cannon, stroboscopic glasses, inflatable mannequins appeared (they used plastic ones before). We actively use balls of different sizes and weights (tennis, small, weighted, different shapes). This greatly diversified the training.
In filling the training sessions, the main difference is the amount of kicking and the change in the functions of goalkeepers. Previously, the goalkeeper was required to play easier, knocking the ball away. The game of a short pass in the penalty area was not welcomed – God forbid in the goalkeeper's area, it was impossible to give the pass to the target. Now the goalkeeper must save the ball during the back pass, pulling the opponent onto himself and starting, perhaps, an assist attack.
Naturally, this is how they work in other teams, not only in Zenit. This is an adjustment to the requirements of modern football and changes in the rules of the game.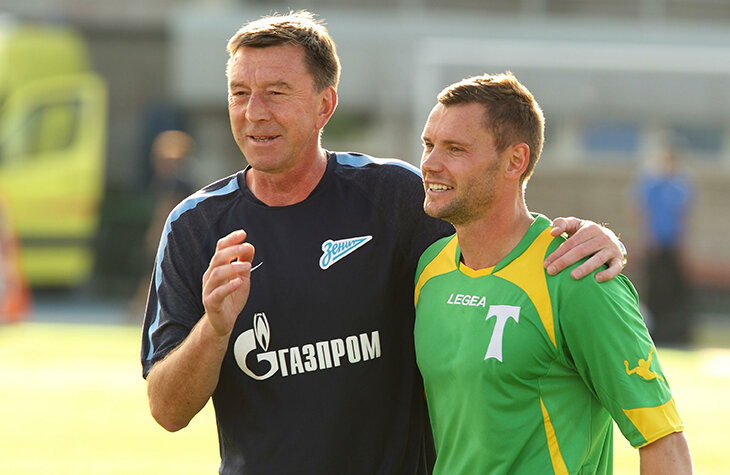 – Was there something in Biryukov that you did not understand at all as a player, but understood when you became a coach?
– The player and the coach may have different views on the same situation. During my playing career, there were moments when I was not put, and I did not always understand this. When I became a coach, I talked a lot with Andrey Lunev: what is right, what is wrong, why someone else plays at certain periods.
I try to be a friend to goalkeepers, to speak honestly on any topic. The guys come up to Biryukov, but to me – more often, probably because of the smaller age difference.
– Did your conversations with Lunev differ from what Biryukov told you?
– These are slightly different situations, because I have never been the main goalkeeper of Zenit. I tried very hard, but, unfortunately, I did not succeed.
I never talked to either Biryukov or Spalletti about why Slava plays. He perfectly understood what Zenit was, at what level Malafeev trains and plays. Yes, he had a series of two or three not very good matches – it seemed that there was a chance, but I still didn't come out. He asked questions – but only inside his head. Decided that he was not entirely convincing in training.