Racing genius advertising.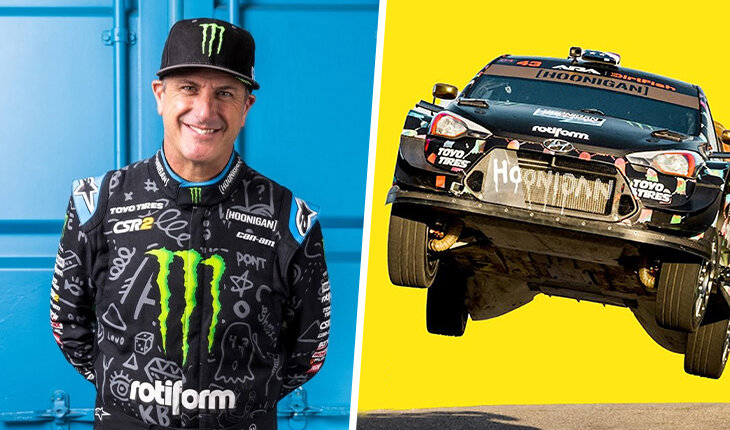 The legendary rally driver, extreme and stunt driver Ken Block tragically died on January 2, 2023 at the age of 55, but hardly anyone will say that No. 43 was not realized enough.
16 victories in American rallies, 6 victories in North American rallycross and 2 podiums in the world, 5 medals in the World Extreme Games, raced in American rally raids (bajas – short analogues of Dakar) – already not bad for a racing career.
But still, Ken became much more famous as a co-founder of the DC Shoes brand in 94. In 2004, the company was sold to Quicksilver for $87 million, and Ken remained as an advertising flagship – and realized as a real marketing genius! To put it simply, he took the Red Bull idea of ​​"make such a commercial that people themselves repost it everywhere and watch it a thousand times" – and elevated it to an absolute thanks to the Jimkhana show and other unrealistically cool records of trips to various corners of the world .
This is a success: for example, the YouTube channel of his team Hoonigans has a billion views on all videos!
And this is taking into account the creation of both in 2010 – extreme videos with "Gimkhana" and other tricks began to come out much earlier, and only the description of the channel assures that they were watched 600 million times by the time they were created. What's more, Block's stunts continued to air on DC Shoes, GoPro, Monster Energy, and others after the creation of his personal channels.
So it's safe to say that Ken's video has definitely been viewed at least 1.5 billion times. Maybe even 2 billion times! For comparison, the official NASCAR channel collected 600 million:
What shots were the most successful? If you filter all his creations by the number of views, then # 1 will be this Jimkhana from San Francisco for DC Shoes – 115 million views!
In it, Ken drives over the famous bridge, drifts past trams, burns rubber on a "handkerchief" in the port, flies on ski jumps and enjoys the narrow mountain streets.
#2 most viewed – another DC Shoes ad at the circuit in Southern France: 70 million views of all sorts of fun with 51-degree banking:
No. 3 most popular drift in London for Top Gear: 69 million views! But this is already without the legendary trinity of Clarkson, Hammond and May:
Yes, it looks like a more advanced version of Taxi.
#4 – Need For Speed ​​ad on the streets of Los Angeles – 58 million views!
How do you like drifting under a gangsta car jumping on a suspension?
#5 – Forza Horizon 3 ad in an abandoned factory with 56 million views:
Ken also has a crossover with Formula 1: at the Top Gear Festival in Barbados in 2014, the race against Lewis Hamilton side by side with his Mercedes took 24 million views – although it was removed from the podium in one shot:
In general, Blok himself tried to drag the F-1 car into his Jimkhana – and in 2011 he even almost succeeded! His tire partner, Pirelli, had just returned to the Grand Prix and bought out an old Toyota TF109-01 to test new tires (after all, the Japanese manufacturer left back in 2009). Therefore, the bosses of the Italian company reacted with great enthusiasm to the idea of ​​​​"Block in the F-1 car" – and wrote out for him the final day at the tire tests in Monza after two test sessions by Lucas di Grassi.
Moreover, Pirelli even invited Ken to the 2011 Canadian Grand Prix – under the announcement of the crossover of the millennium:
"I never imagined that this was possible," Blok said then. "But Pirelli saw the idea of ​​doing something unique with me. For me, this is just a dream come true. I have so little experience on road cars with open wheels, I have to learn a lot.
I'll have to see what I can get them to do. Obviously, this is a very expensive car, but I asked a couple of questions and got a couple of funny looks in response. Let's see what's possible."
However, in the end, the tests never took place, and we did not see Ken in the F-1 car. The reason is unrealistically banal: its size.
When Blok went to the Toyota simulator in Cologne to get acquainted with the technique and fit the seat, it turned out that the height of 183 cm might not have become a problem if it were not for the physique and the length of the legs of the American. After all, the car was designed for Timo Glock (169 cm) and Jarno Trulli (173 cm) – and it took a lot of improvements to accommodate a guy like Blok. Without them, Ken was obsessed with a safety arc only in the format "knees interfere with moving the steering wheel."
Toyota, which had left F1 two years earlier, did not really understand why it was doing this, where to get engineers, parts and money. And buying a new test car just for the sake of it would also be too expensive.
By the way, do you want to know what the car looks like if Ken didn't fit in it? Here she is:
She was put up for a charity auction in 2020 for 250 thousand euros with a motor and gearbox. Just imagine how much it would cost if it still appeared in Jimkhana!
Probably, the video with her would definitely become No. 1 in terms of views in his career.