Interesting exchange.
At the same time, the longest and shortest trading saga in NBA history: from the moment when the contradictions between Kyrie and Brooklyn seemed insurmountable – and this is Kyrie's refusal to inoculate before the 21/22 season – a whole year and a half has passed.
But from the moment of the "official" (in fact, players do not have the right to ask for a trade, and if this was a public statement from Kyrie, and not an insider leak, Irving would have received a fine from the league) exchange request – only two days. 50 hours, to be exact.
Kyrie Irving is moving from Brooklyn… no, not to the Lakers. In Dallas.
To Dallas? Why? How?
Let's try to figure it out quickly.
How Dallas appeared in the exchange
A team that goes all-in for the unstable Kyrie needs to make sure Irving re-signs with her in the summer. Won't "last" – due to the nuances of Kyrie's contract, which we won't get into, renewing the current deal is too difficult right now. Namely, "re-sign" as a free agent.
Free agents are free because they are free to do what they want – and what plans Kyrie Irving has for the summer, only Kyrie Irving knows (and even that is not a fact).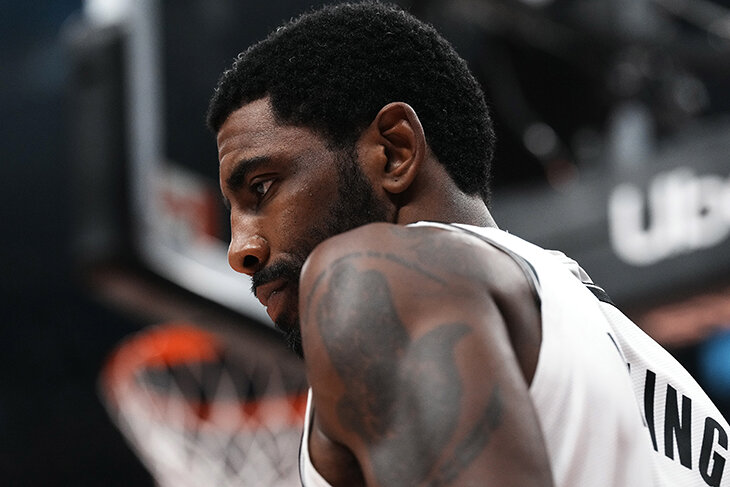 Therefore, only the Lakers were such a team, where Irving himself wanted, where LeBron himself wanted Irving, where they have long been grabbing without looking at everything available (like two years ago with Westbrook).
Only now Irving was not available for LAL –the California team had too few assets to trade:two peaks of distant years, which may or may not be high, some expiring contracts. The Nets also had to accept Westbrook's salary 10 million more than Irving's. Westbrook, who would never again play with Durant for the same club.
That's not what Brooklyn needed – Joe Tsai's team is setting high goals for this season and the coming years, as long as Durant can still believe in them. Brooklyn needed a deal partner who would provide adequate contracts for prime players, and the draft compensation was just some bonus.
And the favorites were not the Lakers at all, but teams like Phoenix (many picks and dissatisfied good players with experience in the NBA Finals) or Clippers (no picks, but there is an endless set of useful players for any roles and positions).
Or Dallas.
Owner Mark Cuban is always willing to take risks, general manager Nico Harrison knows Kyrie from Nike, and head coach Jason Kidd is on good terms with Irving.And the ex-coach seemed to part amicably with the management of the Nets in 2014, moving to the Bucks (and his number hangs under the arches of the Nets arena). In general, good contacts between all parties of the exchange.
Players don't have to be asked about their trade preferences – Kyrie did have leverage due to an expiring contract, but the Mavericks seem willing to take the risk without the player's full consent to such a trade (as Boston was willing to in 2017, although the club was not on Kyrie's shortlist; everything went smoothly at first). A new contract with the defender will reportedly be considered later.
And you will have to think about compatibility with Luka now. How will this couple share the ball? How will they play defense? What is the role of Christian Wood and Tim Hardaway now? Do the Mavericks see Kyrie as an improved version of Jalen Brunson? If so, will Kairi be happy with all this (after all, Brunson himself was unhappy and ran away from Luka to the Knicks last summer)?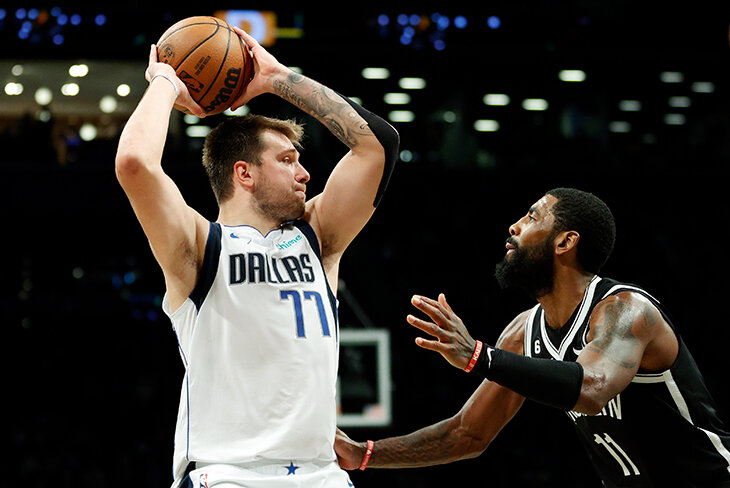 There are a lot of questions, only basketball can give answers. Lapping time is less than half a season.
PS In case of failure to renew Kyrie, Dallas will be able to clear a place in the payroll for the maximum contract in the summer – only there will be no top free agents on the market. The Mavs got a lot of opportunities in the deal, but not many ways to pursue those opportunities.
What did the Nets get for Kyrie Irving?
So, what is the price for Irving in today's realities? It could not be very high, because Irving did not take root already in the third strong team, plus an exchange – in fact, a lease for six months. But it couldn't be low, because it's still a future Hall of Famer (you hear this from a Celtics fan) at 31, and you still have to interrupt the Lakers offer.
1. One first round pick– in the farthest possible year according to the rules of 2029. Without protection, which is also the only possible option in such a situation. The Mavs could have given two (2026 with conditions + 2028 or 2027 + 2029), but they didn't throw spades at the Nets because the seller didn't quite want it.
2. Instead of an additional pick of the first roundThe Maves give up a couple of second picks(2027 and 2029) are insignificant assets in the modern NBA.
3. The player sometimes referred to as "the most average player in the NBA":forward Dorian Finney-Smith – average height, average age, average salary (~ 12 million a year).An important plus for this 3&D ("three-pointer & defense") player for the Nets is the length of the contract. It is valid until 2025 with a player option for 2025/26.
4. And, probably, the main thing that Brooklyn asked for was a player who would start instead of Kyrie. Losing both Harden and Irving in two deadlines is a nightmare. The first was replaced by Simmons, who gradually finds himself in the team (although not quickly). Second – onSpencer Dinwiddy, who doesn't need to find anything – he recently played here for 5 years.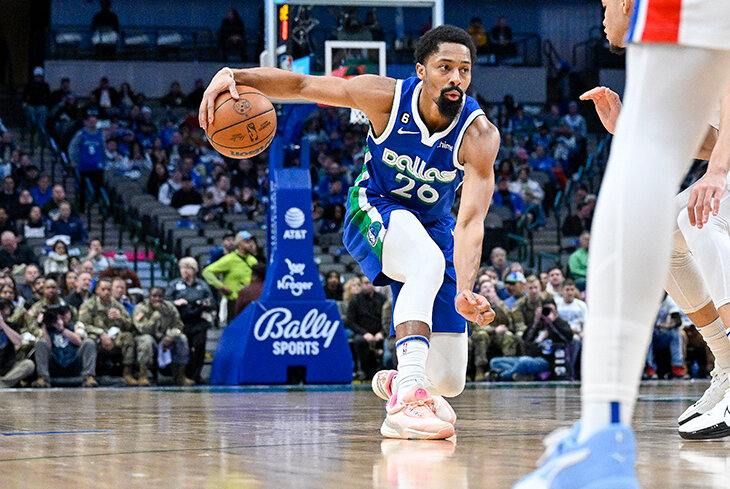 He played not quite in the Durant-Irving team – with Kyrie he spent only half a season, with Durant he generally crossed for three matches before breaking the "crosses". In 2021, the Nets were not ready to invest in crypto enthusiast Spencer and let him go to Washington, from where he left for Dallas six months later in exchange for Porzingis, and now – a return to the team where the best years passed …
… they, by the way, are not so behind. Yes, Spencer is not averaging 20+7 per game like he did in 2019/20 (by the way, at the end of that season, the club was managed by interim Jacques Vaughn before he was replaced by Nash, and now Vaughn is again the main one in " No with"). But in Dallas, Spencer significantly increased his effectiveness – even a three-pointer, once absent in the arsenal of a tall point guard, cut through to an excellent 40% next to Luka.
What is the role of the Slovene in this, we will also find out later. But now Dinwiddy, surrounded by Simmons, the progressive center Claxton, repeating Finney-Smith and O'Neal one after another, as well as the suddenly revealed to the world Cam "fucking funny" Thomas, should calmly wait for Durant to return to duty (near the break for the All-Star Game) and pass in the high-seeded playoffs.
But will Luca, Kairi, and Dallas (28-26, sixth in the West, just three wins away from the 13th Lakers) make it there? After all, they replaced two starting players with one, having received a player who will not solve problems in defense in any way, should rid the club of onion-centricity, but does Dallas know how to play without this onion-centricity?
Okay, I'm not being completely honest here. We got two players: Markieff Morris, who changes about 5-6 teams a year. This season, he has a record low 10-minute average in 27 games of the season for the Nets.Morris on the minimum contract was needed in the exchange for technical purposes– Brooklyn had to get rid of one more player anyway, because before the exchange, the application was at a maximum of 15 people; and Dallas had to sign someone anyway, because their application is on the contrary, at a minimum of 14 people (below which you can only fall for two weeks a year).
Another technical detail for us is the change in the luxury tax. Dinwiddie and Finney-Smith are worth less than Irving together, and then the luxury tax for the Nets and Joe Tsai is reduced, with this exchange the club will save up to 30 million (depends on the bonuses in Spencer and Dorian's contracts).
Dallas will now pay $20 million more to the NBA than before the trade.
The Mavs had once rushed after a star partner for Luka and paid a lot of money for it, and it turned out to be Porzingis and his sores.