Awkward moments when the King was naked.
Like LeBron's career, memes with his participation have undergone many metamorphoses. In their 20 years in the NBA, they have ranged from killer to life-affirming, from outright offensive to downright ridiculous.
Only their number remained unchanged.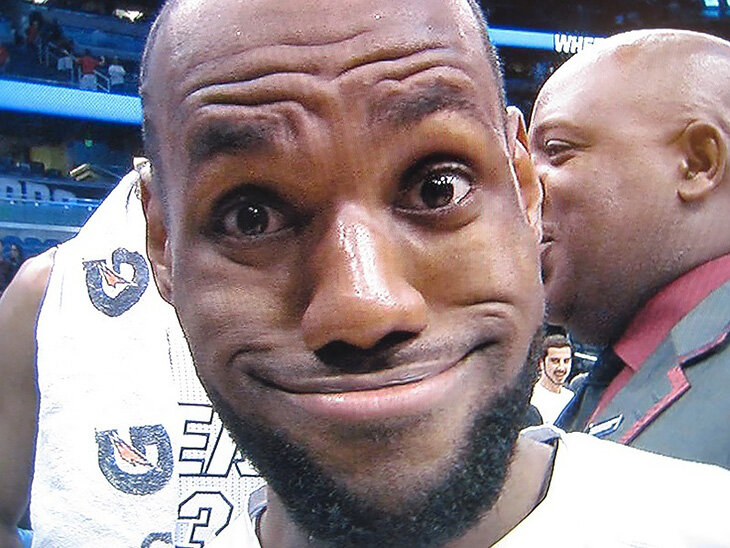 LeBron has always been in the spotlight, and memes with his photos and quotes have always been in demand. So, if it were possible to count the total number of funny pictures that LeBron was directly or indirectly related to, it is possible that the basketball player set some kind of record in this field. In the absence of a supercomputer and advanced mathematical techniques, let's recall the most popular memes featuring LeBron.
Lebron and lying for no reason
Can a lie become a meme?
Of course, especially if its author is consistent and careless in his statements. Actually, such pearls can hardly be called a big lie; rather, it is a small spoonful of nonsense in a barrel with a lot of trivial comments and statements, which are enough for any interviews and press conferences. And this makes LeBron's funny flaws seem even funnier.
The first of these was James' tirade that he foresaw Kobe Bryant's record-breaking 81 against Toronto.
"Even before the game started, I said that Kobe would score 70 points. I don't know what prompted me to say this. I had my friends with me, and they were like, "Hmm… Okay." And when he scored 70, I said: "He could very well score 80," James said in an interview.
What LeBron was guided by when announcing his prophetic talents is unclear, but Internet trolls instantly seized on this phrase and gave rise to a whole series of hilarious interpretations that received new life in 2022.
Cause? Another sloppy comment by LeBron. This time, James spoke about his musical preferences.
"I listened to Migos back in 2010 when I played for Miami. Nobody had heard of them back then. The guys were always yelling at me for playing Migos music in the locker room. I told them: "Boys, I tell you, this group is going to break the charts. Soon everyone will be talking about them, "LeBron mentioned during his condolences on the death of one of the members of the Takeoff group.
Quite an ordinary statement, but how could James listen to Migos in 2010 if their debut mixtape Juug Season was released on August 11, 2011?
If you wish, you can assume: for example, rappers sent him draft records, or one of his friends drove the mixtape.
One way or another, but James's gaffe, voiced in 2022, brought the Kobe story back to life, which in turn opened Pandora's box.
"Actually, I faced Durant before Game 7 with the Bucks. He said, "Are these sneakers too big?" He told me not to worry, but that evening I had an uneasy feeling about his shoes."
"Honestly, I remember the morning in England when the Titanic was leaving the port. I should have been on that ship. They also called it unsinkable. But I felt something was wrong and decided to refuse.
"I remember watching Joel Embiid closely when he played for the University of Kansas. He was great. I told Mario Chalmers back then: "On November 13, 2022, this guy will score 59 points, 11 rebounds, 8 assists. I feel like this is how it will be."
These and similar tweets flooded the Internet: everyone strove to speak out about LeBron the soothsayer.
And over time, LeBron the intellectual fell into the same category, when journalists noticed one interesting pattern. James often posted photos with books at the ready. Most often, these were various works of fighters for the rights of African Americans: Malcolm X, Martin Luther King, Huey Newton, and so on. All these photos had one thing in common: LeBron was invariably at the initial stage of reading. And when James was tempted to come to a press conference with a book by Malcolm X, naturally, there were those who wanted to hear a detailed review from the player, or at least learn about their impressions of what they read. Moreover, with some books of the reformer he was seen earlier.