Even Nunes scored.
Liverpool are back: they beat Newcastle, who have been in the Champions League zone all season long (2-0), and reduced the gap from European places to four points with a match in hand.
This is Liverpool's second win in a row after the same 2-0 win against Everton, and even the heroes are almost the same. Then Darwin Nunez and Cody Gakpo had an assist and a goal, now they each have the ball.
The Uruguayan scored already in the 10th minute after Trent's shot: it seemed that he handled the ball clumsily, but went one on one and converted it. Nunez hit 28 times in a row to no avail – and now it finally worked out.
Seven minutes later, Liverpool added when Mo Salah sent a touchdown to Cody Gakpo and the Dutchman shot from the goalkeeper's line. But the most memorable moment happened later, although it was still only the first half of the first half.
Newcastle goalkeeper Nick Pope ran far beyond the penalty area under a long-range pass from Liverpool, the ball flew from another penalty area – and instead of the standard removal with his foot or head, he suddenly grabbed the ball with his hands. So confused that he gave out something inexplicable.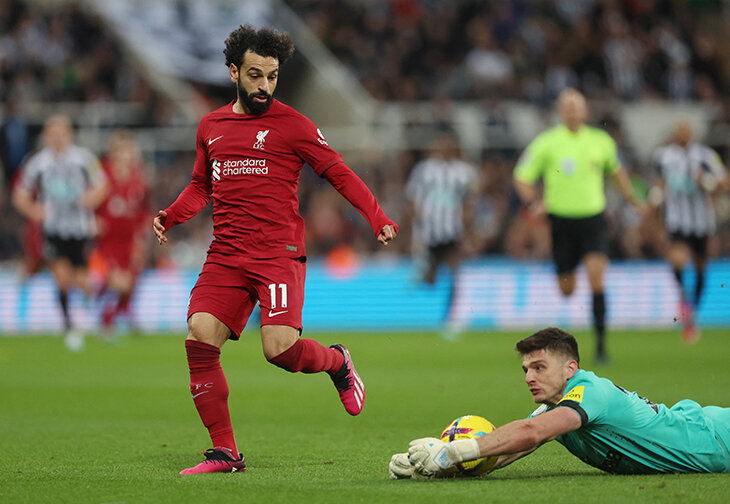 Referee Anthony Taylor showed Pope a red right away. Newcastle had to release reservist Martin Dubravka.
Liverpool went through most of the match with the same score (and those lucky ones who had Dubravka in fantasy got a biscuit from him), now they are the only team in the league with six points against Newcastle during the season. In the first round we won 2:1.
• Liverpool win for the second consecutive but only third of the year. In addition to Everton and Newcastle, only Wolves have beaten Wolves in the England Cup replay. This, of course, is still very little.
• This is just the second defeat for Newcastle of the season, both by Liverpool. There is no one else in the league who has lost so little: leaders Arsenal, for example, have three defeats. City (like Brentford) have four, Man United have five.
• Darwin Nuñez's goal is his first in the Premier League since November, having previously scored before the World Cup, scoring a brace against Southampton. Now he has six goals in the season.