The best match of Gleb Koryagin in life.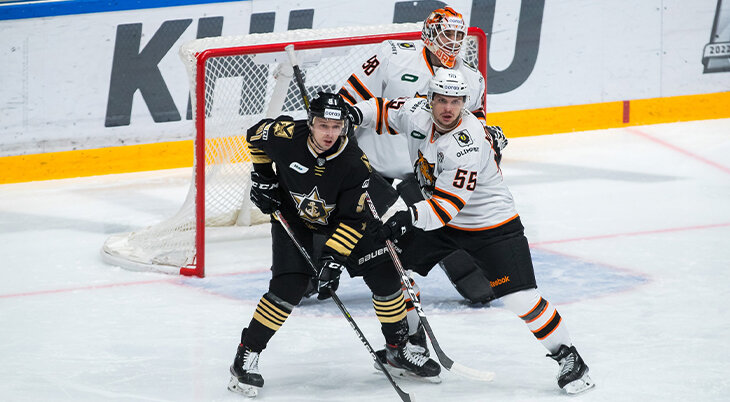 The Eastern Conference this season cannot but rejoice: with a third of the matches before the end of the regular season, all teams retain real chances for the playoffs – Barys, Amur, Tractor and Neftekhimik are fighting for, probably, the last ticket.
It is not yet known whether the Khabarovsk team will qualify for the Gagarin Cup, but the team already had its own fundamental series this season: in December, Amur played 6 times with Admiral – and 3 times right before the New Year.
Before the sixth game of the confrontation, Vladivostok looked like a favorite: the three previous matches were left for him, and the new one, moreover, took place in the native stands. And what could surprise "Cupid"?
It turned out that Khabarovsk had surprises – although even the guests themselves were surprised. They won 5:3 – and they did it thanks to Gleb Koryagin's hat-trick. Defender! Who last scored on December 26, 2020. Who has never scored more than three goals in the championship (and even then he did it only twice in his career)! Here are the real Christmas miracles:
• at the end of the first period Koryagin delivered a powerful shot from the blue line;
• before the second break, he flashed Alexander Lazushin in a 4-on-4 game;
• and in the third period again successfully threw from the blue line.
For Gleb, this is the first hat-trick in the KHL. Of course, he was recognized as the first star of the match.
"Gleb is a good guy for making the right decisions, making good shots. It's great that we won the last match this year. They understood that they did not want to return home in a bad mood. The guys today fully proved it," Vadim Yepanchintsev shared his impressions after the game.
A hat-trick from a defender is rare in the KHL, but not unique. 11 defense players before Koryagin had already arranged such holidays for themselves – by the way, representatives of Amur were already on the list.
Koryagin has been playing for Amur for the fifth season already – he has never spent so much time in one team before. Prior to that, he played for the Moscow Dynamo for four years and spent one in the Togliatti Lada.
But Gleb gave his best season – 2020/21 – in Amur: in 48 matches he scored 10 points with a utility indicator of "-4". Now the defender has 3+5 and +2 in 42 matches. It is not known whether he will score yet or not, but it seems that he is going to his best season in his career.