Longevity.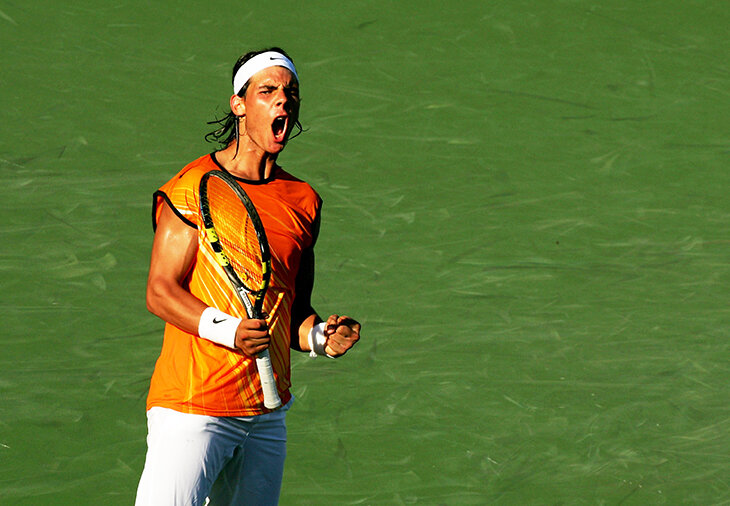 Rafael Nadal broke another record on Monday as he became the first man to spend 900 consecutive weeks in the top 10. He is only 100 weeks away from the tennis record held by Martina Navratilova.
He and Navratilova are generally the only people to have completed 900 consecutive weeks in the top 10, and Nadal is the only man to have overcome 800.
Rafa debuted in the top ten on April 25, 2005 and hasn't dropped out of it since. Then he was only 18 years old, and in two weeks he won the Masters in Monte Carlo and the tournament in Barcelona, ​​which allowed him to rise to seventh place.
Of the people who were then in the top ten with him, everyone has already completed their careers – Roger Federer was the last to do this in September of this year. And most of them left 10 years ago or more.
In general, tennis then was completely different. For example, Pete Sampras held the record for most Grand Slams with 14 titles. And Roger Federer, who over time surpassed him, had only four TBSH. Nadal and Djokovic, who surpassed the Swiss, had no helmets at all. Rafa will win the first Roland Garros a month and a half after his debut in the top 10.
And in the women's round, Serena Williams, who has now won the most professional Grand Slams, then completed only 7 of her 23 victories.
Nadal has been in the top 10 for almost 18 years without a break. During this time, the elite has changed completely. And now there are guys in the top ten who, at the time of the Spaniard's debut, had not yet gone to school.
The current leader of the rating, Carlos Alcaraz, was still wearing diapers in those days – he turned two years old only two weeks later.
The most powerful thing is that Nadal spent most of the 900 weeks not just in the top 10, but in the top 2 – 66% (591 weeks). And 92% of the time (832 weeks) he was in the top 5.
Nadal came closest to being eliminated from the top 10 after Roland Garros 2015, when he was eliminated in the quarter-finals, did not defend the title and lost 1640 points. He was on the 10th line, and his lead over Grigor Dimitrov was only 170 points. But right after that, Rafa won the grass title in Stuttgart and created a cushion for himself that allowed him to more or less comfortably stay in the top ten. And after the title in Hamburg at the end of July, he generally became the ninth.
Now Nadal is 36, he is the second racket of the world and, in principle, was very close to finishing this season No. 1.
Amazing longevity from a player who is expected to retire at 25.