Tough December for Neymar: he left his dreams of the 2022 World Cup already in the quarter-finals and grabbed a red card in the first match after returning to the club.
The removal was the 12th in his career in 14 incomplete seasons. So many.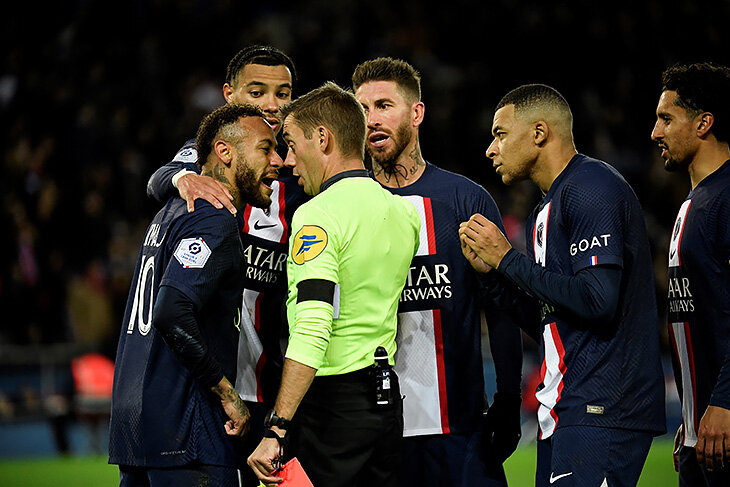 Five reds at PSG in five years: almost always for intemperance
The first red was in the first Le Classico five years ago. PSG were 1-2 behind Marseille, and Neymar received two yellow cards in three minutes at the end of the game: first he attacked the opponent from behind and soon after the boorish foul Ocampos pushed him.
"I got angry because I was hit from behind in the legs," the Brazilian later explained. And he also told what was happening during the game: "The fans threw a variety of things at me. I could even have lunch. Buns, orange juice, cola…"
VIDEO
It was quiet for 2.5 years, but in February 2020, Neymar could not stand it. PSG had a hard time playing against Bordeaux (4:3), by the end of the game Neymar already had a yellow card. He was first knocked down by Yussuf Sabali, and then Neymar flew into Yassin Adli. The second yellow – and removal. He got angry again because of the opponent's actions.
"Neymar is nervous and therefore reacts. This is typical of people, but you need to try to ignore provocations, "the post-match verdict of Thomas Tuchel.
VIDEO
Six months later, there was a match against Marseille with five reds. Neymar then quarreled with Alvaro Gonzalez – he heard racist insults and charged him with his hand on the head.
"You are not a man if you do not admit mistakes. Losing is part of the sport, insults and racism are not. I don't respect you, you lack courage," Neymar swore at Gonzalez after the match.
VIDEO
PSG and Marseille turned the field into a ring: 12 yellows, 5 reds and fights. Neymar hit an opponent who called him "black"
After another seven months – the second removal of the season. And again, nerves: PSG were losing 0:1 to Lille, Neymar fell unsuccessfully, then flew into the defender and pushed him away when he decided to play for time. Another yellow one. With the defender, the judge did the same.
VIDEO
The fifth removal arrived at the end of 2022. Again a difficult game – already against Strasbourg with a goal and an own goal by Marquinhos. In the second half, Neymar received two cards in two minutes. First, he brushed off Adrien Tomasson, then collapsed in the penalty area without contact. Yes, retired due to simulation.
There was still half an hour until the end of the game, but Neymar did not wait and left the Parc des Princes in advance. PSG head coach Christophe Galtier commented carefully: "I can still understand the simulation, it deserves a yellow card, but the card shown a minute earlier is a very severe punishment compared to the number of fouls on Neymar."
PSG Brazilians put on a show after the World Cup: Marquinhos scored in his own, Neymar caught a red in two minutes
In all these games, Neymar certainly got in the legs. In the first match with Marseille, the opponents fouled him four times, in the game against Bordeaux – three times. In the other three matches, it got more often: seven fouls with Marseille, six each with Lille and Strasbourg.
Neymar is 30 years old, but he still sometimes reacts too aggressively in response to numerous fouls. That's why red ones are missing.
In other teams, Neymar retired for various reasons – even stepped on an opponent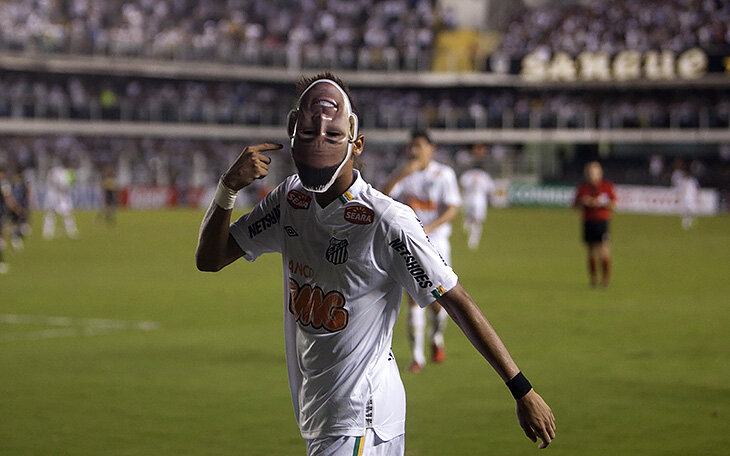 • Neymar grabbed five reds while at Santos. First – in the state championship, then – in the Libertadores Cup, when he put a mask on his face. And in the championship of Brazil – I got a yellow one because of disputes with the judge, and a red one – because of applause to him.
Another removal – stepped on an opponent.
Fifth red in "Santos" – for the jump to the feet.
• There's also a send-off for Brazil: the team was eliminated in the Copa América group stage decider by a loss to Colombia, while Neymar fired the ball at Armero and ran into Bacca's nervous reaction along the way.
• At Barcelona, ​​too, there was an ugly episode when Neymar flew into the opponent's knee and received a second yellow card.
VIDEO
Bottom line: 12 career red cards. Five deletions – direct, seven more – because of the second yellow. Since his debut for PSG, no one in Ligue 1 has been sent off more often.
Sergio Ramos with his 28 Reds is still a long way off, but if we take forwards, Zlatan Ibrahimovic (15) and Francesco Totti (16) are close by.
Ligue 1 and La Liga lead the top 5 leagues in terms of dismissals
Neymar plays in those championships where players are sent off more often. This season for sure. In the French Ligue 1 and in the Spanish Example as of December 29 – the same number of red cards in the 2022/23 season.
• France and Spain have 59 suspensions each, but the number of matches varies – 156 in France and 140 in Spain.
• Italy's Serie A has a total of 29 red cards. And there are 150 games.
• In the German Bundesliga, 23 dismissals in 135 matches.
• There are only 14 Reds in the Premier League despite 156 appearances.
It turns out that most often players are sent off in the Example – on average, a red card is shown in less than five halves. Most retired teams in the top 5 leagues: Reims (eight) and Betis (seven).