Yaroslav Susov found out the motives.
The Guinness Book of Records refused to register the potential record of Timur Zhuravel, who intends to attend all matches of the World Cup.
But Zhuravel is not the only one who accepted such a challenge. A similar goal is pursued by at least five more bloggers. And we talked to them to find out the motives.
All 64 matches? Why wasn't this done before?
The World Cup in Qatar is the most convenient in history in terms of logistics.
Officially, the tournament is held in five cities: Doha, Al Wakra, Al Khor, Al Rayyan and Lusail, but in reality – in two and a half. Al Wakra and Al Rayyan are suburbs of Doha, Al Khor is 35 kilometers from Doha, Lusail is a city built from scratch on the border of Doha.
Qatar is already very small in size. The whole country is like Kabardino-Balkaria, four times smaller than the Moscow region and 10 times smaller than the Volgograd region. Almost all life is concentrated on 50 kilometers of the east coast. 85% of the population lives here (2.2 out of 2.7 million people) and all eight stadiums are located. The rest of the peninsula is a desert with camel and horse farms.
In such a compact country, you can check in at all stadiums in a couple of hours. To attend all-all matches is possible, albeit not easy. You have to leave before the end of the game.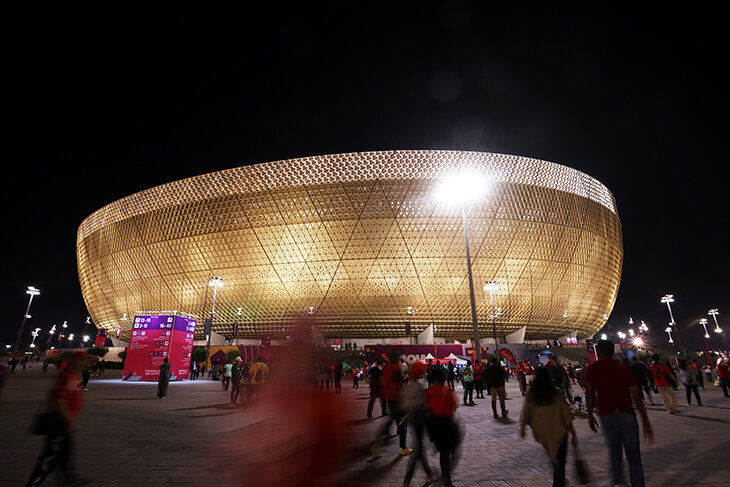 Who else is doing the challenge? 433 Dutchman, Saudi Vlogger, São Paulo Fan and Influencers from England and Mexico
We talked about the challenge of Match TV commentator Timur Zhuravel. So far, Timur is doing well – 60 matches out of 60. But he has competitors.
Another group of people rushing to all matches are five bloggers from five countries from different parts of the Earth.
Their challenge is produced by the government of Qatar. In September, the Qatar Supreme Committee for Conduct and Heritage (essentially the organizing committee for the 2022 World Cup) organized the Every Beautiful Game competition.
Participants were supposed to apply between September 21st and 30th. The main conditions: over 21 years old, be able to work in the frame, be active in social networks with a large number of subscribers, speak good English, be well prepared physically (for example, walk more than 15 kilometers a day), be vaccinated against covid.
The winner gave the organizers of the World Cup the right to film themselves at any time during the challenge and use these frames indefinitely. He also undertook not to disclose confidential information about Qatar, took on the risks of contracting covid. You can't advertise anything on your social networks while the World Cup is on.
For this – tickets to all matches of the 2022 World Cup, a return ticket from Qatar, a month in a hotel in Doha, food (no alcohol!) And free transport in the city.
As a result, five bloggers were selected – Ben Black from England, Gaby Martins from Brazil, Osama Marva from Saudi Arabia, Mercedes Roa from Mexico and Ruben Slot from the Netherlands.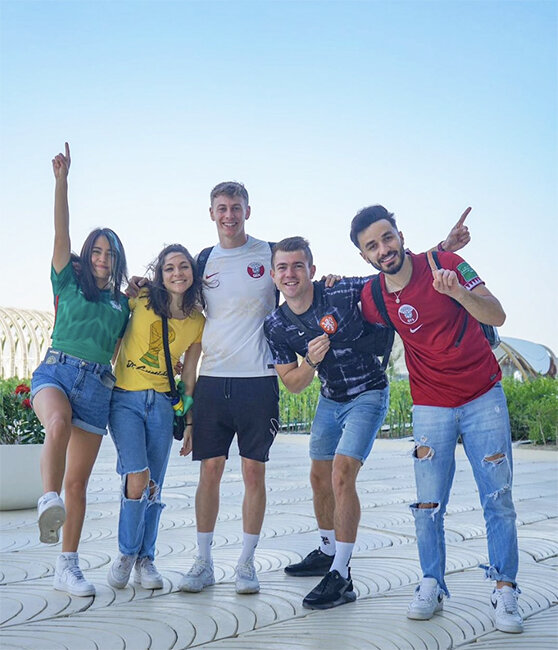 Four were popular bloggers on Tiktok, YouTube or Instagram even before the World Cup. The exception is Ruben Slot from the Netherlands, he has only five thousand subscribers. The fact is that Ruben is the administrator of the 433 football public for 56 million people.
I met Reuben, Ben and Mercedes by chance. Before the match between Brazil and Croatia, they stood in line with the Brazilian fans in the subway. It turned out that this was their first exit to the city outside the stadiums.
"We met here at the World Championships and became friends," says Ruben Slot. "We all go to matches together, stay in a hotel in the West Bay area, in the center of Doha, and sit in the same seats next to the stadium. Of course, I would like to get to the matches by helicopter, but we travel by minivan with a driver. Now we're on the subway. First time in 20 days in Doha."
Ruben is 24 and has the hair of the Brazilian Ronaldo. It had to be done because Slot lost the bet to the Englishman Ben Black. Ruben does not look up from the phone during a conversation: he either films what is happening or posts it on social networks.
"I'm Dutch, I work for 433," Ruben continues. Football is my whole life. Because of my work at 433, I constantly go to matches, I love sports, I work part-time in the Dutch Olympic team, I manage their social networks. So I'm always busy and immersed in sports content.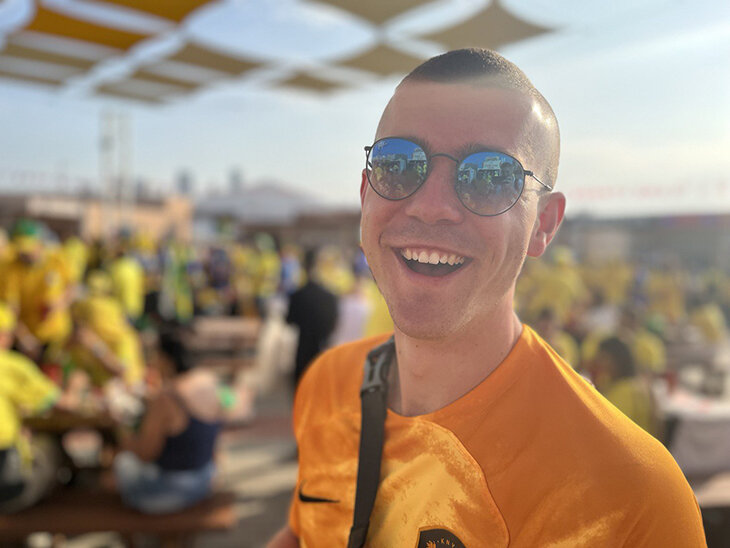 To be honest, there is no time at all to think and analyze our experience. All I do is sit in the minivan while driving from match to match, posting and going to matches. We have not been anywhere, except for the bus and stadiums. After the 1/8 finals, two days of rest fell out. It turned out a little bit to take a breath. I spent two days in the pool. Rested.
I liked Lusail stadium the most, it's very big. So many fans, such support! I won't do a rating of stadiums – I need time to think about it, I don't have it. The only trouble we encountered was the tall speed bumps outside the Education City stadium. Bam bam! A couple of times I had to run to the stadium in order to catch a parallel match. When we were driving to the Cameroon-Brazil match, we turned the wrong way. Because of this, we were almost late."
Next to him is Ben Black, an Englishman from London. He also won the Every Beautiful Game competition. But before that he was a celebrity. Ben filmed videos with Neymar, Mbappe, Kane, Foden, Donnarumma, Kaka and Roberto Carlos. Mostly football challenges.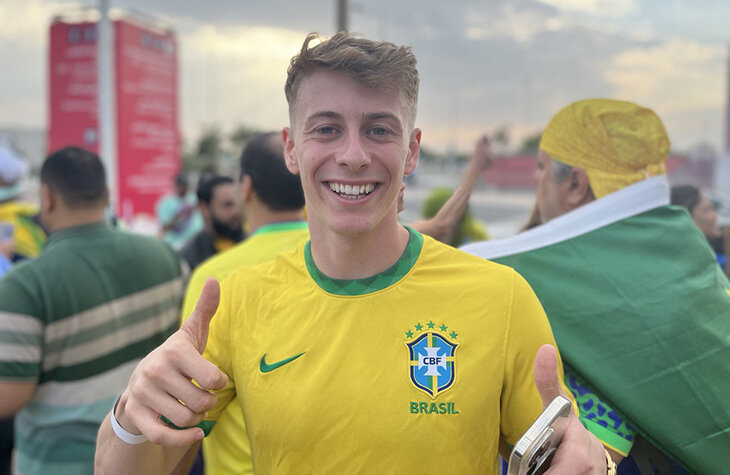 "I am a blogger, I shoot football videos on YouTube and all that. I didn't go to university, I finished school and I've been blogging ever since," Ben tells Sports.ru. – I am 24, I live in London and support the England team. Before that, I had never been to the World Championships, and now I am at every game! Well, it's crazy.
I won the competition. The prize is just a dream: to attend every match of the World Cup. My life is a dream. This is not possible in any other world championship. With the 2026 World Cup, the format will be expanded, there will be 48 teams, it just won't work out that way. This is the first and last time in my life that I have had such a chance. The most delighted – from the game of Saudi Arabia and Argentina. It was a historic match for Saudi Arabia. And the atmosphere is just wow.
Is there a person in Russia who tries to attend all the matches? Well, good luck to him. This is great! I hope he succeeds."
The guys met with David Beckham , sat next to Cafu, Ronald de Boer and Ali Al-Habsi at the Argentina-Australia match and so far have time for all the games. We even went to the Brazilian carnival before the match with Croatia.
I lived this crazy day with the Brazilians. Started dancing with beer, finished – sobbing
Only Ossi Marwaba , a Saudi blogger who shoots vlogs and challenges in the style of Vlad A4 (5.7 million subscribers on YouTube), and Brazilian Gabi Maritens, a Sao Paulo fan who makes videos on Instagram, did not come to the 900 Park bar occupied by Brazilians (107 thousand subscribers).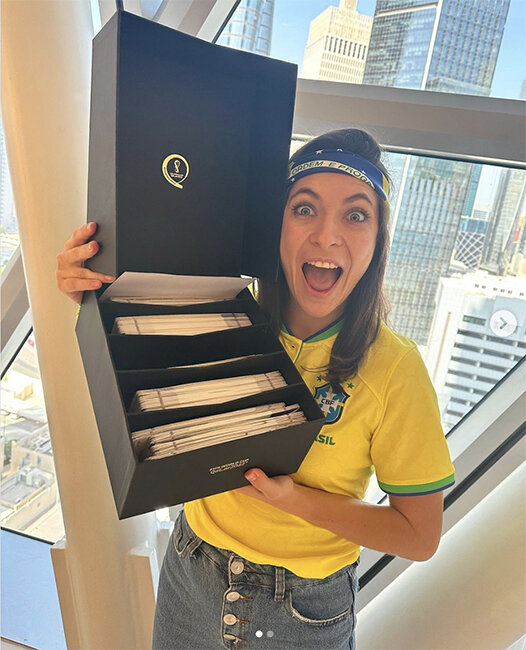 But with Reuben and Ben there was a fifth participant – Mercedes Roa from Mexico City. She has filmed football freestyle videos at sea, on the beach, on a box and in a big stadium, and now she uploads videos from Qatar. According to Roa, she did not participate in the competition, she was simply invited to come and promote the World Cup.
"I was called because I am a football influencer," says Mercedes. – They gave me tickets for all the matches, a hotel and a plane. I don't pay for anything, but I don't get paid any salary or anything. I was asked at the Qatar Supreme Committee for Conduct and Heritage if it would be interesting to go to all the matches of the World Cup. She replied: "Are you kidding? Of course! Yes, I was born for this!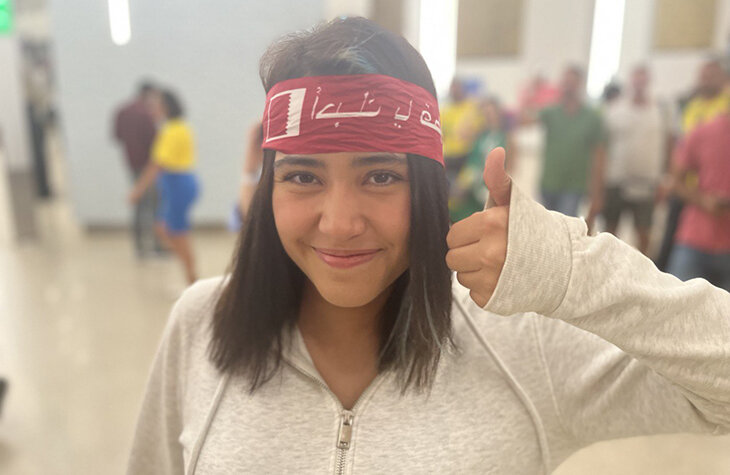 I love filming and posting everything. Before the World Cup, I had 7.7 million followers on tiktok and 440 thousand on instagram. Now 7.9 million on tiktok and 455 thousand on instagram.
I started a blog two years ago and make football content. I like everything related to football. We in Mexico love football very much. As a child, I also wanted to become a football player, but I became a blogger. And I don't regret it. People thank for the content, say they want to be the same. It's incredibly nice.
When we played 4 matches a day, it was difficult: you get up, check social networks, post something, have breakfast and run to the match, then another match, another – and another. Matches all the time. Now, for the first time, we got somewhere other than football – we went to a Brazilian party and we go to the match by metro.
The hardest time was the third round of the group stage. It was impossible! Four days of almost no sleep – only 3 hours per night. Mexico City is nine hours behind Qatar. So after the matches, it's just the right time to post videos, talk to parents and all that. And then you fall asleep – and again the same thing.
Now it's much easier. With two matches a day, there is time to enjoy the atmosphere, to hang out with the fans. Now I want more. You become addicted, you want it to never end."