And already scores in the NHL.
Nikita Okhotyuk made his debut in the league at the end of the last regular season, having played five matches. And in the first of them, he scored a goal – then the Devils probably made sure that they made a good choice in the second round of the 2019 draft. The Russian defender started the new season in the AHL, but a month ago he was called up to the main team – and now the 22-year-old Traktor graduate is trying to register at this level.
Nikita talked to reporters and talked about his career, playing for New Jersey, meeting Russian hockey players and much more.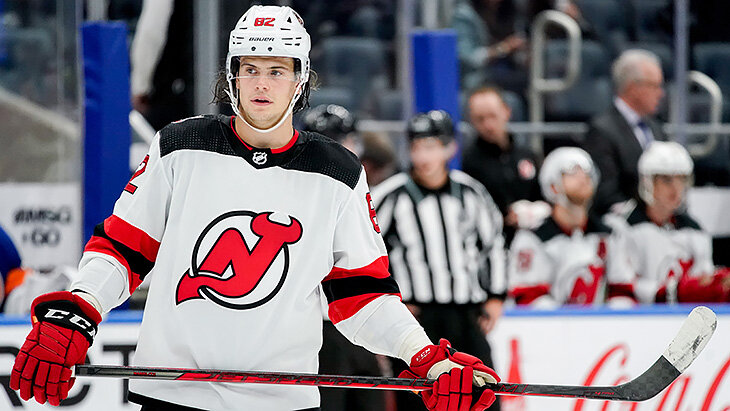 "New Jersey", Subban, Councils Chamber
– "New Jersey" impressed everyone with the start of the season. In your opinion, how ready is this team for the playoffs?
– The team has always had young, technical players – there was speed, mobility. This year, it has been strengthened by more experienced, older players – Smith, Howla. I think it had a big impact on the game. Even in the locker room during matches, they constantly suggest something. When they called me, they put me in a pair with Smith – Brendan helped, gave some advice. I think the team benefited from the fact that it was strengthened by experienced hockey players who have been in the league for a long time and who played in the playoffs.
What else has changed a lot? After all, last year you didn't make it to the playoffs, but now you are among the leaders?
"Experienced players give confidence. When I was in the team, nothing really changed – neither tactics, nor anything else. There was just more positive in the locker room – during games and training.
I can't say what was wrong with the Devils – last year I was only called up at the end of the season for five games. Now the middle of the championship, I see how everyone is set, how everyone's eyes are burning. There is an opportunity to win the Stanley Cup – and it does not matter, young or not, everyone is doing their job. The coach gives the instructions – the rest follow it. Mistakes happen, but without them, nowhere.
– In the summer, Palat signed New Jersey, traded for Vanechek. Did you consult with them about how to stop the same Kucherov or Ovechkin?
– This season I have not yet had games with Tampa Bay or Washington, and so – yes, I talked with the Chamber, he gave different advice. He told me to play a little harder, bolder, more confident.