Played up the markings on the field.
In the middle of the week, Leo Messi returned from vacation brightly: he scored against Angers (2-0) and received the best mark in PSG from L'Equipe and Le Parisien – 7 out of 10.
Perhaps, not even another good game will be remembered, but a photograph taken during the warm-up before the game. Caught the angelic image of Messi.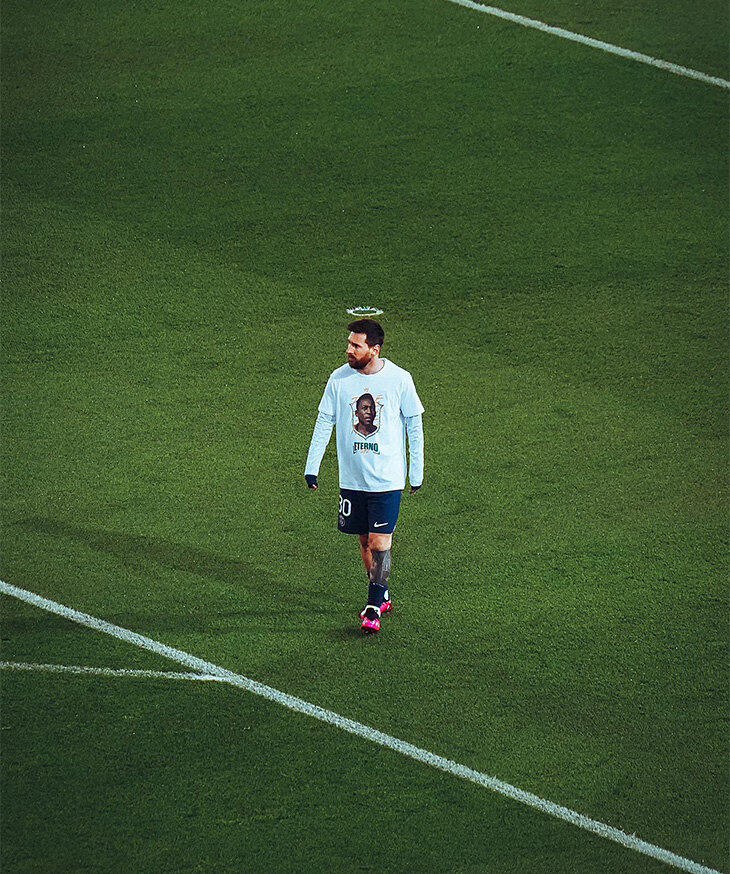 An 11-meter mark can be seen next to the head of the Argentine – it looks like a divine halo, a luminous circle located above the saints.
Leo, like the rest of the PSG players, went to the warm-up in a T-shirt with a portrait of Pele and the signature "The King is Forever". So the Parisians honored the memory of the legend.
Messi is often compared to God. So did Rijkaard, Beckenbauer and even Fedun
Messi has been called a god by many, including Frank Rijkaard, Victor Valdes and Giorgio Chiellini. 
But Pope Francis, back in 2019, came on the air of the Catalan TV channel La Sexta and questioned the divine status of Lionel. He considers this an insult to the shrine: "You can't say that. Is he a god? I do not believe in this".
By the way, Francis is the first ever head of the Roman Catholic Church from the New World, he is an Argentinean with Italian roots. Known as a big fan of football, a fan of the Argentine "San Lorenzo". 
Francis is not the only one who thought it was wrong to say so. Pele pointed to this not from religious beliefs – he simply believed that Maradona was a versatile Messi. In the football world, Messi is much more often called not a god, but an alien – for example, Ernesto Valverde and Malcom are considered.