Everyone needs a friend in life, and if you're a Premier League star, even more so. Opponents are waiting for your defeat, the media – another scandal, agents – commissions. Families and friends try to keep the players calm, but sometimes even they fail. And then dogs come to the rescue.
Four-legged friends entertain the owners, guard the mansions, remain faithful when criticism pours from everywhere, and willingly take part in the players' craziest ideas.
We talk about what it's like to be the dog of an Premier League footballer. Spoiler: not easy, but certainly not boring.
Michael Owen taught dog manners on a TV show, and Alexis Sanchez's pets advertise dog food with their owner
"Ronnie is a beautiful dog, gets along well with people, but just hates other dogs," Michael Owen admitted to the TV show Dogs Behaving (Very) Badly, where he came in 2019 to teach his dog good manners.
The reason was the incident caught on surveillance cameras, where the French bulldog of the former England striker attacked a neighbor's dog. "I had to forcefully pull Ronnie away, and that dog had a couple of stitches in his neck," Owen said.
The expert quickly makes a diagnosis: it turns out that the dog did not have enough communication, and the nervousness of the owner was also transmitted. Under the watchful eye of the host, Ronnie passes a simple test – and now he is a completely different dog, sociable and obedient. The episode ends with a happy ending: Ronnie rubs noses with new friends, Michael strokes his belly, everything worked out.
Unfortunately, Ronnie's fate was sad – in 2022, the dog fell ill and had to be euthanized while Michael himself was commenting on the match. "It seems to you that life ends here, but you need to move on," Owen sought solace. "I still get emotional when I think about him."
Ronnie's place was soon taken by another French bulldog, Kaiser. Such a rapid replacement is not accidental: Michael lived with dogs from the age of 14, and his father's love for them was passed on to his eldest daughter Gemma: "A house without dogs is not a house."
Owen is not the only one whose dog has become a TV star. While on loan at Inter, Manchester United's Alexis Sanchez and his two golden retrievers, Atom and Humbert, starred in a commercial for Chilean dog food brand Master Dog, where Alexis himself, of course, played the master.
Interestingly, Umber has a rare color for this breed – cream. The dog was a gift to the Chilean from Brazilian model Michelle Carvalho, whom Sanchez dated a few years ago. "Alexis always said he wanted a golden retriever. I decided to find him a special puppy, one that would not be like the others, "the girl said in a Chilean YouTube show.
Michelle found a cream golden retriever in Seville, secretly from Sanchez, having arranged everything necessary to bring the dog to Britain. The day has come – Michel brings a box of surprise to the football player and finds out that he has already got himself a golden retriever named Atom. At first, Alexis was not going to keep both of them, but after seeing how quickly Atom and Humbert became friends, he decided that there are not many dogs in the house.
The farthest went Roy Keane, or rather his dog Triggs, who published an autobiography. According to the synopsis, "Triggs will tell the incredible story of his friendship with Roy and his contribution to the triumphs and scandals that have marked his master's career."
The book has 400 pages, and the Irish journalist Paul Howard acted as the "translator" from the dog. "The idea to write a memoir about Triggs's life came about when I watched how he and Keene fought off the paparazzi during walks," the author said. "A couple of years ago, the newspapers mistakenly reported Triggs' death, and I started the book with a dog reading these rumors and deciding to put an end to them once and for all."
We seem to know which book should be next to Alex Ferguson's memoirs in the library of a true Manchester United fan.
Labradors Cristiano Ronaldo helped the football player to seduce the model – Labradors are generally very smart dogs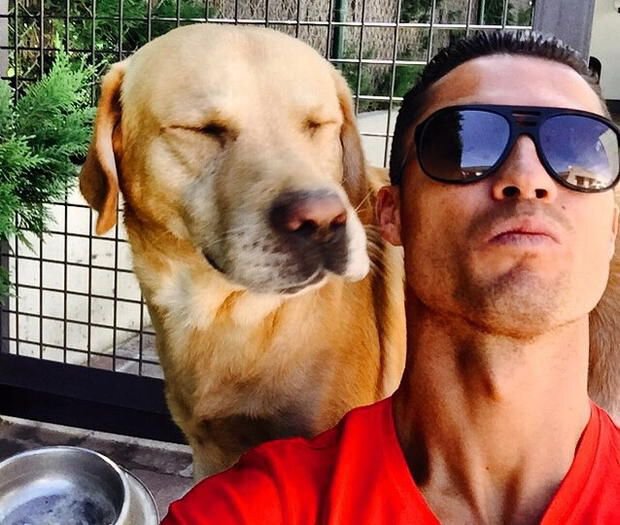 In 2014, Cristiano Ronaldo still played for Real Madrid and met with Irina Shayk. One evening while dining at a restaurant in Madrid, Ron spotted Moroccan model Amal Saber and asked a friend to invite her to his table.
According to the girl, the footballer generously treated him to champagne, and when she was about to leave, he offered to go to him – to look at the dogs. "I love dogs, and he has three of them, and each kennel is heated," the Moroccan told The Sun.
It seems that the scheme with three defenders paid off – the tour of Cristiano's house ended in the bedroom. "There was a big telly, and next to it was a huge photo of Irina Shayk. But it didn't bother me. We spent an exciting night, and at 5 in the morning his friend took me home, "the model shared the details.
A few weeks later, Krish blocked Amal on his phone. "Perhaps Irina found my messages," Saber wondered. "Maybe one of his friends didn't want us to be together." Be that as it may, Ronaldo and Shake soon broke up, and the unwitting participants of that night – the Yorkshire terrier Abelhinha and Labradors named Bobby Moore and Maroska – remained in the care of the Portuguese and, judging by this video, they have a bromance.
By the way, Labradors are very popular in England – almost every fifth registered dog in the country is of this breed. Many Hollywood actors (Hulk Hogan, Anne Hathaway, Gwyneth Paltrow), politicians (Bill Clinton, Francois Macron, Prince Charles) and even the writer Ernest Hemingway have had or have this.
One of the most famous Labradors was a dog named Endal, who gained notoriety as the help dog of wheelchair-bound retired British military officer Allen Parton.
The dog could perform a number of useful things: get goods from the shelves in stores, load clothes into the washing machine, insert a card into an ATM, withdraw money, and also respond to more than a hundred commands.
Endal's intelligence and hard work have made Endal the hero of television broadcasts around the world, and the Labrador himself received the highest award for animals – the gold medal of valor and commitment to service from the PDSA organization.
However, behind the scenes, the dog remained true to his instincts. According to Parton, until his death, Endal liked to chase squirrels in the park and at times tried to outwit the owner, bringing him the same newspaper in exchange for food.
Harry Kane's dogs are named after NFL stars, and the former Real Madrid footballer named the dog after Messi
The nicknames of the dogs of football players reveal many unexpected stories to us. Harry Kane named his Labradors Brady and Wilson after NFL legends Tom Brady and Russell Wilson. "When I was growing up, I was impressed by the Tom Brady documentary," Kane explained. – He was selected in the sixth round, but still became one of the greatest athletes. I was 18 then, I was on loan and I doubted that I could play at Tottenham. After watching the film, I realized that I can make the same career.
Brady and Wilson are important members of the Kane family. It was they who told the world that Harry and his wife were expecting a baby – judging by the satisfied faces, they were well fed that day.
And if the story of Tom Brady motivated Harry Kane, then Kane himself became an inspiration for dog breeders in the West Midlands police, where Detective Kane joined during the World Cup in Qatar. Jumping, heading and charisma – don't they look alike?
The Belgian Shepherd made the arrest on the first day of service. "This breed is known for its speed and agility. We named him after Kane – he is just as hardworking and, like Harry, will do everything possible to succeed, "said the dog's guardian to the police.
Manchester City midfielder Bernardo Silva named the dog John. "This is in honor of my friend, John Stones, because we are very close. I always told him that if I ever have a dog, I will name it John, "the Portuguese demonstrated how far male friendship can go.
Marcos Llorente of Atlético, whose goals knocked Liverpool out of the 2020 Champions League, has made sure that the memory of the event will always be somewhere nearby by naming the dog Enfield.
And the most unexpected nickname is the player's pet, who never made it to the Premier League. During the game for Real Madrid, a dog named Messi walked around the house of midfielder Isco. It turned out that he appeared at the midfielder even before moving to the Madrid club, and Isco himself explained the incident with greatness: "It's simple. Messi is the best in the world. As is my dog."
Exclusive dogs guard the homes of Premier League footballers. Clients include Grealish, Rashford, Arteta, Lloris, Ferdinand
In recent years, attacks on the mansions of Premier League players have become more frequent. The news about the robbery of the house caught Raheem Sterling at the World Cup in Qatar – he had to leave for England right during the tournament. Dele Alli, after meeting with the burglars, turned to the doctors – the attackers struck the football player several times in the face, threatening with a knife. And the wife of Frank Lampard, having discovered the loss of jewelry in the amount of 60 thousand pounds, admitted: "I'm scared to be at home alone."
The most impudent, perhaps, remains the penetration into Ashley Cole's house – in 2020, four unknown persons, ignoring the surveillance cameras, made their way inside with a sledgehammer. Having connected Cole, his girlfriend and daughter, the robbers threatened to cut off the football player's fingers. Fortunately, the nightmare ended only in the loss of material property – the girlfriend of the former Chelsea and Arsenal player managed to dial 911.
Such incidents resonate primarily among the players themselves – no one is insured. Salaries, addresses and travel dates – all this is on the Internet. But it seems that now the attackers are thinking, because the players of the Premier League are turning to the services of companies that provide guard dogs en masse.
One of the most famous is Chaperone K9. Their first celebrity client in 2011 was Fulham striker Bobby Zamora. The player, apparently, was satisfied, because the company's business has only flourished since then. "The trust that exists in their narrow circle plays to our advantage," co-founder of the company Richard Douglas revealed the secrets of business. "Footballers come on the recommendation of footballer friends, so the business is focused primarily on them."
Dogs from Chaperone K9 are not just watchdogs on a leash. A special training method brings up friendliness in pets to owners and children. "At Chaperone K9 we know the entire pedigree of our dogs, working only with puppies from quality kennels. We manage to combine the qualities of guard dogs and pets in them, "says the company's website .
So far no one has hacked into Rio Ferdinand, but it is obvious that the former Manchester United defender himself realized that the chihuahua does not look like a formidable guardian. Chaperone K9 helped: the Belgian Shepherd is still as reliable in protection as the owner himself once was.
"If an armed gang with bats and machetes shows up, you will need a dog of a different level – one that does not hide from aggression, but runs towards it," Douglas explained what was wrong with Instagram dogs. It seems that Phil Jones realized that this was his case, entrusting the serious cases to a German shepherd named Buddy.
Other Chaperone K9 clients include Kyle Walker, Ruben Loftus-Cheek, Kieran Tierney, Raheem Sterling, Jack Grealish, Marcus Rashford and many more. Douglas has admitted to having at least one buyer from every Premier League club. And another co-founder of the company, Richard Osborne, cited an even more interesting fact: four out of five of the company's clients are football players.
"Safety is extremely important to these guys as they are regularly targeted, forcing them to consider a full range of protective measures – buying a dog is one of them. When players are away, their families usually stay at home. The dog adds calmness and allows you to relax a little, "Osborne explained.
Jamie Vardy would certainly agree. Once the striker lived in Leicester itself, but his family was tortured by fans who came for an autograph. Then the Vardy moved out of town, but they were not left alone there either – during one of the trips, the player's wife noticed that unknown people were watching the house through the bushes. Then Jamie's patience came to an end, and the protection of peace was entrusted to the pupil of Chaperone K9 Doberman Marko. "Handsome," wife Rebecca greeted Jamie's choice on Instagram.
Tailed watchmen stand like a new car, how effective they are is a mystery, but it is known that someone has already been bitten
It takes about two years to train an exclusive dog, and the service is personalized. The company works directly with the players and their families – they do not sell animals to agents acting on behalf of the players. "We need to understand how future owners understand dogs and what breed they are most comfortable with," Douglas continued to share his secrets. "I have to meet with them in person to prepare the pet just for them."
There are such guards as a good car. Phil Jones paid £15,000 for Buddy. A Cane Corso named Saint cost Marcus Rashford £25,000, while Jack Grealish bought three guard dogs for a total of £65,000.
"It seems to be expensive," Lidor Borlant, founder of Protection Dogs Worldwide, a Yorkshire-based Chaperone K9 competitor, told Israelis. "But our clients are multimillionaires, and we are talking about security in the company of a 24/7 bodyguard. A human guard can have a bad day, but a dog is 100% dedicated to you and his job. She has no fear of guns, so burglars will think twice if it's worth the risk."
Protection Dogs Worldwide (PDW) also highlights the exclusivity of its business. Dogs are raised in premium kennels in Germany, the Czech Republic and Russia. On a farm in England, puppies appear at the age of 4-5 months, undergoing a training program of 12-18 months before they get to the owners.
The company's website has happy customer photos, as well as testimonials from David Alaba and Memphis Depay. "A big thank you to the entire Protection Dogs Worldwide team for our Doberman. We love her like a family member. She is just what we wanted. My wife now feels safe, and my son has a best friend," the Austrian defender admired. Memphis Depay agrees: "Thank you for Cleo and Drago. They brought joy to my life. I want to thank you for the love and care you have given me."
Tottenham goalkeeper Hugo Lloris is a client of Elite Protection Dogs, another player in the luxury dog ​​market. The London-based company specializes in German and Belgian Shepherds with a military or police background. This is where Ashley Cole turned after the attack. The company emphasizes its uniqueness by its methods of work.
"We do not use sleeve pillows as a way to provoke dogs. This technique is popular in sports training, but it causes the dog to mistake the sleeve for an invitation to play and focus on him rather than the attacker, the company's website explains . "Instead, we help dogs show their abilities by allowing them to really bite the handler (they wear protection under their clothes). In this way, dogs improve their bite and focus on the real goal."
The firm's creative methods seem to have their fans. Mikel Arteta, Jack Wilshere and even Tyson Fury are clients.
How well these dogs do their job remains a trade secret. "We have information that they did what they should do," Douglas from Chaperone K9 avoided divulging details. "Someone was bitten, sometimes they just scared away."
Scandals also happen: ears cannot be stopped, losing dogs is expensive – Lingard and Sturridge will confirm
Sometimes the possession of pets leads football players into difficult situations. Jesse Lingard has received criticism after he posted photos of dogs with cropped ears on social media.
It turns out that this procedure is illegal in the UK unless performed by a veterinarian for medical purposes. Instagram users accused the midfielder of inflicting pain on animals for the sake of beautiful photos. "Ditched two beautiful dogs! Idiot," such a comment received more than 120 thousand likes.
Daniel Sturridge got into another unpleasant story. In 2019, his home in Los Angeles was robbed – among other things, thieves dragged off Lucci, the former Liverpool player's Pomeranian. Devastated by the loss, Sturridge took to social media: "Yo, someone please find my dog. I'll pay whatever I want, I'm serious. I want her back!" Daniel promised 20-30 thousand to anyone who finds the animal.
After some time, the dog was reunited with the owner, but two years later Sturridge was invited to court. Local rapper Killa Fame, who found Lucci on his way home from work (worked as a security guard), accused the football player of not paying the promised reward.
Sturridge himself was of a different opinion: "I met with the guy who found my dog ​​and paid him. He was happy. I took a photo with him, I also have video and audio meetings. The rest are just trying to cash in on that story."
Whether the court saw evidence of the former Liverpool player is unknown. However, the verdict satisfied the plaintiff's claims and ordered the player to pay Killa Fame about $30,000.
The rapper was delighted: "I hope he pays and will not challenge the court's decision. I've been on this for over a year. I can't believe it's all over. 30 thousand is a big amount, it can change my life."
And while Sturridge finds out who he did pay, and half the Premier League is in line for four-legged guards, only Mohamed Salah lives without stress. After all, Mo is a cat person.