The SKA match with Ak Bars will be remembered not only for a lot of goals (7:4) and Emil Galimov's poker, but also for a terrible clash between Valentin Zykov and Alexander Radulov.
Already at the 24th second of the first period, the army player at speed flew into Radulov, ready for such a meeting, and bounced off the wall.
It was the first and last shift for Zykov – and it soon became clear that he would not return to the ice. Even during the match, a fresh photo of Valentin was distributed on telegram channels – and it hurts to look at him. On the upper jaw in the front row, there was literally one (!) tooth left.
However, in this sport, no one makes a tragedy out of such things.
"Zykov had his teeth knocked out in the first shift. He has no teeth now, But it's nothing – it's hockey, – Roman Rotenberg said calmly immediately after the match. – Well done guys, punished with goals. Galimov then played in place of Zykov. This is life, and it helps us."
Although a few minutes later at a press conference, the SKA coach had a slightly different tone: "The medical staff reacted great today, Zykov was taken to the hospital. They have already taken pictures and now there will be an operation. He has a serious fracture – the facial bone.
I think that here it is necessary to look at whether the injury was intentional or unintentional. We have professional judges, a disciplinary department, which must definitely sort out such moments.
But at the same time, each of our players must understand that you can not relax even for a split second. You need to be able to take a hit, not to lower your head. And now I just want to wish Valentin Zykov a speedy recovery. This rallied our team, and due to this unity, we snatched this victory. We dedicate this victory to Valentin Zykov."
By the way, the arbitrators, right after Radulov's hit, reviewed the episode for violations – and did not find a reason to remove it.
Interestingly, for Alexander himself, teeth are also a hot topic. His trademark smile is an occasion for jokes even for himself.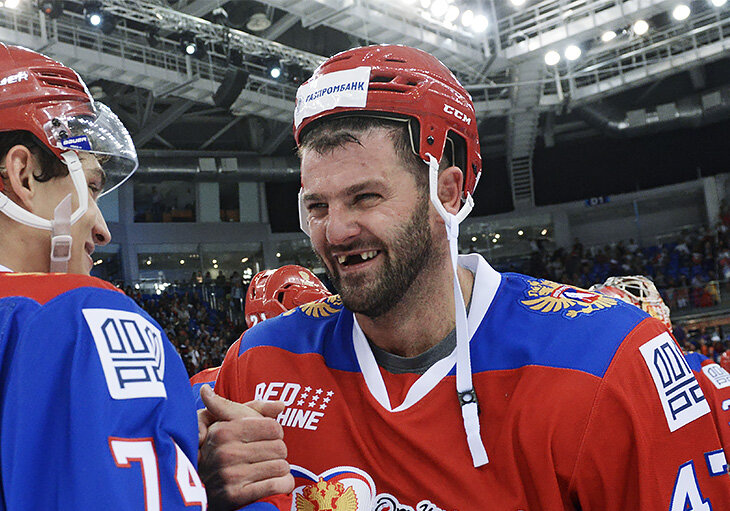 "I don't go to karaoke anymore – I have no teeth. I used to go, until the age of 25, when all my teeth were intact, and then I stopped. Which image do you like better? With teeth, of course! But while I'm playing, I have no way to insert them. If you do it now, and if there is a relapse, then it will be much more difficult to do it all, "he told the Championship in 2018.