The April incident was punished only in November.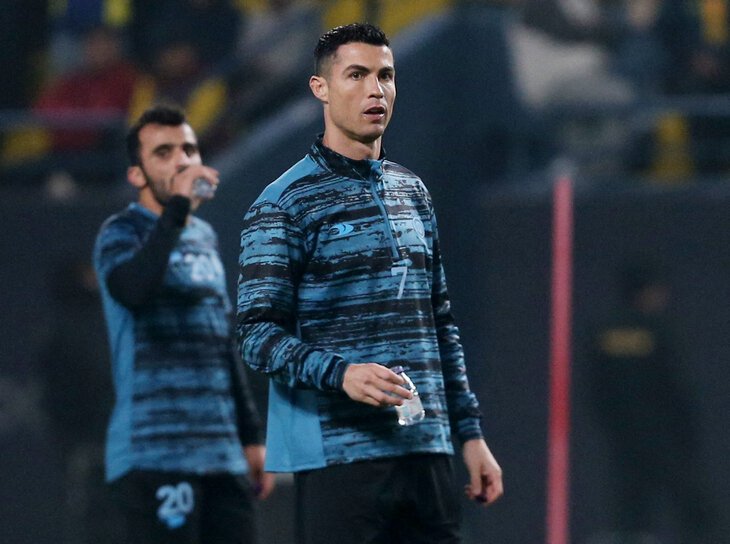 Cristiano Ronaldo will not play for his new club Al-Nasr in the next two matches – he will be able to debut only on January 21. And it's not about injury or bad shape.
What's stopping Ronaldo?
The Portuguese has a two-match suspension, which he has not yet served. In November, the Football Association of England suspended him for two matches for the April incident. Then a player who played for Manchester United broke the phone of a boy with autism. 
Ronaldo has not yet served the suspension – the decision on it was made the day after the termination of the contract with Manchester United. Since that moment, Cristiano was not listed as a player in any club, so two matches of suspension remained on his virtual account.
The ban was at Manchester United, but you can't play in Saudi Arabia – why?
Everything is according to FIFA regulations: if a player has not served a suspension at a previous place of work, he must miss the first matches in a new club, even if it is a different league, another country and another confederation.
This point is clearly spelled out in the player status and transfer regulations: "Any disciplinary action for up to four matches or up to three months imposed on a player by the former association, but not yet (fully) served at the time of the transfer, must be enforced by the new association in which the player is registered in order for the penalty to be applied at the domestic level.
It seems that Ronaldo and his new club were not aware of these features, because he was being prepared to start in the next match against Al Shabab. But in time they learned about the bath.
Otherwise, something like Real Madrid 2015 would have happened, when the Madrid team was kicked out of the Spanish Cup for participating in the match Denis Cheryshev, who did not serve the suspension received for Villarreal.
Why was Ronaldo banned? Details of the same incident with a child who has autism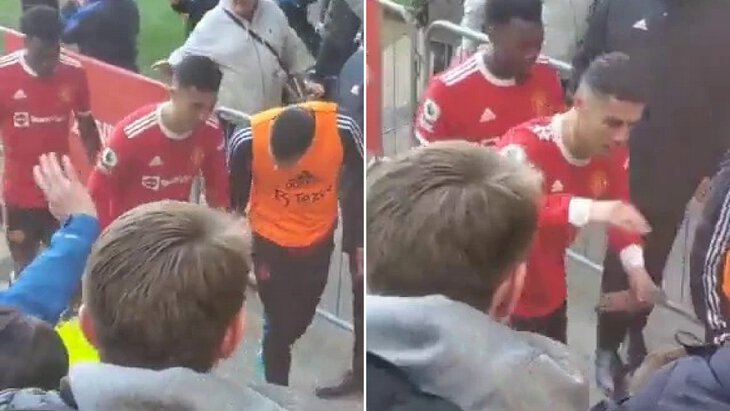 Back in April, Cristiano, dissatisfied with being filmed when he goes to the Goodison Park sub-tribune after the match with Everton (it was the 32nd round of the Premier League), knocked out the phone from one of the fans and smashed it.
"Dealing with emotions in such difficult moments is never easy. However, we must always be respectful, patient and set an example for the youth who love our beautiful game. I want to apologize for my outburst and, if possible, as a sign of integrity and sporting principles, invite this fan to the match at Old Trafford," the Portuguese wrote on social networks.
But it was already too late.The injured fan turned out to be 14-year-old boy with autism Jay Harding, who first came to the game with his mother. Of course, this immediately provoked a scandal..
This is how my mother described the incident:
"Man United players left the field after the whistle. We were sitting right next to the tunnel and my son was filming them. He lowered the phone because Ronaldo, passing by, pulled off his gaiter, and it was clear that blood was coming from his leg.The son lowered the phone to take a closer look – he didn't even say anything. Ronaldo walked past with a terrible, terrible look, knocked the phone out of my son's hands and walked on. You can see what a bruise he has. I just can't believe I'm talking about this.
I was crying, I was shaking. Jacob was in complete shock – he has autism and dyspraxia (a type of developmental delay in which the child has trouble coordinating and performing complex actions – Sports.ru). So he fully realized what had happened only when we got home. He is very upset and now it will be difficult to get him back to football. It was the first match in his life, and this happened.
We had a wonderful day until those seconds when the Manchester United players left the field. It ruined our day and left a bad aftertaste. Ronaldo is an idol. Yes, he does not play for Everton, but he is an important player. My son kept saying, "Ronaldo will be there." This is his idol. I would understand this if Jake waved in his face, but he was far from him, because Ronaldo sat down and looked at his leg, "said Sarah Kelly. The son refused a visit to Old Trafford.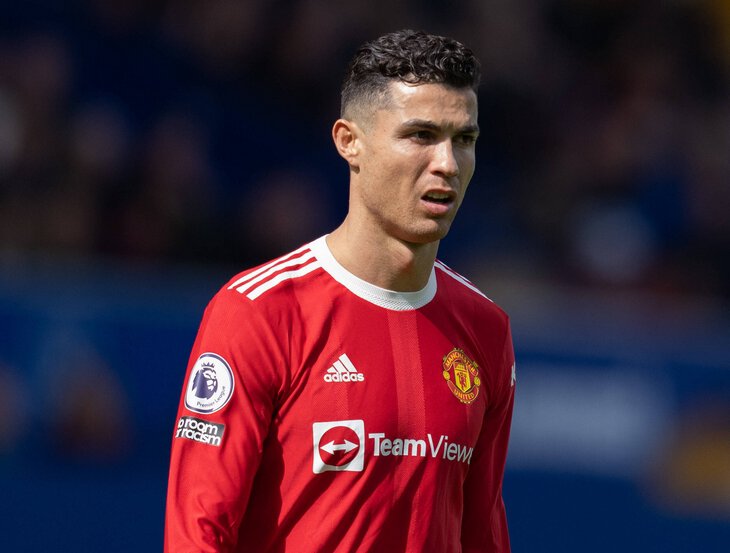 The Merseyside police organized an investigation, the Portuguese was even interrogated and issued only a warning. But it dragged on right up to mid-August – the boy's mother promised to go to court, but so far there has been no information on registered lawsuits.
And the Football Association of England conducted its own investigation. And it dragged on even longer. Ronaldo was officially charged in September. In October, he tried to challenge the actions of the FA, in November he gave the same interview and terminated the contract with Manchester United. And the next day he was suspended for two matches and fined 50 thousand pounds.
"I welcome the fact that he was fined. It should have been done a long time ago. They called me from the Football Association of England and said that Ronaldo was waiting for a disqualification and a fine. It would be great if this £50,000 were donated to charity. For example, they would help children with autism.
Manchester United should have punished Ronaldo long ago. The incident was back in April. I've been attacked on social media for dragging this out when everyone else was in no rush. I have not received any apology from Manchester United. No one from the club has ever contacted me, "summed up the mother of the injured Jake.