The next year is a key year for your career.
Mick Schumacher was left without a place in Haas and Formula 1 after being replaced by Nico Hulkenberg, and on December 15, Ferrari announced the termination of cooperation within the framework of the youth Academy. What will the son of seven-time champion Michael Schumacher do now?
In fact, he already has a job – the break with the Scuderia happened for a reason: on the same day, Mick was already taking pictures in Brackley with a Mercedes car and new boss Toto Wolff.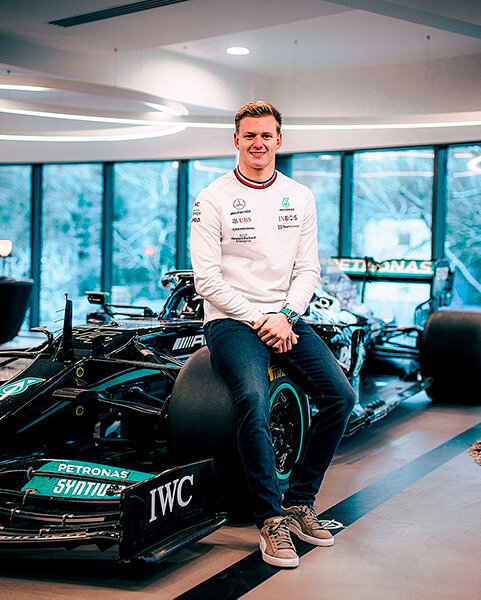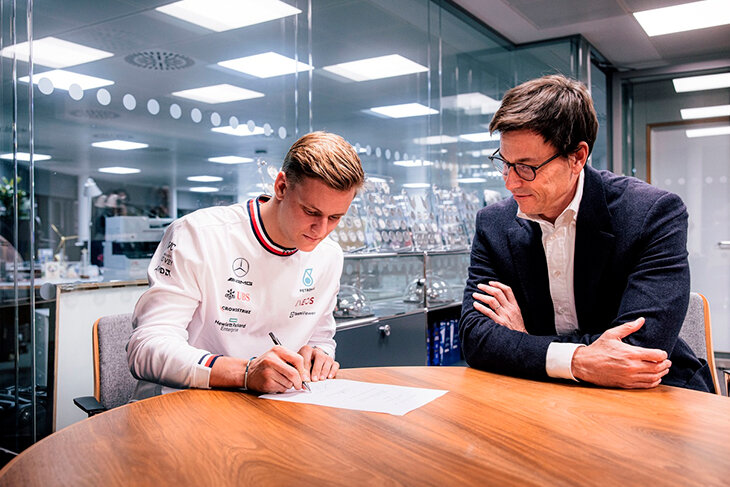 Now Schumacher Jr. will take the role of a reservist and third driver – he will work on the simulator on the settings for Lewis Hamilton and George Russell. Exactly as Mercedes promised in the season finale under rumors of a break with Haas.
Why exactly in a Mercedes? It's just that the Germans supported Mick in the youth series even before the contract with Ferrari , and with the departure of Nick de Vries to Alpha Tauri, a place on the simulator was just vacated: of the competitors, only the very young Frederic Vesti from F-2. The Scuderia have a full Academy, Antonio Giovinazzi is not far from the roster and Robert Schwartzman is on the contact of the reservist.
"The connections were in his youth and in his first year in F-3," Mick recalled in the first interview in white. – My father worked at Mercedes from 2010 to 2012 and laid a lot. It would be great to continue too and help with progress in every way. A lot has changed here since my last visit in 2014 – tremendous progress is visible. I hope I will not only help with my knowledge of new cars and tires, but also acquire new ones that will help me in my future career."
What exactly will he do? Schwartzman recently described the role of a reservist as follows: "I worked on a simulator with a virtual machine this year. Tested different options for settings for the team. The Ferrari simulator involves working with the fine tuning of the car and close communication with the engineers. My goal is to try out as many settings as possible, get a feel for them, and provide the team with the best feedback. So I became a better pilot.
When data from the track comes in, I spend the whole weekend doing correlation and additional tests. Then we compare impressions, Carlos Sainz and Charles Leclerc ask questions about my opinion about this or that decision. This is team work.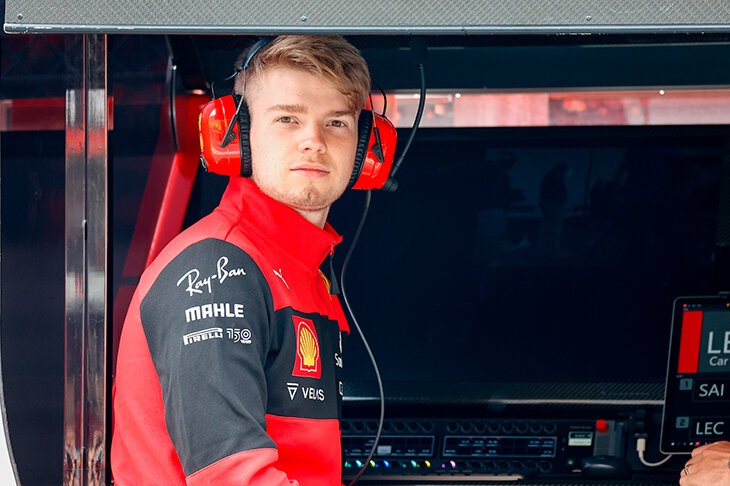 I spend a lot of time on the simulator. In fact, I have a third machine, albeit a virtual one – and I check the data and help. At the Miami Grand Prix on Saturday night, the engineers and I worked until six in the morning.
A year ago, Alex Albon also worked as a reservist on the Red Bull simulator – and, it seems, he worked almost more than combat pilots:
Red Bull has taken a step forward, including through the use of the simulator in the best possible way. We spend a lot of time there. Some days I almost live there! I crawl in the morning, and then continue to work after lunch. I do this about 20 days a month. I want to say: if someone drives around Barcelona in a sim faster than me, then I will take my hat off to him! I've done it for what must have been a million laps.
A huge part of my job is learning other teams. On the simulator we look for strengths and weaknesses – especially for tracks where we need to be slower. And then we choose other cars and study: why they are faster than us in some corners, which of their settings can work for us, what they do, but we don't.
And it's not just about the general level of grip: it's also about the trajectories, curb trips, the width of the track used, the amount of tire loading in corners. The study of all these aspects allows a good understanding of the advantages and weaknesses of all the others.
The plan for the week is this: on Monday I have a day off, and on Tuesday and Wednesday I work full days on next year's car.
When the plan for Wednesday is completed, I switch to the weekend. For example, let's take the Russian Grand Prix: on Thursday we just checked the correlation of data with reality. We tested the guys' tools, the angles of attack of the wings, checked the balance at predicted wind speeds.
On Friday the fun began! I spent all the first and second practices in the simulator. We watched footage from on-board cameras live and tried to correlate the data between the car and the simulator as quickly as possible. We needed to achieve the same balance as the guys on the track, because there is always a little discrepancy that creeps in – it needs to be caught.
Also during the sessions, we also dig into the track and listen to Max and Cheko's feedback, offering advice in return. For example, when Max gets into the car, he usually says he wants "this, this, and this". And first we need to set up the sim in such a way as to repeat all his problems on a real track. So if, for example, he struggles with a butt kick in turn 2, we set up the Sim to have his butt kick in turn 2 as well, and then change the setting to his preference. We transfer the result to his race engineer, and he makes changes to the car settings. We do the same for Cheko.
Friday is a very long day: I never finish before 21:00. Sometimes you have to sit in general until 23:00, and 3 or 4 in the morning you need to go to the airport – on a flight to the track.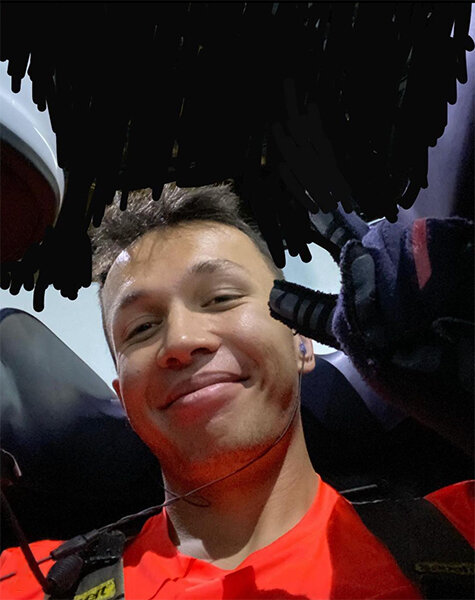 As soon as I arrive at the track, I continue to communicate with the drivers and their latest feedback and try to compare them with my feelings on the simulator – then we usually come to the final adjustments to the settings. But I don't just talk to riders, I also talk to engineers studying GPS speed tracking at specific points on the track – the rider's opinion adds a little more value.
I've been on the track every weekend for the last 7 months [since the start of the season], Albon said. "And every time it's a painful pinch – when you're not racing on the track."
Reservists in F-1 are even more difficult than combat racers: ride a sim until nightfall, and then fly to the Grand Prix – without sleep and rest
Now all this is for Mick Schumacher.
"Mick is a hard worker, has a calm and methodical approach and remains eager to learn and improve. These are important qualities and we are pleased that he will help us develop the new W14 car already for 2023. We also know that he will be ready at any moment to replace Lewis or George, if the need arises," promised Toto Wolff.
Schumacher will remain in the race – through the mud on a buggy (just like Mazepin)
Mick will not be left without competition and fights on the track – because he has a Can-Am Maverick X3 buggy (just like on the Dakar) and his own mud track on a 400-acre ranch in North Texas, USA!
And Mick loves mud racing.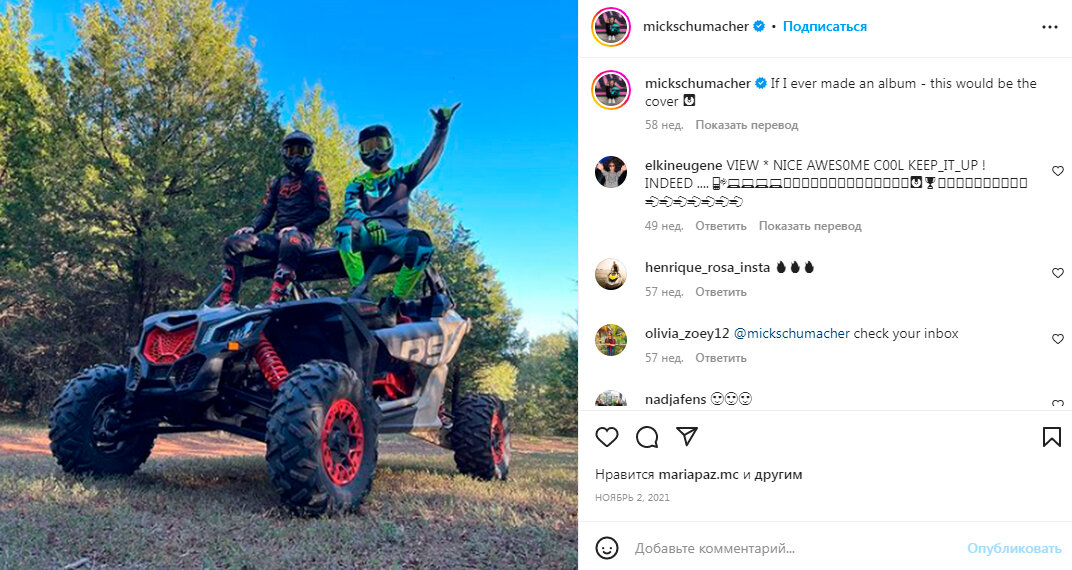 "If I ever record an album, the cover will be like this."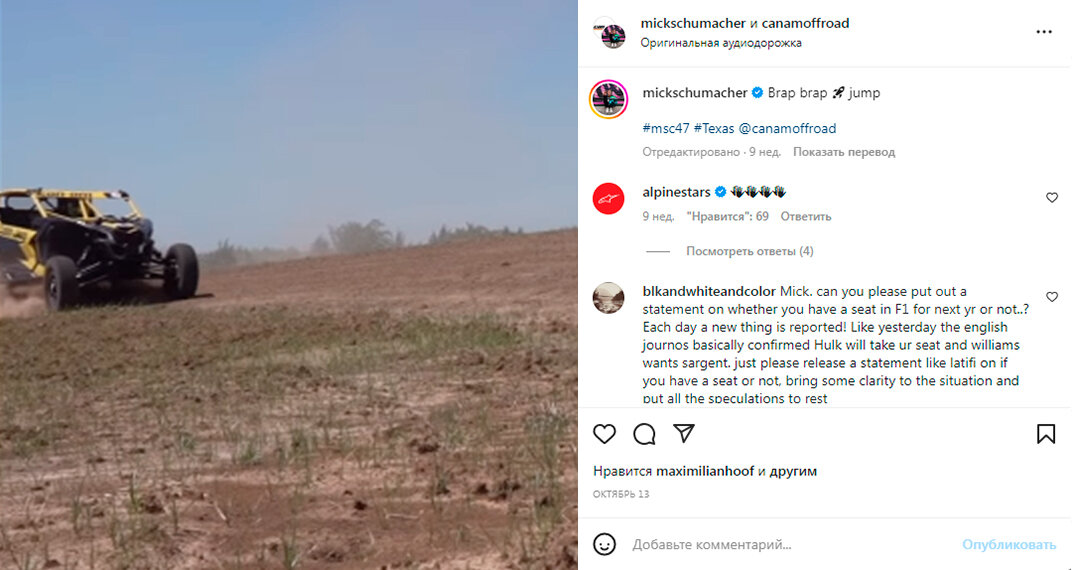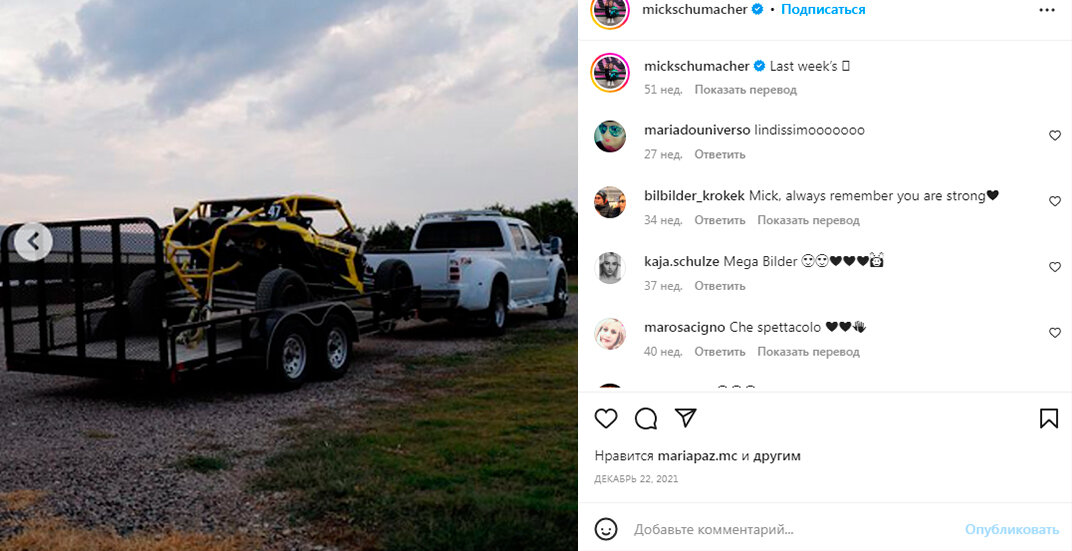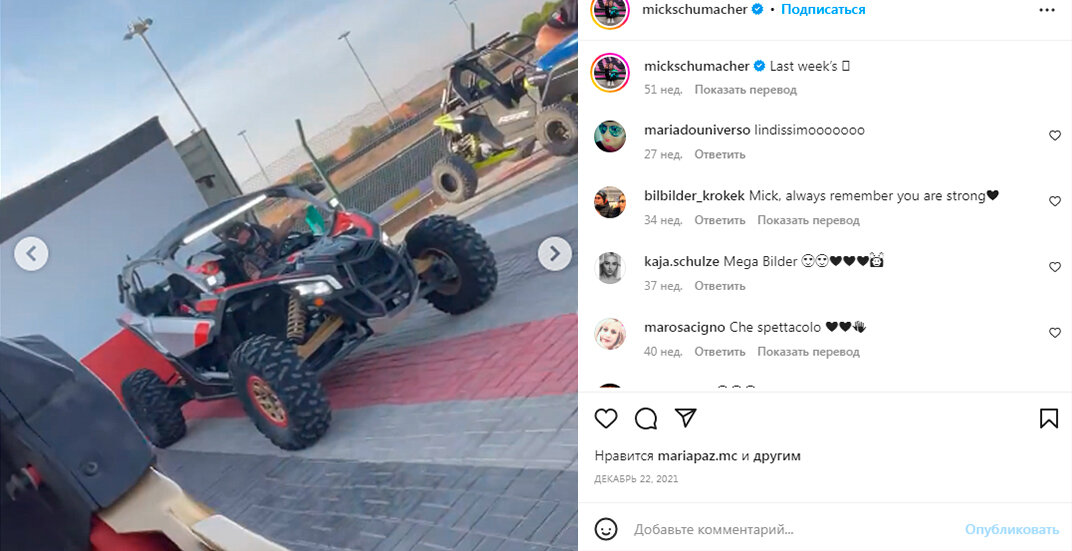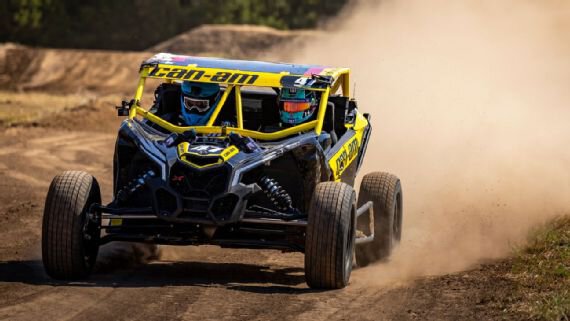 "Been doing it all day," Mick told ESPN of his love of mud racing before the US Grand Prix, "when he gave a group of Haas engineers and mechanics a little vacation. "It's a haven, a place where I can do whatever I want. And without the feeling that I am constantly being watched or followed. I come here just to enjoy.
We're in the middle of nowhere here. If I go to the local store, no one will notice. Even when I go to Dallas, no one will recognize me there. So I'm definitely happier here.
That's why we decided to buy some more land and build a track here. And they've come a long way. First I had a standard Can-Am, and now it has become a hybrid race car."
Mick did his favorite thing at the beginning of the off-season – after the final Grand Prix, but before the announcement in Mercedes:
He and his sister Gina-Maria and her boyfriend Ian Bethke took part in the 12-hour Can-Am Outlaw Series mud buggy race.
Mick drove the first four hours, then his sister replaced him for two hours, after her Ian sat behind the wheel for four hours, and after that Miku again. The Schumachers did not reach the finish line – they had to retire after 11 o'clock due to a punctured tire.
And, judging by the publications of Gina in social networks, they washed the car and themselves for five hours afterwards.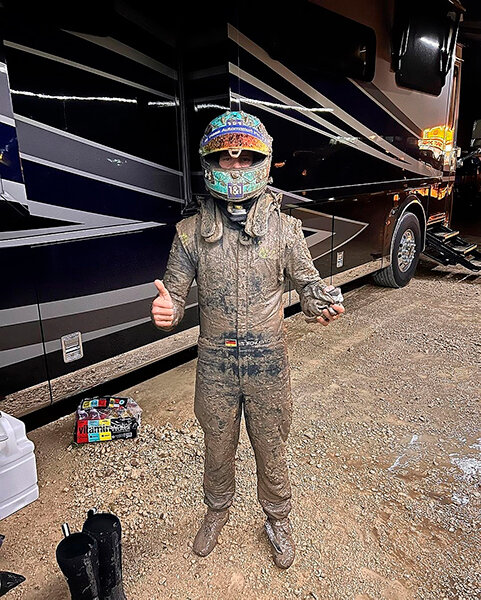 Suddenly, this passion makes son Michael related to his former Haas teammate Nikita Mazepin – he also loves off-road buggy rides!
"I like Tver. Very beautiful nature. We usually go there on ATVs – so these are not high-speed races, but mud routes. Periodically, you drown literally a meter deep, Nikita told us in an interview in 2021 . – These are post-war routes – tanks used to pass there, everything is still broken. For a day you can sit down and toil in the mud.
The most extreme trip in your life? On May 20th we traveled with friends from Moscow to St. Petersburg exclusively on mud routes. Only on quad bikes. No roads, no hotels, no hunting lodges. Only tents. And food – you cook prepared food yourself. That was extreme! It was also cold, so the goal was not to get sick. I liked it very much!
I have several high-speed all-terrain vehicles for such trips. And I'm thinking of taking part in the Russian Buggy Racing Championship."
And in fact: in 2022, Nikita showed up on the main Russian raid "Silk Road" – and won the first time
However, Mazepin never made it to Dakar. Maybe Mick will overtake him here too?
But the main goal is to return, otherwise you can completely be left without a future in F-1.
However, the main goal still remains to work in Formula 1 – progress as a driver in a Mercedes simulator (he helped Nick de Vries prepare for his debut and win a place in the Red Bull program, for example) and search for options for return.
"I am serious about returning in 2024, and maybe even in 2023. I showed my speed and I know that many people in the paddock are happy with my progress. Therefore, I expect to talk with many teams.
Right now I don't want to go to DTM or another series. I want to stay in the Formula 1 paddock, no matter what opportunities come my way. Formula 1 is my life, I love every detail of it. Lessons and hard times are part of it. It's just a matter of attitude and how you deal with it. Then you understand whether you are created for this sport or not.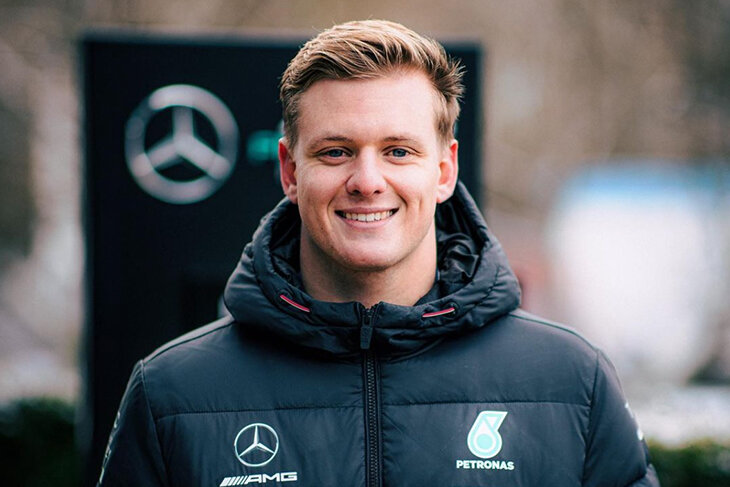 However, not everyone shares the optimism about the return – for example, the 2016 champion and German RTL expert Nico Rosberg is not sure that Mick has the opportunity to rest for two years at once:
"The role of a reservist is a good option for Mick. So he will have a chance of returning in 2024, but he will need a rich sponsor who will pay for his return. If Mick does not return to the peloton in 2024, then he will probably say goodbye to Formula 1.
"I am passionate about racing in Formula 1 and will fight hard to get back on the grid. PTW (Prove Them Wrong – Sports.ru)," Mick wrote on social media immediately after the break with Haas. The first step looks logical for the return path: through the role of a reservist, Esteban Okon was drilled back to Alpin (also through a Mercedes simulator), and Daniil Kvyat (through work at Ferrari), and the same Albon.