Several episodes at once.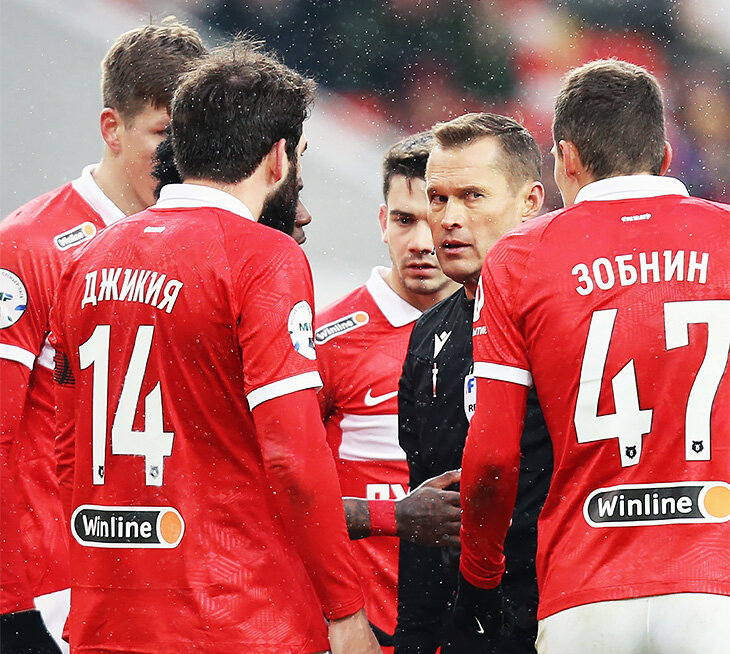 Spartak beat Fakel (3:2) in a match that became a real thriller. Including because of the controversial episodes involving judge Vladislav Bezborodov.
Here are the main ones.
Bezborodov could award a penalty in favor of Spartak 
At the 17th minute, Bezborodov did not fix the hand of the Torch player Igor Kalinin. The episode did not become fatal only because Quincy Promes opened the scoring in the same attack.  
Spartak's goal was canceled due to offside. Was he right?  
At the 40th minute, Bezborodov canceled Spartak's goal: Promes hung from the left flank, Dzhikiya threw his head at Sobolev, and he stuck the ball into the goal. True, after a pause, the VAR intervened. At first it seemed that the forward of the hosts embraced the opponent. The author of the telegram channel "Alo, ref!" Anatoly Sinyaev commented on the episode: "Judging by the credits, Bezborodov himself saw the foul. But the touch is very light. Embraced. Since this is the referee's decision in the field, he was not invited to the monitor. Although there were reasons to count the ball. Summary: the goal could have been counted. Once again I looked at the cancellation of the goal: both players held it with their hands. A foul in such episodes is usually not fixed.