At the 2023 Russian Figure Skating Championships in Krasnoyarsk, an unrealistic denouement is again unrealistic: on the eve of the men, Evgeny Semenenko beat Pyotr Gumennik with absolutely the same scores, and today the fate of pair gold was decided by 0.5 points.
No one skated cleanly in the strongest warm-up.
Evgenia Tarasova and Vladimir Morozov (were third after the short one) swam: double salchow instead of Tarasova's triple, broken combination triple toe loop – single axel – double axel – sequence, error on triple throw. The touch after a short and more powerful components was enough to take bronze – there were no more chances for silver and gold.
Alexandra Boikova and Dmitry Kozlovsky made a mistake on the very first element – they under-twisted the triple salchow in the combination, and at the end of the program, Boikova made a step-out after the throw.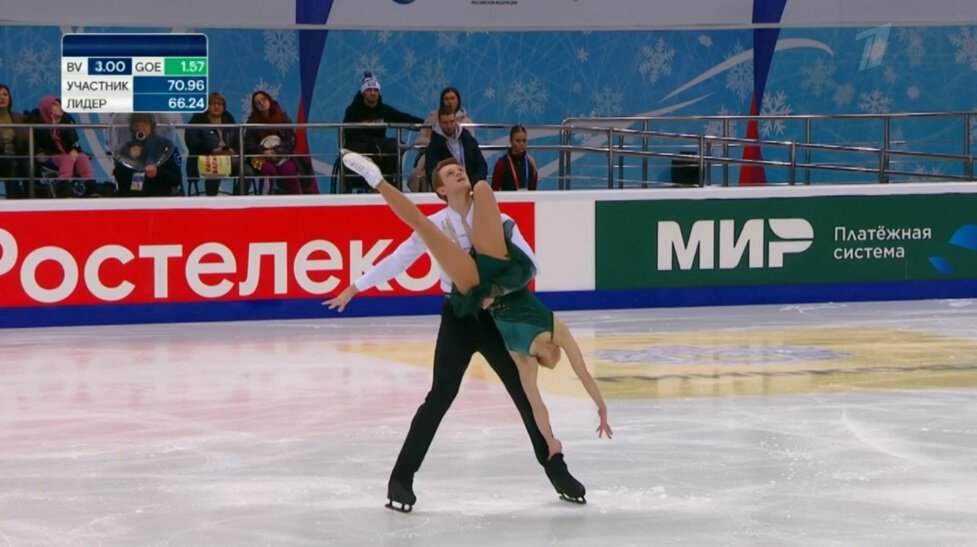 After the rental, the couple was clearly unhappy – it turned out much cleaner and more confident than that of Tarasova and Morozov, but still with errors. It is not so easy to beat Anastasia Mishina and Alexander Gallyamov with such a performance, especially if you lose a point to them after a short one.
But Mishina and Gallyamov gave a chance right away: the partner doubled the salchow in the 3-1-3 combination, and then she also made a blot on the release.
As a result, the couple lost the first cascade altogether – the judges counted only the first triple salchow + combination. And this is what changed everything.
Mishina understood the situation instantly: after the skate, she lay on the ice, covering her face with her hands, Gallyamov helped her to get up.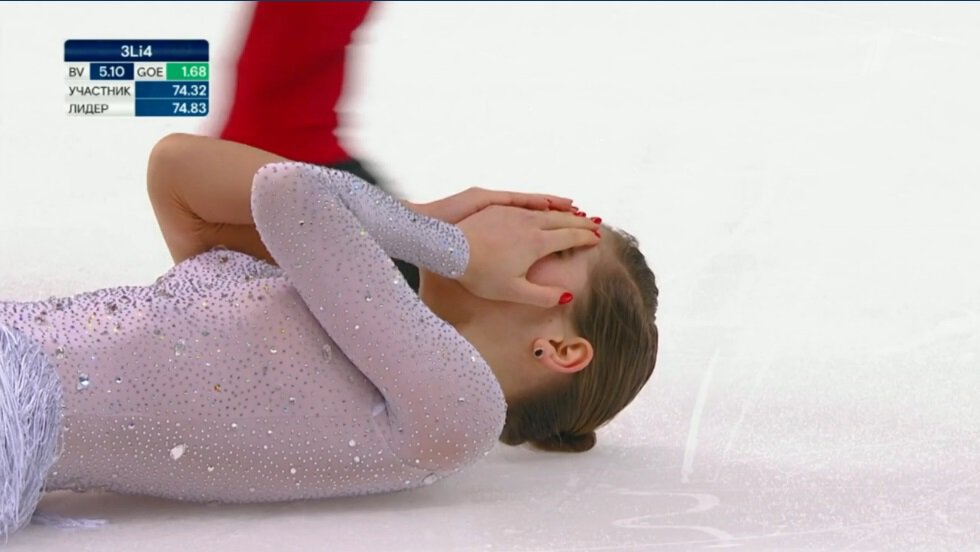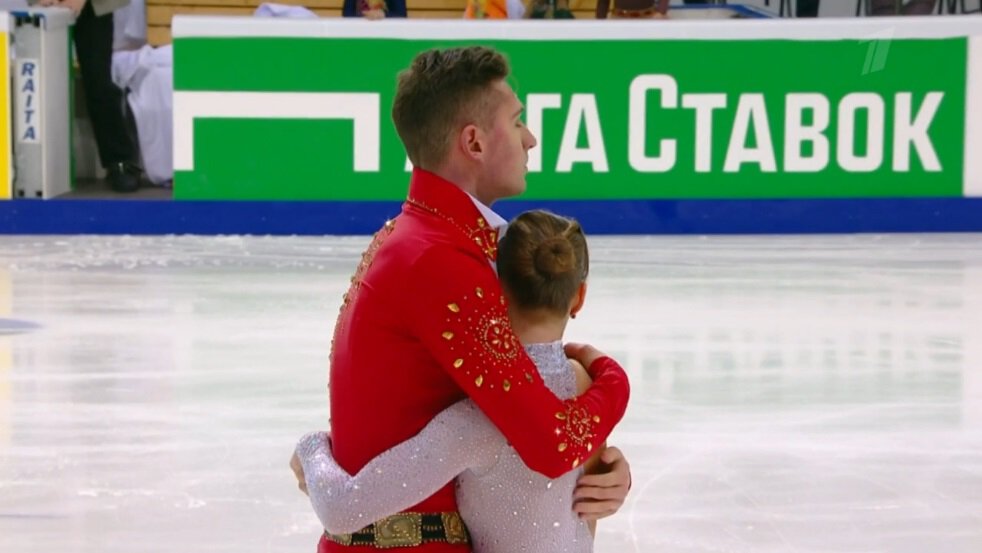 As soon as they gave marks for the free program (148.51 points against 150.07 for Boikova and Kozlovsky), Mishina again covered her face with her hands and burst into tears.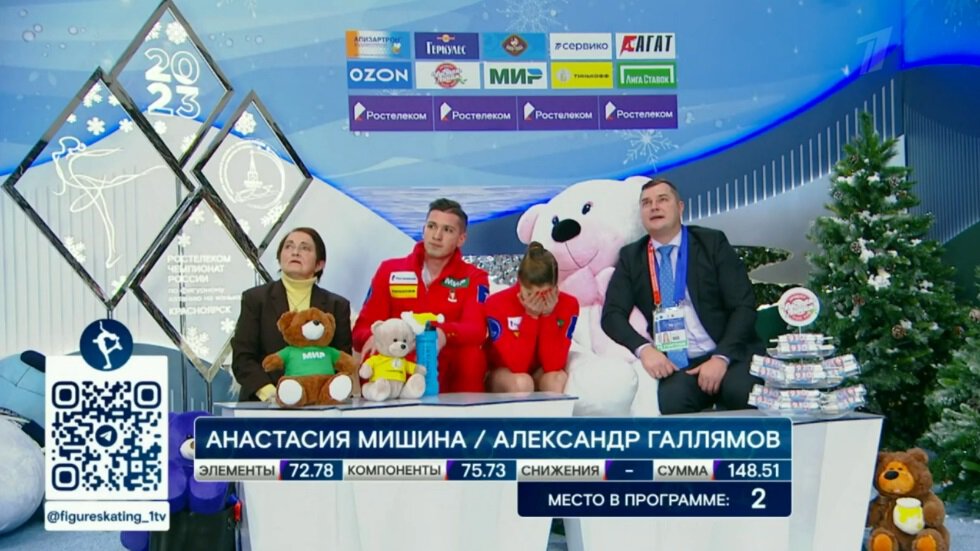 And their competitors at that time counted points in their minds – enough or not?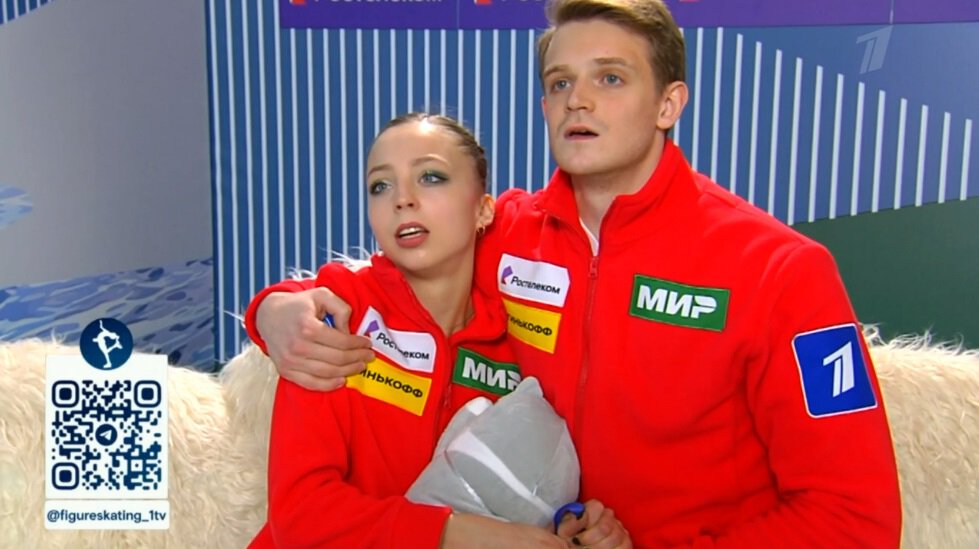 And here are the final scores – Boikova and Kozlovsky win the Russian championship with an advantage of 0.51 points over Mishina and Gallyamov.
Stormy joy for some: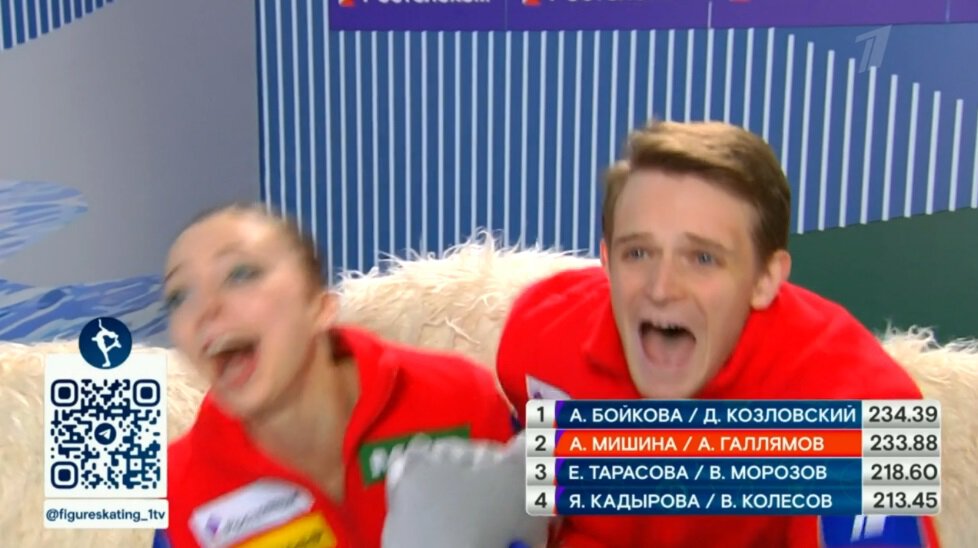 And bitterness from the defeat of others: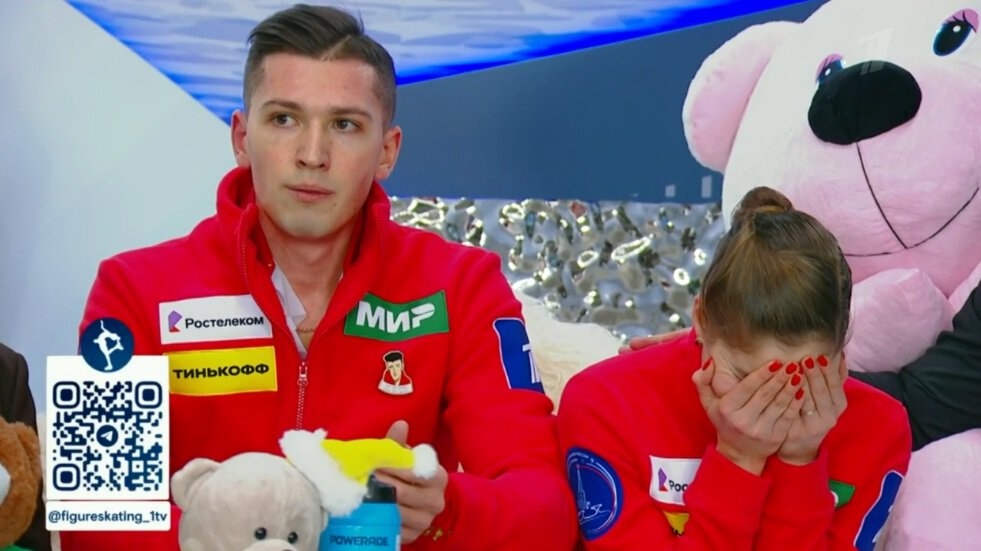 Mishina cried in her palms, without changing her position for at least 68 seconds – after that they stopped showing her.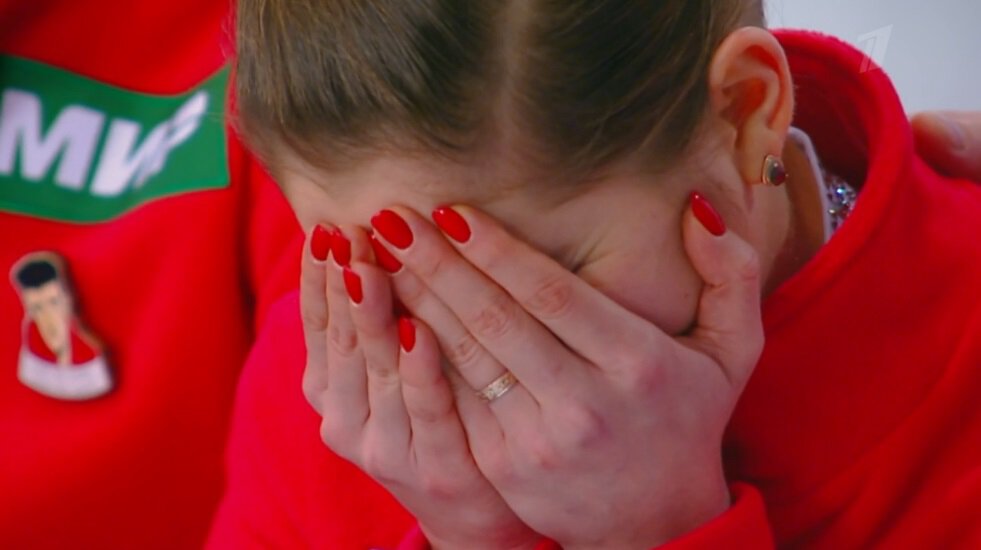 Boikova and Kozlovsky also burst into tears on the air, but with joy – he became two-time champions of Russia.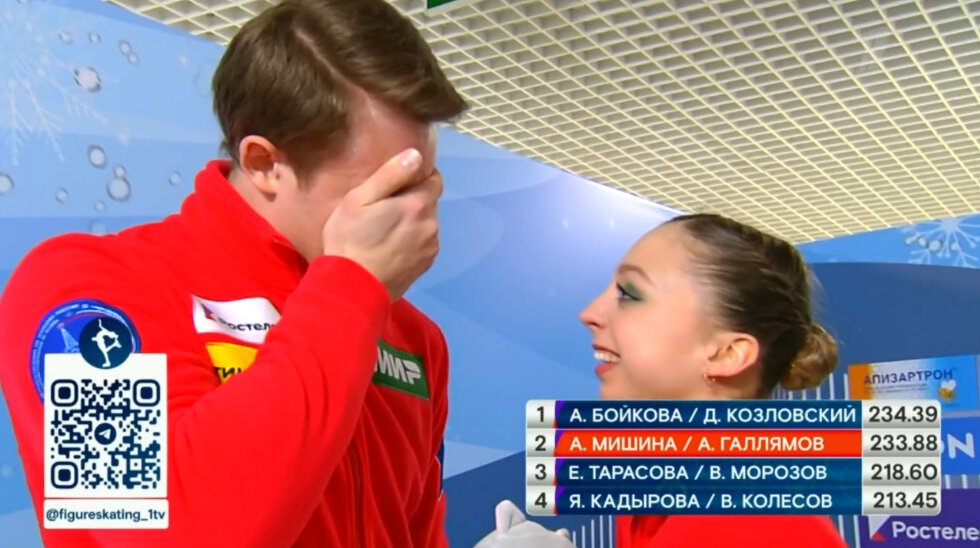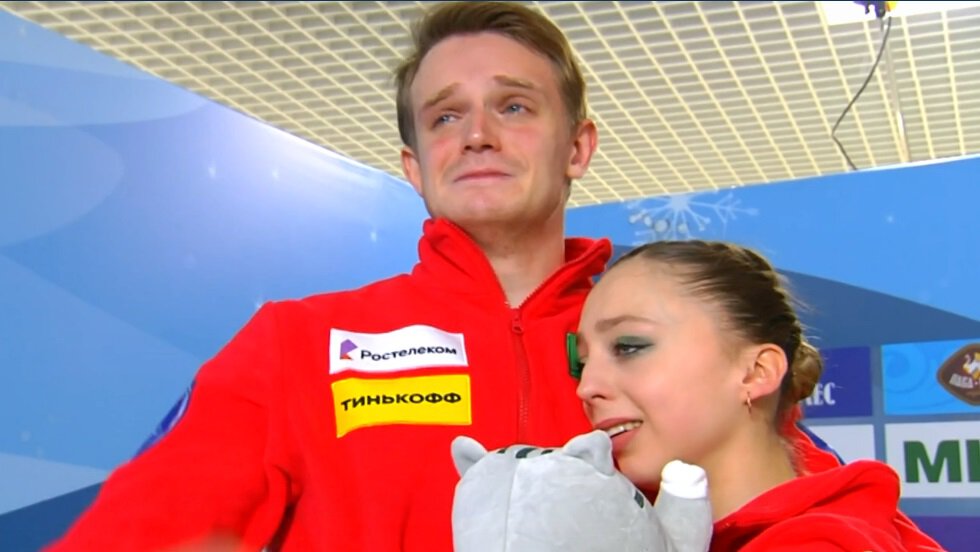 History repeats itself: last time they won the Czech Republic, also in Krasnoyarsk (in December 2019), and also with a similar advantage – 0.47 points from Tarasova and Morozov. Mishina and Gallyamov then finished fourth.
After the victory, the skaters answered Maxim Trankov's questions:
– What is the secret of the Siberian land that you win the second title here?
Boikova:  I don't know. We just love Krasnoyarsk very much, and Krasnoyarsk loves us. Thank you very much, we are really very glad to appear here again, to recharge ourselves with this atmosphere of Siberia, this power.
– Did you keep in mind that in 2019 they already won a victory on the same ice? Did you have a premonition that this time everything will work out?
Kozlovsky:  We remember our last victory very well, we remember it thoroughly. And of course, we tried to recreate for ourselves that magical atmosphere that reigned here three years ago. And as I said yesterday, there is strength in the full stands.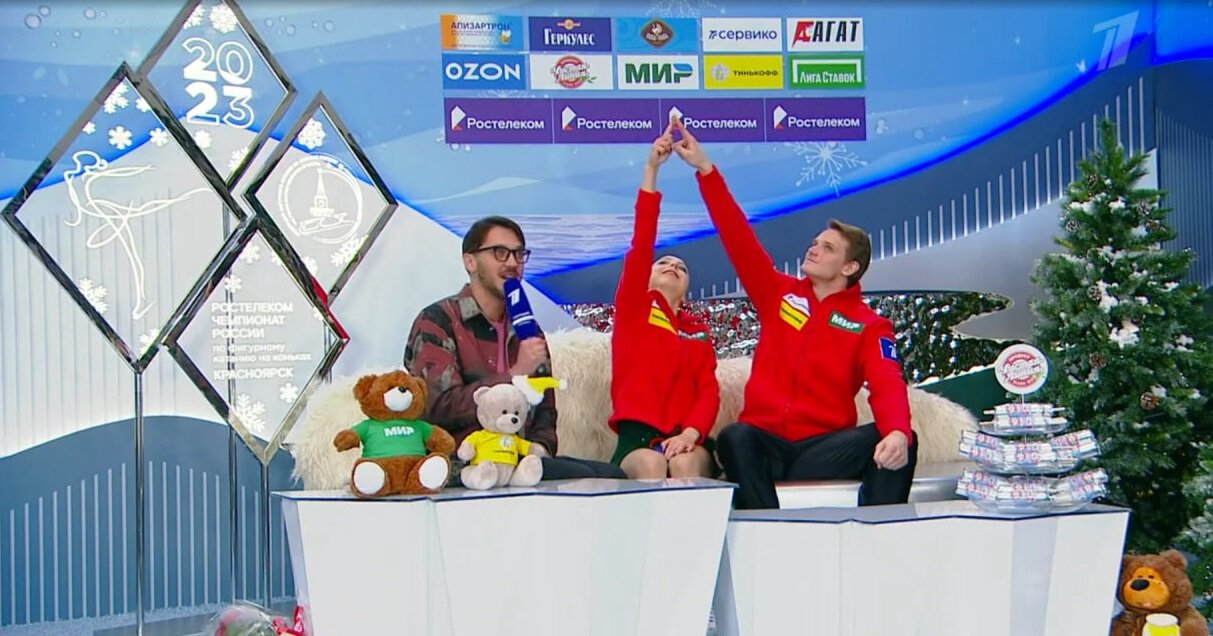 – You are very successful in post-Olympic seasons. Can you hold the palm until the next Olympics?
Boikova:  It's hard to guess. In any case, every athlete wants to be the first and do everything for this. We will see what happens next. We hope that we will work primarily with spectators, coaches, family and ourselves. Wins, of course.
Tell us about your plans for this new year?
Boikova:  I will meet him with my family, my cat – in the usual atmosphere, warm, joyful and festive.
– Will you take on the holiday those cats that you constantly throw on the ice?
Boikova:  Of course, I have them as pillows.
– Dim, what are your plans?
Kozlovsky:  I'm going to the forest. I'll rest, I'll gain strength. I wanted to thank each of you, wish you a Happy New Year and thank you from the bottom of my heart for spending this evening with us.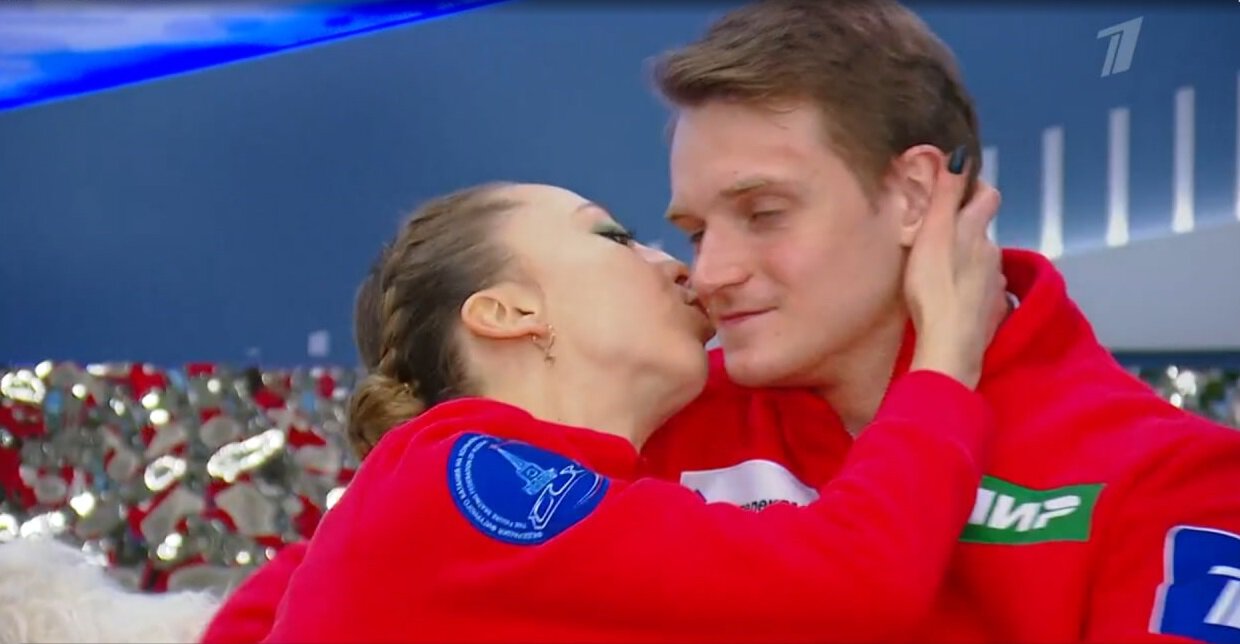 Russian Figure Skating Championship-2023
Krasnoyarsk
Couples
Final position
1. Alexandra Boykova – Dmitry Kozlovsky – 234.39
2. Anastasia Mishina – Alexander Gallyamov – 233.88
3. Evgenia Tarasova – Vladimir Morozov – 218.60
4. Yasmina Kadyrova – Valery Kolesov – 213.45
5. Ekaterina Chikmareva – Matvey Yanchenkov – 211.44
6. Natalia Khabibullina – Ilya Knyazhuk – 209.53