Lost in St. Louis.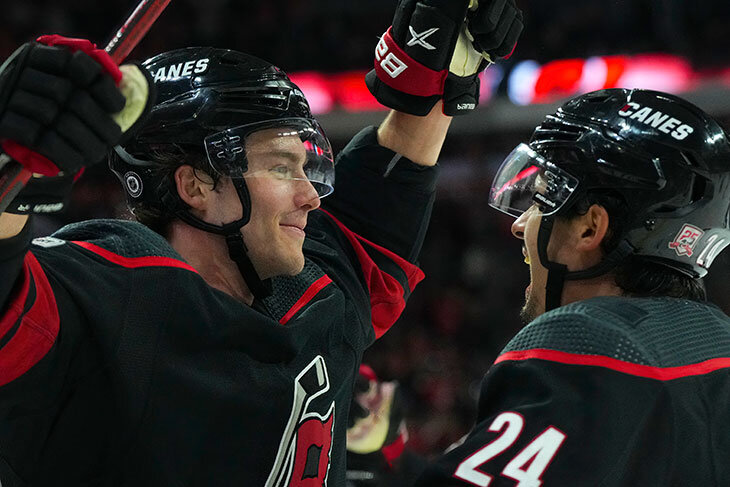 Before the start of the season, there was a lot of talk that this regular season should turn out to be a breakthrough for the Carolina forward Andrey Svechnikov. There were many indications that the 22-year-old striker would have a good season – but in fact everything is not going so smoothly. Although it can not be called a failure.
Andrei succeeded in the game against the Blues
After the exchange of leaders, St. Louis became a sweet bun and, apparently, put an end to this season, starting an active fight for the first pick in the draft. Maybe against this background, or maybe everything just coincided successfully, but Svechnikov broke through precisely in the game with the Blues.
Already by the 8th minute he had a double. In the first goal, Andrey made great use of the opponent's passive game in defense – dragging the puck along the board for so long, entering the zone and not meeting much resistance… Naturally, this guy will go to the net and find a moment to shoot – apparently, this was obvious to everyone except the defenders "Blues".
The second puck turned out somewhere even mocking. Svechnikov could finish off with one touch – and the puck bounced on a convenient hand, but he played very coolly and deceived the already won back Binnington.
At the end of the third period, with the score 4:1 in favor of Carolina, Andrei went for a hat-trick. Moreover, he did it in a brazen and his favorite way – in the style of lacrosse, but he slightly screwed it up. It's even a pity that he didn't manage to score – then this hat-trick would have been special.
And if this moment could worsen his mood a little, then another fact definitely raised him: the forward gave another assist, was on the ice with all the goals of the Hurricanes and earned a +4 utility for the match – his best result in his career.
How does it go with the season?
In fact, Svechnikov's game evokes rather conflicting emotions. From the second draft pick, you expect a more productive game, but perhaps he rests not on his ceiling, but on the limitations of Rod Brind'Amor's system.
On the one hand, it was clearly not the coach that prevented him from scoring in previous games – before that Andrey had a series of 19 matches without goals. If you look from the other side, he has not the worst performance in general – 49 (21 + 28) points in 56 matches. Perhaps the main question is that he does not have a sharp progress, although they are waiting for him, starting from at least high positions in the draft.
The average performance of Svechnikov is now approximately slightly lower than the level of previous seasons. He scores less points per game, but that's how it was before.