Updated for the New Year.
RPL-2022/23 top scorer Vladimir Sychevoi changed his club: he moved from Orenburg to Wings of the Soviets. The contract is for 3.5 years, the cost of the transfer is 100 million rubles.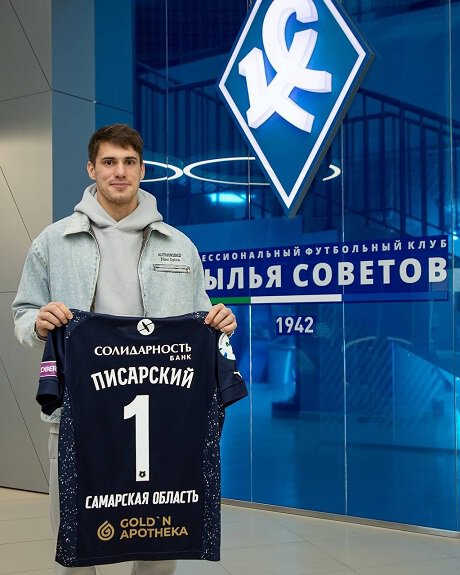 Sycheva has not yet decided on the number, but the surname is correct – now the striker will play under the name Pisarsky.
Vladimir loves his stepfather. I wanted to change my surname back in the summer, but I didn't have time
Sycheva has been talking about the desire to change his surname since the summer. For the first time, he announced this after a hat-trick against the Urals – at the same time he asked not to compare him with Dmitry Sychev.
"I think it's better not to compare me with Dmitry. Everything related to the surname will remain in this season. Before the championship I wanted to change, but there was not enough time. Now I will deal with this issue. I want the name Pisarsky to be written on the back, and everyone can see it."
The football player clarified: he wants to change his surname not because of his resemblance to Dmitry Sychev, but for the sake of his stepfather. "He raised me from an early age, there are no other reasons," said the Orenburg scorer.
In October, Vladimir once again showed his love for his parents. In the match with Dynamo, the striker scored a brace, and after the first goal he showed a t-shirt under the shirt "Mom, dad, I love you." On the back was the name Pisarsky.
"I have a stepfather since childhood, he raised me with my mother," Sychevoi said in an interview with SE. – I think and want to change my last name, because this father was from childhood, I consider him to be my own dad. When will you see this name on the site? As soon as it is possible to do so. I can still do it now, but I want everything to be official."
It seems that after moving to Krylia, all the formalities have been settled – Vladimir has already become Pisarsky on the Transfermarkt website, but he is still Sycheva on the official RPL page. Probably, the issue will be resolved already during the period of additional applications, which will begin on January 25.
And most importantly, Pisarsky should keep Sychevy's scoring pace – in the first half of the season, the forward had 14 goals and 2 assists in 15 matches.