The winter tournament in the Emirates, where four RPL teams are currently playing, is delivering highlights related to the experimental replay system.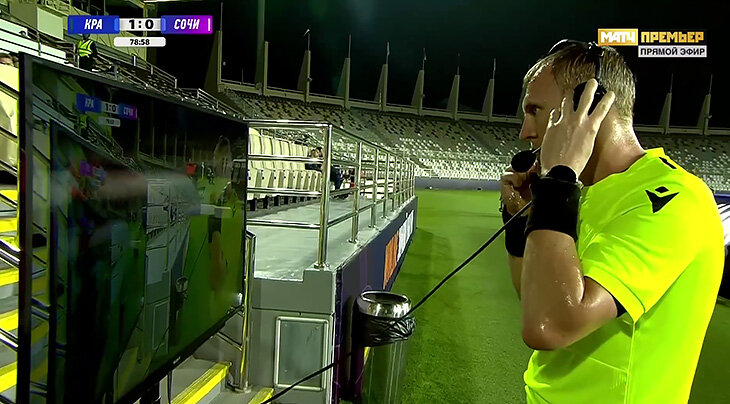 There is no traditional VAR system at the Winline RPL Winter Cup (which is logical, it would be too expensive), but teams can make one request per half – and the judge will go to the TV to review the episode and explain the decision live. On Thursday, "Spartak" tried to get a penalty for playing with the hand of "Rostov" – they did not, although in vain. In Friday's match, the challenge worked for the first time.
It was Krasnodar who asked to watch the moment with a foul by Sochi defender Artem Meshchaninov. He seemed to want to reach the ball, but did not reach the opponent and hit him in the leg from behind.
The chief referee Sergei Ivanov approached the screen for the second time in the match, in the first case he confirmed the decision not to give a penalty for touching the hand, and here he admitted that he made a mistake on the field. (If you don't see the telegram video below, you can watch it here ).
Ivanov politely greeted the control room both times, then he formulated the task: "The question is: did it come or not. If he stepped on the spikes, without trying to play the ball, it will be a red card.
From the first plan, I also did not see a violation on the red one ("No, he beats nearby"), but a repetition from another point quickly convinced him.
"And from this angle it's different, show it slower. (After a pause). Yes, spikes, stepping, the leg is being scrapped. This is a red card," it turned out clearly.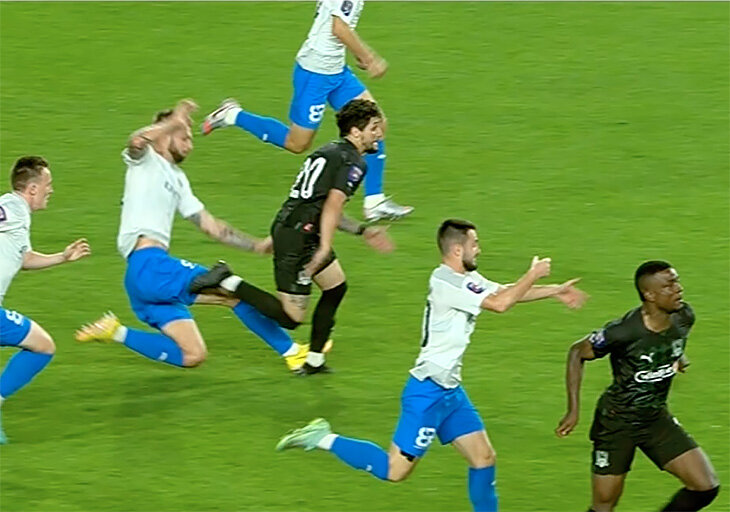 Surely not the most pleasant thing is to admit your mistake like this, even if it is a friendly match, but Sergey Ivanov said everything clearly.
Is it right?
"I won't say that it's concrete red, but Ivanov had reasons to say so," says Anatoly Sinyaev , a former judge and author of the Ale Ref telegram channel . "And a clearer explanation in terms of the rules. Typical orange, as they say. I think the audience of judges would be split 65/35 or 60/40."
Krasnodar was already leading 1-0 by that time thanks to Cayo's goal – and that's how it ended. But we will remember this game not because of the result.
Surely, in a normal match with VAR, such an episode would have turned into a removal even without the challenge – the video assistants would have watched the same replays and suggested to the chief referee that it was worth giving a red. But then there was an additional spectacle.
"It looks like the work of the VAR, somewhat truncated – because only on request," Sergey Ivanov shared after the match. – It is absolutely not difficult to formulate, because every moment in the game we also pronounce, we also explain. In the game, I saw a slight contact in passing, did not notice that the leg went into a bend. That's what VAR is for, to correct such errors."