Randy Couture is the oldest UFC champion who took the title at 43 years and 8 months old and held it at 45 years old. Light heavyweight Glover Teixeira (43 years and 2 months) wanted to get closer to the record, but failed – he lost to Jamal Hill and ended his career.
Couture is a former military and Greco-Roman wrestler who entered MMA at 33 and became a multiple UFC champion.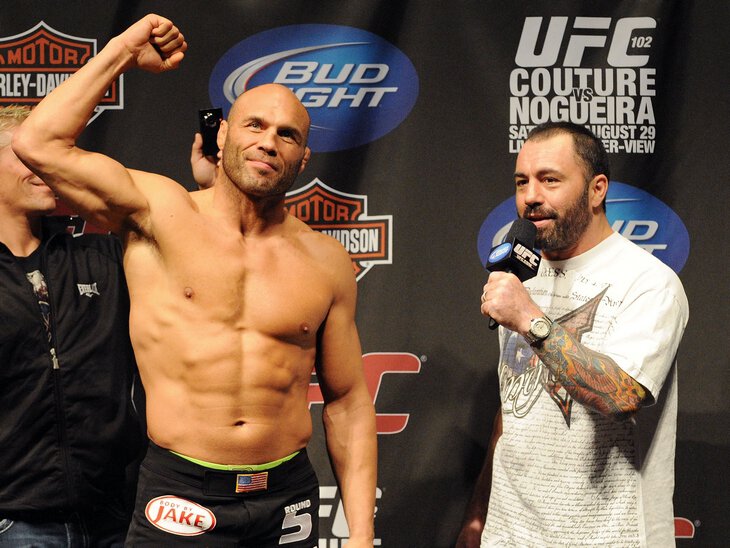 Randy Couture was fond of wrestling from school and became the champion of the state of Washington. Training continued in college, but stopped when his girlfriend became pregnant. Couture married and went into the army for six years to provide for his family. He became a sergeant in the airborne troops, but did not give up the sport. During his service, Couture became interested in boxing and continued to wrestle. By mistake, he was enrolled in the Greco-Roman team, and not freestyle wrestling – this determined the future.
In Greco-Roman wrestling, Couture won the Pan American Games in 1991. He gave wrestling ten years and got into the American Olympic team three times (in 1988, 1992, 1996). In 1997, Couture retired at age 33 and became a wrestling instructor at Oregon State University.
This year was a turning point: in May, he won UFC 13, passing Tony Hal and Steve Graham in an evening. In the same year, future MMA legend Vitor Belfort finished TKO. And he went to the title, in which he defeated Maurice Smith by decision.
A year later, Couture abandoned the UFC belt and went to Japan – the best fighters fought there. He lost twice by submission – to Anson Inoue and Russian Mikhail Gostyukhin (the former did not fight in the UFC 13 final due to injury). But he overcame the crisis, defeating Ryushi Yanagishawa and Jeremy Horn in one evening by decision.
In 2000, Couture returned to the UFC and fought Kevin Randleman, the fighter who head-butted Fedor Emelianenko in 2004, for the title. Randleman took steroids and struck with athleticism. In the first rounds, he destroyed Couture – he could knock out several times and dominated on the ground. But in the third he got tired and lost by technical knockout. So Couture became the UFC champion for the second time, and Randleman later joined his team.
Couture dropped down to light heavyweight, where he also took the title. He became the double and oldest UFC champion – at 43, defeating the young Tim Sylvia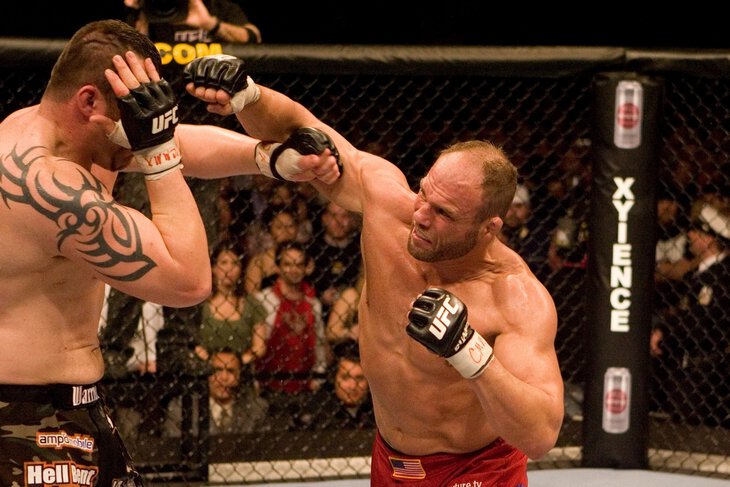 After that, Couture again left for Japan, where he defeated Tsuyoshi Kosaka (he accidentally won Fedor Emelianenko due to a cut at the beginning of the battle). But on the same evening, he lost to kickboxer Valentine Overeem (Alistair's older brother) – again by submission.
Couture has a lot of hit losses, although he is a good wrestler. He had gaps in technique, but this was compensated by endurance and character. Losing the first rounds, Couture often broke his opponents in the later ones.
In the same 2001, he returned to the UFC and defended the title twice, defeating Pedro Rizza. But then he lost to Josh Barnett and Ricco Rodriguez. The descent to light heavyweight was successful: there, Couture defeated Chuck Liddell and became the first UFC fighter with a championship in two weight categories. In 2006, Couture was inducted into the UFC Hall of Fame – three fighters got there before him. Then Couture had already lost the belt to Belfort, returned it in a rematch, but lost it again after losing to Liddell.
In 2007, Couture returned to heavyweight, defeated Tim Sylvia and became the champion. At that time he was 43 years and 8 months old – he set a record that he still holds. At 44 years and 2 months, Couture defended the belt, but then lost it to Brock Lesnar. At the end of his career, he fought with legends: he defeated boxer James Toney and veteran Mark Coleman in the UFC, but lost to Lyoto Machida. The karate strike was a spectacular farewell to his career – Couture retired from MMA when he was almost 48 years old.