Yevgeny Shevelev is still impudent.
Evgeny Shevelev is the most famous football analyst in Russia. Almost fifteen years ago, he started as a tactical writer for Sports.ru, and then plunged deep into football: he worked for InStat, Akhmat, the Kazakhstan national team, Khimki, Orenburg, Krasnodar and Sochi. Shevelev has been with CSKA for the last two years.
Alexander Dorsky talked with Shevelev about the attitude to numbers – which ones are meaningless, and which ones help CSKA to choose newcomers; work with Vladimir Fedotov, whom Shevelev left in Orenburg and Sochi; and building their own data collection system against the backdrop of sanctions.
The title of this interview is a reference to a conversation between Shevelev and Dorsky from the summer of 2019. What has changed in Shevelev's views in three years?
***
– Why did you leave Fedotov for Krasnodar and CSKA?
– These are approximately the same stories: they were driven by the desire to try themselves in a more developed club. Life has shown that you need to be more patient: a few months after my departure from Orenburg to Krasnodar, Fedotov moved to Sochi, and a year and a half after I ended up at CSKA, Valentinych came to the club.
Krasnodar is bigger than Orenburg, CSKA is bigger than Sochi, but I left Fedotov not only because of this. I wanted to organize work on a completely different level, create an analytical club and influence the digitalization of the club.
– How did Krasnodar come to you? 
– People close to Galitsky called. I flew to a meeting with Galitsky – we talked for five hours about the game and analytics. After that, we went to the base, where I met Murad Musaev.
After the fact, I understand that I painted myself the wrong picture of why I was going to Krasnodar. We talked about global changes in the club and analytics, but in fact I was doing the same video analysis in the coaching staff. A month later, I realized that for me, in terms of work in Orenburg and Krasnodar, nothing had changed in essence. All the same, only more.
There is no one to blame, before signing the contract, we did not say that I was going to Krasnodar to build something. Moreover, there was a separate scientific department that dealt with these developments – however, he was in the office, and I was at the base, we saw each other about twice. I myself did not take the initiative – it was necessary to work with the new coaching staff, two games a week, the routine outweighed. The club already had an analyst Misha Malyavin (he left Krasnodar in July 2022 – he spoke about the details of the work in an interview with Sports.ru ), and I did not understand why it was necessary to invite me.
At the end of December 2019, Fedotov called me and said that he was moving to Sochi and was waiting for me. I already thought that it was not entirely clear why I moved to Krasnodar, and then a good option turned up to return everything as it was.
I did not have any misunderstanding with Musaev. I am grateful to him and the club for this opportunity. Rather, I myself did not fully understand what I wanted.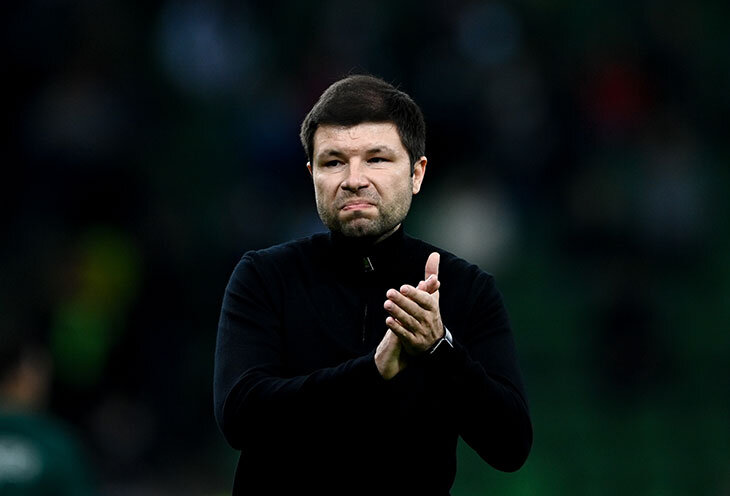 – Why, after a negative experience with Krasnodar, did you decide to leave Fedotov again?
– I refused to move to CSKA for six months. For the first time, the sports director of the club Andrey Movsesyan called, I immediately answered: "Thank you, I don't want to, I don't understand why I need this." After that, CSKA asked someone to recommend – apparently, it did not work out with anyone.
After one of the Moscow games of Sochi, Movsesyan again asked for a meeting. At it, I heard what I wanted: they called me to deal not only with video analysis, but with the creation of an analytical department. But even after that, I didn't say yes. Then Victor Goncharenko called and also told about big plans. It's not that I was gaining my worth, but after the experience with Krasnodar, I wanted to understand exactly where I was going and why.
This time Fedotov took my departure more simply, although it was still not the most pleasant conversation in my life. But my son was two years old, and Valentinych said: "In Moscow, conditions for a family are better. Who am I to forbid your son from moving?"
He came to Moscow to meet with Goncharenko, Roman Babaev and Alexei Berezutsky. They said: "CSKA is a family, you are here seriously and for a long time, you will develop and do what you love."
– It's funny about the family, considering that two years later Goncharenko and Berezutsky are not in CSKA.
– At any opportunity, I jokingly recall these words to Berezutsky. I have been in the team for two years and I am already a veteran of the coaching staff, no one works here more than me. Plus, the medical staff, administrators have changed, and the composition has changed a lot. Even from the last winter training camp, only nine players have made it this year. So yes, there are many changes.