A decent list.
Another graduate of Spartak starts at Lokomotiv: Artem Dzyuba moved to Cherkizovo after an agonizing search for a new club and today plays against his native club. Together with him, another ex-Spartak player, Maxim Glushenkov, moved to Loko in the winter.
There are quite a few football players who have written themselves into the history of Lokomotiv after Spartak – enough for the whole team.
Ruslan Nigmatullin (Spartak – 1995-1997; Lokomotiv – 1998-2001, 2003-2004)
Oleg Romantsev pulled Nigmatullin out of Tatarstan when he played brilliantly with Spartak for KAMAZ. True, Ruslan did not succeed in Moscow: in two years he did not become the main one, he regularly made mistakes and lost the competition.
In 1998, he was signed by Lokomotiv – and that's where Nigmatullin flourished. "Semin of that time, from 1998 to 2001, was just the perfect coach for me. Then the relationship changed. Probably, it was also my fault – now I understand that I let the team down by leaving for Italy, "said Ruslan.
In 1999-2000, Nigmatullin's wall stood for 10 matches (941 minutes) – this is a record dry streak in the history of the club. I especially remember the match with Tyrol: "It was to such a match and the climax of my career that I systematically walked for several seasons. The fact that it happened in that match… First of all, the scandalous decision of UEFA and the incredible integrity of the match had an effect. We can say that the forces of the whole country have been transferred to us."
About one of the crossbars: "Then I screamed the ball back. Physically, he could no longer do anything – only shout after the blow. There was nothing left in the arsenal. Maybe it helped – the ball hit the crossbar, "said Nigmatullin.
Soon Nigmatullin left for Verona, but played only one match there. Then he went on loan to CSKA and returned to Italy – he spent the season at Salernitana from Serie B, because the transfer to Lazio failed. And then there was a second arrival at Loko – however, Nigmatullin was no longer so good and sat behind Ovchinnikov. He even admitted that he did not feel involved in the championship and was not happy with that victory.
Vadim Evseev (Spartak – 1993-1999; Lokomotiv – 2000-2006)
Surprisingly, Evseev spent as many years at Spartak as he did at Lokomotiv. And for the most part, he is associated with Cherkizovo, although he caught on as many as four championships with Spartak, including the very title of the Yartsev pioneer squad in 1996.
He left for Loko from Spartak only for playing practice. And quickly fell in love with Yuri Semin.
Evseev spent six years in Loko until Anatoly Byshovets appeared in the team. He put veterans and, in fact, club legends out of the club: together with Evseev, Dmitry Loskov also went to the exit. With Lokomotiv, the current coach of Shinnik became the champion twice, got into medals, played in European competitions and won the Cup.
"Before going to Lokomotiv for a work book, I looked at Semin. Say goodbye. And he even told me: "If you want, you can finish now and go to work in the club." In general, I have a good relationship with Lokomotiv. Human. I am equally grateful to Yuri Semin and Valery Filatov. These two people took me to Lokomotiv, and neither one nor the other has ever done anything bad to me in all the years. I am grateful to Spartak for allowing me to prove myself as a footballer there. Semin and Filatov made me not only a player, but also a person, "said Evseev.
Roman Shishkin (Spartak – 2004-2010; Lokomotiv – 2010-2017)
Shishkin made his debut for Spartak back in 2004 with Nevio Scala, but spent the next two years in reserve and was about to leave. Then Vladimir Fedotov appeared in the team – and he raised the junior to the base.
The 19-year-old suddenly became the main right-back in the merry Spartak, even Guus Hiddink drew attention to him and called him to the Russian national team. Under Cherchesov, Shishkin also played a lot, but it did not work out with Valery Karpin.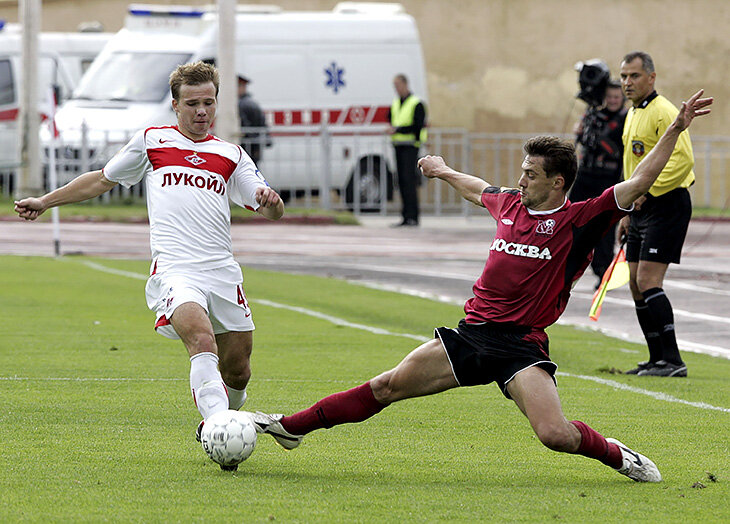 "2008 ended, I was called to the club. I hear from Karpin: "You don't even pass at 18." I did not expect such a turn. Still, the Spartak pupil dreamed of playing in this team. I was ready to plow and was not afraid of competition. But I was told: go for rent, there is nothing to catch here.
I had to go to Samara. The following season, all training camps were held with Spartak. He looked good, no complaints from the coaches. Here Amkar calls for rent, and Karpin again returns to the topic: "It's better to go. You don't want to sit on the bench, do you?" I understood that this would be another exile, from which, with all due respect to Amkar, it would be much more difficult to return to the football elite. He did not leave and did the right thing – in the summer he was invited to Lokomotiv.
Loko became a more important club for Shishkin than Spartak – for almost six years he was the main one in Lokomotiv. But it was not the best period in the history of Loko: they did not get higher than the third place in the championship.
Alexander Sheshukov (Spartak – 2002-2004, 2010-2012; Lokomotiv – 2014-2016)
Before going to Lokomotiv, Sheshukov played twice for his native Spartak – he appeared in the team in the era of Andrei Chervichenko, but was not useful even then. After the lease, Sheshukov wanted to start, but Alexander Starkov (he later also did not get along with Samedov) did not see him there.
"He didn't know about me. Sit down and get to know each other. Starkov hinted: "I'll take it to the training camp, but how do you feel about the fact that you will play for a double?" I said: "I want a basis!" – "Okay," Starkov says, "let's call you then before the New Year." The New Year passed, Starkov didn't call me – and I left for Luch, "Sheshukov recalled.
His next entry to Spartak happened only 6 years later – in 2010, when FC Moscow collapsed. At first, Sheshukov was one of Valery Karpin's favorites (remember this grandiose interview and "Became popular #### in general"? https://youtu.be/n10JahqFyQQ), but then the relationship deteriorated: "From a favorite, I turned into a double player" .
"Everything was on the rise, misunderstanding accumulated on many points. For example, according to his requirements for the weight of the players, the player recalled. – I asked Karpin: "Valery Georgievich, explain in a human way: why such a strict framework? And, most importantly, how to fit into them for those whose metabolism is not the same as that of Makeev? Everyone digests food differently. He had one answer: "Don't know how to fit into the weight? Don't eat." I answered: "What, a day and a half do not eat? Well, I want to eat." Karpin again: "Yes, don't eat – that's all."
Sheshukov looked at Lokomotiv two years later, in 2014, also in the era of Olga Smorodskaya. There he was a reserve player, but took the Cup.