"Gorky" from Kursk is an amazing phenomenon in Russian amateur football. The creators of the club are fueled by the ideas of local patriotism: they tell subscribers about the cultural heritage of Kursk and save interesting city buildings from demolition.
"Gorky", together with the creative association "Nothing Usual", came up with a cool uniform: on her chest is a map of the historical center of Kursk, and on her back are the numbers of houses that the club considers important for the city. If some of these houses are nevertheless demolished, then the numbers are displayed – like the numbers of big players after the end of their careers. So far, there has only been one such case.
Another important goal of Gorky is to set an example for other enthusiasts and show that football can be played with pleasure and without strain.
Three of the four creators of Gorky – Andrey Loktionov, Alexander Litov and Alexander Popov – told us what came out of this beautiful idea. Briefly about them:
Andrey Loktionov is the owner of the bar "Silver Fabrika", the musical center of the evening Kursk. He has been living in this city for a long time – in the past he even played for the local Avangard.
Alexander Litov used to be the editor-in-chief of several radio stations, and now works for a company that organizes pyrotechnics festivals. In 2019, he moved from Kursk to Moscow and has been helping Gorky remotely ever since.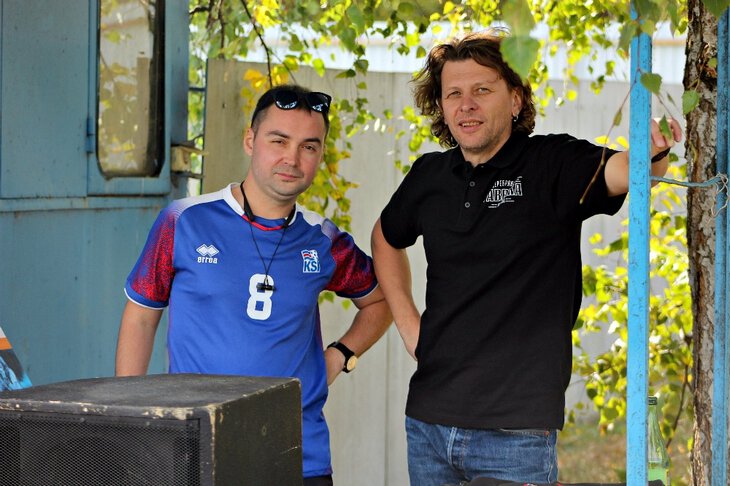 Alexander Popov in 1999 created the Ecologika company – it is engaged in waste processing. Ecologika has been the title sponsor of Gorky since its inception.
Another founder, former Chempionat journalist Anton Mikhashenok, who later worked as a coach at CSKA and Khabarovsk SKA, has already left the club. He did not respond to our offer to talk.
"I listened to all this nonsense and realized that this is childish and cosmic. But it had sparks." How did Gorky come about?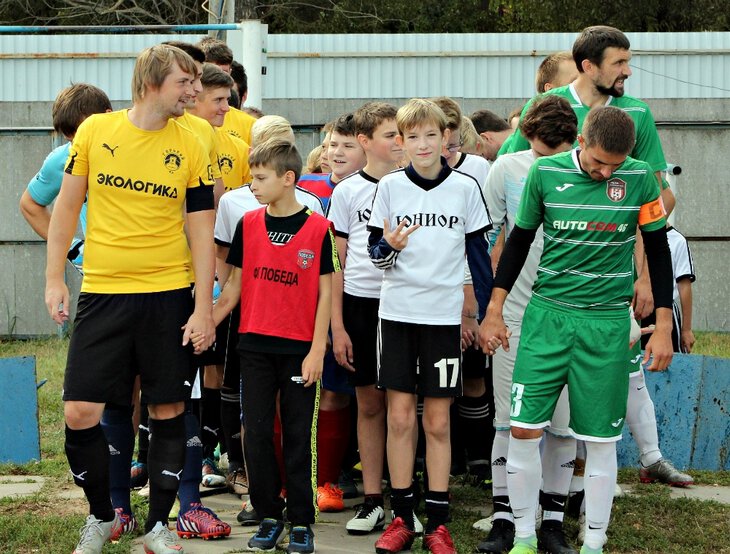 Andrei Loktionov says:
– In the late 90s, I stopped playing football professionally and decided to go into business. In the early 2000s, we created an amateur football club in the Oboyansky district of the Kursk region. They built a stadium from scratch in an open field, bought a bus and won the love of fans: for home matches, the queue of cars stretched for a couple of kilometers. Subsequently, this story began to fade, as, perhaps, everywhere in Russia.
I didn't even think that someone else would drag me into amateur football, but Gorky appeared four years ago. After the first minutes of communication with Alexander and Anton, who came to me with this idea, I thought that they were in a good way fucked up, which I still consider myself to be. Anton was the main inspiration. I listened to this nonsense and realized that it was childish and cosmic, but there was a spark in it. Then I thought: "What am I risking?"
Some ideas seemed utopian – for example, Anton wanted to recruit players from the yards, as in the favelas of Brazil. He thought that after that, everyone's eyes would immediately light up, they would begin to support us everywhere, there would be results. We got burned on this and decided to move towards the youth who have been playing football since childhood. This season we have partnered with a sports school, reached the Cup semi-finals and 4th place in the championship of the Kursk region.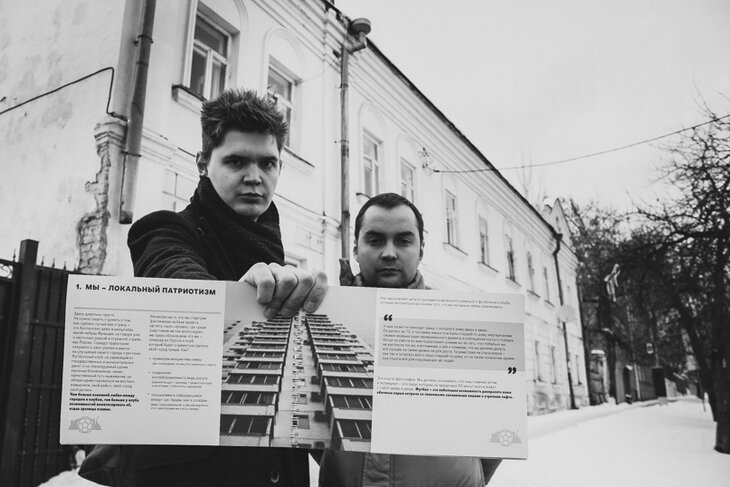 Alexander Litov recalls :
– My friends and I have always wanted a football team. Anton inspired us in many ways to create Gorky – he infected us with the idea. We thought, "Why not? Nobody has done this before – let's try it."
I wanted to create not just some kind of team that would play in the Black Earth Championship, without standing out from the rest. We imagined that it would be a club with moral and cultural values ​​that we would share with the fans. We also wanted to be interesting to look at on the football field and far beyond.
Kursk is similar to many other Russian cities. Coming up with something new, interesting and unique in a modest city is wonderful. We hoped that this idea would attract people and convey our principles – the desire to preserve the cultural heritage of Kursk. Thanks to Gorky, we learned a lot about the city – not only subscribers, but myself. It turns out that the house I walked past on weekends carries a lot of stories behind it, and famous people whose works I read have been to Kursk. For example, the artist Kazimir Malevich lived in house No. 13 on Pochtovaya Street, and the poet Daniil Kharms was settled in house No. 16 on Ufimtseva Street for the time of exile. All this is nearby, and you feel involved. It's amazing.
Alexander Popov says: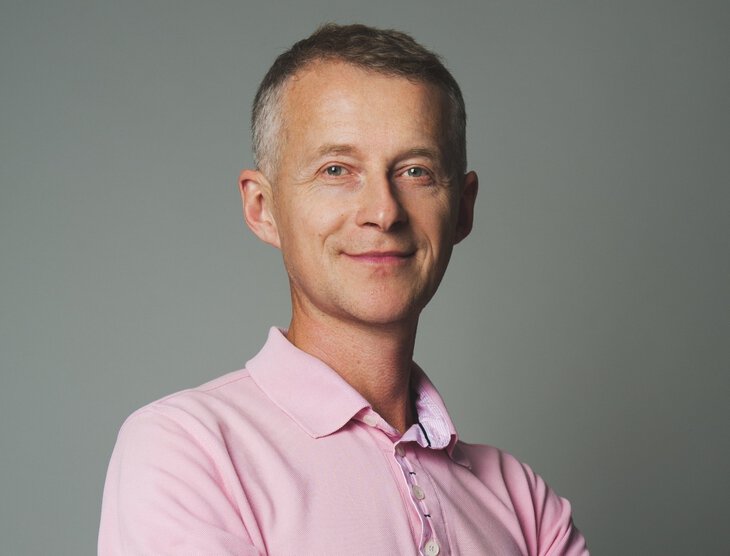 – I really liked two things. First, this is amateur football in its purest form. We do not pay anyone, we find enthusiasts who will also be fascinated by the idea. Secondly, this is a socially significant project. Gorky is named after one of the oldest streets in the city. For a long time they were going to make it a pedestrian one, there are many buildings of the 18th-19th centuries on it. We are trying to fight for cultural memory. We decided that we would withdraw the game numbers from circulation in the event of the demolition of buildings. There has already been one such case – they demolished a house at Mozhaevskaya, 10.
Not only men are interested in the club, but a variety of people who are interested in watching how we work to preserve the old city and, in particular, Gorky Street. But we do not only deal with it – we also monitor the surrounding streets. If we see an interesting neglected building that we can compete for, then we do it – we work with the administration, various funds, and communicate with local residents.
Because of these ideas, Gorky hooked me.
Gorky is named after a street in the center of Kursk. House number 26 on it is the first one that the club fought for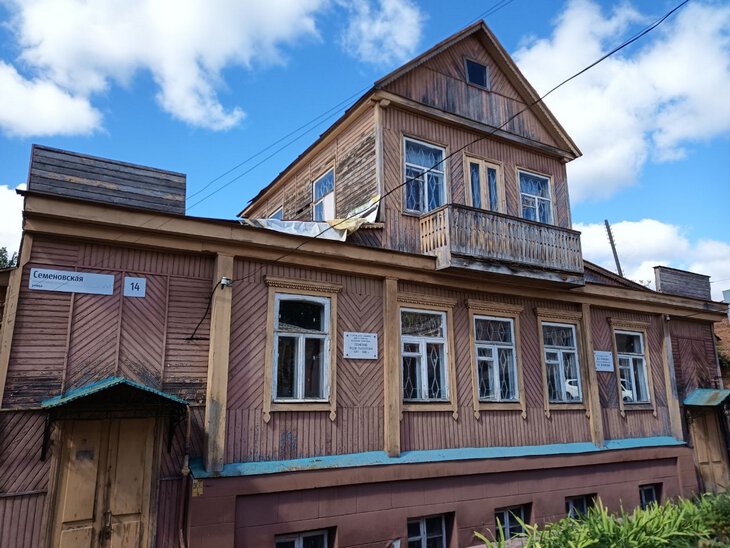 Alexander Litov says:
– When creating the club, we wanted to associate ourselves with the historical center, where there are many old buildings. There is a well-known phrase of Lomonosov: "A people that does not know its past has no future." I completely agree with her.
In early February 2018, news slipped through about plans to demolish house No. 16 on Gorky Street. We were the first to actively urge the local administration to save the house, launched a flash mob . There was a resonance, we were supported by the people of Kursk and local journalists. Together we managed to defend the house. Now it has been almost completely dispersed.
"Many don't care: "Again, some old house was demolished." "Gorky" speaks sharply about the loss of Kursk
In September 2021, Gorky released a uniform together with the Nothing Ordinary creative association. A map of the historical center of Kursk was depicted on the chest, and instead of names, addresses of the most interesting and important buildings of the city appeared on the back.
Gorky presented the form with a daring video, showing how historic buildings are being destroyed in the city.
"The city decommissioned house number 10 on Mozhaevskaya Street. Soon we may not have enough numbers even for the starting lineup. A city without history is doomed to remain without history," this is how the club expressed its disagreement with the urban policy of Kursk.
Alexander Litov says:
– We did not have the desire to dip someone, to show: "Look, what kind of goats you are, it's all because of you." No, we just wanted to share our thoughts. We had them in common – so that in our native city, which we love madly, stories, objects that carry these stories, some places, courtyards are preserved. This is just a sincere desire that we expressed.
We were told: "Guys, let's take it easy." There was no serious conflict with the authorities. In modern realities, one does not want to go into direct confrontation with some apparatus at all. But we still believe that it is right to speak out and talk about what worries us. We also want to influence what is happening and make the city more interesting and attractive. Now you don't travel much anywhere, so there is a lot of talk about domestic tourism. But for its development, it is not enough just to talk – you need to do something. We try our best not only to speak, but also to do.
"Gorky" is open to everyone, but many, unfortunately, absolutely do not care what is happening: "Again, some old house was demolished." For them, this is unimportant. If there are two garbage containers, in one of which you can throw plastic, and in the other – mixed waste, it doesn't matter to them at all either – they throw garbage wherever they want. There are really a lot of such people.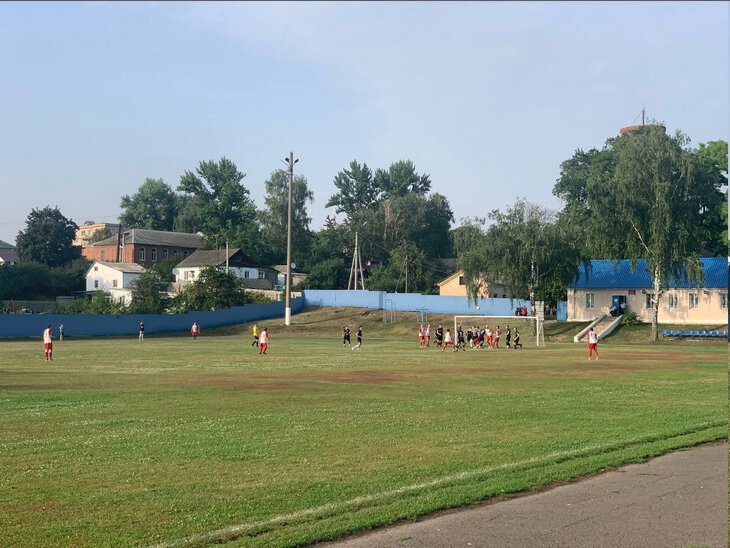 Andrey Loktionov recalls:
– Local authorities took this video somewhat ambiguously – it turned out to be very effective and harsh. It even seemed to someone that we were trying to denigrate the administration or the leadership of the region. But with this video, we just wanted to open their eyes.
Upstarts are not particularly liked in small towns. When someone starts doing something, a lot of ill-wishers immediately appear, who quietly find fault with you behind your back. Either the name is stupid, or the ideas are crazy. Many simply do not understand us and believe that we are fools, because we have been playing for four years, and we have not risen above the seventh or eighth place before, we are foolish. But we do not deviate from our ideas. "Bitter" is more of a highlight for certain people, but we really want to see more of them.
Fortunately, no other houses have been touched so far. Either our video had a good message, or the authorities changed their mind without our influence. But the bottom line is important.
Another telling story. We did a photo shoot for the presentation of the new form in the Ufimtsev Museum, which was abandoned (this is the house where the self-taught inventor Anatoly Ufimtsev lived, he designed aircraft – Sports.ru). Literally six months later, money was allocated for its reconstruction. Maybe this is not connected with us, but the result is pleasant.
We continue this line. We find an architectural monument or an interesting sight in each city where we go on a trip, and tell footballers and subscribers about this place.
Separate waste collection at Gorky matches. In the plans – cleaning in the park next to the stadium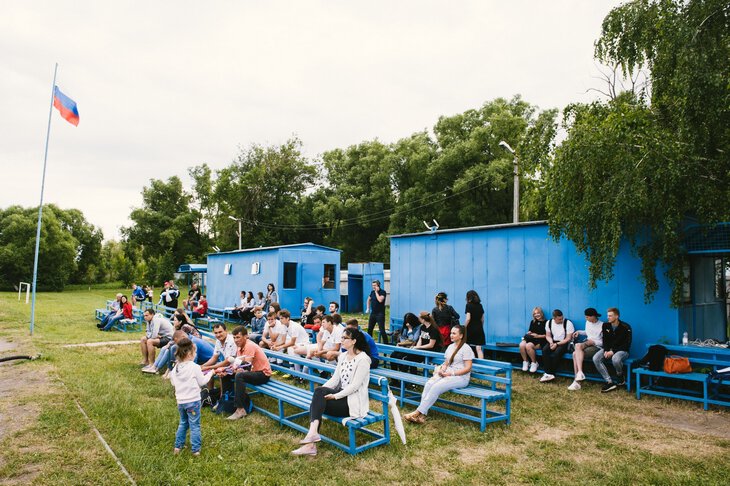 Alexander Popov, founder of Ecologika, the title sponsor of Gorky, says:
– We are interested not only in commercial benefits, but also in the social aspect. I would like to convey to people which waste can now be disposed of responsibly, and which cannot yet. We tell you how to properly sort the garbage at home or at work.
Previously, Gorky played at the Mercury stadium, and there we installed three containers for collecting garbage – under glass, plastic and waste paper. This year the club moved to another stadium due to the reconstruction of "Mercury" under the rugby field. At the new stadium, we put two containers – without glass, because neither the municipal company nor Ecology has garbage trucks to take it out.
We periodically invite Gorky players to one of our production sites in Kursk to see what Ecology is doing. I usually organize this event – I invite players after hours and tell them what they are made of. For example, plastic bottles can no longer be made into plastic bottles, but they can be recycled into fabric for upholstery on sofas or car interiors.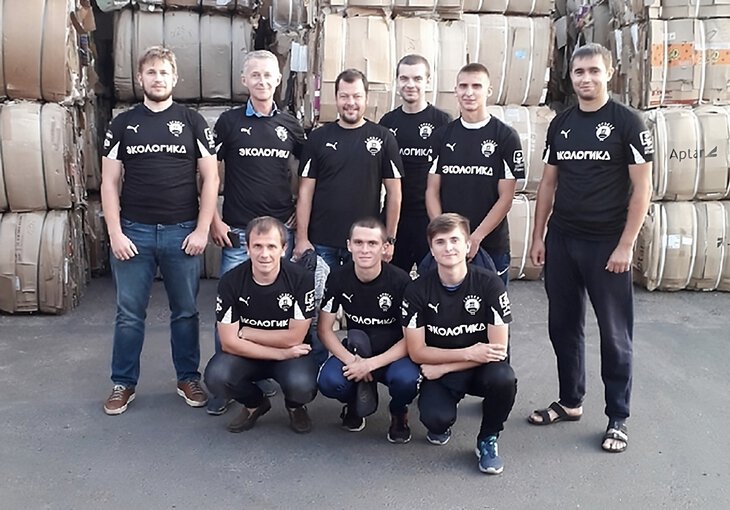 The field where we play this year is near the park. This natural peninsula, surrounded by a river and a lake, is one of the main recreational areas in Kursk. The players and I plan to clean up there.
"Gorky" is not only about the protection of architectural monuments, but also about caring for the environment.
Gorky's money: budget – 300-400 thousand rubles a year, total savings, everyone works and plays for free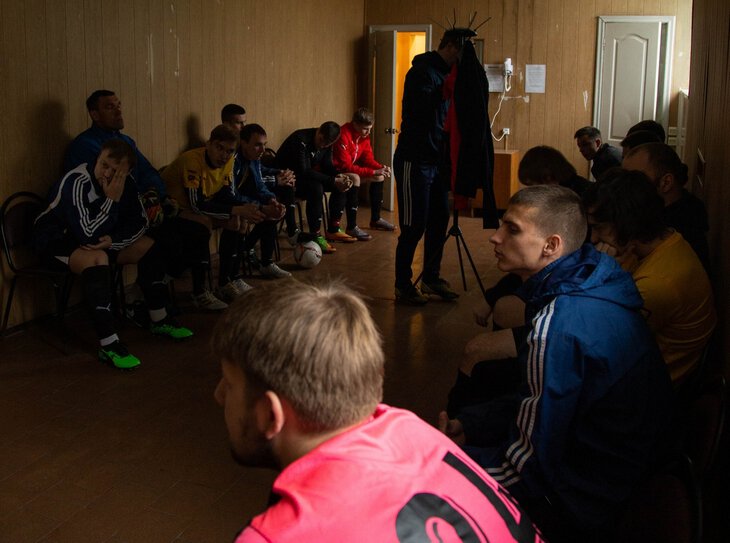 Alexander Litov says: 
– The budget of "Gorky" is about 300-400 thousand rubles. We mostly spend on logistics. We do not pay for football fields, because we cooperate with sports school No. 4, the guys from which play for Gorky. We save: for example, in order not to invite a person with a machine for marking the fields, who needs to pay four thousand rubles, our coach and his assistant apply it themselves. Bought paint and saved about 2000 rubles.
The main income is sponsorship money from Ecology and the local branch of Rosselkhozbank. There are also donations. These are mostly small amounts, but they allow us to cover expenses for doctors, photographers and videographers whom we invite to matches.
There are no salaries in Gorky. For example, my official position is the chairman of the board of directors. They called me several times from the Ministry of Justice and asked: "Do you even have any kind of work schedule? Is anyone formalized? Salaries, taxes, deductions? We don't have that. We do everything with sheer enthusiasm. We do everything. Not only me, Andrey, and our cool designer-copywriter Ilya Voloshin, but also football players.
Alexander Popov says:
– We cover registration fees for Gorky, pay for fees, buses, food – areas where volunteers are no longer found. The budget is small – in connection with the February events, we reduced it by 25%. That is why Rosselkhozbank was attracted. These are not huge numbers for Ecology, but it will be difficult to pull larger expenses. Although the company has been around for a long time, it is not that big. We cannot afford the budget of the Second League team.
"The owner of the factory thinks: "I want a team, I will pay the guys a thousand each." It's normal, but it doesn't develop football." Talk about the identity of "Gorky"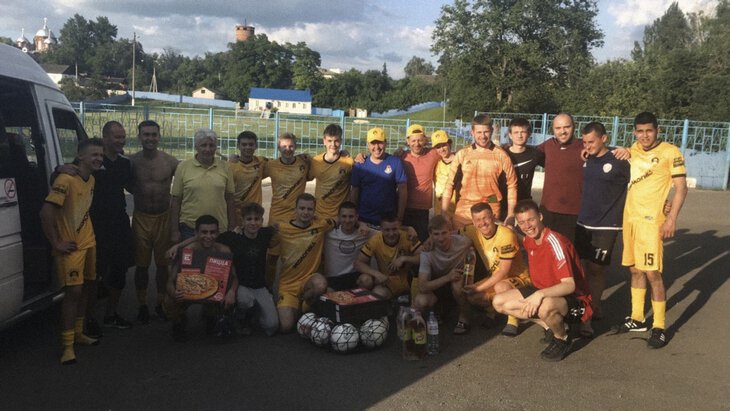 Alexander Litov says:
"Identity is very important. Without it, you can mix with the total mass. For example, there is a factory owner who thinks: "I love football. I want a team to run for me, and I will pay the guys a thousand per game. Well, why not? This is a completely normal desire. But more often than not, he does it exclusively for himself. He does not have a goal to make people go to matches, he does not want to develop football. Gorky simply has a different path.
Andrei Loktionov says:
– If you compare the views under the posts of the Kursk Avangard and Gorky, it will be about the same. And sometimes we have more. But, excuse me, who are we and who are they? It's just that no one is interested in playing football anymore. People from different cities buy our uniforms – orders came not only from Moscow and other large Russian cities, but also from Thailand and Kazakhstan. With Avangard, the club in which I played and definitely love, one could also come up with a lot of interesting things. But now it's just a boring logo and uniform like everyone else. And people want something alive. If you also play football well, then it's generally great.
"Bitter" is like a capricious child. At the end of each season, we doubt that we should continue." The most difficult moments in the history of the club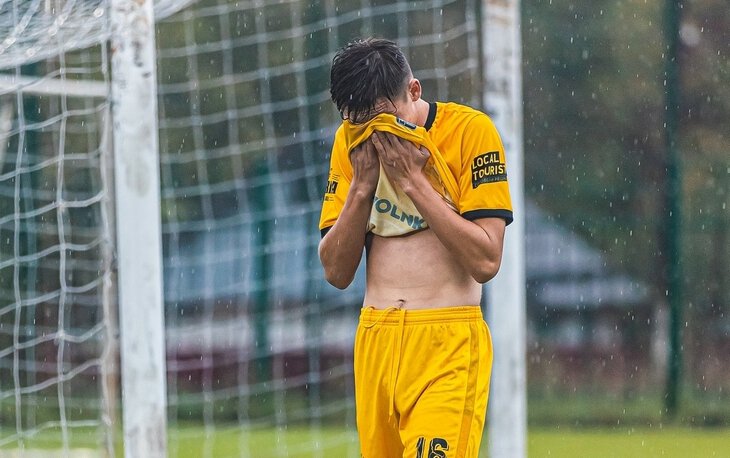 Alexander Popov says:
– Of course, it happened that I doubted whether it was necessary to continue sponsoring Gorky. It was difficult when our ideological inspirer Anton Mikhashenok left the club (ex-Championship journalist who worked as a coach at CSKA and Khabarovsk SKA – Sports.ru). It was not possible to find a replacement for him, his hands dropped. Another such moment happened when we were told that Gorky would not have a field (before this season, due to the reconstruction of the Mercury stadium, where the team used to play, under a rugby field – Sports.ru). I had to do a lot to understand where to go. It got to the point that we asked for an empty field, which we were ready to restore. As a result, they solved the problem by merging with the Children's and Youth Sports School No. 4 – and again they were inspired. There were also sports disappointments. For example, last season, when Gorky was in the penultimate place.
In covid, we did not understand at all whether Gorky would be allowed to play, and Ekologika would be allowed to work. If the company were sent to a remote location, the budgets would have to be frozen, including for sports needs. But we didn't close for a day because we were recognized as a vital service. So we worked and supported the club.
The February events of 2022 are a shock. We didn't know what would happen to the industry. Many companies have completely curtailed their sponsorship activities and stopped supporting social projects. We did not do this, although these events hit us very hard in the field of waste paper, cardboard and paper. Prices dropped terribly because our buyers, the pulp and paper mills, lost so many customers. Companies that bought a huge amount of packaging left the market, for example, McDonald's and manufacturers of household chemicals. Because of this, factories have reduced not only purchase prices, but also volumes.
It was very hard, but we decided to stay with Gorky. I am such a person – I try to go to the last and believe that everything will be fine. Over the winter, "Gorky" scored a good squad. It would be a pity to leave, the club did not have time to search for a new sponsor. So we are with Gorky in 2023. Difficult moments in football clubs always happen – the budget, the field, the loss of a coach, a bad game. But you have to believe in the idea.