Incredible statistics of a four-time champion.
Sebastian Vettel retired from Formula 1 after 16 seasons – and with incredible statistics: he has 300 Grands Prix (7th most in history), 53 wins (3rd), 122 podiums (3rd) and 57 pole positions (4th), and until 2022 he also finished 14 seasons in a row with the podium – the third longest streak for Formula 1.
Cebu, on the other hand, is not so interested in statistics and records – he would prefer to be remembered as a person, and not as a line on Wikipedia. He spoke about this both in a farewell interview and in the announcement of his resignation:
"How will I be remembered? I don't know. The next generation is already here, so you can root for a whole scattering of other riders. I feel no desire or need to be remembered. Not because all my accomplishments are not valuable – simply because there is always "tomorrow" ahead. This is the part of me that is always looking to the future. Sometimes it prevents me from enjoying the present.
But, of course, it's up to the people to decide. I have always tried to be honest. I have always tried to be kind to people. They remember how many races or championships I've won, but I'd rather be remembered as the kind, considerate just me. If for all these years I have brought joy or entertainment to people, then that's great, but you don't need to remember me with banners or posters. It's just how I feel.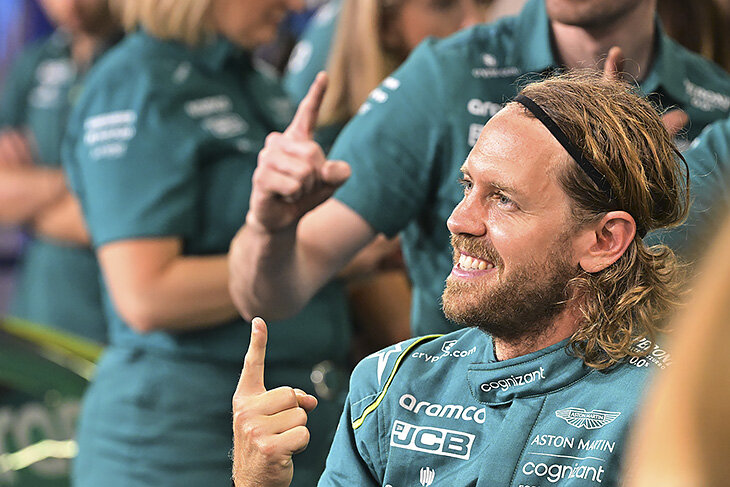 I have other things going on in my life. And, you know, sometimes it's good to be distracted: you come home – and my house is not about racing at all. Quite the opposite. There are no pictures of me on the walls or anything like that. And I like everything. I never wanted another home – it's not about me. Home is home, it's for the family.
That is, I have a place where all these things are stored. I'm a little… Not nostalgic, but I collect things. Not a collector, but I keep a lot of things because I think: "maybe one day it will be nice to have them." Small gifts from fans, their drawings, crafts.
The marks I left on the tracks will stay for a while, but the rain will wash them away anyway. New ones will take their place. Tomorrow belongs to what is formed today. The next turn is in good hands and the new generation is already turning."
And what will the new generation have to transcend? Vettel's career has collected many powerful records – 18!
Records that remained with Vettel at the end of 2022
The youngest pole winner at the 2008 Italian Grand Prix at 21 years and 72 days. Not beaten so far – Charles Leclerc was 93 days short.
The youngest owner of a pole and victory (again Italy-2008) and a hat-trick (pole, victory and fastest lap – Great Britain 2009).
The youngest world champion – 23 years and 134 days, 2010.
The youngest two-time world champion – 24 years and 99 days, 2011.
The youngest three-time and four-time champion.
Longest winning streak – 9 Grand Prix in a row in 2013 (from Belgium to Brazil). The previous record holder is Alberto Ascari with seven victories in 1953.
Most poles in a season – 15 in 2011 (out of 19 Grands Prix). At the same time, Seb repeated Nigel Mansell's 1992 record of 9 pbd ​​from poles.
Most lead laps in a season – 739 out of 1133 in 2011. For comparison, in 2022, Max Verstappen led only 616 laps with a record 15 wins and 22 Grands Prix.
The most objectionable record is the fastest F1 violation in history: it took Vettel just 6 seconds in debut practice for the 2006 Turkish Grand Prix to receive a speeding ticket in the pit lane.
Lost Records
The youngest driver to score points was at the 2007 US Grand Prix at 19 years and 349 days. The first race! After 7 years, the record was broken by Daniil Kvyat (by 25 days), then by Max Verstappen (by more than 2 years), and then by Lance Stroll in 2017 and Lando Norris in 2019.
The youngest Grand Prix winner was in Italy in 2008 at 21 years and 73 days. Max Verstappen beat only after 8 years!
The youngest podium winner is back in Italy in 2008. Also killed by Verstappen after 8 years, and then by Stroll in 2017 and Norris in 2020. By the way, Kvyat with his first podium was only 18 days away from Seb!
The youngest leader of the race – the Japanese Grand Prix of 2007 at 20 years and 89 days, was killed by Verstappen in the same great Spanish Grand Prix of 2016.
The record for victories in a year – Vettel had 13 in 2013, as did Schumacher in 2004, but Verstappen surpassed them in 2022.
The highest number of podiums in a season – 17 in 2011 (another record shared with Schumacher – Michael had the same number in 2002). Beaten by Verstapen in 2021 with 18 podiums and repeated with 17 in 2022.