An unusual thing happened this season: for the first time in a very long time we have not seen Arturo Vidal in the composition of anyone in Europe's top club.
But there was still an opportunity to look at the passionate midfielder in the game against the European giant. But it seems that it didn't work out: his Flamengo sensationally flew out in the semi-finals of the Club World Cup. Intersecting with Real Madrid will now be extremely difficult.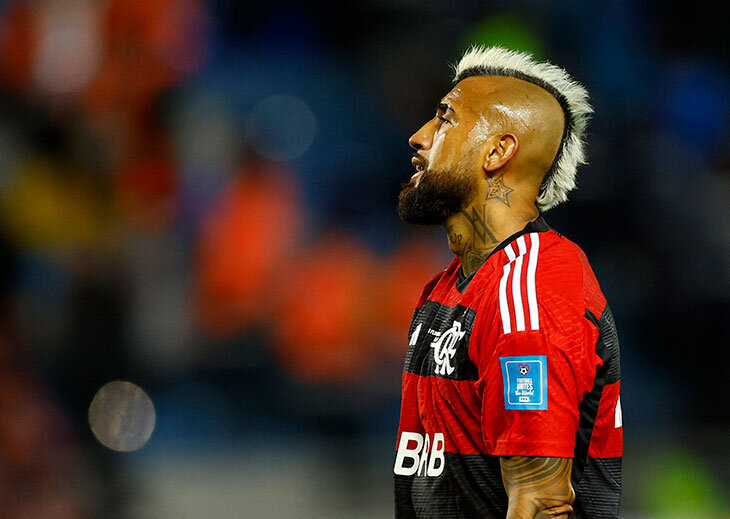 So Vidal will not interrupt the sad statistics of the last matches with Madrid (just in case: today Real Madrid is playing its semi-final against Al-Ahly and is seen as a clear favorite).
But it was such a memorable promise.
Vidal warns Real Madrid after Copa Libertadores victory
In the summer of 2022, Vidal left Inter and moved to Flamengo, where he immediately attracted two trophies – the Brazilian Cup and the Libertadores Cup. The final of the latter took place in Ecuador against Atlético Paranaense – Flamengo won 1:0.
Vidal came on as a substitute in the second half and grabbed a yellow card four minutes later. He helped the team bring the game to victory – and won the prestigious title along with David Luiz, Georgiana de Arrascaeta and ex-Spartak Ayrton.
During the awards ceremony after the game, Vidal shouted into the microphone: "Real, we will kick your ass!"
There were three months left before the expected meeting at the Club World Cup.
Vidal did not reach Real Madrid – he lost to the Arabians in the semifinals
Flamengo was considered the favorite in the semi-finals with Al-Hilal, but forgot that midfielder Salem Al-Dosari has excellent experience in defeating the South American giants (yes, we are talking about the World Cup in Qatar). Two converted penalties and an assist from the Saudi brought his club an unexpected 3-2 victory, so Al-Hilal will play in the final.
In the same place, most likely, will be "Real".
Vidal went to the last ten minutes, gave 12 accurate passes out of 15 and did not win a single combat. Flamengo had to play a match for third place, and even the Brazilian press mocked the defeat.
Vidal and Real Madrid: he was proud of his interest, he wanted to move, and then he called the players mice
In the early 2010s, Arturo played for Juventus, but rumors often sent him to Real Madrid. Vidal himself usually reacted like this: he is proud that such a club is interested in him, it is a great honor, but at Juve he is happy.
And in 2013 he said: "Real" is a good team, great players play there. It would be nice to go there one day." Moreover, this happened after the defeat in the Champions League and at the moment when he was actively discussing a new contract with Juventus.