Explanation from commentator Oleg Volodin.
Islam Makhachev and Alex Volkanovski will have a title fight at UFC 284 in Australia. Volkanovski is the featherweight champion and number one in P4P. He will move up to the lightweight division (for the first time since his debut in the UFC) to pick up another belt.
We asked MMA commentator Oleg Volodin about Volkanovski's strengths and how the transition from one division to another affects fighters.
Makhachev and Volkanovski are from different divisions. Will this factor be decisive?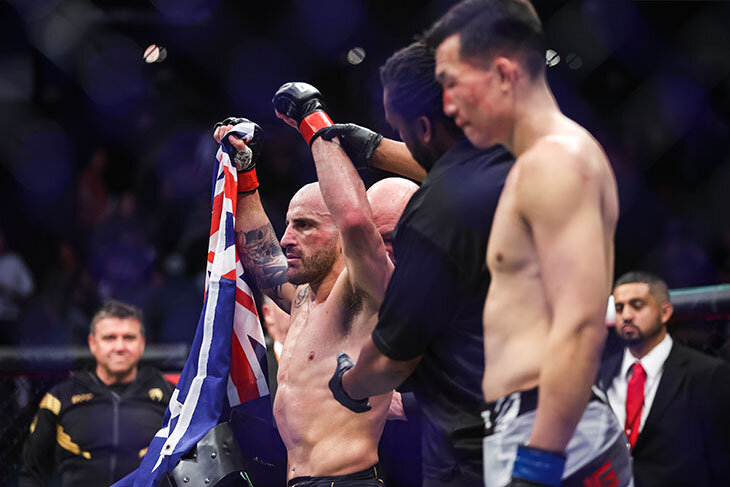 Makhachev and Volkanovski perform in different weight categories – light and featherweight. Volkanovski made his UFC debut in 2016 and fought in the lightweight division for the first time. After that, he moved up to the featherweight division, became the division champion and made four successful defenses since 2020.
"The fact that a fighter is moving up a category doesn't mean anything. Most dual champions in UFC history have moved up in weight. And to make Volkanovski an outsider just on the basis of his transition to lightweight is stupidity. Another issue is the opponent's style. It seems to me that Makhachev would be uncomfortable for him even at 66 kilograms if Islam spoke there.
After moving up a division, will Volkanovski have a speed advantage or is there a risk of slowing down?
Before joining the UFC, Volkanovski was a rugby player and weighed under 100 kg. In Australia, he became the national champion in the weight up to 85 kg, and in MMA he performed in the welterweight, lightweight and featherweight divisions. In the off-season, his weight was 75 kg, and before the fight with Makhachev, Volkanovski must meet 70 kg.
"There is always risk. Alex says he put on a lot of weight for this fight. That means he doesn't have to be as agile as a featherweight. But Makhachev is probably not as fast as the guys in 66 kilograms. On the other hand, perhaps Volkanovski just wants to mislead the opponent.
We have seen many times fighters lift one-shots and get frustrated because the body just can't function the way it used to. Excess weight affects even with the right, competent eyeliner.
I understand that Volkanovski used to fight at 70 and even at 77 kg, but that was 100 years ago. Since then, he has worked hard to bring the body to the maximum results in the featherweight division. I'm afraid that three or four months will simply not be enough for him to prepare him for the same effective work in the lung. Not to mention bringing the fight up to the right level."
How will height and arm span difference affect the fight?
Volkanovski is 10 cm (168 cm) shorter than Makhachev, but he has more arm span. Now Volkanovski has a series of 12 victories: all rivals, except for Chad Mendes (also 168 cm), were taller than him. At the same time, the tallest is Max Holloway (180 cm). He is taller than Makhachev and had three title fights against Volkanovski – he lost all of them.
"Arm span is a bit overrated. By itself, the rich does not affect anything, you must be able to use it. Jab placement, footwork, perfect combinations, speed and sharpness – if all this is there, then the reach of the arms gives a huge advantage. Volkanovski knows how. He had already shown this many times, interrupting the guys who were taller and bulkier.
But Makhachev fights in such a way that opponents simply do not have a chance to use their strengths. He has trumps in the form of clinch and wrestling, which by default beat all opponents' trumps. Plus, he constantly adds to the shock. It turns out that Volkanovski has already defeated opponents who are taller and bulkier. But objectively there were no such as Islam among them."

In what components is Volkanovski really stronger and more dangerous than Makhachev?
Volkanovski is 10th among fighters in all UFC divisions in positive punch difference (3.26). Among featherweights, he is in the top 3 in terms of the number of accented punches (1372) and their accuracy (56.6%). Volkanovski landed about five times as many accented punches as Makhachev, although he fought one fewer fight.
"He always has the perfect plan and confident execution. If you look at the fights against Holloway, then the main trump cards are positioning in the cage, positioning relative to the opponent, he builds great combos on the explosion, controls every movement, steps very cool inside and outside the legs.
But then again: it was all in featherweight and against the background of Max, who is absolutely opposite to Makhachev. In addition, Islam is left-handed. When Holloway got left-handed, Volkanovski had problems.
The main question here is different. To have a chance to win, Alex must simultaneously become much stronger and not lose speed at the same time. But I do not believe it, because he did not have enough time for such maneuvers.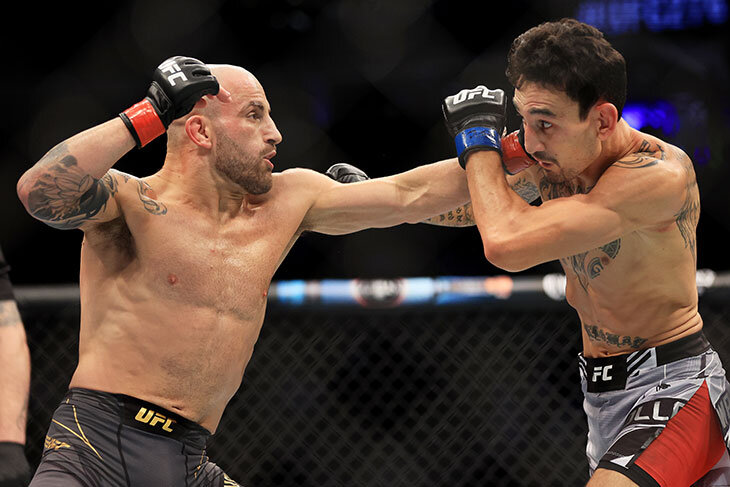 If he gained weight and expects to be no weaker than Makhachev, then he will certainly lose in sharpness, that is, he will give up the main trump card, which there is simply nothing to replace. And if he remained as fast as in featherweight, then he probably lacked strength – then Islam would simply crush him.